While it might not look like it, creating content is hard. Behind a 30-second TikTok video hides hours and hours of planning. And even though content creation should be fun, it can lead to burnout.
Here's where content creation apps can help. Whether you're an influencer or blogger, these apps make content creation easy and effective. And at Collabstr, our goal is to make an impact with your marketing strategy.
So if you want to streamline your content creation and take it to the next level, you've come to the right place. Let's look at the best apps and tools for creating content.
What is content creation?
There's no denying it, content creation is more important now than ever. And with so much info available online, getting your business to stand out can be an uphill battle. It's why defining your brand has never been more essential.
Currently, 82 percent of marketers actively invest in content marketing. And with the enormous impact of social media and influencers, even smaller businesses can make a noise. That's where content creation steps in.
Simply put, content creation produces content for your audience to consume. It's about building an effective relationship that benefits both parties. Through quality engagement, it's easy to attract potential customers and retain existing ones.
While social media has leveled the playing field for marketing, content is still the number one draw. Without a valuable and consistent strategy, viewers are less likely to invest their time in your brand. And your goal as a content creator should be to build a loyal community.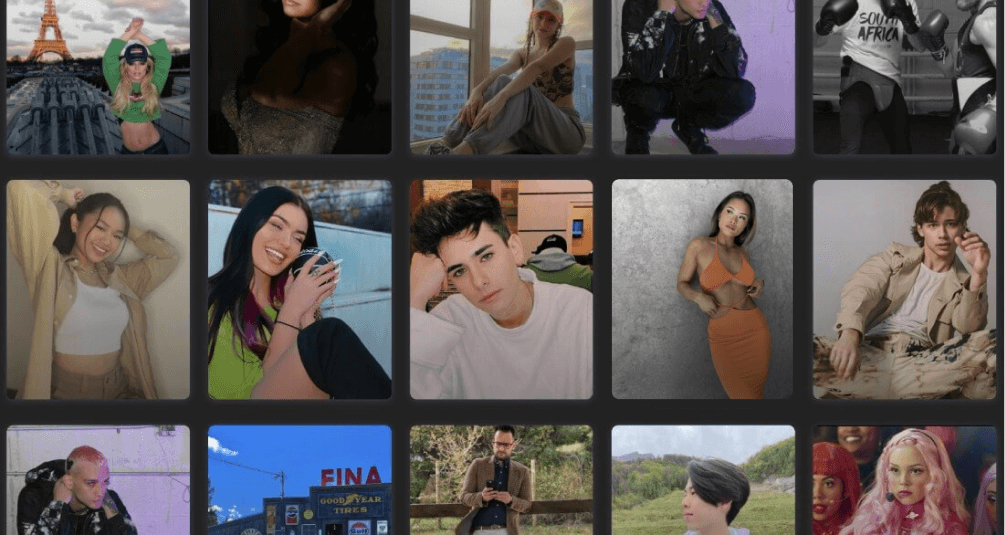 Best apps for content creators
If you're experiencing creator burnout (and why wouldn't you be), simplifying your content can seem impossible. Thankfully, there are a wealth of apps to help. Let's explore some of the best content creation apps to kickstart your creator journey.
Collabstr
If you want your content to get noticed, influencers are the way to go. At Collabstr, we make it easy for brands and agencies to buy custom content. From sponsored posts on social media to product photos, our marketplace has the influencer for you.
Social media boasts an audience that traditional marketing on TV and radio can't reach. And as a result, more and more brands are moving towards influencer marketing. To put it simply, influencer marketing campaigns ensure all your hard work doesn't go unnoticed.
Top Features
Personalized collaboration: Search Instagram, TikTok, and YouTube influencers to find the perfect match for your brand. Influencers will work with you so your content stays on point.

Instant chat: With Collabstr's instant chat feature, it's easy to stay in touch from start to finish, so both you and your influencer stay on the same page.

Vetted influencers: Trusted by over 20,000 brands, all influencers are vetted so the content you receive is of the highest quality.

Campaign insight: Collabstr's Instagram engagement rate calculator generates insight into your social media activity to calculate how engaged a user's followers are. Plus, it's completely free to use!

Peace of mind: Payments are held securely until you approve the influencer's work.
Pricing
Search influencers for free with no subscription needed. Influencer pricing ranges from $80 to the thousands. We also offer a subscription service where you can post your own marketing campaigns, allowing influencers to apply to you directly.
Pros
Finding the perfect influencer for your campaign is easy

Stay in touch to ensure throughout the whole process

All influencers are vetted, ensuring professional quality content
Cons
To get access to advanced features, you'll need to purchase a subscription
Canva
Unfortunately, we're not all graphic designers. Even with the most spectacular content imaginable, if it's not visually engaging, it won't be as effective. Thankfully, Canva is here to help.
Top Features
Highly intuitive: Canva's graphic design tool lets you take control of your visuals. From social media graphics and YouTube thumbnails to in-feed stories and presentations, creating unique digital content has never been more effortless.

Drag-and-drop solution: Even if you're a beginner, it's super easy to customize your posts with this simple interface.

Templates: Collabstr offers thousands of templates ranging from social media posts and email headers to reports and infographics. So you'll have a professional design in no time.

Streamlined process: Edit your content inside the platform, so your brand remains seamless and consistent.
Pricing
Canva offers a free and premium version. Canva Free includes over 250,000 free templates and over 100 designs for your social media posts and presentations. Canva Pro boasts more accessibility with unlimited features and access to premium content.
There's also Canva for Teams that lets teams of all sizes collaborate over the platform.

Pros
Thousands of templates to choose from

User-friendly tools, perfect for beginners

Excels in collaboration
Cons
While it's great for beginners, for those more advanced, its features can be limiting

If you want to match your style, you'll have to do it manually from post to post
PicMonkey
PicMonkey is a fashionable online photo editor for content creation. With graphic design software, creating scroll-stopping images for Facebook, Instagram, and more is all at your fingertips.
Top Features
Professional-looking content: PicMonkey's quick image processing means you can apply color changes, adjust exposure, remove red–eye defects, and fix shadows. Its super artsy effects like Edge Sketch and Posterize make editing a breeze.

Stunning templates: Thousands of templates for logos, banners, thumbnails, and more are all at your fingertips. Every inch of your brand will be catered for.

Simple designs: Its pre-sized templates, graphics, and unlimited fonts ensure your campaigns get noticed. Just select a template and replace their words and images with your own. It's that simple.
Pricing
There are three plans available, Basic, Pro, and Business. With each plan, cloud storage varies along with photo editing capabilities. PicMonkey offers a 7-day free trial on all three.

Pros
Easy-to-use tools

PicMonkey is used by some of the world's most trusted brands

Thousands of templates to choose from

First-rate touch-up tools
Cons
No image size auto-fix is available

The basic plan is very limiting
Grammarly
It's not an understatement to say Grammarly is a life-saver for content creators. There's nothing worse than publishing the perfect photo or video, only to find that your post is chock-full of spelling and grammar mistakes.
Top Features
Ensures primo writing skills: The cloud-based writing assistant uses AI to review your content, from spelling and grammar to punctuation and sentence structure. Grammarly has you covered.

Automatically highlights errors: Grammarly highlights and suggests appropriate replacements, allowing you to better express yourself and your brand.

Accessibility: The browser extension works on thousands of websites including Gmail, Facebook, and Twitter.

More productive: While saving you from the embarrassment of grammatical errors (let's face it, we've all been there), the writing aid saves you valuable time and effort, allowing you to focus on other areas of your content.
Pricing
For basic writing suggestions and tone detection, Grammarly is free to use. But for tone suggestions and full-sentence rewrites, a subscription cost is needed to access its Premium service. There's also a Business option available for teams.
Pros
Your content is grammatically correct

Free browser extension

Your brands message is more concise

Replacement words provided
Cons
Very expensive to utilize all features

The basic version isn't as impressive
InShot
When it comes to video editing on Android and iOS devices, InShot is the perfect tool. InShot is a feature-rich video editing app that allows content creators to trim and merge clips, incorporate filters, and add effects, text, and music, all within the app.
Top Features
Your entire campaign is covered: InShot edits videos for YouTube, Reels, Stories, vlogs, and TikTok. Its intuitive UI lets you adjust the speed of your videos as well, so you can turn your budding creative ideas into a reality.

Multiple features: Not only can you easily sync animated stickers and text with your videos, but you can add music and sound effects as well.

Add your own voice-over: Adding your own voice to your content ensures your campaign is unique and your message is crystal-clear.

Easily shareable: InShot is tailored to Android and iOS devices so content can be easily shared across multiple social media platforms.
Pricing
InShot is free to use but you will have to pay for its premium features. Premium features include access to all paid transitions, effects, and stickers, and there are no ads to deal with.
Pros
Built-in tutorials for YouTube, TikTok, and Instagram.

Easy to create and edit your videos

Adding music and voice-over capabilities
Cons
Limited photo editing

Hard to master
Hootsuite
Content creators are a jack of all trades. Not only does your content have to be top-notch, but your marketing campaigns need to be on-trend. Thankfully, Hootsuite is a one-stop platform for all your social media needs.
Top Features
Audience reach: Hootsuite lets you connect all of your social media platforms and schedule up to thirty posts ahead of time.

Post scheduling: Hootsuite informs you when the best time to post is, making your campaigns more shareable and effective. Not only that, but you can schedule content over ten days, so you post on time every time.

Stay on trend: If you're struggling with content ideas, Hootsuite keeps you up to date with the best online trends. It also provides valuable insight into your performance, meaning you know what works and what doesn't.
Pricing
Prices vary depending on how many users and social media accounts you need. Plans include Professional, Team, Business, and Enterprise. Each offers free 30-day trials and demos for you to consider.
Pros
Monitors trends and competitors

The majority of social networks are supported

Low cost

Scheduling your posts means life never gets in the way
Cons
Overwhelming for beginners

Users have to pay for training
Wrapping up
Content plays a significant role in the digital world. With so much content available online, your campaigns need to stand out to make a noise. While one successful post will get you noticed, it will barely make a dent as audiences move on instantly to the next.
That's why these tools are so essential for professionals and non-designers. Making a mark online can be tough, but services such as Collabstr find the perfect influencer to get your marketing strategy heard. Take a look to find out more.
Get Digital Marketing Tips Directly to Your Inbox
Collabstr sends newsletters every 2 weeks with the newest trends, tips, and tricks in digital marketing.