How to Find and Hire Influencers on Instagram
Published May 16, 2022 | Last Updated October 11, 2023
Instagram is the global hub of influencers. The 500,000 active influencers across the platform make it one of the channels you should bet your money on, regardless of what you're selling or promoting.
Although Instagram was once a picture-centered social network, it has recently become a business-heavy platform. Not only do we have ads among posts and stories, now we have them among reels, as well.
While ad exposure got significantly higher, users are still going to scroll past anything that doesn't interest them. The right influencer showing up for the right audience at the right time will do a great job of holding their attention -- and boosting conversions.
For brands who are just getting started, it can be tough to sift through this near infinity of content creators. So how do you find Instagram influencers effectively?
Know Who You're Looking For
At this point, you already know which products you want to highlight to your audience. Now, your job is to find the best person to promote them.
The process will get easier if you already have a clear picture in mind. Not about their appearance necessarily, but what you need them to be doing and saying. Don't overthink it, as the right influencer will give you tips and suggestions on how to make the content more engaging.
Here's a golden tip: think small. We can't stress enough how important it is to focus on the nano to micro-influencer range, which focuses on a 1k to 10k following. As a small brand, reaching out to celebrities right out of the gate won't generate responses, much less conversions. Small influencers are scalable, affordable, and give you more wiggle room when it comes to creating campaign variations.
The sooner you learn that selecting influencers goes beyond their personal appearance, your job will get a lot easier.
Hashtags Are Your Best Friends
Leveraging hashtags is a great starting point in your Instagram influencer research.
In doing so, you'll be able to target influencers in various niches. Looking up #fitnessinfluencer, #beautyinfluencer, and related hashtags will do a great job of refining your research, depending on the niche you're looking for.
Note down any profiles you find that meet your brand's personality. Next, it's time to probe deeper.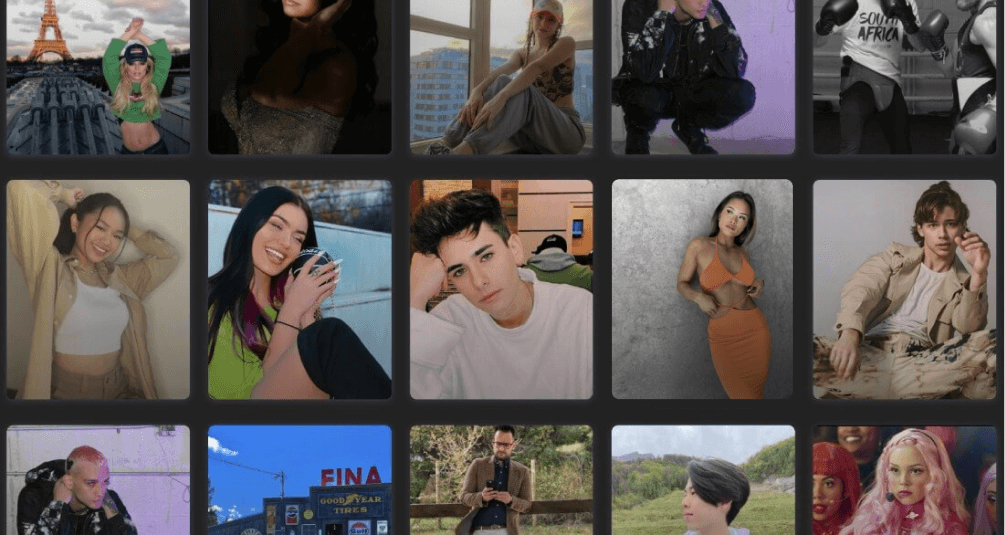 Dig Deeper Than Instagram
Instagram is simply the gateway to an influencer's best work. Before you reach out to anyone, you must know their work beyond their storefront.
Start by studying their bio. There, they should have a description about their career, a method of contact, as well as handles to their other platforms. Like this:
Because they have a limited word count, you can't find a lot about a person through their bio alone.
Like what you see? Next, find everything you can about them, including:
Previous brands they have worked for. Are they anything like your company?
Examples of their past campaigns. Do their ads look like something you'd like to create for your brand?
Their personality, or online persona. Does it match your brand personality?
Their reputation. When hiring people online, you need to be aware that not all of them have great intentions. Some of them could have fake engagement, and previous brands may have had bad experiences with them.
Don't refrain from checking all of their handles and trying to understand more about the person you're trying to hire. This will save you a lot of time and avoid setbacks.
Have a Cold Outreach Text Ready
Depending on an influencer's following, you could be the only brand reaching out to them on a particular day. You could also be one of dozens. Either way, make your proposal sound inviting and interesting.
The more personality you add to it, the better the chances of them taking on the partnership. Here's a rough draft to get you started:
Hi (name of influencer),
I'm (your name) from (company). Your profile caught my attention (mention individual posts that interested you), and I think that you would be a great fit for a collaboration with (company).
We're a (niche) brand looking to work with content creators for our upcoming campaign (explain campaign details). If this is something that interests you, we can discuss pricing and logistics over a phone call. How does that sound?
Best,
(your name)
Tweak the above draft to meet your campaign goals and your brand voice, or feel free to look at other templates, which are widely available online.
If they do say yes to your offer, that's when you'll start chatting about prices and conditions. If they don't reply at first, don't sweat it. Send a follow-up text or email.
In case they don't reply a second time, move on to your next influencer. You can always circle back for a future collaboration.
The Drawbacks
With the above tips, you have extremely high chances of finding the perfect influencer (or influencers) to work with.
With the above tips, you have extremely high chances of finding the perfect influencer (or influencers) to work with.
It's slow and tedious
It's hard to keep track of all the influencers
Likelyhood of being scammed
Working with influencers can prove to be lucrative, but for it to be worth your investment of time and money, you need a proper system in place.
Instead, Go Straight to Where the Pros Hang Out
Influencer platforms like Collabstr have eliminated these issues by developing a marketplace for you to discover, chat, and pay influencers that fit your requirements. This ultimately reduces the time and energy required to work with influencers.
All you have to do is look for the profiles that interest you. All of the essential influencer's information is available on their profile, such as their:
Bio
Relevant pictures
Social media handles
Rates and content packages
FAQs
The entire communication and payments processes take place inside the platform, to keep all steps streamlined and safe.
What's more, you don't need to inspect an influencer's profile. Collabstr has a robust vetting system in place, so you can be sure everyone in there is looking for the same thing as you are: a successful collaboration.
Get Digital Marketing Tips Directly to Your Inbox
Collabstr sends newsletters every 2 weeks with the newest trends, tips, and tricks in digital marketing.