10 UGC Portfolio Examples & How to Make Your Own
Published October 4, 2023 | Last Updated October 11, 2023
More and more creatives are joining the popular UGC train. Although there are a wide range of niches to dive into, it's even more important that you make the right impression on brands. The best way to do that is through a UGC portfolio
Are you a UGC creator looking for strategies to put together an attractive UGC portfolio that stands out from the competition?
Fortunately, you're in the right hands because Collabstr is your one-stop shop for showing your skills and connecting you with brands and agencies. In this article, we'll give you valuable tips to help you create an eye-catching UGC portfolio that highlights your creativity and helps you land the collaborations you want.
Ready? Let's dive in!
What is a UGC Portfolio?
A UGC portfolio is a collection of your best work, which can be viewed by businesses and agencies that are interested in working with you. The portfolio allows potential clients to see the style of your content and what they can expect from working with you. The portfolio is typically hosted as a webpage or folder that can be shared via a link.
Your UGC portfolio provides a clear picture of your abilities and prospective collaborations. It serves as your virtual pitch to brands so they can determine your fit for their projects. Consider it a spotlight on your ability that may be distributed to potential collaborators or showcased on UGC platforms. Whether you use a website, a PowerPoint presentation or a basic PDF, your portfolio serves as a persuasive tool, creating a compelling argument for brands to collaborate with you.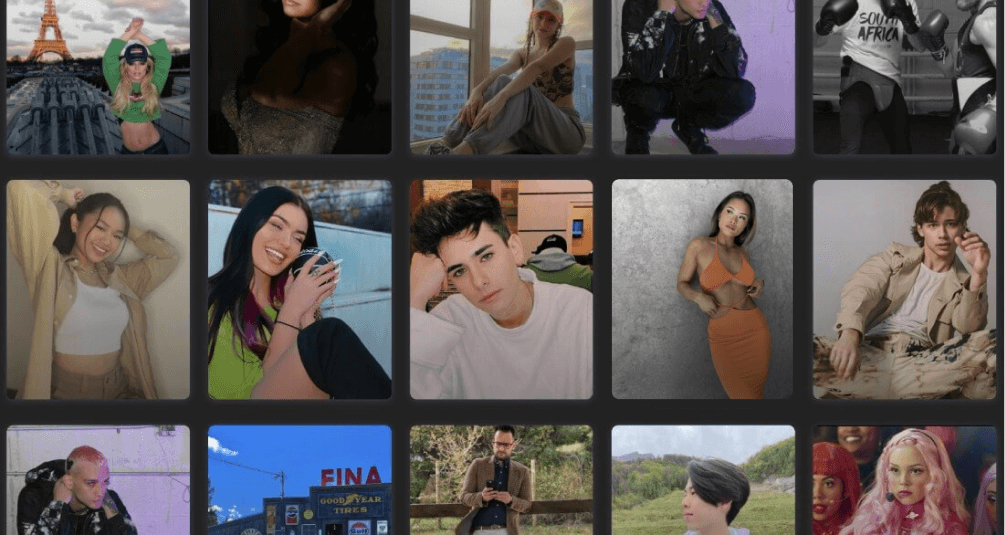 10 UGC Portfolio Examples
Now, let's dive into some impactful UGC portfolios you need to see to give you some inspiration.
An excellent UGC portfolio should showcase the content creator's range of skills, creativity, and price range. Let's take a look at Maiu Lünekund's portfolio.

It includes a comprehensive list of the different UGC types she's capable of producing and some samples to give brands a brief overview of her craft.
At the same time, she also disclosed her price list and her process of onboarding companies for partnerships. This provides transparency and ensures a clear understanding of negotiations and expectations for potential collaborators.
Including a brief discussion of what is UGC and its benefits for a brand demonstrates your understanding of UGC and your expertise in leveraging it. Additionally, similar to Katrina's portfolio, highlighting the reasons why a brand should select you as their UGC creator shines a light on your unique selling points.

A good UGC portfolio should strike a balance between simplicity and comprehensiveness. A straightforward and organized portfolio ensures that potential clients can easily navigate and understand your work, which ultimately makes a positive first impression. Even more, incorporating the different niches you can handle shows how versatile and adaptable you are as a UGC creator.
A visually appealing UGC portfolio immediately grabs the attention of potential clients or collaborators. Take a look at Emma Garnett's case. It's neat-looking and intuitive, making it easier for brands to navigate and locate important information about her. Her website also includes accessible links that take clients straight to a chat with her.
A unique selling point of Anaiah's UGC portfolio is the free brand call for his potential clients. This provides an opportunity for brands to directly interact with you and gauge your expertise and communication style.
Displaying sample UGC videos in your portfolio showcases your creative skills and demonstrates your ability to produce engaging and high-quality content. It's also a great idea to add links to your social media profiles for brands to connect with you and check out your content.
Describing your ability as a UGC creator to make "authentic" content emphasizes your expertise in creating genuine and engaging content that resonates with most brands. On the other hand, using the word "converting" highlights your understanding of the end goal of UGC content creation–driving results. Brands are keen on UGC creators who not only produce engaging content but also understand the importance of producing results.


Adding a unique CTA, such as Reese's "Let's create UGC magic!", adds a touch of personality and originality to your portfolio. This distinctive CTA makes you stand out from other content creators and easily captures the attention of potential collaborators.
It's great to have a UGC portfolio including the brands you've collaborated with, the budget spent on advertisements, and the total organic views received because it shows your experience, financial value, and the audience engagement you can offer.
A portfolio such as Liam Cass' that includes all these details showcases his expertise and cross-platform reach. Brands can also get a good idea of his ability to attract several brands, drive conversions, and connect with a significant audience.
Pro Tip: Create a UGC portfolio that reflects your unique style, capabilities, and impact. Tailor it to your strengths and the type of content you create while ensuring it's easily comprehensible and visually appealing.
UGC Portfolio Tools
To succeed in creating your UGC portfolio, you're going to need some dynamic tools to help you along the way. Let's get into the tools that can help you with the creation process.
Collabstr
Once you've put together your UGC portfolio, you're going to need somewhere to showcase it. Collabstr is a handy marketplace that connects influencers and content creators like yourself with brands and agencies that fit your niche.
This portal is an excellent resource for developing and presenting your portfolio to potential collaborations. Check out Collabstr to make pitching your abilities to businesses and agencies easier.
Canva
By using Canva's free online portfolio website builder, you can capture the attention of potential clients and employers with a spectacular portfolio design. The best part is that you'll have access to some free UGC portfolio templates that you can customize to match your unique branding.
The tool is pretty user-friendly so you'll immediately get the hang of it as a beginner.
Wix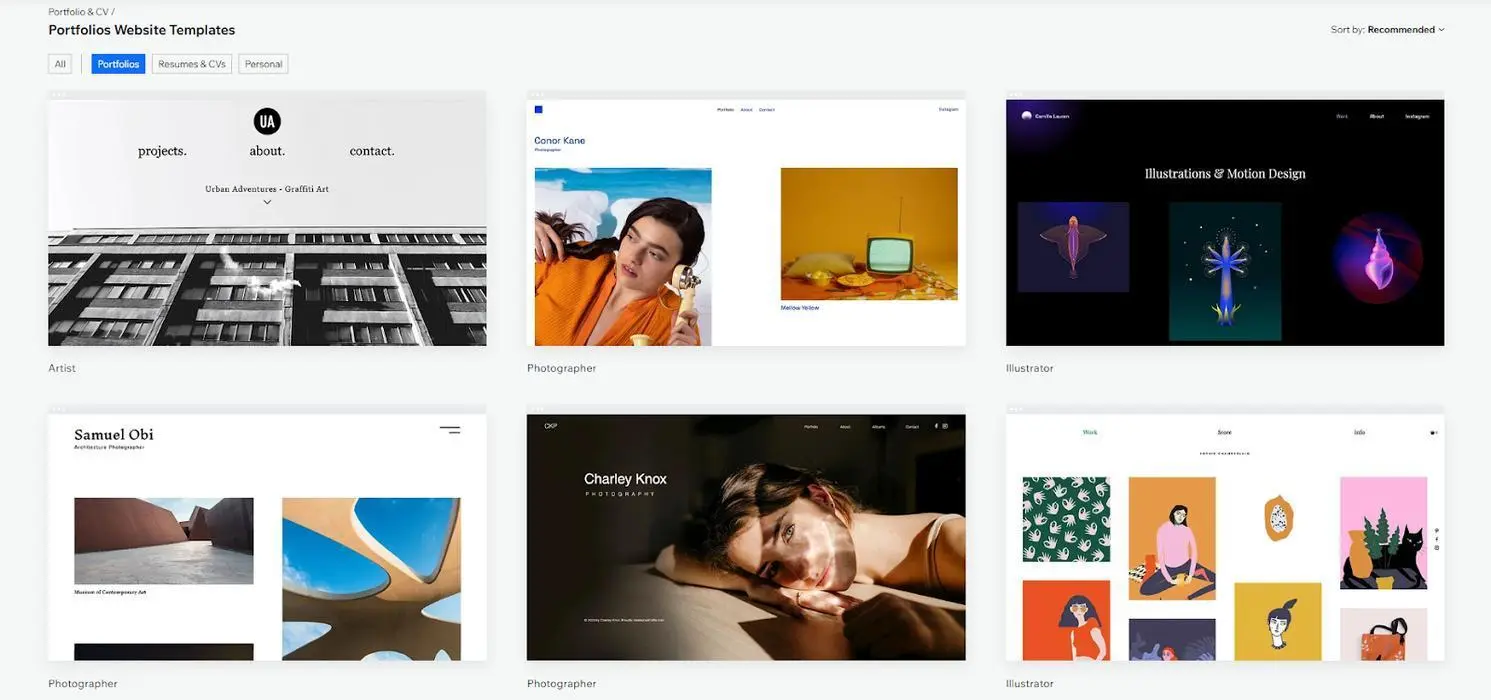 Wix provides a wide range of customizable templates and a drag-and-drop editor that you can use to create a visually appealing and well-structured website that perfectly showcases your UGC portfolio. Even more, you can tailor different sections of your website to include testimonials, sample UGCs, and social media profiles.
The tool also allows you to track visitor engagement helping you ensure that your portfolio remains relevant and effective.
Squarespace

Squarespace, known for its user-friendly interface, smart templates, and persistent focus on aesthetics, enables you to carve out a magnificent spot on the web.
The platform makes it quite easy to create your portfolio: Simply add a separate portfolio page or section to your preferred Squarespace template. Alternatively, you can get ideas from a curated list of the most popular portfolio website designs. However, you can only use this tool free of charge for 14 days. For unlimited access to customizable templates, it'll cost you at least $23/month.
How To Create A UGC Portfolio That Gets You Clients
Your UGC portfolio should tell the tale of your creative path and potential. It should be well-organized and full of important elements:
Say Something About Yourself
Provide a brief summary of who you are, your background, and pricing structure. Create an enticing profile that presents yourself and your interests to your target audience. A welcoming introduction should establish a personal connection with your visitors.
A well-crafted profile acts as a digital handshake between you and your target audience. It's your time to show off your personality, share your hobbies, and form the first bond that keeps visitors interested. Making your profile friendly and relatable sets the tone for a positive engagement that can lead to profitable collaborations and significant connections.
Provide Work Examples
Make sure your portfolio contains a variety of concepts that follow the direct response marketing technique. Strong hooks, pain points addressed, and strong calls to action are essential. UGC creation follows a systematic pattern to maintain content quality, meet audience expectations, and achieve a brand's specific objectives. If you want to get paid, brands and agencies expect to see a variety of content that demonstrates these principles.
Show off your video editing skills by ensuring that each video is top-notch in terms of UGC editing quality. Remember to include at least one video that highlights your unique voice and style.
Don't limit yourself to providing sample content only when a brand demands it. Even if a company didn't specifically request it, providing sample reviews or unboxing videos on a product you know and sincerely like counts as User-Generated Content (UGC). In fact, because it is so genuine, it is an even more effective work sample.
Pro Tip: Prioritize quality over quantity. You probably don't need more than half of the example videos you've shown. Extending the list beyond ten examples can be excessive and overwhelming.
Provide Your Links
Include links to your various social media sites as well as contact information. This guarantees that brands can easily communicate with you.
Include Case Studies and Testimonials
Positive feedback and real-world examples boost the credibility of your portfolio. Include data and facts that demonstrate how your material handled brand difficulties.

UGC is a significant undertaking, and positive client feedback strengthens your standing as a UGC creator. Insert statistics or figures demonstrating content used by brands whenever possible. Describe the brand's challenge and how your solution effectively resolved it. This strategy not only showcases your skills but also demonstrates your value as a brand issue solver.
Rates (Optional)
It is entirely up to you whether or not to display your rates in your portfolio. Setting your fees beforehand might save you time during negotiations and dissuade low-ball proposals. Keeping rates confidential can also be a wise decision because it allows you to negotiate and alter pricing based on project specifics and the client's budget.
You may also consider providing a selection of bundles. A good starting point could be to provide a single UGC Ad bundle, followed by a somewhat enlarged package with three UGC Ads. In addition to these, releasing a Tester Package can provide a low-cost entry point for potential clients to try out your services. Mention that you also offer retainer packages after the package offerings. This is where you can have more comprehensive discussions in order to get a mutually acceptable fee.
Offering a variety of packages allows you to adapt to different client demands while also demonstrating your flexibility, laying the groundwork for future cooperation. Remember that your portfolio is meant to showcase your abilities, while negotiations and sales talks can take place in a more appropriate setting.
Client Feedback
Sharing your personal achievements may appear to be bragging, but when others sing your praises, it's a confirmation of your abilities. When deciding between creators, reviews can frequently make or break the decision. So, try to gather feedback from previous clients and incorporate it into your portfolio.
You have two options: either manually add reviews to your portfolio or you can use a comprehensive review management platform. By highlighting the good experiences of others, you allow their comments to confirm your abilities, making your portfolio more engaging and persuasive.
Keep Your UGC Portfolio Up-To-Date
Always keep your portfolio up to date by adding fresh content on a regular basis. Trends change, and your most recent work may pique the interest of future collaborations. Your talents will naturally increase as you create more content.
Keep in mind that your portfolio is more than just a collection of your work. It reflects your identity as a creator. It should tell the story of your creative path, emphasize your strengths, and demonstrate your potential. Creating a thoughtful UGC creator portfolio could be your ticket to exciting opportunities and significant brand relationships.
Choose the Best UGC Platform for Your Portfolio
You have several platform options for developing your UGC portfolio. Let's boil it down into two simple options:
Building a UGC Portfolio on Canva to Begin
If you're new to user-generated content, Canva is your best friend. Because of its ease of use and low cost, Canva is a popular starting point for many UGC students. The plethora of portfolio templates accessible to assist you is an added plus.
Using Platforms with a Greater Impact
As you get more experience as a UGC creator, you may be tempted to create a more professional-looking portfolio. This is where advanced platforms come into play. While they are more expensive and have a steeper learning curve than Canva, the investment often pays off in terms of quality and presentation. Some of these platforms that can take your portfolio to the next level include:
Collabstr

Squarespace

WordPress

Weebly

Journo Portfolio
By selecting the platform that best suits your experience and goals, you're laying the groundwork for an excellent UGC portfolio that may speak volumes about your capabilities and potential.
Best Practices for Creating a UGC Portfolio
Make a Unique Design a Priority
Allow your content to stand out by limiting additional design elements and images to a minimum. To avoid visual clutter, embrace the concept of "breathing room" surrounding your information. Aim for concise and targeted written sections as well.
A clean and uncluttered design not only allows your work to take center stage, but it also improves readability and user experience. A clutter-free layout allows readers to easily engage with your material, focusing on your talents and expertise without being distracted by extraneous distractions.
Include an Enticing Call-To-Action (CTA)
Incorporate clear CTAs that direct them to contact you. These cues may entice them to follow you on social media, subscribe to your material updates, or contact you about potential collaborations.
You're actively inviting brands to take steps toward greater involvement by offering well-defined CTAs. These acts may result in more collaborations and useful partnerships that will help you on your UGC journey. An engaging CTA serves as a link between your content and other brands, encouraging meaningful interaction that benefits both parties.
Get the word out about your portfolio
It's time to make your work known after you've published your UGC works to your portfolio. You may increase the visibility of your portfolio among potential clients and customers by utilizing a multi-pronged approach that leverages both digital and offline channels.
Begin by sharing your portfolio on social media, engaging in relevant online communities, and publishing valuable blog content. Build an email list for targeted outreach, attend industry events for networking, and collaborate with peers to expand your reach.
Optimize your portfolio for search engines, consider online advertising, and seek guest posting opportunities for increased exposure. Encourage testimonials and cross-promote with others in your field. Finally, showcase your portfolio on a platform like Collabstr, a marketplace specifically designed to connect influencers and UGC creators with brands and agencies.
With Collabstr, you can broaden your reach and increase your effect. Collabstr connects creators with people in need of unique content, which can range from sponsored social media posts to captivating testimonial videos, eye-catching product pictures, persuasive advertising, and much more.
Our platform makes it simple for companies and agencies to find the content they need, while also giving you a platform to showcase your expertise and attract new clients.
Conclusion
Your portfolio is your key to unlocking interesting opportunities in the dynamic world of UGC creation. When creating a UGC portfolio, remember to effectively present your skills, creativity, and unique selling points. Strike a balance between simplicity and comprehensiveness and your portfolio's visual appeal.
You may utilize platforms such as Collabstr to partner with businesses and agencies and establish a UGC portfolio that effectively promotes your expertise. With the right strategies and tools, you can successfully promote your UGC portfolio, connect with brands, and unlock exciting opportunities in the world of UGC.
Collabstr is here to help you on your path as an influencer/content creator. Visit Collabstr to see how we can help you improve your portfolio and connect with new clients.
Get Digital Marketing Tips Directly to Your Inbox
Collabstr sends newsletters every 2 weeks with the newest trends, tips, and tricks in digital marketing.