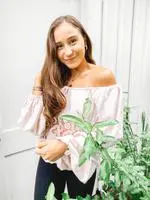 Cassie Hamsher | Health, Lifestyle, Fitness, Wellness, Fashion, Beauty
Buffalo, NY, United States
Hi I am Cassie! I am a 23 year old Youtuber/Instagram influencer living in Buffalo, NY. I love all things health, wellness, lifestyle, fitness, beauty and fashion. My audience is mostly women from the ages of 18-35. Offering youtube videos, instagram stories, Instagram reels, instagram grid photos. If you think we would be a good fit to work together, please feel free to reach out!
Packages
How does it work?
I will create an Instagram story with 4 different slides talking about your product. I will also tag your page in the stories.
1 Instagram Photo Feed Post
$75
I will create an Instagram feed post capturing your product and speaking about the product in the caption. I will also tag your page in the post. I w…
See More
I will create a beautiful high quality video promoting your product in the style and them that you like for my youtube channel. I will discuss with y…
See More
Have a different request?
Send a Custom Offer