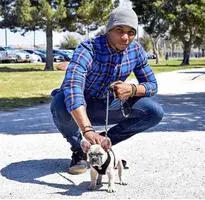 Chyl Robinson | CEO & Chief Designer of BullyFIT Prod. Fashion, Fitness, Travel & Pets
Las Vegas, NV, United States
I'm a professional creative director/digital creator. My focal points are Fashion, Fitness, Travel & Pets. We currently have our own brand, but I also continue to partner with brands in my niche to grow & share new products with my audience. My main goals are to motivate the masses to follow their own passions, but also educate them on new products & fitness routines.
Packages
How does it work?
Promoting product in a simple story.
1 Instagram Photo Feed Post
$400
You will get one static post with a hero shot included. Ig story promoting static post will also be included.
1 Instagram Reel (60 Seconds)
$800
Up to a 60 second reel demonstrating and promoting product.
Have a different request?
Send a Custom Offer