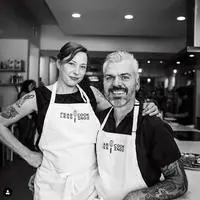 Cooking The Books | Recipe development. Brand ambassador. Product reviews.
Chicago, IL, United States
Johnny and Victoria. Husband and Wife. Each week, we select a different cookbook to feature on our popular 'Cooking The Books' blog and 'Tasty Pages' podcast. We also teach weekly cooking classes, develop recipes for leading brands, and review products in the food and beverage category.
Packages
How does it work?
2 Instagram Photo Feed Posts
$300
1 UGC Video Ad (30 Seconds)
$100
We'll create a 30 second advertisement for your brand and include it on an episode of our weekly Tasty Pages podcast. Price is per 1000 streams and c…
See More
Have a different request?
Send a Custom Offer