As your organization's CMO or marketing leader, your job is to get your brand noticed in a very crowded marketplace. A social media marketing campaign is a great way for you to launch a new product, find new markets, and promote the lifestyle and ethos behind what you do. Besides creating content for your own feeds, using influencers is a way to get your brand seen by a wider audience.
Influencers have become an important aspect of a modern business's marketing strategy and certainly shouldn't be overlooked! After all, 50% of millennials trust influencers for their recommendations, and 38% of Gen Z have brought a product based on an influencer's recommendation. And with Collabstr, you can connect with influencers within your niche who will help you promote your products to their already engaged audiences, allowing you to take a slice of the lucrative influencer market.
You should be prepared to spend money, however. Influencers have spent time and effort to build and nurture their audiences, and they expect to be paid in order to leverage them on your behalf.
Thankfully, we're here to help! In this guide, we'll look at the different forms of compensation for influencers, how to calculate rates, manage contracts, and practical solutions to transfer funds. It's time to pay the piper!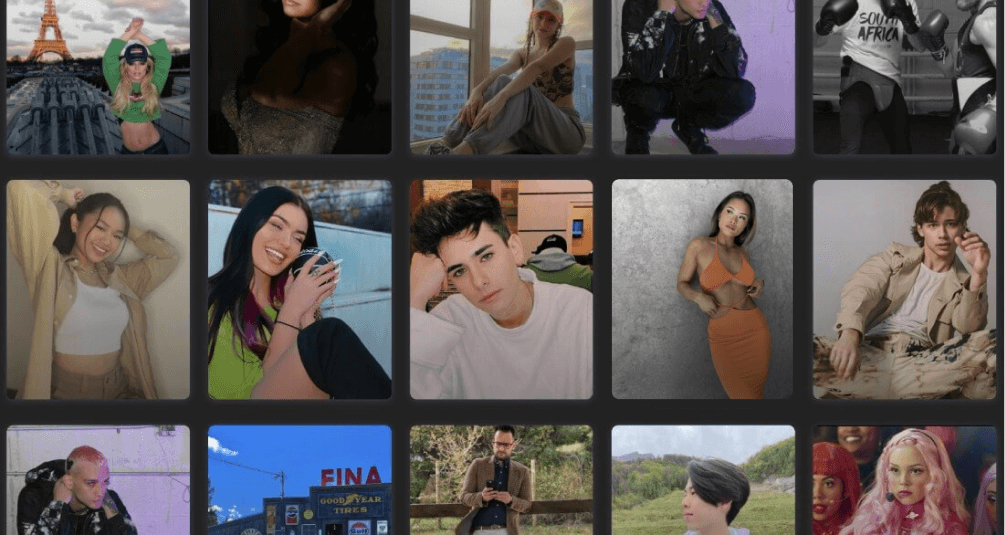 Different Influencer Payment Models
Cash Payouts
Money talks.
While an informal arrangement with an influencer or "payment in kind" with comps, gifts, and discounts is still a common approach by many companies, setting up a contracted monetary payment tells influencers that you're serious. It says that you value working with them and that you understand the value they bring to your brand.
By paying cold hard cash (digitally, of course), you'll find more influencers that want to work with you, and they'll put the extra effort into giving you their best work - just like you do when you feel you're being adequately compensated for the work you do.
Influencers need to remember that paid-for promotions must be clearly declared. You have to add a banner at the top of the video or image to state that it's sponsored material.
Pay-per-post
A nice, simple, and straightforward approach that is preferred by many brands and creators. A given number of posts is agreed upon with an influencer in which they promote the brand by name and/or with a trackable hashtag that relates to the product.
The advantage is that it's easy to budget for a campaign, but the disadvantage is that it's rigid and difficult to scale. If a campaign doesn't take off, it can't be cut short. They can be a drain on a company's marketing budgets, especially if they aren't bringing the number of conversions expected.
Performance-based pay
This payment model has the lowest risk and is easiest to scale.
Performance-based pay is a payment from a measured metric such as a sale, booking, newsletter signup, or a customer conversion that's triggered by a specific influencer post. Performance-based pay rates are agreed upon in advance and, for sales, are usually between 5% and 30%. To be able to manage campaigns and track ROI you need some tracking tools that measure influencer success rates.
Urchin Traffic Monitor (UTM) codes can be added to URLs and use Google Analytics to track where sales on your online store have come from. A UTM tag, added to a link from a social media post will tell you that a sale came directly via that post. Google has a guide on how to implement them.
Trackable coupon and affiliate program links. There are various tools available that add coupon affiliate links to posts. However, many social media platforms now ban redirected links in order to keep users on their platforms and not get distracted away to your site or store. As influencer marketing is a new and evolving business, expect tools and their uses to change regularly.
Promo codes. Putting a code into a post that users can copy and paste is a way around banned links. A promo code gives customers a reason to use it as they know they're getting a deal by using the code.
Fixed-rate with performance bonus
This is essentially a hybrid model that pays the influencer a retainer plus a percentage of sales attributed to them. The retainer demonstrates the brand's commitment to its influencers, and the performance bonus incentivizes creative content that draws attention to the brand.
This combination of payments creates a better ROI for both the influencer and the brand.
Non-Cash Payouts
Gifting
Influencer payments often begin with free gifts in the form of whatever product or service the brand sells. These can be physical or digital products and are the simplest way for an influencer to understand the products they'll possibly promote in an organic way.
For this reason, gifts should always be your latest products, not the old stock you want to get rid of. Any influencer worth collaborating with will use your gifts as content material for image and video posts, and neither party wants to use outdated items.
Also, bear in mind that the Federal Trade Commission (FTC) guidelines state that gifting disclosures need to be placed in a way that's obvious to viewers. Influencers can use statements such as:
"Company X gave me this product to try . . . ."

"The products I'm going to use in this video were given to me by their manufacturers."
Influencers should use the hashtag #gifted, although this is optional, as long as one of the statements above is incorporated and is placed before the "read more".
Store credit and rebating
Store credit and rebating work similarly to gifting but do not require disclosure.
Comped Tickets and Trips
Inviting influencers on a trip or to an event is a win-win for both parties. A few days of free vacation or access to an event gives influencers an opportunity to promote your brand's products in a new (and ideally, relevant) environment.
Comped tickets and travel gives influencers a higher level of authority, making them more credible as brand ambassadors and raising their profile. A good influencer will see your event, venue, or guests from a different perspective and get images that complement those of your official photographer.
How Much Are Influencers Paid? Here Are Some Benchmarks
Influencer fees follow a wide range of costs per post, varying drastically depending on audience sizes from nano (1k - 10k followers) to mega (1 million +).
The following rates are the average costs of influencer marketing spend worldwide.
Instagram - An average price of $10 per post per 1,000 followers.

TikTok - Influencers on the platform charge between $5 and $2,500 per post.

YouTube - On average, influencers charge $20 per video per 1,000 subscribers.

Facebook - Influencers on the platform charge an average of $25 per post per 1,000 followers.

Snapchat - Influencers on Snapchat charge $10 per post per 1,000 followers.

Twitter - At $2 per post per 1,000 followers, Twitter offers the lowest influencer marketing prices.

Blog - Influencers charge approximately $60 per post per 1,000 unique visitors.
So many platforms and so many rates! How does a CMO work out a budget for all of this that's relevant to your marketing campaign or social media strategy?
An Easier Way to Calculate Rates
With so many types of influencers, audience sizes, categories, and platforms, it can be hard to know where to start when estimating what to offer influencers as compensation for promoting your products or services. That's where Collabstr's influencer price calculator comes in handy.
Start by picking one or all of the influencer platforms you want to use for your social media marketing campaign:
Next, pick the category of audience your ideal influencer targets, from travel to tech:
Then pick the audience size you expect your chosen influencer to reach: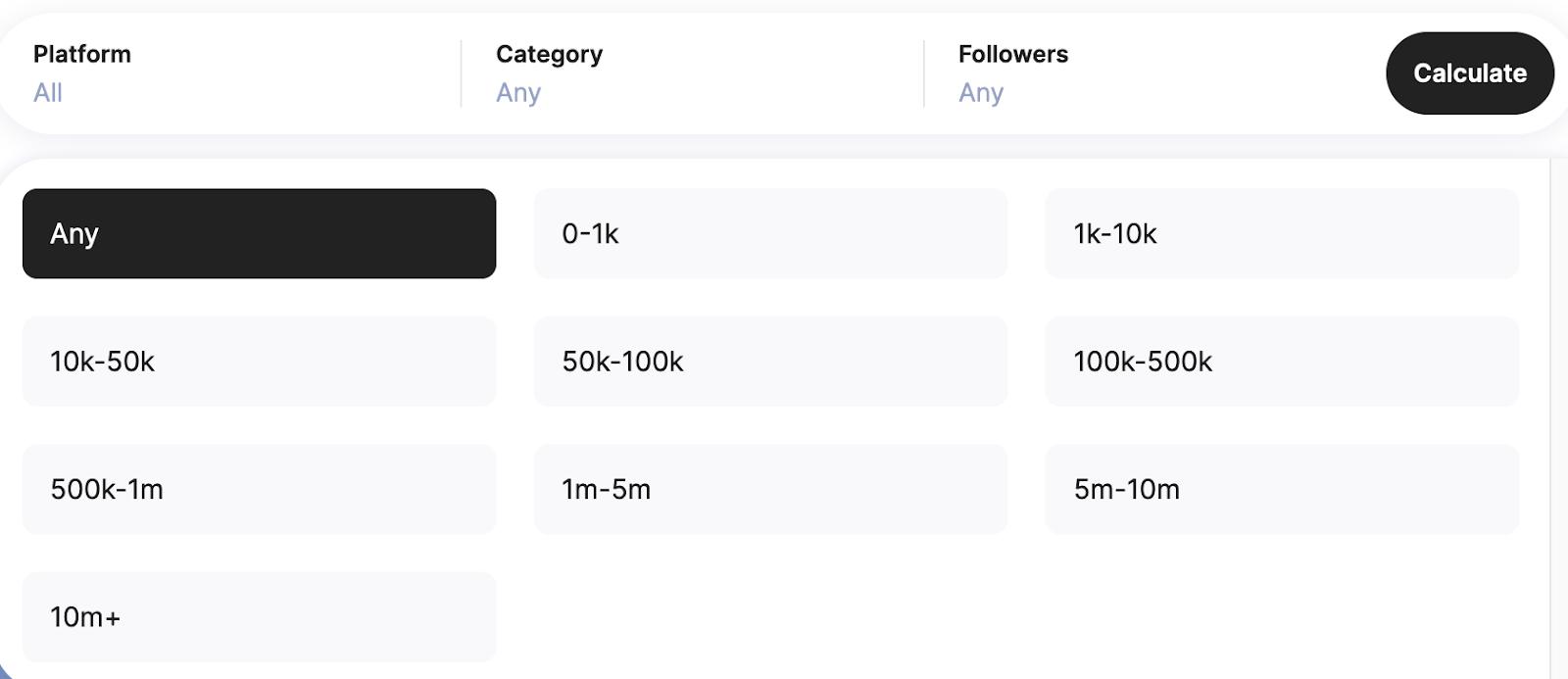 Finally, click the Calculate button.
By testing out different combinations of influencers, you should be able to build an influencer program that fits your budget and aspirations. You now have a number you can use in-house and begin negotiations with the influencers you've identified on the Collabstr platform.
The Importance of Paying Influencers on Time
Like all business arrangements, keeping things businesslike is important for building and maintaining trust in all parties. Long-term partnerships are usually better for everyone involved, and trust is what keeps partnerships growing.
It can be difficult to budget for performance-based compensation because you don't know how many conversions will happen. Collabstr has a free Instagram Engagement Rate Calculator to help give you an idea of how much actual engagement any given influencer might give you on Instagram. While it's impossible to give an exact figure as to how much you'll end up paying any given influencer under this model, it will at least give you a starting point for planning a budget, and will keep your CFO happy for a while.
Maintain Good Relationships
Timely and efficient payment for services is key to maintaining good relationships. An influencer who's being paid on time is a happy influencer who will want to work with you again and longer-term relationships grow audiences for both the influencer and your brand.
One way to keep good relations may be to set up a personalized landing page. By setting up a landing page in your online store or website, linked to a specific influencer you create a partnership between your brand and theirs as well as being able to clearly track all engagements that came directly from them. It also cements your relationship with your influencers, making them feel more of a part of your brand.
It Sets a Standard
Paying on time sets a standard. By paying promptly you demonstrate that you expect prompt delivery of services from your influencers. Similarly, influencers can expect to be paid on time for the content they provide.
It Affects your reputation
A business is nothing without its reputation. Influencers are in the communications game and frequently talk to other influencers within their niches. A bad reputation as a brand that's slow to pay or reneges on its promises will spread quickly within influencer communities, which can be a death sentence for any future influencer campaigns you carry out. You won't be able to succeed if nobody wants to work with you.
Different Ways to Send Money to Influencers
Collabstr is a marketplace to find and hire influencers/content creators. We make it easy for brands and agencies to buy custom content such as sponsored posts on social media, testimonial videos, product photos, ads, and more.
We act as a third party, holding payments until both parties are happy that the work has been delivered as agreed. We use Dots to pay out to any of five different banking apps.
PayPal is a payment platform with a website and a phone app that enables payments between parties through online money transfers. PayPal customers create an account and connect it to a checking account, a credit card, or both.
PayPal has become an online industry staple with trusted and secure transfers. The downside is a fee for instant access (1%), while a free transfer of funds can take a few days. Paypal has no subscription fee, but its transaction fees can be confusing. Commercial transaction category, rates range from 1.90% + 10 cents to 3.49% + 49 cents per transaction. Another category for online card payment services charges anywhere from 2.59% + 49 cents to 3.49% + 49 cents per transaction.
PayPal has been known to be aggressive in freezing accounts if anything looks suspicious or unusual, such as sudden large transfer volumes or for violations of their user agreement.
Stripe is an online payment and credit card processing platform aimed at businesses. It works with a wide variety of credit cards as well as online. There is no subscription fee, but transaction fees are 2.9% + 30 cents for online transactions and 3.9% + 30 cents for international transactions.
A common criticism of Strip is that it requires a software developer to integrate it into a business's payment systems, but as an independent contractor, that shouldn't be an issue for most influencers.
CashApp is another online transactions platform supported by Dots, the payment system used by Collabstr. Like PayPal, there's a fee for instant access (1.75%), or you can wait 1 to 3 days.
Cash App is good for small payments, initially limiting the amount you can send and receive to $250 / week and $1,000 / month, although you can increase this by going through an additional verification process. You can also not withdraw more than $1, 000 per week via an ATM or using your debit card. You can also not receive more than $50,000 in weekly direct deposits. CashApp only works in the US or UK.
Collabstr can also pay out by a bank direct debit through the Dots platform. A direct debit, or transfer, is a bank-to-bank payment that moves money from one account to another. This is usually done online, but it can also be initiated over the phone or by physically visiting a bank branch.
The advantage of a direct transfer is that money moves directly into your account, the disadvantage is that precise bank information such as account numbers, SORT codes, and IBAN numbers are usually required to ensure a smooth transfer of funds.
Influencer Payments Best Practices
Ask influencers about the payment methods they prefer
Remember what we said about clear communication. It's Ok to ask influencers upfront what payment methods they use, in fact, they usually prefer it. That will help ensure everyone is on the same page and avoid confusion or misunderstandings.
Besides, if an influencer isn't receptive to your payment method, it's much easier to move on to another candidate than if you've already started.
Contracts
Before you agree to a partnership, you need to set some ground rules. Create a contract that both you and the influencer can agree to. We understand that contracts can be daunting, so we have a free contract template for influencers based on the independent contractor model.
Influencer contracts will be different for each campaign and influencer, but each agreement should include the following key sections to ensure both parties are protected. The template includes:
Project scope

Campaign timeline

Payment info

Content requirements and deliverables

Cancellation and termination clauses
Your organization may have standard templates of its own, but using the one from the platform preferred by your influencers helps them feel confident that everything's in one place and safe.
Use invoices for monetary compensation
Some influencers have managers and a well-oiled system for processing payments, while those new to the game may struggle with the idea of invoicing.
Have a clear invoicing system and communicate it to influencers when you hire them. Generally, invoices are issued after the influencer has published their content. But you may encounter some who want to be paid upfront or half upfront and half later. This is easy to avoid if the contract states that reasonable expenses will be covered, but again, make sure everything is clear and agreed upon. Different influencers have different expectations.
Keeping track of influencer payments
The key to influencers as a marketing tool is that each one accesses a different, hard-to-reach corner of your market. By using multiple influencers you get better market penetration.
Make sure you have processes in place with accounting software like Quickbooks to keep track of multiple influencer payments.
Collabstr is a marketplace to find and hire influencers/content creators. We make it easy for brands and agencies to buy custom content such as sponsored posts on social media, testimonial videos, product photos, ads, and more. Our end-to-end service makes it simple to create and manage a pipeline from finding influencers to paying for their targeted content for your brand.
Conclusion
With more of us using ad-blockers, your web ads are being seen by fewer and fewer people, so you need a new tactic. Influencers evolved from celebrity endorsements on tv ads, through reality tv that gave voice to a new brand of celebrity, to social media influencers as more of our lives moved online.
As individuals, influencers can penetrate corners of your market you probably didn't even know existed. Deploying a curated selection of social media influencers integrated into your online marketing campaign is the latest tool in the ever-evolving online marketplace.
Compensating influencers for the work they do has evolved from simple gifting, through discounts and comps to actual payment, and Collabstr is your platform to manage how you do this. We cover every step of the process, from searching for the right individuals to represent your brand, estimating budgets, contracting, and payment for services.
Explore the Collabstr platform and start your journey to find the influencers that speak to your market and are followed by an audience of thousands, all of whom are looking for the next big thing to go viral. It could be your brand.
Get Digital Marketing Tips Directly to Your Inbox
Collabstr sends newsletters every 2 weeks with the newest trends, tips, and tricks in digital marketing.