Finding the right influencer through our influencer marketplace is just the beginning of nailing your influencer partnership—have you thought about what comes next? In other words, what's the purpose of your partnership? What type of content do you want to create with them?
The good news is there are countless directions you can take your new influencer partnership project, so we've put together a guide on the 10 best options.
Ready to feel inspired? Good. Here are some great ideas and real-life examples of influencer partnerships you can take inspiration from.
How to Create an Influencer Partnership
Influencer partnerships are built on trust, openness, professionalism, and plenty of creativity. But before you start reaching out to potential partners, you first need to strategize.
Here are a few basic tips for creating an influencer partnership.
Set your goals. Think about the purpose of your partnership. What's your campaign budget? What's the message? Clarifying your objectives before you contact influencers shows you're ready to partner up and get the ball rolling.

Think about KPIs. Think about what you want to achieve and how you'll track and measure success, i.e. Website traffic, Social media engagement, and Brand awareness.

Clearly define your audience. Knowing who you want to target will help you choose the most suitable influencers for reaching them.
We've also written an Ultimate Guide to Influencer Collaboration you should check out. It contains the entire A-Z on what influencer collaboration is and how you can do it with flying colors.
How Influencer Partnerships Can Help Your Brand
Pretty much all marketing efforts aim to boost sales in some kind of way. So what are the other key ways a successful influencer partnership can help your brand?
Increases exposure. Influencers come with their own pre-existing and already engaged audience you can tap into.

Value and trust. Research shows 61% of us value and trust an influencer's brand recommendations. Think of influencer marketing as a new, modernized version of word-of-mouth marketing, just on a grander online scale.

Enriched content. If done well, influencer partnerships can brighten up your content marketing strategy when you've run out of ideas or want to engage with a younger, more savvy market. After all, research shows that 44% of Gen Z have previously purchased something after hearing a recommendation from an influencer, the biggest proportion of any age demographic.

More doors opened. Who knows what the future holds? Strong collaboration on smaller influencer projects could be the start of even stronger long-term partnerships with big-name celebrities and mega social media stars.
Do these benefits sound like something your brand needs? Your influencer marketing journey can start today by joining Collabstr. We can help you find the perfect influencers to match your campaign plans and objectives. We've got a network of thousands of fully-vetted influencers you can find and hire.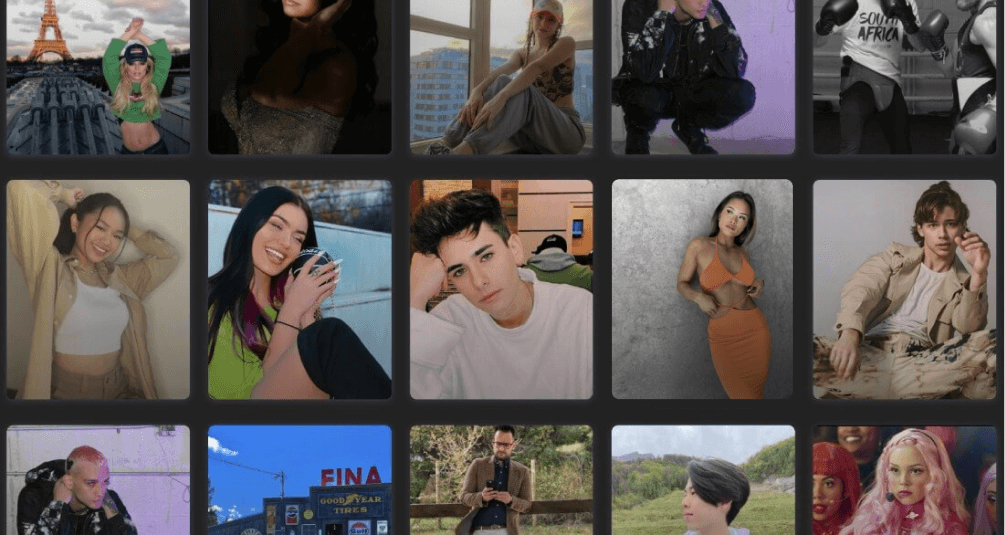 10 Types of Influencer Partnerships
Affiliate Marketing
Affiliate influencer marketing is when an influencer promotes a brand's product/services in return for a commission based on the sales they generate. The influencer is known as the affiliate, and their role typically involves incorporating website links within the content they create. For example, a blogger might write a listicle like 'The 100 Best Tech Gadgets of 2022' and link a few affiliate partners in their top 10 picks.
Amazon has one of the most well-known affiliate programs which gives bloggers and publishers up to 12% commission for every purchase they successfully refer.
Wondering how affiliate marketing is different from influencer marketing? We've written an entire article that points out the differences. Give it a read to see which approach might be best for you.
Sponsored Blog Posts
Sponsored blog posts work similarly to affiliate blogging, except it's usually an entire dedicated blog being written about the brand rather than just passing mentions.
Blogs are classic, trustworthy sources of information, so just imagine the power of having a popular blog like Techcrunch writing rave reviews of your new finance app or Treehugger bigging up your new line of eco-friendly products. Sponsored Blog posts are all about building positive buzz around your brand with an audience already interested in your niche.
Guest Blogging
One of the best types of influencer partnerships for bloggers is guest blogging—basically, where you invite an influencer to write something for your own site (usually a fellow blogger).
The aim is to boost brand awareness and drive traffic to your site from the influencer sharing the post on their own channels.
It can work the other way around too, which involves you submitting blogs to other sites relevant to your industry. If done well, guest blogging is a super cost-effective way of building credibility and establishing your brand as an authority in its field. It's also a great way of boosting your site's SEO rankings too.
Think of guest blogging as another form of content collaboration that profits both the brand and the content creator. By using each other's resources and already-established followings, you can create a series of high-quality entertaining, or informative blogs that your audiences love.
Sponsored Social Media Content
This type of partnership involves social media influencers creating posts that promote your brand across their profiles on Instagram, TikTok, Twitter, etc. It's best to give the influencer some guidelines and requirements around what the post should say or include—or alternatively, you can find an influencer who already offers a set of packages on what content they're up for posting, including photos, videos, or live feeds.
Social Takeovers
Instead of social media influencers posting on their own accounts, how about asking them to take over yours? A social takeover works marvelously for channeling their already-engaged audience in your direction so you can showcase who you are and what you do.
Gwyneth Paltrow's wellness brand Goop often invites influencers like Dr. Shauna Shapiro to take over their channel and share all sorts of tips and advice on meditation and other wellness topics. The key to a successful social takeover is making sure the influencer is someone who offers some form of relevant value to your existing following.
Product Gifting
One of the best ways to get top-end influencers onboard is by sending them freebies to test, review, and feature on their channels. That way, they get a firsthand experience of using your products before recommending them to their followers.
Another common aspect of product gifting (also known as product seeding) is sharing a unique coupon code the influencer's followers can use to get a discount—that way you can track exactly how many sales you generate from the influencer's work.
The guys of the VFX YouTube channel Corridor Crew aren't afraid to flex their influencer brand deals—which is no surprise seeing as they hold a lot of influence with their 5.97 million subscribers. ​​They've previously collaborated with the likes of Vessi, promoting a 25% discount off the world's first waterproof shoes in a few of their videos.
Giveaways
Competition giveaways are a super effective way to maximize audience engagement with your brand. It works by the influencer offering prize wins for the followers who complete a specific action regarding your brand, like signing up for your newsletter, following you on Instagram, or creating an account on your site.
For example, gaming YouTuber PewdiePie previously teamed up with eSports brand Clutch Chairz for a custom gaming chair giveaway. It was an incredibly successful campaign—after all, who better than PewdiePie to promote your gaming brand with his 111 million subscribers? A huge chunk of which is the perfect gaming demographic that Clutch Chairz wants to target.
Brand Ambassador
Brand ambassador schemes can be a mesh of all the partnership types we've already mentioned in this list—but these are much more comprehensive and long-term. Brand ambassadors are representatives who work directly with a company on all sorts of sponsored content, including events, collaboration projects, and regular social media content. Think of them as the well-known, influential face of your brand.
Red Bull is a brand that's nailing its brand ambassador scheme. Their brand ambassadors are fondly known as The Wings Team, and comprise of a variety of influential extreme sports athletes known for their active lifestyles.
​​
Product Collaboration
One of the most effective forms of influencer partnerships is product collaboration—when a brand invites influencers or industry experts to collaborate with them on a product line that's injected with the influencer's distinct personality or style. The aim is to drive sales to your brand.
Product collaboration is particularly common in the beauty industry. Mega-influencers MannyMUA, Grav3yardGirl, and Jaclyn Hill have previously collaborated with big-name cruelty-free cosmetic brands like Makeup Geek and Too Faced, all to great success.
Guest Podcasting
Given that 20% of podcast listeners have bought something after hearing about it on a podcast, your brand could benefit by appearing as a guest on one!. Guest podcasting is a great opportunity to promote your products or services through a light-hearted, informative, and entertaining medium—and best of all, you have much more control to talk about your brand in a way that suits you.
Conclusion
There are all sorts of benefits that come with investing in influencer partnerships—most importantly, you gain brand exposure by accessing their following. That's why it's always best to choose the influencers who're most relevant to your brand's industry or niche. That way you've got a better chance of converting potential customers who are already highly interested in what your brand has to offer.
Once you've nailed your project plans and objectives, you've got a variety of different partnership avenues to go down, ranging from sponsored social media content to more long-term collaboration projects. Which one you pick depends on the time, budget, and resources you're willing to put into the partnership.
Ready to master your influencer partnerships with top-notch sponsored content? Join Collabstr as a brand today to find influencers and start getting unique content sent straight to you. If you'd prefer to have influencers come to you, take a look through our pricing on Collabstr Pro, which will allow you to post your own influencer marketing campaigns where influencers can apply directly.
Get Digital Marketing Tips Directly to Your Inbox
Collabstr sends newsletters every 2 weeks with the newest trends, tips, and tricks in digital marketing.