Reach used to be the main deciding factor for brands choosing to collaborate with influencers, but with the rise of micro-influencers in 2023, the focus is shifting to engagement. A recommendation from a small influencer nowadays can have a larger impact than one from a celebrity, as surprising as it may seem.
This may sound surprising, but people are taking product or service recommendations more seriously from those to whom they relate. Nano-influencers who have a following of less than 10K are showing great promise in helping brands achieve their marketing goals, and it's in your best interest to pay attention to them.
At Collabstr, we're up to date with all the influencer marketing trends. So, in this article, we're going to tell you why you should consider looking at nano-influencers and how you can find the right ones for your brand.
What is a Nano Influencer?
A nano-influencer is a person with perceived social influence or a content creator with between 1,000 to 10,000 followers on social media. They are the smallest type of influencer and can show an interest in a particular industry or niche, such as beauty, fitness, or comedy, as well as a mix of different niches. Nano-influencers are also viewed as everyday social media users who have organically developed a small but very engaged audience for their content.
Interestingly, over 50% of Instagram users are considered nano-influencers with less than 10K followers. However, by using the channels and tactics we're going to suggest in this article, you can make sure to find the nano-influencers who will be a great fit to collaborate with your brand.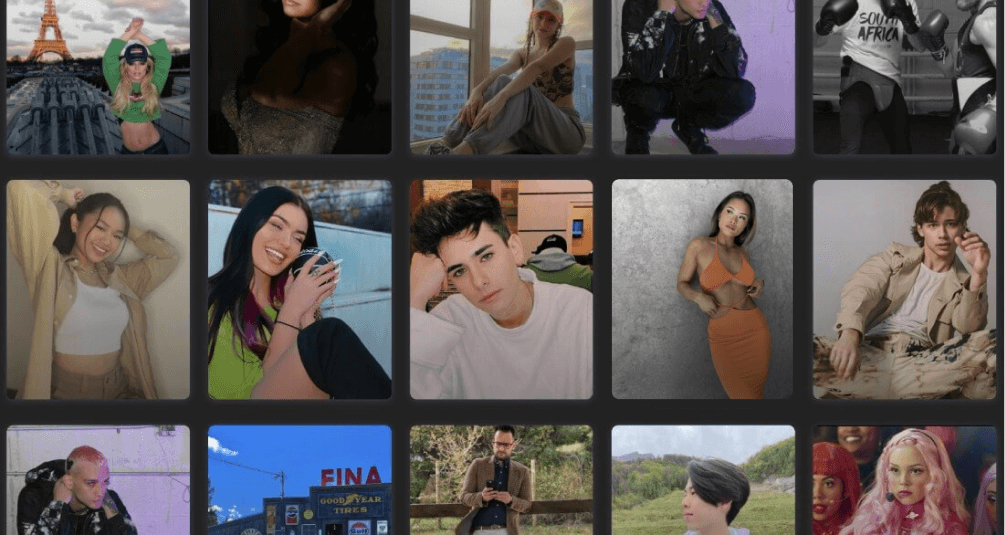 Examples of Nano Influencers
Cassie Kay Gee
Cassie Kay Gee works as a registered nurse by profession, but she also creates fashion, beauty, and lifestyle content on YouTube and Instagram. What makes her unique is that her involvement in the medical industry and passion for nano-influencing has allowed her to work with various brands that provide scrub suits and medical apparel. She is even the main brand ambassador for Uniform Advantage, with just 2.7K followers on her Instagram and 12K subscribers on her YouTube channel.
Fahim Khan
Fahim Khan is a nano-influencer with 4.3K followers on Instagram who specializes in creating Halaal food content for restaurants and businesses in the Canadian food industry. His audience consists of young adults aged 25 to 34 who are looking for Halaal food and vegetarian food recipes that they can make at home. As Fahim is well-versed in his niche and creates high-quality content, his followers know that they can always trust his recommendations, especially when it comes to restaurants to eat at.
You can take a look at Fahim's Collabstr profile here.
Nano Influencer vs. Micro-Influencer
Most people aren't aware that there is a tier below micro-influencers and would generally consider nano-influencers as micro-influencers. However, there is a difference in how their content appears.
Nano-influencers are essentially the newest wave of influencers who have the smallest following but are still able to work with brands to promote their products and bring valuable content to their audiences. Although their influence is small, it is still impactful because the majority of their followers know them well enough to trust their opinions and recommendations.
Nano-influencers tend to have a less polished feed with more personal content unless they are trying to showcase a specific aesthetic. They usually appear as normal social media users, which makes their content more genuine and relatable. However, what sets them apart is their consistency in sharing their particular interests.
Micro-influencers also fall into the small influencer group that has strong engagement with their followers and tends to outshine celebrities. They have a higher following range of 10,000 to 50,000 followers. Micro-influencers usually stick to a specific niche, and this attracts followers with similar interests who consider them to be authority figures in those topics.
Although nano-influencers can be professionals in their specific field, almost all micro-influencers are experts in their field because of the credibility they gained from starting out as successful nano-influencers. For example, Alicia Lartey is a UK-based micro-influencer who posts educational skincare content. She's able to offer amazing advice and work with major global skincare brands, such as Naturium, because she has proved her expertise as a licensed esthetician, skincare product developer, and beauty journalist.
Ultimately, working with both micro-influencers and nano-influencers is extremely beneficial for any brand looking to gain credibility with its target customers.
Let's take a closer look at what makes nano-influencers so special.
The Benefits of Working With Nano Influencers
More engaged with their audience
A nano-influencer's smaller following allows them to create meaningful and strong connections. Believe it or not, nano-influencers have the highest engagement of all influencer groups at 8.8%. This is because they are more likely to respond to all their comments and answer questions in a timely manner to understand their audience better.
Understandably, their high engagement can also be attributed to their modest and narrow reach, but by working with them you can guarantee that their audience will see your products and services.
More relatable
Nano-influencers' follower networks are often made up of their family, friends, and acquaintances, which keeps their interactions more personal, genuine, and impactful. This is great because an Ambassador survey showed that 82% of Americans often make purchases based on recommendations made by family and friends.
Even if their followers don't know them personally, nano-influencers feel more relatable because of their small following and shared interests. By working with them you have a better chance of showing the value of your products or services to an audience that relates with the person delivering the message.
Perfect for targeting hyper-niche audiences
The content that nano-influencers make is personalized for their audience and hyper-authentic. This means that their followers will always pay attention to what they have to say since they have shared interests. So, as a brand working with this type of influencer, you're likely to cultivate a following of those who are actively involved, or interested in your niche.
Easy on the pocket
When you take a look at nano-influencer pricing, you'll see that they tend to be much more affordable than other types of influencers. So, if you're a brand on a budget they are typically the right starting point for your influencer marketing strategy because you'll also gain access to a very engaged audience.
Some smaller nano-influencers may not even charge brands to begin with, and instead opt for promoting gifted products because this is how they can build their following and credibility.
How to Find the Perfect Nano Influencers for Your Brand
Nano-influencers are a great way to kickstart your influencer marketing strategy, and fortunately, getting started with them isn't that difficult. Here are some solid ways you can find the right nano-influencers to promote your brand:
Define your target audience
Before you get started working with nano-influencers, you need to determine your target audience. It's especially important for nano-influencers since their audiences are more narrow. By knowing the type of people you want to reach, you'll be able to choose the best nano-influencers who have access to those audiences.
There are a few tactics you can implement to define your target audience:
Take a look at the current customer base of your business. Analyze their age range, gender, hobbies, interests, dislikes, and income level.

Analyze who your products and services appeal to (e.g., animal lovers, foodies, fitness enthusiasts, etc.)

If you're a new business, take a look at who your competitors are targeting through their social media.
Harness the power of social media
Instagram is one of the most prominent social media platforms where influencers get their start and share their interests, so it's a good idea to start your search here. With your target audience in mind, you can look through accounts that have the same personas. If you already have some engagement on your brand page, look through the accounts that follow you or leave comments about your products.
When looking through social media, prioritize accounts that fit in with your own brand's aesthetic. Although nano-influencers can show more personal content, the ones that can be great for your collaboration are those that show consistency and a certain theme for their posts. For example, the creator shown below focuses her content on showing how she uses her skincare products, and she posts weekly.
TikTok is also a great platform to find nano-influencers because the short-form video aspect makes it more likely for videos to go viral. If nano-influencers want to get noticed, they also prioritize posting their content on TikTok, so you can find a variety of options here.
Use hashtags on social media platforms
Using hashtags for your search is very effective in finding the content and accounts that match what your brand is looking for. Search for specific hashtags that relate to your industry or niche, and you'll find a wide variety of accounts that create valuable content for it. Since you'll have a variety of options it's best to choose accounts that have a personality you'd happily associate with your brand.
For example, if you are a streetwear fashion brand looking for nano-influencers, you can search popular hashtags like, #streetwear, #streetstyle, #streetfashion, #hypebeast, #instafashion, #ootd, #apparel, #fashionblogger, or #outfitoftheday.
Check out an influencer search tool to find nano influencers in your niche
Fortunately, there are influencer tools available for you to use if you don't have enough time to look through your social media platforms. These tools are specifically for influencers, so you'll be sure to find accounts that are dedicated to creating valuable content. You'll be able to search by platform, niche, and audience size so you can immediately identify the nano-influencers to discover.
Here are some great influencer search platforms to use:
Collabstr: Collabstr is a dedicated marketplace to find and hire influencers and content creators in various niches for your brand. You can use it to build influencer collaborations or buy custom content, including product photos, sponsored social media posts, testimonials, and ads. The platform also makes it easy for you to post your needs and have influencers come straight to you. The influencer price calculator will give you a good idea of the budget you'll have to keep in mind.
trendHERO: trendHERO is an Instagram analytics tool that helps you with influencer outreach. You'll be able to find any Instagram account–as long as it's public–and analyze and track how the account is performing. It's a great option if you want to verify the outreach and value of an influencer before you commit to working with them.
Create a brand ambassador program
A brand ambassador program is a useful tactic to attract talented and dedicated nano-influencers to your brand. By having a nano-influencer as your brand ambassador, you can make sure to build long-term and mutually beneficial relationships that will help you gain genuine credibility for your brand.
If you choose this route, you should create an official landing page for your ambassador program where you lay out your brand story and what you're looking for in your influencers. The application process should be clear and easy.
Sephora is a great example of a brand that succeeded in creating a successful brand ambassador program, Sephora Squad. The brand created a real community of beauty enthusiasts who want to share their unique content and appreciate Sephora as a brand.
Attend industry-related events
If you want to take a more active approach to finding nano-influencers you can attend industry-related events for your niche. With such events, you can be sure that the people you meet there are genuinely interested in the industry your brand is present in. This strategy works best for B2B and SaaS companies because it can be harder to find influencers in that niche directly from social media.
Fortunately, there are also content creation conferences that you can attend to help meet nano-influencers in the industry. You can check out conferences like Web Summit and Creator Conf where you can network and discover amazing creators to work with.

Get Started With Nano-Influencer Marketing Today!
As we're now in an era where audiences are appreciating creators who make more personalized and authentic content, it's important that brands take nano-influencers more seriously in their influencer marketing. They make up for their low reach with their high engagement, dedicated audiences, relatability, and affordable pricing. So make sure to use our strategies to collaborate with the nano-influencers that suit your brand best.
Collabstr is here to make the search process easier. So do not hesitate to search for influencers on our platform and connect with them first before making any commitments.
Get Digital Marketing Tips Directly to Your Inbox
Collabstr sends newsletters every 2 weeks with the newest trends, tips, and tricks in digital marketing.