5 Ways to Promote Your Brand on TikTok Without Showing Your Face
Published May 16, 2022 | Last Updated October 11, 2023
Not all of us have a knack for being the face of a brand, even if that brand is ours.
Oftentimes, we simply don't want to show our faces on the internet, and that's okay. That said, all of us have businesses to run – and as we all know, warming potential customers up to the people behind a brand is key to authority-building.
Luckily, there are several other ways promote your brand on TikTok without showing your face. Since 2019, TikTok has been a huge part of the growth of some companies, which involve big names like Netflix, Chipotle, and RedBull. These brands are killing it on TikTok by featuring a variety of marketing strategies, not all of which include human faces.
So, how can we grow our brands and subsequently make more money on TikTok without the need to show ourselves? Luckily, there are several ways to do that. Here are five of them.
Product Shots and Demonstrations
In the above example from nail lacquer brand OPI, there's not a face in sight. The entire video focuses on demonstrating the product in favorable light and a high-quality camera – as do most of the videos from OPI's TikTok page.
Because it's a nail brand, faces are obviously not the centerpiece of the content. However, OPI is a great example of how certain brands can be successful with alternative strategies.
Does your business have a physical location that you'd be proud to show off? If the answer is yes, filming a tour of that location could deliver great content for your page. Although the following tour through Starbucks New York Roastery appears to be created by a micro-influencer, it's yet another awesome example of how different elements of your brand can generate great content.
If you have a phone and know how to use TikTok to spruce up your videos, you can achieve the same result.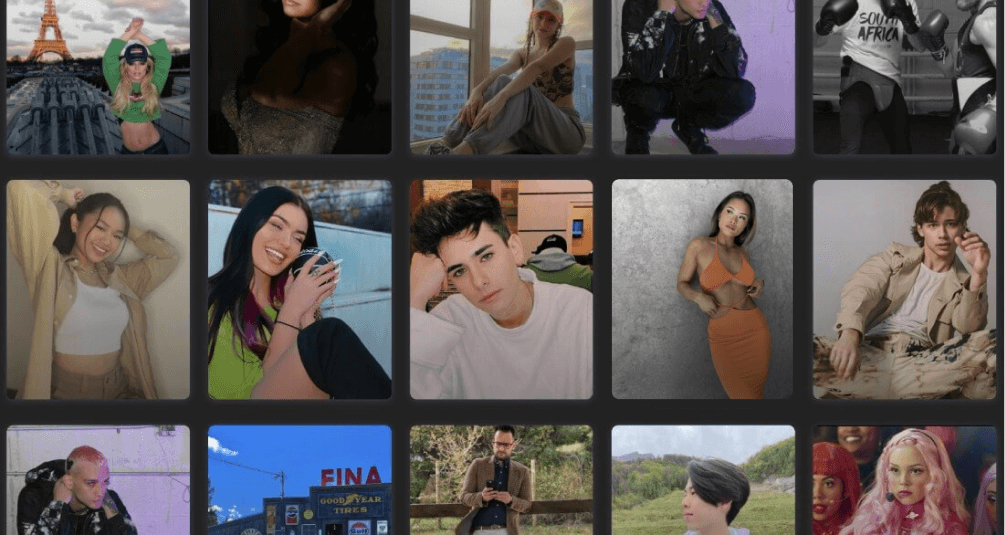 Create Content With a Call to Action
McDonalds' TikTok is a healthy mix between influencer content, user-generated content, and eye-catching videos that encourage engagement from viewers. In this video McDonalds asks people to create their ideal McDonalds order using the items listed on the screen:
This type of content is usually popular on image-centered platforms such as Instagram. Yet, this is a great example of how you can bring this format to a video-centered platform such as TikTok. Even though there is not much action happening in the video, you can leverage audio to make the video more captivating for the viewer. This specific type of format prompts people to take action – in this case, add a comment and tag other people – which, in turn, pushes the video out to more viewers.
This TikTok gathered 14k comments and 29k likes. Sure, we're talking about McDonald's. But see how there are no faces, no people, but a whole lot of engagement?
Use Funny Filters
The great thing about TikTok is the fact that it allows users to explore their creativity. One of the ways it does that is by providing people with playful filters they can try on.
This is yet another way to showcase your products, with a twist. You won't have to show your face, but simply use it to create an amusing video. Let's see two more examples from McDonald's, whose content variety experiments (and succeeds) with filters:
Keep in mind that this strategy may not be on-brand for certain companies. On the other hand, if your branding allows for this type of laid-back content, don't hesitate to give it a go.
User-Generated Content
User-generated content refers to the organic content that is created about your brand or products by customers or users of your products.
When it comes to building authority, nothing matters more than a customer's opinion about your brand. After all, they've tried your products first-hand, and aren't getting paid to give favorable opinions.
If you've sold products and made customers happy, you may have a few supporters – people who will showcase your product on their social media simply because they loved it. That's huge, as your raving fans will be essentially generating content for you.
The key is to leverage this content by reposting it to your audience. Not only is this a great way to get high-quality content for your brand, but it's also a great way to generate social proof for your brand. Why do the promoting yourself, when you can have your customers do it for you? Again, a customer's opinion about your brand is a lot more powerful than yours.
Hire Influencers
In most cases, brands won't go too far without showing a few faces. That's the "bad" news. The knowledge of human actions behind a brand reassures us that we're dealing with people who are just like us.
Without human faces, you may be more skeptical in your consideration to buy a product. How will you trust that a brand is legitimate and is working toward your best interests?
The good news is: you don't have to be the face of your own brand. Not necessarily. If you don't want to show your face, you can find other people that are passionate about your product or service and willing to create content on your behalf. This is where influencer marketing comes in.
It's not surprising that influencer marketing is projected to be a $15 billion dollar industry in 2022. Seeing that 60 percent of TikTok users are aged 16 to 24, and that 70% of teens trust influencers over celebrities, we can conclude that the power of influencers over the youth's buying decisions is huge.
By hiring influencers to create content for your brand, you add a much-needed human element to your content strategy. Humans trust humans more than they trust brands, so even if you're not comfortable with showing your face when creating content for your brand on TikTok, it's not to have someone's face behind your product.
Final Thoughts
While TikTok content is typically very human-centered, it's possible to promote your brand on TikTok without showing your face, but this will require that you get creative with your approach. Most content creators or brands that thrive on the platform without showing their face are creative and consistent with their content output.
The five ideas listed above should give you some direction when it comes to promoting your brand on TikTok without showing your face, but you should merely use these examples as a foundation for your content strategy. Don't be afraid to expand on these concepts in order to keep your audience engaged.
Experimentation is the key to success on TikTok. As a brand you should be constantly looking for new content styles and opportunities, and when you're not showing your face, this becomes even more important.
Get Digital Marketing Tips Directly to Your Inbox
Collabstr sends newsletters every 2 weeks with the newest trends, tips, and tricks in digital marketing.