2022 Influencer Marketing Report: Everything You Need to Know About Influencer Marketing in 2022
This past year, influencer marketing continued to grow at a rapid pace mainly fueled by changes in cultural and consumer behaviour. There are no signs that influencer marketing growth will slow down as we head into 2022, so the team at Collabstr put together this report to showcase some of the trends we see in the influencer marketing space as we head into the new year.
In recent years, influencer marketing has gone from something reserved for brands with large teams and budgets to a marketing channel used by brands of all sizes. Part of the reason for this is due to the explosion of short-form content which was started by TikTok and has since spread to other major platforms like Instagram, YouTube, and Snapchat. Apple's iOS 14 changes also significantly impacted advertisers that were relying on platforms like Facebook to drive revenue. The effects of Covid-19 also linger, as more people work remotely mobile app usage has increased, making influencers an appealing strategy for getting in front of consumers.
This report was put together using data from Collabstr's influencer marketplace, from which we sourced data from over 5,000 advertisers and 27,000 content creators.
Where Influencer Marketing is Headed in 2022
The world of influencer marketing is growing faster than ever before. In 2021 we saw the market size of influencer marketing grow 42% year-over-year, from $9.7 billion in 2020 to $13.8 billion in 2021. It's projected that influencer marketing will grow to a $15 billion market by the end of 2022.
This begs the question, why is influencer marketing growing at such a rapid pace? There are a few growth drivers, so let's dig in.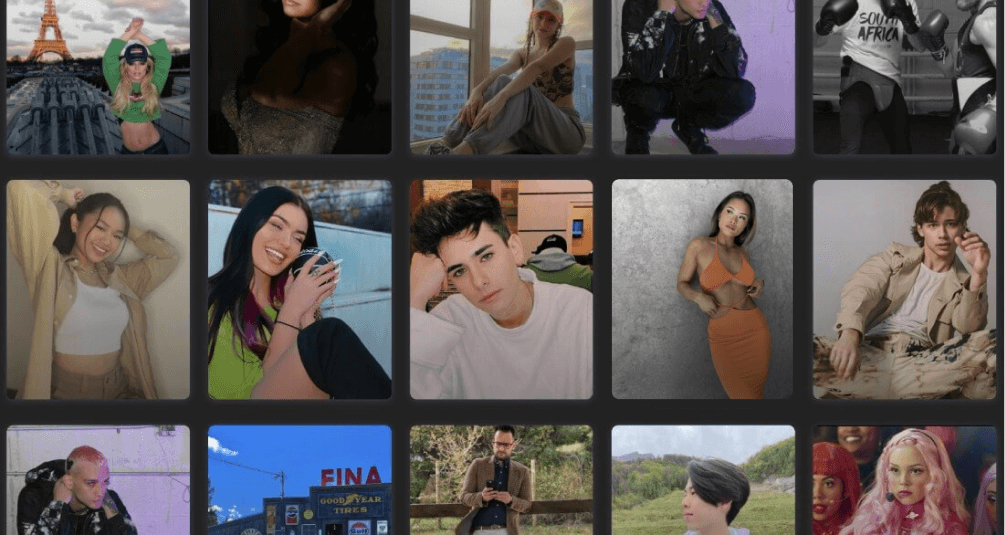 The Rise of Short Video
One of the main growth drivers of influencer marketing growth as of late has been the rise of short-form content, specifically short videos.
Short video content was first made popular as TikTok took the social media industry by storm. It wasn't too long before other social media giants like Facebook, YouTube, Snapchat followed with their own short-video products.
Since then, hundreds of thousands of people have become content creators by posting short-form content on these platforms. This has led to an unprecedented supply of content creators in every niche imaginable for advertisers to partner with.
As a result of the TikTok boom, 64% of content creators that are working with brands offer content creation services on TikTok
Influencer Marketing After iOS 14
This year we saw Apple crackdown on data collection as they implemented major changes during their iOS 14 updates. This update especially impacted social platforms like Facebook and Snapchat who rely on this data for advertising.
As a result, advertisers who were dependent on social media ads to drive revenue were forced to look into other methods of getting in front of consumers on social media. Influencer marketing became a preferred method of advertising for a lot of brands that would have otherwise not considered it.
The large influx in the supply of content creators thanks to platforms like TikTok also made it easy for brands to hire content creators that catered to their needs in terms of niche, content style, and size of following.
In this case, influencer marketing is not just limited to sponsored posts on social media. After iOS 14, more brands are leveraging influencers for their UGC ads. This is because it's not sufficient to solely depend on the advertising algorithms of platforms like Facebook after iOS 14, instead brands need to stick out from the crowd with good ad creatives.
The Effects of Covid-19 on Influencer Marketing
There's no doubt that Covid-19 has affected the way consumers behave, specifically when it comes to their social media consumption.
Neilson estimated that social media consumption increased by as much as 60% during the peak of Covid-19 lockdowns. This created a rush of advertisers looking to take advantage of this trend by using influencers to get in front of consumers on social platforms like TikTok and Instagram.
With many consumers still working from home, it's estimated that social media consumption will stay higher than it was pre-covid.
What Are the Most Popular Social Media Platforms For Influencer Marketing?
Upon analyzing the influencer marketing spend of over 5,000 advertisers, we found that Instagram is still the most popular social media platform for brands to pay influencers.
In 2021, 48% of influencer marketing budgets were spent on Instagram. TikTok was a close second as it captured 46% of influencer marketing spend from advertisers, which is unsurprising seeing that TikTok has taken the world by storm. YouTube came in third by capturing 6% of influencer marketing spend.
From Which Countries Do Influencers Get The Most Brand Deals?
Brand deals can be defined as any time an advertiser paid an influencer for some sort of content, whether that be a sponsored post on social media, original content creation, or collaborations in any other aspect.
Influencers based out of the US are the most popular amongst advertisers, followed by influencers in Canada, the UK, and Australia.
The US has the largest consumer market in the world, and with it's close proximity to Canada, a lot of these content creators share the same audience. It's no surprise that influencers from these two countries are most in-demand amongst advertisers.
Which North American cities have the most influencers?
With North America being the most dominant continent for influencer marketing spend, we dug deeper into the distribution of influencers across North American cities.
Seven of the top ten North American cities for influencers are located within the US, with the remaining three of those cities located in Canada. It's no surprise seeing Los Angeles top the list, the city has naturally become a place for content creators to build up their careers and connect with others in the industry.
Most Popular Social Media Platforms For Influencers
Instagram tops the list as the most popular social media platform amongst influencers getting brand deals. 94% of influencers that are offering paid content services to brands offer services on Instagram. This is no surprise, as Instagram has remained a dominant platform amongst influencers since its inception.
That being said, TikTok is closing the gap, and there is a new influx of influencers getting brand deals on TikTok as the platform continues to grow at a rapid pace. 64% of influencers that offer paid content services to brands are offering their services on TikTok.
YouTube is the third most popular platform for influencers to offer content services for brands, with only 19% of them offering advertisers collaborations on the platform. This is most likely due to the fact that more effort is required to build an audience on YouTube when compared to platforms like Instagram and TikTok. YouTube creators are also compensated much more for their services when working with advertisers.
Most Popular Influencer Niches
Niche is incredibly important when it comes to influencer marketing, this is something that should be considered by all advertisers when choosing an influencer to work with.
Our data shows that the lifestyle niche is the most popular amongst influencers, this is great for advertisers that require lifestyle creators, but it can also be a downside for content creators. The niche is incredibly saturated and noisy, so content creators must find something that gives them an edge over the competition in order to build a steady stream of income from brand deals.
The comedy & entertainment niche sits at fourth on the list, but it continues to steadily climb higher. We attribute this to the explosion of TikTok, and how it gives influencers who are in the entertainment niche a platform where they can be discovered, something that Instagram was not traditionally good at.
Gender Breakdown Of Influencers
Influencer marketing is dominated by females. We found that 77% of influencers that are actively monetizing their content are female, while the other 23% are male. It's important to note that this is only considering those content creators who are actively offering content creation services in exchange for payment, and this is not a general breakdown of male versus female users.
The most female-dominated platform amongst influencers is Instagram, where 78% of influencers who are monetizing their accounts are females, and only 22% are males.
Alternatively, YouTube is the platform with the smallest gap between female and male influencers. On YouTube, 68% of influencers actively monetizing their audience are female, with the other 32% being male.
Gender Breakdown By Follower Range
We also noticed that as follower count increases, the market share between female and male influencers becomes more evenly distributed.
Instagram
The gap between female and male influencer market share is most noticeable with nano-influencers between 1k-10k followers, where females make up 81% of the influencers that are monetizing their audiences.
As we move up to micro-influencers, there is a slight increase in the percentage of male influencers, with them making up 23% of the market share for influencers with 10k-50k followers and 30% of the market share for influencers with 50k-100k followers.
The gender gap is smallest when it comes to macro-influencers, although it is still female-dominated for the most part.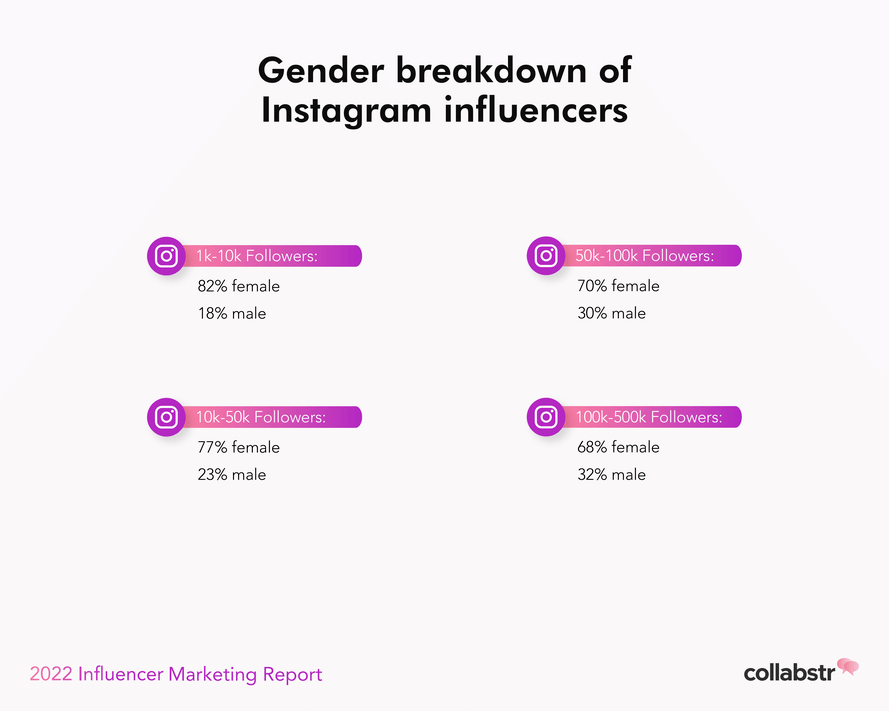 TikTok
The same trends that we see on Instagram when it comes to the distribution of genders based on follower range are also present on TikTok.
The one key difference we noticed between gender distribution on TikTok versus Instagram is that there is an even larger gap between male and female market share when it comes to nano and micro-influencers. To support this data, TikTok statistics show that 56% of all users on the platform are female.
As we move up into larger follower ranges, male market share increases much more than it does for the same ranges on Instagram. For influencers with 100k-500k followers on TikTok, the split is 60% female and 40% male. This means males have 8% more market share when compared to the same audience size on Instagram.
YouTube
YouTube is the most evenly distributed platform when it comes to the gender of influencers actively monetizing their audiences.
While there is still a clear discrepancy in the gender breakdown depending on the number of subscribers, it is not as large as we see on Instagram and TikTok.
Highest Priced Influencer Niche
Our influencer price calculator pulled over 50,000 rates from content creators on Instagram, TikTok, and YouTube to show us the highest-priced niches on each platform.
Average Price For Content On Each Platform
We also used our influencer price calculator to pull the average cost of content on Instagram, TikTok, and YouTube. This data consolidates prices from 27,000 influencers across various niches and with various audience sizes.
Although Instagram remains the dominant platform for influencer collaborations, the average price for content on the platform is less than that of TikTok. We believe this is primarily due to the fact that static photo content requires less effort than video content, combined with the fact that offering story promotions is something that is much more common on Instagram than it is on other platforms.
The average cost for content on Instagram is $410, this includes static photos, story content, and Instagram reels. We found the average price for content on TikTok to be slightly higher, at $530, mainly attributed to the fact that all offerings on TikTok include some sort of video creation. YouTube took the cake with an average cost of $1025 for content collaborations on the platform, this comes as no surprise seeing that YouTube audiences are arguably the most valuable compared to Instagram and TikTok. It's also much harder to build an engaged audience on YouTube, which means creators who have pulled this off typically reap the rewards of higher compensation.
Average Price For Content In Top 10 Most Popular Niches
Using the data gathered on the top ten most popular influencer niches, we were able to get the average that influencers charge for content in each corresponding niche. This data averages out the pricing across Instagram, TikTok, and YouTube.
Lifestyle: $485
Fashion: $440
Beauty: $460
Health & Fitness: $460
Travel: $600
Food & Drink: $590
Modeling: $515
Comedy & Entertainment: $715
Music & Dance: $530
Art & Photography: $555
As you can see, pricing gradually increases as we work our way down the list of the most popular niches. This is predictable as less saturated niches provide more opportunities for content creators to charge a premium for their services. Less saturated niches also means that there are less content creators for advertisers to choose from in those niches, therefore they are willing to pay more to work with these creators.
For example, finding a fitness influencer or a fashion influencer to work with can be much easier than finding an nft influencer that will be required to create content on a much more specific topic like NFT's.
Average Number Of Social Media Accounts Per Influencer
While influencers may have multiple social media platforms that they post on, our data shows that on average, influencers are monetizing 1.8 social media platforms at a time.
Typically influencers will have a primary social media platform that they have built their audience on, and then a secondary platform where they are working on building up an audience. The most common combination we see is Instagram and TikTok.
Percentage Of Influencers Offering User-Generated Content Services
Aside from sponsored posts, we learned that 13.6% of influencers are willing to charge advertisers for user-generated content (UGC). This typically entails services that do not require influencers to post promotional content to their audience.
Some common use-cases for UGC include:
Product tutorials
Product shots
Ad material
In recent years, brands have begun to leverage UGC much more. This is mainly due to the fact that UGC gets much better engagement than brand-owned content. For example, brands that use video on their website see a 4.8% conversion rate compared to 2.9% for those that don't.
Most Common Reason For Influencers Declining A Brand Deal Offer
One of the biggest problems brands face when working with influencers is making it an efficient process that allows them to work with influencers at scale. A lot of brands struggle when it comes to recruiting the right influencers for their brand, and the data really clears things up.
The number one reason for influencers declining to work with a brand is because the partnership is not a good fit for them or their audience. Many advertisers make the mistake of going wide and sending collaboration offers to anyone and everyone when in reality they should hone in on individuals who possess a select group of attributes. This will ultimately increase your likelihood of working with the influencers you want.
The second most common reason for influencers declining a brand deal is because of scheduling conflicts. While it's something that advertisers will not be aware of until they reach out, they can avoid running into this issue by reaching out far beyond their campaign deadline and offering flexible timelines.
Average Collaboration Length
We analyzed over 2,500 orders and found that the average collaboration is completed within 15 days. This includes collaborations that require a product to be shipped out to content creators. Advertisers with no physical product are typically able to cut this time down since there is no product shipment involved.
Average Time It Takes Influencers To Respond To A Brand's Outreach
On average, it takes 18 hours for an influencer to respond to a brand's initial outreach for collaboration. We found that those influencers who took longer to respond were less likely to complete the collaboration with the brand.
Timeliness is the one attribute that separates high-earning influencers from the others. This makes sense from a business perspective as most brands are working with deadlines, therefore timeliness increases the chance of successfully completing a collaboration and receiving repeat collaborations from brands.
Where Do Brands Spend Influencer Marketing Budget?
If we take a look at the top four markets for influencers, we can see that brand spend on influencer marketing is primarily concentrated in North America, specifically in the US.
USA - 70.63%
Canada - 12.9%
United Kingdom - 5.36%
Australia - 5.2%
How Much Do Brands Spend On Influencers?
By analyzing orders between brands and influencers, we found that the average initial spend on an influencer is $174. Brands tend to reach out to more than one influencer at a time, we found the average number of influencers per campaign to be 4, with this number increasing in subsequent campaigns.
Influencer Marketing Trends For 2022
As we head into 2022, it is important to be aware of influencer marketing trends that will dictate the direction of the industry. While putting together this report, we were able to come to some conclusions about which influencer marketing trends to look out for in 2022.
Short Video
Short video content is here to stay, and it's important that both advertisers and influencers understand this and take advantage of it while it's new. Major players like TikTok, Instagram, YouTube, and Snapchat are fighting for market share in the short video boom and they're compensating creators handsomely in the form of creator funds and organic reach.
These social media platforms are paying out millions of dollars a day to promote the creation of short video content on their platforms, this will ultimately lead to an influx of content creators over the next few years.
Organic reach on short video content is also something we've never seen before, and this is something that both content creators and advertisers can take advantage of. Advertisers should shift their influencer strategy to include short video content if they haven't already, not only is it engaged with much more, but it also offers free organic reach that you may not receive through other content mediums.
Influencer Whitelisting
Influencer whitelisting is the act of promoting user-generated content posted on an influencer's page rather than a brand-owned page. Consumers engage with this type of advertising more than they do with brand-owned content.
Instagram and TikTok are well aware of the power of influencer whitelisting, and as a result, they have both introduced the ability to facilitate this type of advertising through their respective ads managers. Most recently, TikTok released their version called Spark Ads, which allows brands to put ad spend behind influencer content on TikTok, assuming that the influencer has authorized them to do so through their app.
As trust in traditional advertising channels drops, it's important for brands to reach consumers through user-generated content, and influencer whitelisting allows for them to do that.
Due to the effectiveness of influencer whitelisting, we also see more platforms like Facebook implementing native features for other variations of whitelisting, such as dark posting. Dark posting is the act of running ads with influencer content that is not posted on the brand or influencers profile.
Livestreaming
It's quickly becoming apparent that livestreaming will become the next frontier for some of the largest social media and e-commerce companies in the world. This will present massive growth opportunities for advertisers and content creators as platforms battle for consumer attention.
While platforms like Instagram have had native livestream features for a while now, discoverability and monetization have always been lacking, making it a functionality that isn't used by smaller content creators and businesses. Recently, the livestream wars have been heating up with Amazon pushing Amazon Live and TikTok doubling down on livestreaming by offering users organic reach and monetary rewards for streaming on the platform.
TikTok's recent partnership with Walmart shows us that they plan to integrate shopping directly into streams, making this another channel for creators to market products for advertisers. Amazon Live is already offering commissions to creators who sell products through livestreams on the platform.
While this is still in development on most social media platforms, it is important for creators and advertisers to watch this trend closely as it may present an underpriced opportunity for early adopters.
Final Thoughts
Our biggest takeaway while putting together this report is the fact that influencer marketing is still in its infancy and there is a ton of growth that has not yet been realized. Early adopters who spot trends and hop on them before anyone else has a chance reap the most rewards, a great example of this is the adoption of short-form content which has taken the world by storm.
By keeping tabs on trends in the creator economy and influencer marketing space, advertisers and creators can get a leg up on their competition and leverage undervalued channels.
Get Digital Marketing Tips Directly to Your Inbox
Collabstr sends newsletters every 2 weeks with the newest trends, tips, and tricks in digital marketing.