How Much Money Can You Make On TikTok?
Published May 16, 2022 | Last Updated December 8, 2022
After a year of rampant growth, TikTok has joined the big social media platforms and become a well-respected place amongst content creators looking to garner an audience. The app is full of content for anyone, no matter what you're interested in, which makes the infinite-scrolling app that much harder to put down.
Just like content creators on Youtube and Instagram add more hours to their workweek by brainstorming, creating, editing, and distributing content, TikTok influencers have a lot on their plates as well.
TikTok content creators need to constantly stay on top of current trends and content styles to keep their audience engaged and growing. Although this may feel like a full-time job to some, there are a lot of incentives to create content on TikTok, with one of the major ones being money.
If you're wondering how to make money on TikTok, this article is for you. There's a ton of content creators out here that have garnered an audience of thousands or even millions before they've had the chance to monetize. So, let's dive into the golden question: How do I make money on TikTok?
While income definitely depends on a few factors such as your following size, niche, and content style, there's ways to begin monetizing your TikTok page regardless of where you're at. In fact, at Collabstr, the content creators who make the most money are microinfluencers, this should serve as a form of encouragement for those smaller content creators.
Finally, let's take a dive into all the ways to make money on TikTok. Some of the methods mentioned below will be more lucrative than others, but we want to cover as many as we can in order to show all the options.
TikTok Referral Program
If you've seen people posting TikTok links and asking friends to sign up using that specific link, there's a reason for that.
Although TikTok boasts over a billion users, it keeps them coming by offering users the chance to earn money through its referral program. All they have to do is get people to sign up using the link they've provided.
According to TikTok's terms, the Referral Program "allows participants to earn points to redeem for rewards by referring friends to become new users on the Platform."
What are TikTok Points, and How Do They Work?
This smart strategy is part of a program involving the app's built-in currency: TikTok coins.
Every user has a coin balance within their account. They can purchase coins using real money, and the prices range from $1.29 for 100 coins to over $100 for 10,000 coins, as seen in the image below:
These coins can be used inside the app, which you can use to purchase gifts and give them to your favorite TikTokers while they livestream. Doing this will withdraw coins from your balance and transfer them to their balance. Then, these coins will be converted to gift points.
These gift points can later be converted into diamonds, and then finally to money value. Each diamond is worth five coins, meaning if you collect 100 diamonds, you'll have 5 dollars. The minimum daily withdrawal on TikTok is $100.
Livestreams
Like all streaming platforms you already know, TikTok allows streamers to earn donations from viewers in the form of gifts. The only downside is that TikTokers can only accept gifts from their audience once they've reached 1,000 followers.
Take a look at the stickers below. These are gifts:
All of the funny stickers above can be traded for diamonds. If you have enough generous members in your audience, you can make a decent amount of money during your livestreams.
Brand Partnerships
A TikToker's followers and engagement will get them far. Still, in-app earnings, such as TikTok diamonds, are equivalent to side gigs.
The big dollars come from brands that ride along their increasing popularity. The greatest thing about TikTok is: no one needs a million, or even a thousand followers to go viral overnight, the same way no one needs fame to start working with brands.
Remember: there are large brands out there, but there are also tiny brands with smaller budgets. They need people like you to create original content for them. As someone who regularly creates TikTok content, you most-likely know much more about what kind of content works on the platform than a brand does, and this is the whole reason they will pay you to create content.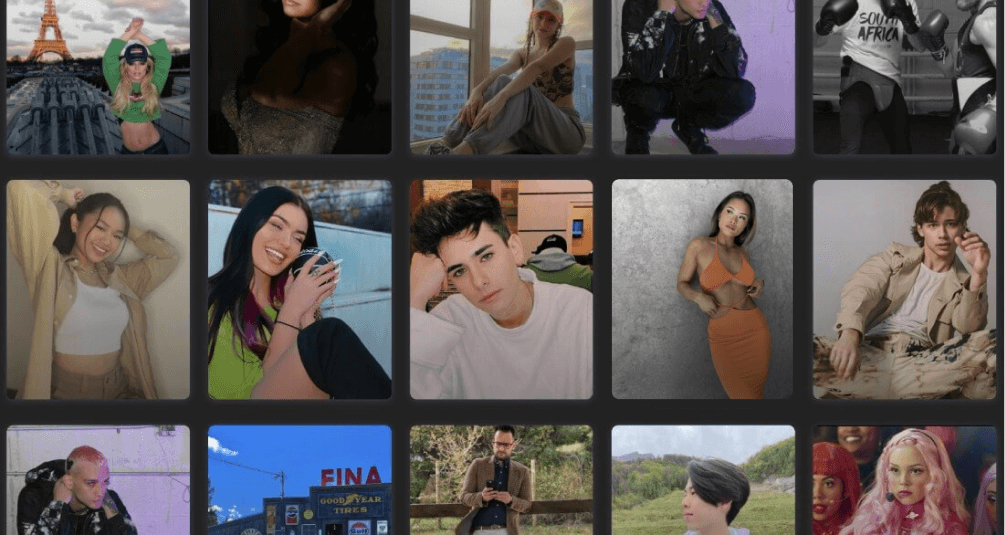 How to Price Your Content
When starting out, it can be tough to figure out what to charge brands for your content services. One great way to find out how to price your services is by looking at other content creators in your niche and seeing what the average market rate is. We created our influencer price calculator for this reason.
While it's good to look at how others are pricing their services, you shouldn't flat-out copy their pricing as this is something that can vary from person to person. Instead, use it as a general guideline.
Types of Brand Partnerships
Working with brands requires some flexibility, not every brand is going to be approaching you for the same type of partnership. There's generally two types of partnerships that we see between content creators and brands.
Promotional Posts:
A promotional post is what we typically think of when we hear the words influencer marketing. In this case, a brand will usually approach an influencer and pay them in exchange for a promotional post on their respective social media channel.
Content Only:
Sometimes brands are looking for user generated content and they're not interested in having you post about them on your social media channels. These are content-only collaborations where you will typically create a piece of content and sell the rights that content so that a brand can use it. This is quite common for brands that are looking for user generated video ads.
The great thing about content-only collaborations is that you can create content for brands you love without posting to your audience, so you don't have to worry about how often you're posting sponsored content.
How do I find brands to work with on TikTok?
This is a fair question, and for starters, you want to get yourself in front of as many opportunities as possible. A great way to do this is by joining an influencer marketplace like Collabstr where you're put in front of thousands of brands looking for content creators to partner with.
Once you're on a marketplace, it's important not to stop there. You should always be compiling lists of brands you're interested in so that you can approach their marketing department to see if there are any opportunities available. You'd be surprised at how many brands work with content creators that reach out to them with an actionable plan. Before reaching out, make sure you know the basics of how to email brands as an influencer.
How Much do Successful TikTokers Actually Make?
For this section, we've brought three of the most profitable TikTokers together for a quick analysis. The following influencers started just like everybody else: by creating TikToks and putting in the work. Although you may not have millions of followers (yet), it's great to dissect the top earners on TikTok to see how they're monetizing their following.
Charli D'Amelio
Charli D'Amelio started her TikTok channel in 2019. In July 2021, she became the most followed person in the app, thanks to her dancing and lip-syncing videos, shown in her earlier TikToks.
Based on her increasing follower count and consequent high fame, brands had Charli on their radar. She ended up closing endorsement deals with huge brands like Pura Vida Bracelets, Hollister, and 16 other brands.
Today, it's estimated that Charli earns north of $50,000 per post.
Addison Rae
Similarly to Charli D'Amelio and other TikTok stars, Addison Rae, who goes by the username "@addisonre" got famous for her videos featuring TikTok dances and lip-syncs.
She has also been featured in Charli D'Amelio's dancing TikToks and vice-versa, which surely boosted their recognition all across the app.
Addison's fast-growing fame secured her partnerships with brands such as Sephora, American Eagle, and Nintendo, to name a few.
It's estimated that the TikTok star could be earning around $50,000 to $80,000 per post.
Khaby Lame
Are you familiar with this face?
This is Khabane Lame, also known as Khaby, a Senegalese TikToker who currently resides in Italy. He went viral due to simple, yet hilarious videos of him reacting to the obviousness to complicated internet "hacks". Then, he proceeds to show the easy solution as if saying "here you go".
The above video alone has a whopping 96 million views!
Khaby now boasts over 100M Followers and has secured international brand deals, like Brazilian company 99, which provides vehicles for hire.
Today, he also earns around $50,000 to $80,000 per post.
Have you noticed a pattern between the three influencers above? Most of their income comes through brand deals. While things like the TikTok referral program, or livestreaming provide a small income for creators on TikTok, brand partnerships are by far the most profitable way to earn money with TikTok at the moment.
Get Digital Marketing Tips Directly to Your Inbox
Collabstr sends newsletters every 2 weeks with the newest trends, tips, and tricks in digital marketing.