How To Purchase And Use UGC Video Ads For Your Brand
Published May 16, 2022 | Last Updated February 3, 2023
Video ads are incredibly effective at driving engagement, click-through rates, and conversions. In fact, over 60% of content purchased on Collabstr is in video format, and this trend is only getting started.
Today we're going to take a look at video ads: why they're essential for your brand, how you can source video content, and where you can publish your video content to maximize results.
Let's dive in.
Why video ads are the new wave of advertising
Video ads are an essential marketing strategy in today's online world. Here are just a few reasons they're so effective.
1. Video ads have higher engagement
Video ads combine two factors that catch peoples' attention: sound and movement. Both play an important part in conveying efficient messages, hence the higher engagement.
Websites that use video see an average conversion rate of 4.8% compared to 2.9% for those that don't. This proves that images or text, that require copy, punctuation, or visual cues to convey the desired tone, just don't stand up to the power of video. Video is simply more efficient at delivering your story to your target audience.
Video ads that engage the interest of users and follow it with a killer call-to-action are far more likely to see success in keeping audiences interested and converting.
Research also suggests that viewers retain 95% of a message when they watch it via video versus 10% when reading it via text. This means your audience is far more likely to remember your brand and your message when you're delivering your ads as video content.
2. Video encourages sharing
The best video ads are relatable, concise, and have a clear narrative. Combined, these factors make them incredibly sharable. Studies show that 92% of mobile video audiences share videos with others and social videos get 12 times more shares than text and images combined.
It's all in the story. The video format is an incredibly efficient way to deliver a clear narrative to your audience. When it comes to making your content sharable, you can't go past video.
3. Videos have higher click-through rates
The end goal of a marketing campaign may be conversions but without click-through rates, these wouldn't be possible. Anything that boosts your click-through rate is well worth paying attention to. This is where the video format comes in.
The average click-through rate of video ads delivered in mobile apps is 7.5 times higher than ads that are only display. Ads that appear on social media have a consistently higher click-through rate as well.
If you value your click-through rate, and you should, you should be paying attention to video ads.
How to find content creators that can create video ads for your product
According to Amra Beganovich, founder of a pharmaceutical marketing agency Amra & Elma, "Video ads aren't easy to make. It requires a professional to get the job done right. That said, agencies aren't the only source of that skill."
Influencers are often video marketing gurus because they've been engaging in it themselves for years. Finding a content creator to help you develop video ads can be as easy as shifting your focus to influencer partnerships.
But how do you find and facilitate such a partnership?
1. Source them from video platforms
When looking for a content creator to help you develop a video ad campaign, you should track them to their native platforms. YouTube and TikTok are obvious choices, but a lot of video creators are also using platforms like Instagram that have dedicated video products.
This step also involves understanding your target market. If your target audience is mostly on Instagram there's little point in approaching a YouTube content creator to partner with.
2. Source them from influencer platforms
There are influencer platforms, like Collabstr, that are designed to compile an influencer's information into one place. This gives companies access to an influencer's rates, niche, and the brands they've worked with in the past.
Influencer collaboration platforms negate the need for a cold approach. All the influencers on the platform are open to collaboration and ready to receive a pitch. Further, the platform ensures security – every payment is held safely until the work is completed.
Influencers are across every major video platform these days. It's just a matter of finding one that fits with your brand.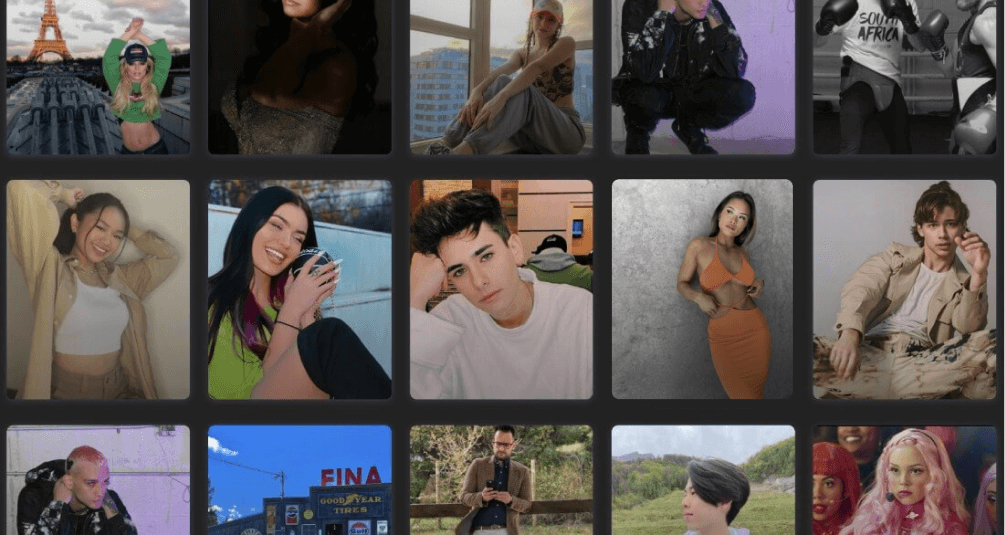 Where you can use video content for advertising
Most platforms support video these days because they too understand just how essential it is in today's market. Once you have your video content you're able to cross-post it everywhere from your website to your social media streams.
Here are some publishing examples to get you going:
YouTube
YouTube is the internet's biggest video platform. Being the largest video platform has allowed YouTube to gather extensive data on viewers which ultimately helps advertisers get granular with their targeting. YouTube also recently launch Shorts, a competitor to TikTok which offers huge amounts of organic reach without you having to drop a dime on advertising spend, this is a great place to post your bought content.
Since production quality of YouTube videos is usually better than that of Instagram or TikTok videos, you might be better off if you find YouTube influencers to shoot your ad content.
TikTok
TikTok is a great platform for re-posting user-generated content. Not only is it one of the hottest social media platforms today, but it's also the best bang for your buck due to the viral nature of the platform. While the TikTok ads platform definitely lacks some depth compared to platforms like YouTube or Facebook, the cheap cost of running ads on TikTok makes it worth your while.
If you're planning on running ads on TikTok, definitely look into finding some TikTok Influencers that could create some user-generated content on your behalf.
Instagram
Instagram has multiple avenues to use video. You can post them directly to your feed, use them in your Instagram stories, host more long-form content on IGTV, or post them as Reels.
Recently Instagram also announced the addition of Instagram Reel ads. Reels have been quite popular ever since they were introduced as a competitor to TikTok, so this might be a good placement for your video ads.
Facebook
Facebook's large base of users makes it a great place to showcase your video ads, especially if your target demographic is a little older. Using their business features, you're able to either create dedicated ads or boost existing video content posts.
UGC video ads have done particularly well in recent years due to their ability to naturally integrate into the feeds of users, so consider running your video as an ad through the Facebook ads manager. You can also look at inspiration for UGC ad examples on other brands' pages, or by using free tools like the Facebook ads library.
Your website
Hosting video content on your website is a great way to boost engagement and encourage conversions. Your customers will appreciate a video that showcases your product directly on the website.
Harness the power of video ads
Video ads are the future of marketing online. Now you know why they're so essential, how you can source the best content creators, and where you can use your end product.
Get Digital Marketing Tips Directly to Your Inbox
Collabstr sends newsletters every 2 weeks with the newest trends, tips, and tricks in digital marketing.