With over 1 billion active monthly users, TikTok is one of the leading platforms for influencer marketing campaigns.
Let's say you've decided to work with some TikTok influencers. You've shortlisted a few that you would like to contact. However, there is one tiny problem.. You cannot directly message anyone on TikTok unless you both follow each other.
So, how do you contact TikTok influencers?
How To Contact TikTok Influencers: 6 Ways
Even if you cannot message the TikTok influencers directly on the app, there are always other ways you can contact them. Here are 6 unique ones!
1. Check their bio
TikTok influencers know that brands will want to contact them and that it probably won't be possible on TikTok. After all, their whole career hinges on being offered sponsorship deals. So, if you check their bio, you'll most likely find an email address or a link to their website which you can use to contact them.
Some influencers might have a "contact me" form on their website. If that is their preferred method of being contacted with offers from brands, use it! If there is no such form, then email is the best way to go. When contacting influencers on platforms like TikTok or Instagram, we've always noticed that response rates tend to be better over email versus alternative methods like DM.
Prepare a proper pitch by introducing yourself and your brand and giving them basic details about the influencer campaign. It is also a good idea to let them know whether this would be a long-term partnership or a one-off. You might want to consider including an influencer campaign brief in your email. Campaign briefs will help with organizing the campaign details in an easy to read format.
Most importantly, you're going to want to write a catchy subject line that encourages the TikTok influencer that you are contacting to open your email in the first place.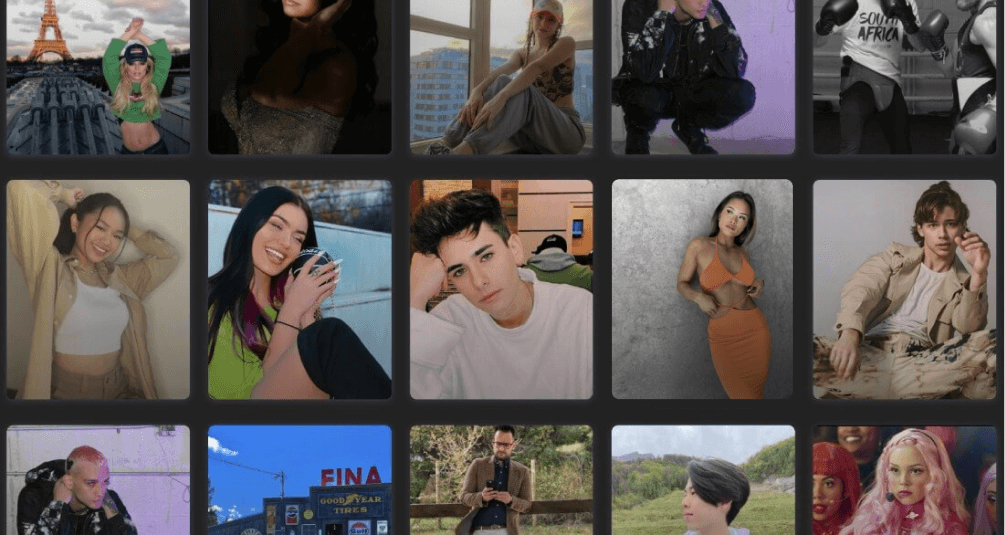 2. Go to their other social media platforms
Most TikTok influencers include links to their other social media platforms in their bio. So, even if you don't find an email address or a website in their TikTok bio, you can always search for it on their Instagram account or YouTube channel.
On Instagram, you'll find their email address here: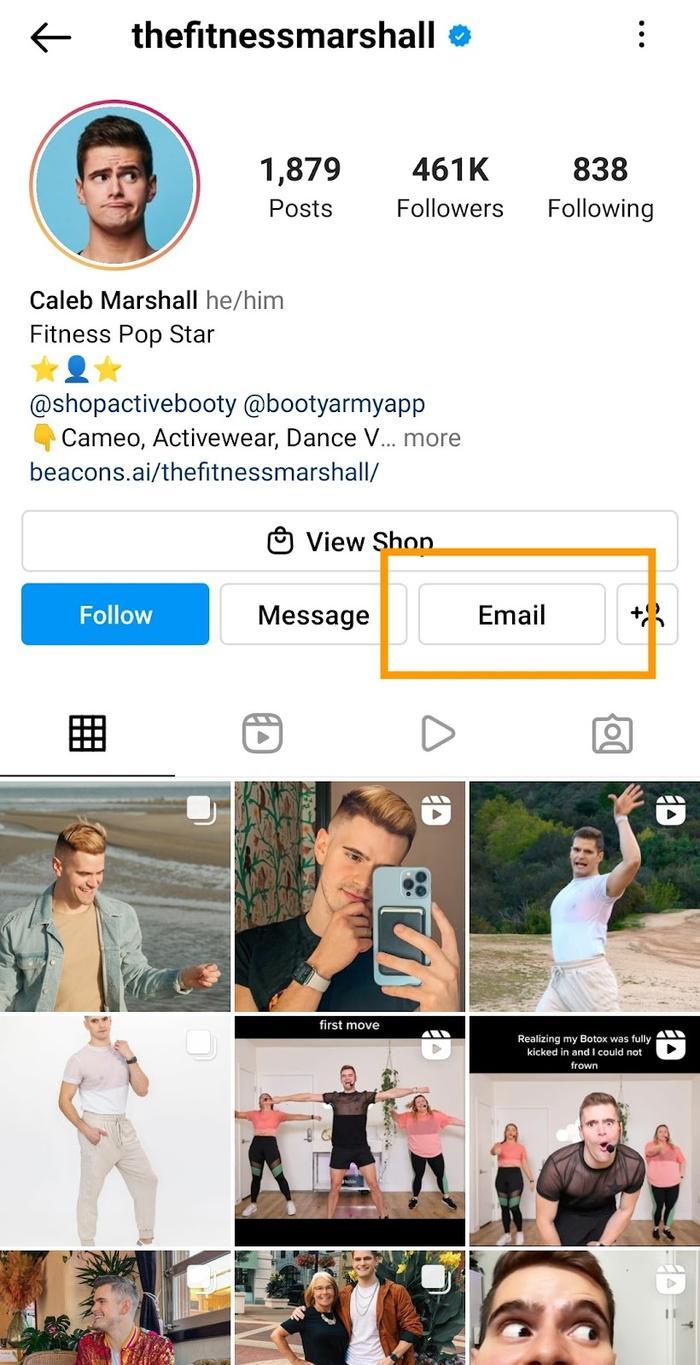 To find their email address from their YouTube channel, click on "About" and scroll down. Click on "view email address," and voila! You're all done!
Can't find the link to their other social media pages in their bio? Don't worry! Just search for the same username on Instagram and YouTube. Since influencers build a brand around themselves, they tend to use the same username everywhere to make it easy for people to recognize and find them.
3. Find them on LinkedIn
Conduct a name search on LinkedIn or just type their name along with "LinkedIn" at the end on Google. For example: Bella Hadid LinkedIn. Since influencers would want to be on the radar of businesses, you would probably find them on this platform. If you do find them- great! Send them an invite to connect with you and take it from there. Don't forget to write a short but engaging message when you connect with them! Deliver the message that you're looking to work with them while making yourself stand out. This is crucial since they probably receive lots of invitations, so you have to make sure that yours doesn't get buried in their inbox.
Another way is to join LinkedIn Groups related to your niche. They are great places for finding influencers, especially if your niche is super specific. Like solar power. The best way is to engage with the group and form organic connections with the influencers before you contact them. Bonus? You are also likely to receive some insights on what your clients like, which is always great when it comes to marketing.
4. Follow them first
Once you have your eyes set on a TikTok influencer who fits your brand, try following them first. Since you are a brand in their niche, that's two things in your favor. So you might get an automatic follow back. This automatically gives you access to the DM feature.
This might work especially with micro influencers. They don't have millions of followers yet, so your follow notification won't be buried under their notification blackhole.
Pro Tip: Don't forget to complete your profile and add a few posts before you contact/ follow influencers, though. Otherwise, you run the risk of looking like a spam account.
5. Engage with their content
Engaging with others' content still remains one of the most effective ways to get noticed on social media. Sure, it may be more time consuming than other methods, but it helps you build a good relationship with the influencer.
But that doesn't mean you should inundate them with comments, either. Start by liking and commenting on some of their posts. Tell them you enjoyed their content. Let them know that you're not a bot, but an actual human being.
Once this is established, ask them if they would like to collaborate with you. If you have a particular campaign in mind that they would be perfect for, let them know!
6. Use an influencer marketplace
Other than the official TikTok marketplace, there are several influencer marketplaces such as Collabstr that let you find and contact influencers without any hassle. You can find good influencers for as little as $50.
Choose your niche and select the number of followers you want your influencer to have. You will find the entire portfolio of the influencers. Once you decide who you want to work with, you can contact them by sending them an offer directly via the platform!
So, there you have it. 6 different ways to contact TikTok influencers. But now, for the million dollar question..
Is Running An Influencer Marketing Campaign On TikTok Worth It?
Yes, it most definitely is! TikTok is one of THE most influential platforms out there right now, and its popularity is only increasing. There's plenty of examples of influencer marketing on TikTok which do a good job of showing off the potential of the platform.
The short duration of the videos combined with the highly visual nature of the platform make it an excellent place for influencer marketing campaigns. Not only do you get to show people what your products/ services are all about, you also have the opportunity to let your brand be discovered by thousands of people, especially when you work with influencers.
Plan out a marketing campaign, contact TikTok influencers, and get to work!
Get Digital Marketing Tips Directly to Your Inbox
Collabstr sends newsletters every 2 weeks with the newest trends, tips, and tricks in digital marketing.