9 Best UGC Ad Examples for Inspiration in 2023
Published January 22, 2023 | Last Updated February 3, 2023
Did you know that 92% of consumers worldwide trust product recommendations from their friends, family, and peers online? And it makes sense since people would rather trust the advice of those around them than a business trying to sell the product. So, prioritizing UGC ads in your marketing strategy can help build customer trust.
At Collabstr, we've helped businesses connect with influencers and UGC creators for a while now, meaning we've seen plenty of UGC ads in our time. So, if you want to encourage engagement with your brand, read on and gain inspiration from our selection of successful UGC ad examples.
What is a UGC Ad?
UGC (user-generated content) is any form of content such as photos, videos, Tweets, GIFs, etc.) created by a brand's customers or followers. In its purest form, UGC is not paid for by a brand; it's unprovoked and genuine content shared by customers online. However, brands can hire influencers and UGC creators to get quality content and reach a wider audience.
The main purpose of a UGC ad campaign is to encourage customers to share their own content, including their positive experience with a brand's product, to draw in new customers and boost sales. Even though UGC content can work when it's organic, planning an actual campaign can be more effective in promoting a specific message for a brand.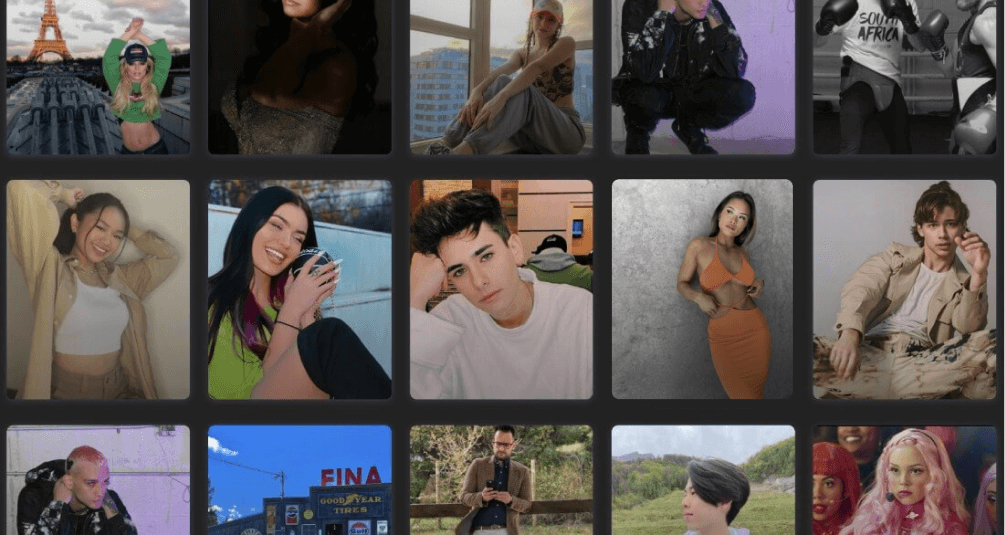 Why are UGC ads great for your marketing strategy?
Authenticity
Authenticity is key, as 90% of consumers report it's a prominent factor in deciding which brands they purchase from. Even though many marketers agree with this, the type of content they target – brand-created content – doesn't resonate as strongly with consumers. This makes sense, as you're more likely to listen to a peer over a large company in terms of purchasing decisions.
Generate More Sales
Word of mouth (consumer-to-consumer) generates over double the sales of paid advertising. With great UGC, you can influence your audience into actually making a purchase without trying to convince them yourself.
Encourage Community
UGC allows your customers to participate in your brand's journey instead of just being a target. Participating in UGC campaigns can bring your customers with shared interests together, creating a loyal and enthusiastic community for your brand. People love being a part of something, so by making customers feel as if they're part of a community, they're much more likely to engage with your brand. Simple!
Things to consider when choosing a UGC Campaign for your marketing strategy
Before we share our selection of successful UGC ad examples for you to take notes from, it's best to know what you as a business should focus on first. This way, you can ensure your campaigns stay true to your objectives.
Your Brand Message: Ensuring your UGC ad campaign makes sense with what your brand stands for are what's going to help it be successful. You're aiming to promote a lifestyle with your UGC content since it's going to be created by your customers. So, you need to ensure it's a message that can easily be associated with your brand.

The Type of UGC: Customers love it when you specify the type of content you want from them because it gives them direction and motivation to create the content. Of course, consider what would work for your brand. It can be images, videos, product reviews, daily routines, blog posts, ad more. If you're unsure of where to start, consider gathering inspiration from the TikTok Creative Center

UGC Creators: If you want a specific type of content from seasoned creators, you can consider purchasing content from UGC creators. The creators don't post the content on their social media, it's for you to use on your online platforms, catalogs, and campaigns. This way, your campaigns can feel more authentic instead of just editorial.
Collabstr offers a wide selection of UGC content creators that you can work with to make sure your campaigns connect with your audience. Just look through our catalog of vetted creators and see if you find your match!
9 Best UGC Ad Examples
Here's our selection of big and small brands that have made waves with their UGC ad campaigns:
MUJI: "Pen Art"
This Japanese retailer, which sells a wide variety of "brandless quality goods" like household items, clothing, and food products, decided to promote their pens with a successful UGC campaign. The brand launched an art contest on Twitter and Instagram, which managed to get over 3,000 submissions.
To spread the campaign, MUJI emphasized the hashtag, #MujiPenArt for people to attach to their interesting creations. The brand itself even decided to let other people vote for the best art, which encouraged engagement from their customers who may not have been so artistic.
What makes it great?
People submitted high-quality artwork, which gave MUJI even higher credibility as a brand. If their pens could produce such outstanding work, then they would definitely be seen as worth buying.

Its very nature inspires customer engagement and community. By asking for creative submissions and permitting their audience to vote on the winning projects, they had countless opportunities to interact with their customers and leads.

Customers could see that MUJI cares about their participation and creativity in the campaign. Fan creations were posted all over the MUJI website and social media pages to be celebrated, which gave an incentive for people to enthusiastically participate in the campaign.
Loews Hotels: "Travel for Real"
The Loews Hotels group knew how to harness the power of UGC early on. They didn't start with a precisely planned UGC ad campaign per se, but they decided to look for photos of real hotel guests posting at the hotel, instead of hiring models to portray them. The hotel group looked through Instagram using relevant hashtags and location tags to find the right content.
Once hotel guests started realizing their content captured at the hotel was being shared by the hotel group, more creative content started popping up. Loews Hotels then established the #TravelForReal campaign, which gave guests a more focused way to make sure their content is seen.
What makes it great?
When guests realized they could be featured in Loews Hotels campaigns, they become more creative in their content creation and found hidden gems that the hotel marketing team may have missed. With UGC, you can essentially get a full marketing team with different creative ideas without having to pay an enormous price.

Potential guests could forge a more emotional connection with the hotel by viewing the authentic and different ways people were experiencing it. Without any intentional embellishments and tricks to this campaign, potential customers could see what their own experience could look like.

The Loews Hotels group didn't just share the content on Instagram. They were used on their website and other platforms under the heading "Nobody tells our story better than you." It helps to inspire a community around the brand and encourages more customers and potential customers to get involved.
Glossier
Skincare and beauty brand, Glossier, is consistent about driving engagement on social media by encouraging their followers to share their filter-less selfies using the tag #GlossierIRL. The brand usually promotes selfies with a meaningful story attached to them to build an engaged community.
Glossier actually relies on customer-submitted photos rather than model shoots to show how their products work. The brand explicitly attributes 90% of its revenue to the people that contribute to their UGC content and this encourages people to keep posting.
What makes it great?
The recognition Glossier gives its customers when they share their content is what makes their UGC campaigns so effective. They don't use famous models to market their makeup, but real people, which makes them seem like a credible and trustworthy brand.

As long as someone tags Glossier in their picture, no matter their age, race, gender, or demographic, the brand can feature them across their social media pages. This generates mass appeal, as there are no barriers to who can use their product.

The added component of sharing a personal story with a selfie helps build a strong community for the brand that encourages more genuine engagement.
Calvin Klein: "#MyCalvins"
The Calvin Klein #MyCalvins campaign was first introduced on Instagram by the brand to revive nostalgia in their 1981 commercial. This commercial is where Brooke Shields popularized the line "Nothing comes between me and my Calvins."
To add a modern twist and introduce it to a fresh and younger demographic, Calvin Klein asked their followers to personalize the campaign line "I ___ in #MyCalvins", as a caption to their pictures where they're wearing the brand. What made the campaign go viral is that celebrities joined in along with normal customers.
What makes it great?
Since anyone could participate in something once considered a celebrity campaign, it encouraged more participation as those with non-model bodies were also featured. This helped increase body positivity and create confidence among the brand's followers.

Calvin Klein created a #MyCalvins gallery where people can view all the photos that have been submitted, and this grew to 4.5 million interactions in a span of just four months. Customers felt honored to be part of something they deemed quite prestigious. It's also worth noting that celebrities like Justin Bieber who participated were not paid for it. In collaboration, this helped the brand gain over 3 million new Instagram followers.

This campaign promoted genuine engagement and connection by encouraging people to post in their briefs and share something personal about them through the tagline.
Doritos: "Legion of Creators"
The popular chip brand Doritos maximized on its cult following by creating its Legion of Creators program. On this site, the brand has a selection of branded Doritos products that users can leverage to create their own content for Doritos. The results are usually pretty wild, which is on brand for Doritos following.
Fans created funny content ranging from pictures of them sitting on a throne of Doritos chips to fake weather forecasts showcasing the 'hot' new products.
What makes it great?
This UGC ad contest works well because it caters to the brand's loyal target audience, such as teenagers, gamers, college students, content creators, and others.

Doritos gives its customers access to a handbook on their Legion of Creators site where anyone who wants to learn how to create UGC for Doritos can learn.

Even though UGC contest winners can win prizes of up to $3,000, Doritos still saved a large sum of money, over traditional marketing advertizing. Additionally, Doritos customers can have fun creating content for a brand they genuinely love.
Mint: "#MyMintMoment"
Mint is a personal budgeting finance app, which was quite new to Instagram when they launched their #MyMintMoment UGC campaign to build their following and an online community. The brand encouraged its users to share photos showing how their finances helped them achieve a lifelong dream. For every month, users could use the hashtag #MyMintMoment attached to their photos and either upload it on Instagram or through the Mint app.
Mint took the competition a step further by offering a $1000 prize to get more people to participate. This is a great way to gain traction for your UGC ad, especially when you're new to social media.
What makes it great?
Mint made the competition all-inclusive to help encourage any kind of achievement besides buying a home or having a wedding. They made sure entrants could showcase anything from going on a vacation to saving up for a birthday party. The photo of the achievement was prioritized over how much the person spent on it, which encouraged more people o join in.

The brand didn't emphasize that the entrants had to be subscribed to Mint. By opening up the competition to a wider audience, it increased brand awareness, as it started reaching more feeds.

By developing a campaign that showcases real lives, they helped to build a sense of community. The comments sections were often abuzz with positivity, which helped increase the brand's image and reputation among potential customers.
Citizens of Humanity: "#WEAREALLHUMANITY"
The denim brand Citizens of Humanity created a UGC ad campaign with a social justice angle. For every photo posted with the hashtag #WEAREALLHUMANITY, the brand donates $10 to the UN refugee agency UNHCR (United Nations High Commissioner for Refugees).
What makes it great?
Besides creating more UGC content for brand awareness, this campaign allows people to become involved in a worthy cause. People can genuinely feel good about supporting a brand. It's also a great way to reach more audiences and align with your customer values. After all, 75% of millennials believe it's important for companies to give back to society.
Aerie: "Aerie Real"
The swimwear and lingerie brand, Aerie, genuinely wants people of every age and every size to wear their pieces. The brand even made a pledge to avoid retouching its catalog photos and urged its customers to do the same when they post online.
To generate their UGC ads, Aerie offers to donate $1 to the National Eating Disorders Association for every unedited photo posted in swimwear or loungewear with the hashtag #AerieReal.
What makes it great?
Potential customers don't have to rely on catalog photos to see different body types flaunting different designs and sizes of the Aerie pieces. This way, they can see what works for their body types and inspire different ideas they can try.

This is another UGC ad campaign that encourages body positivity and includes the satisfaction of supporting a charitable social cause. This inevitably increases brand reputation among potential and existing customers.

This campaign encourages engagement because of its all-inclusive nature. Customers enjoy feeling represented and appreciated by a brand, which Aerie does quite well.
Apple: "#ShotoniPhone"
We remember the time when Apple users were getting more and more disappointed in the quality of their cameras. Instead of simply ignoring the complaints, Apple investigated and realized that customers weren't happy with the average camera quality in low light. So, they came up with the idea to launch the "Shot on iPhone" campaign. The campaign aimed to redeem trust in the iPhone camera quality by sharing incredible photos.
People were encouraged to take creative pictures in low light with their iPhone cameras. Users would then post and tag the pictures with the hashtag #shotoniphone. Pro photographers even posted tutorials on YouTube on how to take great low-light pictures on an iPhone.
What makes it great?
With this UGC ad campaign, Apple made the best out of bad publicity, which is impressive in and of itself. This helped to increase their reputation, as they were dispelling the notion that you couldn't take a decent low-light shot on iPhone cameras.

The picture results from the campaign were also quite impressive. Especially with the help of tutorials, people could get creative with their submissions and customers learned how to get the best out of their iPhone camera.

The campaign focused on everyday visuals, so submissions didn't have to be fancy. The result of the pictures from these simple objects like trees, skylines, streets, and buildings. Everyone who owned an iPhone was able to get involved, which helped to spark more customer interactions and engagement.
Not sure where to start with your UGC ad journey?
With user-generated content, you can turn your customers into your own brand ambassadors. You can take some tips from these successful UGC ad examples like;
Making your UGC content easy and fun to create with good instructions

Making the content easy to promote for your customers

Encouraging emotional and social connection

Integrating UGC into your product

Turning bad publicity into a positive UGC ad campaign
Collabstr is your go-to influencer marketing hub where you can hire influencers for your brand and buy content from creators to enhance your UGC ads. With our Pro Plan, you can post your unlimited campaign ideas and have creators come directly to you! This way, you can get the best UGC content from creators who genuinely believe in your vision.
Get Digital Marketing Tips Directly to Your Inbox
Collabstr sends newsletters every 2 weeks with the newest trends, tips, and tricks in digital marketing.