Ultimate Guide to User-Generated Content (UGC)
Published May 16, 2022 | Last Updated December 8, 2022
What is User-Generated Content (UGC)?
User-Generated Content (UGC) is any form of content that is produced by people, such as consumers and influencers, rather than brands. Product photos, testimonials, social media videos, and more can all be considered user-generated content.
Chances are, you've seen user-generated content plenty of times throughout your lifetime. Have you ever seen your friends post a story on Instagram of the new iPhone they just purchased? That's user-generated content, and it helps Apple build its brand without even trying.
Large companies like Apple, Uber, and Nike have more user-generated content than they know what to do with. They are constantly mentioned by consumers across all content mediums, whether it be music, video, podcasts, Instagram posts, and more.
User-generated content is not specific to any single platform or content format. In order for something to be considered as user-generated content, all that matters is that someone other than the brand itself is creating a piece of content about the brand or its products.
Where Does User-Generated Content Come From?
UGC is created by people, rather than brands, but who are these people we speak of?
Customers
User-generated content from customers, also known as customer-generated content or consumer-generated content, is content that is created for a brand by a customer.
If you've ever Instagrammed a photo of your food while at a restaurant, you created a piece of UGC for that restaurant. Now think of all the times you've created content for branded products or services and shared that with your network.
UGC from customers is one of the most common places where UGC comes from.
Influencers
User-generated content from influencers, also known as influencer-generated content, is a popular source of UGC for brands.
Influencers will create UGC for your products or services if they feel as though it is something that would benefit their audience. You can also increase the chances of influencers creating content for your brand by offering them incentives, such as an affiliate program, or a payment for creating content about your brand.
Influencer-generated content could be a mention in a song, or a photo on Instagram, the possibilities are endless.
This is a common strategy used by massive direct-to-consumer brands like Fashion Nova and Gymshark. For example, Gymshark leveraged the power of fitness influencers in their early days, and this is something they continue to do today. Fashion Nova employed the same strategy as Gymshark, but instead they focused on using fashion influencers to get their brand off the ground.
Employees
Employee-generated content is when employees of a brand create user-generated content for the brand.
This should not be confused with branded content, as the employee is ideally creating this content out of their own interest or passion for the brand.
A good example of this would be employees of a company creating content on their own personal social channels about new products and services that a company is working on.
A great way to get employee-generated content is by simply creating a work environment that allows people to get excited over day-to-day life at a company, and gives them the freedom to document their excitement online.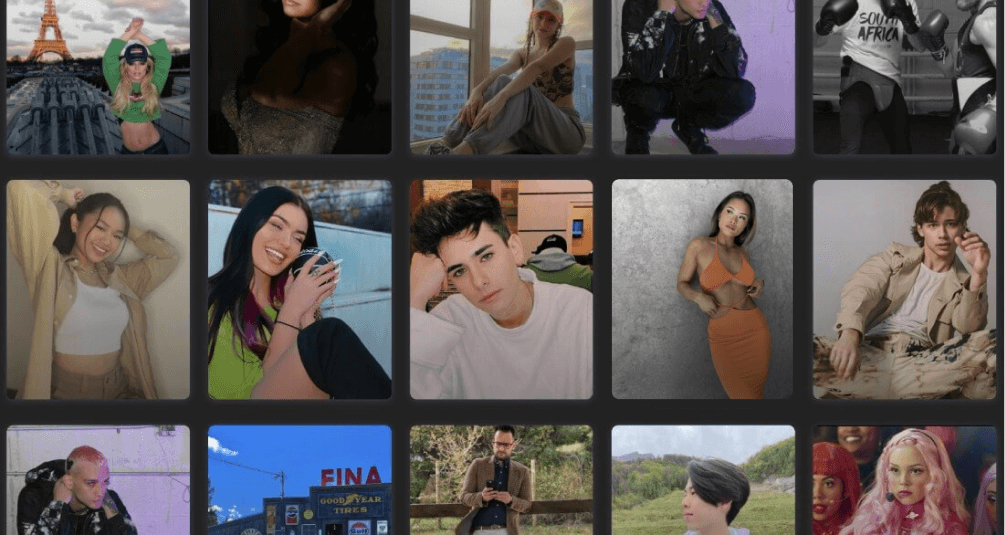 On What Platforms Can You Find User-Generated Content?
UGC can come from various platforms, and this typically depends on where your customers, or industry influencers, are spending their time.
For example, if your customer demographic is young, you might see that there's a lot of UGC surrounding your brand on TikTok. You can figure this out by searching TikTok for your brand name, and by doing this, you'll be able to see if anyone is creating content about your brand.
You apply this strategy to any major content platform, whether it be Google, YouTube, TikTok, Instagram, Pinterest, or any other platform.
Since UGC is created by people that might be customers or influencers in your industry, it could be tough to understand where to look.
Some good ideas might be to look at your traffic sources for your website, this could be a good indicator of places where there might be an influx of UGC for your brand. If you're suddenly getting a lot of referral traffic from Twitter, there could be some UGC on Twitter where your product is mentioned that is driving all the traffic.
Why is User-Generated Content Important?
User-generated content is important because it gives brands a way to get in front of consumers in a more natural way, without coming off as pushy or too much like an advertisement.
85% of consumers say that UGC is more influential in their decisions compared to branded content. We can consider branded content as content that is created and owned by the brand itself, it's your typical commercial or advertisement you may see while scrolling through Instagram or Facebook.
The reason UGC is more influential to consumers is because it comes off as natural. As a consumer, you can be scrolling through Instagram and come across a piece of content that subconsciously plants a seed in your mind about a specific brand or product, without feeling like you just got sold to. There is more trust when it comes to UGC.
Branded content on the other hand tends to come off as disingenuous. Consumers feel as though they are being fed lies by the brand in order to purchase the product or service being advertised.
People relate to people more than they relate to brands, and this is why user-generated content has become such an important part of digital marketing for brands.
How to Get More User-Generated Content
There are multiple methods to getting user-generated content for your brand.
Ask Your Customers For UGC
One underrated strategy for getting UGC for your brand is simply asking your customers for some UGC.
Chances are, most consumers are not aware of what user-generated content means, so you will have to ask them to create content for you in a way that they understand.
For example, when a customer makes a purchase on your website, you can send them an email asking them to post a photo or video of your product online once they receive it. If you feel that people need a little bit of a push, you can even entice them with a discount code for future purchases.
Buy UGC From Influencers
You can use influencer marketplaces like Collabstr to find and hire influencers on a specific platform, or in a specific niche. From here, you can tell the influencers to create UGC-style content for your products and services.
One benefit to buying UGC from influencers is that you will likely get much higher quality UGC from them since they're already used to creating content for their audience.
Let's say that we're a company selling vegan crackers, and we need a UGC video for our new product so that we can post it on our social channels and website.
First off, we can narrow down the platform filters to TikTok, YouTube, and Instagram, since influencers on these platforms are most familiar with video content.
Next, we can search for the keyword 'Vegan', since we want an influencer that understands the vegan lifestyle so that they can create accurate content for our vegan cracker product.
Upon hitting search, we will be presented with a list of influencers that have an interest in veganism, or the food niche in general.
We can browse through the list of influencers, and by clicking on their profiles we can see the content packages that they are offering. From here, we can either purchase a predefined content package or send the influencer a custom offer.
Buying user-generated content is an excellent method of getting UGC for your products or services on-demand and at scale.
Types of User-Generated Content
User-generated content can come in all types of content formats, here are some of the most common types of UGC.
UGC Images
Images are one of the most common types of user-generated content we see online, mainly because it has been a primary method of expression for a lot of people since the rise of platforms like Facebook and Instagram.
It's not uncommon for people to create photo content of a product or service and distribute that content on platforms like Instagram, Twitter, or their website.
Brands like Gymshark thrive off of UGC in image format. #Gymshark has almost 12 million posts on Instagram.
UGC Videos
Video UGC has been gaining a lot of traction lately, mainly because of the popularization of short-video content from platforms like TikTok.
Video is often more captivating than image content due to the ability to add catchy hooks, music, and unique edits.
Shein is a fast-fashion company that has millions of UGC videos on TikTok with people showing off their shopping haul.
UGC Product Reviews & Tutorials
Reviews and tutorials are a great example of UGC, we often see this sort of thing in the format of blog posts or YouTube videos.
The great thing about product reviews and tutorials is that you're getting raw and honest feedback from someone that has had an interaction with your product. They also answer questions and concerns that some of your customers might have.
Testimonials
Testimonials are a popular UGC format that helps build trust with potential customers that are looking to purchase your products or services.
Many companies will have testimonials on their product pages, this helps consumers make their buying decision, as they feel comforted that others are satisfied with the product.
Testimonials can come in different content formats, such as images, videos, or text. One example of a place where companies might find testimonials for UGC is Trustpilot.
Blog Posts
Blog posts are a type of UGC that has been around since the beginning of the internet. It's not uncommon for publications and blogs to mention products that fit a specific story.
Many brands leverage their mentions in blog posts or large publications as a method of social proof.
Music
References to brands and products in pop culture, such as in music, can be considered UGC.
For example, MadeinTYO is a music artist that released a song called "Uber Everywhere", in reference to the ride-sharing app Uber. The song went viral and racked up over 65 million plays on YouTube alone.
How to Leverage User-Generated Content
Once you have UGC, the last thing you want is for it to go to waste. You should ensure that every piece of UGC is repurposed as much as possible.
UGC is powerful because it builds social proof, so as a brand you want as many people as possible to experience the UGC because it is coming from someone else, and not you.
Here are three different ways that you can get the most out of your UGC.
Use UGC For Ads
Reusing user-generated content for ads is an excellent method of getting the most out of your UGC, this is something that has risen in popularity over recent years, as brands realize that UGC influences consumers more than branded content.
When used for ads, UGC builds trust and provides more of a natural feel, since the brand itself is not doing the selling.
This can be applied to reviews, testimonials, or even video UGC that you found on TikTok. Different UGC formats can be utilized in different ways. A lot of large platforms like Facebook, Instagram, and TikTok now have native features that allow you to whitelist influencer content.
If you have a ton of reviews for your brand on Trustpilot, why not take the top 3 reviews and use them as the copy in your TikTok ads? This shows people that others are talking about you.
Post UGC On Your Website
Posting UGC on your website can be a great way to help website visitors, and potential customers, get more comfortable with your brand.
Displaying your reviews, or other types of UGC on your website gives visitors a sense of comfort. It also allows for you to address their objections and concerns before they can become an issue.
Let's say that a customer on TikTok decided to create a piece of content about one of your products, you can display that video on your product page to give customers a raw and unedited look at the product.
Repost UGC to Your Social Channels
By reposting UGC to other your social media channels, you're able to amplify the content and get more reach, it also saves you some time because you don't have to create social media content from scratch.
For example, if someone created an Instagram Reel for your brand, you could repost that content to your Instagram, as well as TikTok and YouTube Shorts. That's three more places where the content can be amplified!
Examples of User-Generated Content
Here are some examples of companies that do a great job of incorporating UGC into their digital marketing strategy.
Tesla
Tesla does an excellent job of reposting UGC to their Instagram account. This not only saves them time when it comes to creating content, but it also encourages other Tesla owners to create content so that they have a chance of being reposted on the official Tesla Instagram account.
In the below example, Tesla has reposted a photo that was originally posted on Reddit. If you scroll through their profile, you can see that they regularly post UGC from places like Reddit, Instagram, and Twitter.
SugarBearHair
SugarBearHair originally rose to fame on Instagram, where they leveraged the power of influencer marketing and UGC.
Today, the company stays true to its roots and continues to invest heavily in repurposing UGC. For example, if you go to their home page, it's almost entirely made up of UGC-style photos of real people using their products.
On top of this, they also include a tab that sticks out on the left side of their home page which allows you to read their reviews whenever you want.
Wrapping Up
User-generated content is one of the most powerful additions to any business. User-generated content provides social proof, trust, and scalability. These are things that can be hard to replicate with branded content.
As more people become content creators on social media, it is inevitable that your business begins to receive more UGC from customers and industry influencers. It's important you take that content and leverage it to the maximum.
Get Digital Marketing Tips Directly to Your Inbox
Collabstr sends newsletters every 2 weeks with the newest trends, tips, and tricks in digital marketing.