6 Best Influencer Apps for Brand Deals and Analytics
Published December 3, 2022 | Last Updated December 8, 2022
With influencer marketing becoming a $17.4 billion industry in 2023, brands and influencers are constantly on the lookout for influencer apps that can give them an edge. Influencer apps make it easier to connect with one and other, make payments, and track analytics.
In this article, we'll go through a list of influencer apps that are essential to both brands and influencers. The apps will cover the full pipeline of the influencer marketing process, from influencer marketplace apps to apps that display influencer analytics.
What Are the Best Influencer Apps?
Influencer apps are software tools or platforms that help brands and influencers connect with each other for brand deals and other paid collaborations.
Typically, influencer apps will allow brands to browse through influencers by using the provided filters, such as the influencer's platform, niche, location, gender, and more. Depending on the influencer app, companies can also post campaigns that influencers can apply to.
Influencer apps are beneficial to both brands and influencers, as they create a vetted network of brands and influencers that are ready to collaborate with one and other on various content-related projects.
The creators listed on influencer apps will usually span major platforms such as TikTok, Twitter, YouTube, and Facebook. Some influencer apps form fully-fledged marketplaces, whilst others focus on particular niches or functionalities.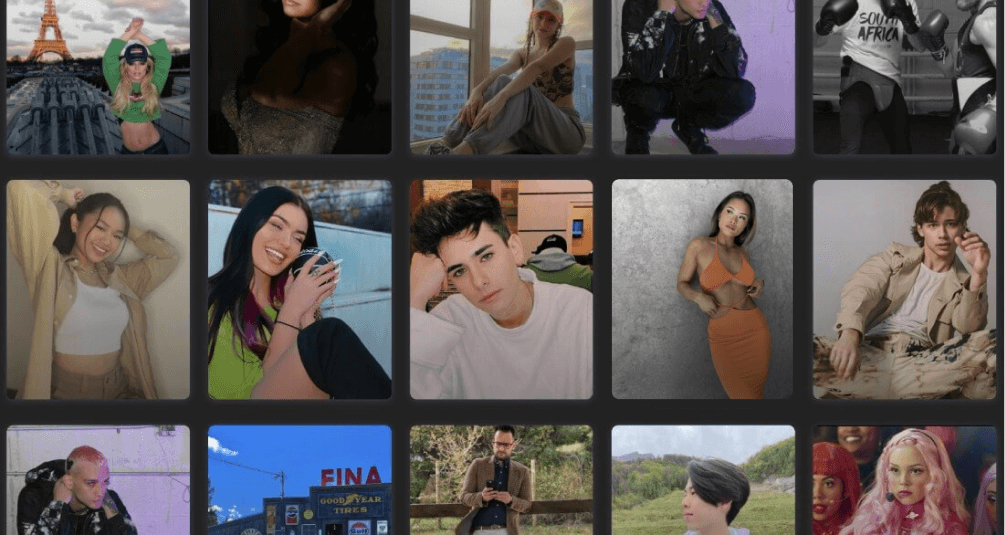 What Are the Best Influencer Apps?
Influencers continue to provide a powerful marketing channel for brands. User-generated content geared towards strong communities is a great vehicle for boosting campaigns. Building an audience is a business in itself. An influencer spends years building theirs, making their monetizable asset attention. They represent the beginning of a sales funnel, which is gaining attention for a product. By soliciting an influencer, you are effectively outsourcing the time-consuming task of getting under the nose of your target audience.
Influencer apps act as agents between influencers and brands. Their benefit is streamlining the transaction to get results quicker for both sides. By partnering with the right influencer on social media, your marketing campaign could see a remarkable boost toward its goal.
The ideal partnership is between a brand and creator that share values. The more closely aligned their audiences are, the more your messaging will feel like an extension of their own. If the content resonates with their audience, you're likely to see good returns on your investment.
That's why the selection is critical when using influencers. Influencer apps that categorize niches will help you focus your sales funnel through the correct ambassador. Fashion brands might seek a model influencer while travel brands may work with lifestyle vloggers.
Now that we're familiar with influencer apps, let's jump into the list of our top suggestions.
What Are the Best Influencer Apps?
Here are some of the best apps for influencer marketing, as well as some supporting applications you'll need for organization and tracking.
Finding Influencers
Collabstr - Collabstr is an influencer marketplace that vets users, filters by niche, and enables brands to message them directly. It offers a swift and clean interface for brands to conduct their campaigns. You can also filter for popularity, gender, location, price and platform. You'll be presented with a selection of the best matches for your search. Once you've compiled your brief, you can send it over to the creator for quick results.
Collabstr also has a great creator portal. Their inviting features include a collab management system, tax handling, and access to exciting brand opportunities.Collabstr has been featured in posts by Yahoo!, Buzzfeed, Bloomberg, Shopify, and The New York Times.
Audit Influencers and analytics
Hypescout - a data-driven platform that connects brands and influencers without the friction. They've rallied 15,000 influencers and 1,500+ brands so far. They offer analytics-driven link management and a clear, 4 step process to find and partner with influencers.
Creators can whip up their own micro-website with Hypescout's free built-in tool. It allows creators to present themselves to brands with neat custom themes, analytics, and previews for social media.
Hypeauditor - this tool manages campaigns from start to finish, including influencer analytics and discovery, campaign management, media plans, trends and rankings, competitor analysis and market landscape.
General social media tools
Brandwatch - a suite of specialized social media tools. Brandwatch is equipped with everything from content workflow to trend analysis, and an influencer marketplace. It's comprehensive but unless you're after a one-stop shop, it could be overwhelming.
Loomly - Ditch the dull spreadsheets in favor of Loomly's dedicated content management system. It features its own media studio, post-scheduling, metric tracking and much more. They've worked with some brands before such as L'Oreal and Porsche.
Sendible - a leading management tool for social media agencies. With Sendible, you can schedule, collaborate with your team and report data in one convenient hub. Other notable features include built-in editors, post previews and bulk uploads.

Sendible is a recommended tool if you're juggling a handful of clients and want to save masses of time in processing your deliverables, whilst staying in close touch with both your team and the results they're producing.
Criteria to consider
Influencer apps can be overwhelming if you're not clear on your expectations. There are endless marketplaces overflowing with creators all eager to collaborate. These four criteria should help you determine where your money is best spent.
Quality
Marketplaces that aggregate only high-quality creators are superior to those that let anyone list. Limiting your focus to apps that vet talent will save you time, money, and headaches.
If the user experience of the influencer app is high, it's usually reflective of the creators you'll be working with. So, you'll want to be able to whittle your search based on key criteria to save time.
Influencer apps will usually have their own systems for quality control in place, but make sure that extends to your brand's expectations.
Investigate the influencer's activity before you hire them. A high follower count may not translate to high engagement. Keep an eye out for suspicious discrepancies between the two; if they have lots of followers but little engagement, their audience is likely made up of bots. Inspect the comments on some of their content for bot activity, too.
You could also conduct a light background check into the influencer's internet footprint, in case there are past collabs or behavior that doesn't align with your brand.
Communication
You'll want to make sure that the terms and deliverables can be clearly communicated with the influencer. Functions like instant chat offer a fluid way to keep in touch. The app should be effective in allowing you to discuss your ideas, terms, and perhaps building an ongoing relationship with the other party.
Security
Is your payment being handled and processed professionally? Dealing with influencers through reputable marketplaces ensures you'll be treated fairly. Be cautious of influencers who you haven't worked with before who discourage using escrow services. You want to maintain control and be able release the funds once deliverables have been approved.
As described above, you could also fall victim to influencer marketing fraud, where the account accepts a fee to promote to fake followers. Exercising caution is important when you haven't dealt with somebody before.
Fees
Consider the fees involved with using an influencer app before committing. Some apps charge a subscription fee for access to their database and tools with packages and perks. They could instead take a percentage of each sale or a combination of both. You'll also want to make sure the influencer is appropriately priced. Influencer apps that pay attention to quality control will have systems in place to ensure the brand is getting a fair deal.
You can gauge the value of using an influencer through concrete metrics such as followers and engagement. Less tangible indicators include profile – or 'star-power' – and cultural influence in your niche. Many influencer apps offer metric tracking so you're able to assess the impact of your campaign.
What to look for in an influencer app
Influencer apps are essential tools for managing your influencer marketing campaign. You'll need the tools to:
Manage and organize content

Source and transact with influencers

Track and assess analytics
With the right stack, you can successfully execute and accurately track the results.
Explore a solid range of possibilities before committing yourself to a decision and consider how to get the most value from your budget. If you're a photography brand, consider going with an Instagram influencer app if that's all you need to focus your campaign around.
Launch Your Influencer Campaign with Collabstr
Ready to kick start your campaign? Start saving time with your influencer marketing today with Collabsr.
Our catalog of micro and macro influencers can be distilled to meet your precise criteria. Keep the process quick and simple by messaging creators directly. All they need to know is what you want, and once they've delivered, you can release their pay.
We offer the strongest selection of micro influencers on Tik Tok, Instagram and YouTube to give your campaign the support it needs to thrive. Give it a try: assess the potential of an influencer's partnership with our free Instagram engagement calculator.
Get Digital Marketing Tips Directly to Your Inbox
Collabstr sends newsletters every 2 weeks with the newest trends, tips, and tricks in digital marketing.