Ultimate Guide to UGC Ads: How to Leverage UGC to Boost Sales
Published June 21, 2022 | Last Updated February 3, 2023
Harnessing the power of User-generated content (UGC) can help create social proof for your business and skyrocket conversions. The truth is that consumers listen to other people more than they listen to businesses, and by incorporating UGC into your marketing strategy you build trust with consumers.
UGC ads on social media platforms like Facebook, Instagram, and TikTok have exploded in popularity over the past few years. Many brands will hire content creators and influencers to create UGC ads for their products and services as this allows them to leverage their skills when it comes to creating content that is engaging and high-quality.
What are UGC Ads?
UGC ads are advertisements that have been created by a customer or influencer rather than the brand itself. UGC ads can come in different formats, such as video testimonials, images, text reviews, and more.
If you've ever watched TV, or scrolled through social media, chances are you have seen UGC ads more than once in your lifetime. It's not uncommon to see ads that contain reviews or testimonials in them, this is a prime example of a brand using UGC to build trust with their customers. While the brand is still the one running the ads, they are doing this in a way that the advertisement does not seem branded at all.
If you scroll through TikTok, you're bound to come across a lot of UGC ads. In fact, TikTok actually encourages this behavior with its slogan "Don't make ads, make TikToks". The platform is well aware that organic-feeling content such as UGC performs much better than branded content that feels too corporate or pushy.
Why UGC Ads Perform Better Than Branded Ads
85% of consumers find that user-generated content is more influential than traditional brand-owned content. UGC ads perform better than branded ads because they help to build social proof for your products, while also creating a sense of comfort and trust between your brand and the consumer. Overall, UGC ads tend to feel more natural.
A recent report by TikTok states that 63% of users like it when brands show TikTok creators in their videos. It's clear that by featuring real people in your videos, whether it be your ads or your organic content, you're able to tear down the walls that exist between a brand and a consumer and you're ultimately able to build more trust.
(source: TikTok)
How to Buy UGC Ads
As a brand, you can either make your UGC ads in-house or hire a content creator or influencer to create the UGC ads for you.
Many brands opt to hire content creators and influencers to create their UGC ads because they are experienced in creating content that can hook the viewer and result in conversions without coming off as too much of an advertisement.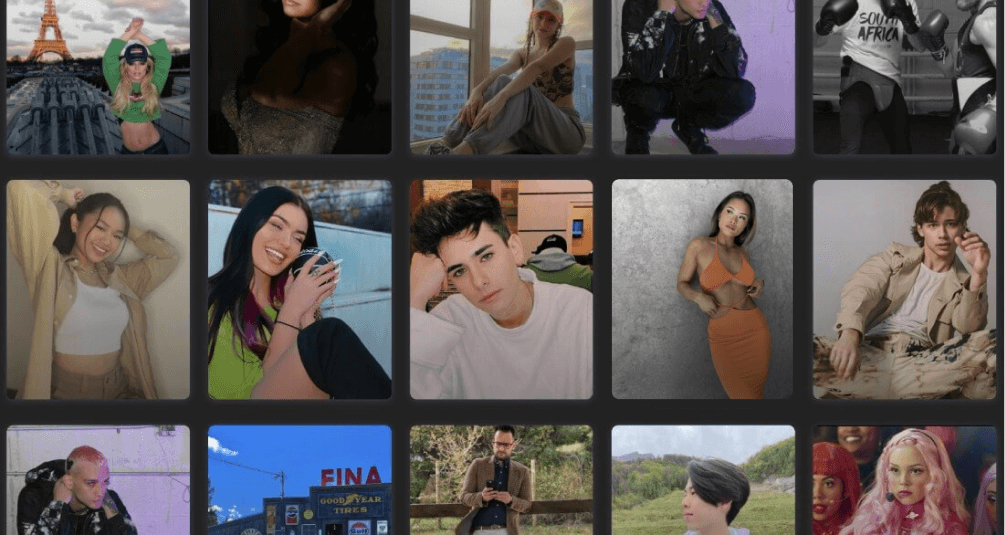 Finding Influencers for UGC Ads
The first and most time-consuming part of buying UGC ads is finding the influencer that is going to create the content for you. In this case, you can use an influencer marketplace to speed up the process. With this method, you won't have to collect emails and worry about reaching out and following up with creators since they're all directly accessible via the marketplace.
Once on the marketplace, we can use the search bar to narrow down an influencer that is going to be relevant to our product and niche. In the case of UGC we do not care about the following size as much, what matters most is content quality and how well the influencer will understand our brand.
Let's say in this example we're looking to get some UGC ads made for a fitness supplement brand, so it would be best to seek out fitness influencers that would genuinely enjoy our product and know how to cover it in a video.
We can start out our search with the keyword 'fitness' and then narrow it down from there using additional filters if needed. Sometimes you may want to narrow down influencers by gender or geographical location if your product is only meant for a specific gender or cannot be shipped to specific locations.

Next, we need to browse through the results and save the profiles of any influencers that look like they would be a good fit for our product. It's best to save 5-10 profiles that look interesting so that you have a pool of influencers to select from.
When it comes to creating UGC ads, we're mostly looking for influencers that fit the look of our brand and also produce content that is catchy and has the ability to hook people in. Take your time on this step and be sure to view the social media profiles of the influencers to get a feel for their content style.
Remember that we don't really care about their social media metrics in this case because the content will not be posted to their social media, but rather used as a paid ad.
Here's what our options will look like once we hit search:
Each content creator will have their prices listed on their profile, they will also offer different content packages so that you can choose a content package based on your needs.
When it comes to getting UGC ads from influencers, you will typically pay a flat fee for the piece of content. The fee typically depends on what the content creation will entail, rates also vary from creator to creator.
Some creators will also charge for usage rights if you're planning on using their content in specific manners. It's best to let the content creator know about how you will use the content so they can adjust their pricing accordingly.
When you purchase a content package, your funds will be escrowed until the content is delivered by the creator. Here's an example of what a creators content packages may look like:
If you don't see a content package that fits your needs, you can also send the content creator a custom offer through their profile.
Provide a Campaign Brief
Now that you know how to find the perfect influencer for your UGC ad, you also need to provide them with a sufficient amount of details so they are clear about what is required from them.
The best way to relay instructions to an influencer is by putting together a campaign brief. The campaign brief is going to contain all of the campaign details such as a description of your product or service, content requirements and expectations, content examples, documents, and more.
A good campaign brief will give a creator enough instruction in order to get started on the task, this helps keep everyone aligned so that there is no disappointment once the content has been created and delivered.
Examples of UGC Ads
Facebook UGC Ads

UGC on Facebook generally comes in one of two forms, either video or images. Facebook was traditionally a very brand-dominated marketing channel in the sense that in the early days of Facebook advertising it was rare to see UGC ads.
These days Facebook is dominated by brands incorporating UGC into their ads. In the above photo, we can see the popular footwear brand, Vessi, running UGC video ads on Facebook.
Instagram UGC Ads
Instagram UGC ads are very similar to Facebook in the sense that they typically come in video or image format. On Instagram, stories and reels are also leveraged much more when it comes to distributing the ads. Instagram is home to some of the best examples of UGC ads due to its age and maturity as a platform, this makes it an excellent testing ground for UGC ads.
Another popular method of running UGC ads on Instagram is the use of influencer whitelisting, where brands can run ads using UGC content posted on someone else's page. This has proven to be a very effective way of advertising on Instagram, and it's a strategy that is regularly used by brands.
TikTok UGC Ads

TikTok is largely responsible for the massive explosion in UGC advertising over the past few years. While scrolling through the For You Page on TikTok, you're likely to see UGC ads one after another.
We can see an example of this in the above UGC ad on TikTok, where an influencer creates an educational video discussing the benefits of a supplement on behalf of the company.
Unlike on Facebook and Instagram, UGC ads on TikTok are video only, since the platform does not support image sharing. TikTok also has its own version of influencer whitelisting called TikTok Spark Ads. With Spark Ads, you're able to share UGC by boosting videos on someone else's profile with ad spend.
Wrapping Up
For centuries brand-owned media has dominated the advertising space, but with the rise of social media and content creators, we've entered a new age of advertising where UGC is the next frontier.
By using UGC ads, brands can build social proof in a noisy world while also winning over the trust of their customers.
Get Digital Marketing Tips Directly to Your Inbox
Collabstr sends newsletters every 2 weeks with the newest trends, tips, and tricks in digital marketing.