TikTok Influencer Marketing: The Only Guide You Need
Published May 18, 2022 | Last Updated April 11, 2023
TikTok influencer marketing has become a go-to strategy for many brands looking to take part in the gold rush that is TikTok.
Because of platforms like TikTok, there are more influencers than ever before. As a result, there are influencers in every niche imaginable. By leveraging these influencers, brands can get in front of their target audience in a unique way.
Introduction to TikTok
TikTok is the fastest-growing social media platform on the planet. In 2021, the platform reached 1 billion daily active users, making it the fastest social media platform to reach that milestone. More recently, TikTok overtook YouTube for daily average watch time in the US.
As TikTok continues to carve out its piece of the market, it continues to have a larger effect on consumer decisions and pop culture. Hashtags like #tiktokmademebuyit are clear indicators of the impact of TikTok, especially on GenZs and Millenials.
The platform popularized short-form content, originally only giving users the ability to post a video with a maximum duration of 60-seconds. More recently, they have begun to increase upload lengths, giving people the option of posting 10-minute videos. This is a clear indicator that they're not just here to carve out their own niche, but they're also going after the market share of video giants like YouTube.
With TikTok continuing to grow at a rapid pace, many brands are left scrambling to figure out how they can incorporate TikTok into their digital marketing strategy. TikTok is a gold rush right now, and while the platform is likely to stick around for the long run, the disproportionate advantages that it presents right now will likely fade.
Influencer marketing on TikTok is arguably one of the highest ROI influencer marketing channels currently. Let's dive into why influencer marketing on TikTok is a great idea for any brand.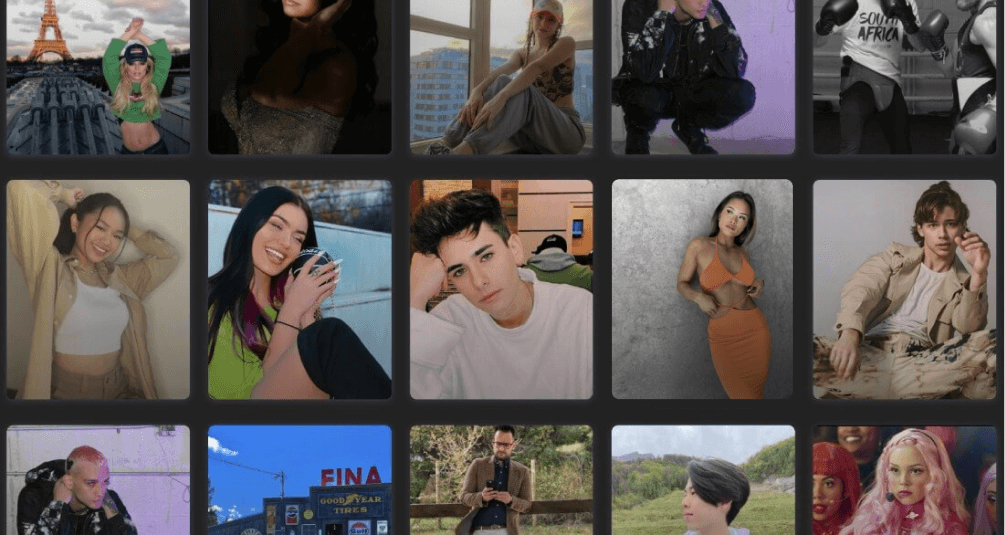 Who Uses TikTok?
A big part of influencer marketing on TikTok is understanding the people that use TikTok daily.

TikTok Age Demographics
The majority of TikTok users are between the ages of 19 and 29, they make up 35% of all TikTok users. The second-largest age group of TikTok users is people under the age of 18, coming in at 28% of the total user base. This means that 63% of all TikTok users are under the age of 30.
It's apparent that TikTok is where GenZs and Millenials spend their time, and if you're a business that calls people from these generations your customers, TikTok influencer marketing is a must-try strategy for you.
Time Spent on TikTok
US TikTok users spend an average of 25.6 hours each month on TikTok, which equates to roughly 50 minutes per day. These numbers are quite impressive considering the infancy of the platform, and if TikTok continues to iterate on the product we could see this number increase.
The younger population is clearly indicating that they find TikTok more worthy of their time than traditional platforms such as Facebook, Snapchat, or Instagram.
The time spent on TikTok, paired with the young demographic of users creates dream-like conditions for marketers and business owners. These two interesting TikTok stats alone should be enough to convince any business that TikTok is worth a shot.
Influencer Marketing on TikTok
Influencer marketing on TikTok is the process of leveraging influencers, or content creators, to drive impressions, website visitors, followers, or any other conversion goals you may be prioritizing.
TikTok influencer marketing is similar to influencer marketing on any other platform, such as Instagram or Twitter, in the sense that you have a campaign objective and you are employing influencers to achieve that objective.
There can be many use cases for TikTok influencers, and you should not limit yourself to one type of influencer marketing campaign. Instead, try your best to leverage influencers wherever you can.
Let's take a look at some of the TikTok influencer marketing strategies.
Promotions and Shoutouts
A promotional influencer marketing campaign is what most people typically think of when they think of influencer marketing.
A promotional, or shoutout, influencer marketing campaign is when a brand finds an influencer that can promote a product or service to their audience. Usually, the influencer is compensated in cash, commission, or both.
TikTok Ads
TikTok influencers are an excellent way to get high-quality TikTok ads. Since TikTok ads do best when they come off as natural, you can hire TikTok influencers to create ad content for your brand.
Since TikTok influencers are already familiar with creating content, they understand how to create captivating content that resonates with an audience. You can then take this content and run it as an ad, or whitelist the content with TikTok spark ads.
User-Generated Content (UGC)
User-generated content (UGC) helps build social proof and trust between your brand and your customers.
Many brands use TikTok influencers to create UGC for their products or services. This UGC can then be distributed amongst various platforms or social channels to get the most out of it.
Some common types of UGC include:
Product Photos

Product Videos

Testimonials

Reviews

Unboxing Videos
By using TikTok influencers to create this content, not only do you save time, but you also get to leverage the talent of the influencers when it comes to content creation and editing.
Now that you understand what TikTok influencer marketing entails, you need to understand how to create a TikTok influencer campaign that is going to run efficiently and effectively.
Why Should You Use TikTok for Influencer Marketing?
TikTok influencer marketing campaigns have become an increasingly popular way for brands to target new audiences. But, what are the key benefits of working with influencers to generate marketing content on TikTok?
TikTok is built for user engagement & trends
From its vertical short-form videos to personalized For You pages and its key focus on interaction and collaboration between users, TikTok is designed to grab and hold the attention of its users.
In fact, TikTok has the highest engagement of any social platform. How did TikTok achieve this? The content produced and shared on the platform is heavily guided by current trends and themes.
Once a trend or sound has gathered steam, it can become a viral sensation where millions of creators post their content regarding this. For the non-TikTok readers, think of the Ice Bucket Challenge from a few years back!
Viral trends can be started by anyone, but increasingly brands are using influencers to spark trends featuring their own products.
Here's a brilliant TikTok influencer marketing example to observe this in action! Back in 2019, Chipotle sponsored creator David Dobrik to start the #LidFlipChallenge trend.
​​
This kick-started a viral trend that spread awareness for Chipotle's free delivery for digital orders. This influencer brand deal even won a Shorty Award for Best TikTok Partnership that year. Not bad!
Brands can leverage the audiences of established TikTok influencers
Creators on TikTok have large audiences and many enjoy higher engagement rates than brand accounts.
By working with influencers to develop paid ads, UGC posts or promotions, brands can tap into their reach and leverage their influence to promote products or services to a larger audience.
Many influencers have been able to build trusting relationships with their audience. In fact, over 61% of consumers say they trust influencers for purchase recommendations.
What sort of influencer marketing campaigns can brands run to take advantage of creators' audiences?
We find that product showcases are a brilliant, transparent way of introducing your brand to an influencer's followers.
That's exactly what fashion brand Athleta did when partnering with fitness influencer FittyBritty. This creator posted a video showcasing some cool outfits she'd worn through the week that had featured Athleta tights.
TikTok features useful tools to make influencer content go further
TikTok loves influencer content and has developed some cool features to help your partnered videos reach more people.
We find Spark Ads to be particularly useful. Spark Ads is a native ad format that allows advertisers to boost and promote organic content from other TikTok accounts with their authorization.
Simply put, you can create and run ad campaigns using videos that influencers have already posted on their TikTok pages.
How do Spark Ads compare to other formats? TikTok found that up to 157% more users watch Spark Ads than regular in-feed ads - bringing the cost per action (CPA) down by 37%.
How to Plan a TikTok Influencer Campaign
When it comes to influencer marketing on TikTok, most of your time and energy should be spent on the planning phase.
By planning out the campaign, you can paint a picture of your goals and objectives for the influencers that will be working with you. To do this, we will create an influencer campaign brief.
Your influencer campaign brief is going to be a single-page document that contains all of the information required for an influencer to complete the campaign successfully.
So what is in an influencer campaign brief for TikTok?
Images
All campaign briefs should contain images of the product, service, or brand that will be the topic of the content. Images allow the influencer to get a better idea of the look and feel of your product and brand.
About Section
The "about" section of the TikTok influencer campaign brief will tell the influencer more about your brand and product. It's important to paint a picture for the influencer, do not understate the importance of spending time to educate the influencer on your brand values and product functionalities.
Content Requirements
The content requirements section is a place for you to outline your requirements when it comes to the creation and distribution of the influencer's content.
For example, if you were looking to receive a TikTok video, your content requirements section may look something like this:
"We're looking for a 9:16 vertical TikTok-style video that is 30-60 seconds in length. The video should be posted to your TikTok account and we will also be whitelisting the content for 30 days."
The above description does a good job of highlighting the exact format of the content we are looking for. We even included the aspect ratio to ensure there is no confusion. When it comes to content requirements, you need to spell things out as clearly as possible.
If your content comes back and it's not what you envisioned, you most likely messed up on the content requirements.
Content Examples
Include content examples in your campaign brief, this gives the influencers a point of reference so they know that they're on the right track. It also gives you a way of putting the influencers on the right path so you're not completely blindsided by their content when it's delivered.
The more content examples you can provide, the better.
Links to Your Social Media
Influencers want to work with companies that have a social presence, and if your social presence is good, you have an even better chance of locking in some influencers for your campaign.
Be sure to include a link to all your social media pages, and your website, because this is something the influencer will require when they're vetting the opportunity.
Documents
Include any documents that are essential to the campaign. This means things like influencer contracts, NDAs, or even less formal documents such as PDF instructions on how to use your product or service.
The influencer campaign brief should be packed with relevant information, and once you're satisfied with your brief, you can begin finding TikTok influencers for your campaign.
How to Find TikTok Influencers
To find Tiktok influencers, you can use an influencer search tool, this should significantly cut down the amount of time spent on finding and reaching out to influencers. The goal is to spend the majority of your time on the creative aspect of the campaign, and the least amount of time on mundane work like emailing influencers.
If you go to the Collabstr home page, you will see some filters that allow you to narrow down your influencer search.
The first set of filters is for the platform. Here you would want to select TikTok as your platform, this will ensure that you're only seeing influencers that are active on TikTok.
Next, you can use the keyword search to narrow down your search to TikTok influencers that are relevant to your niche.
This helps to weed out any influencers that would not be interested in working with your brand or product. By filtering for niche influencers, you can find people that are truly interested in working with your brand.
Once you've filtered by platform and keyword, you can begin scrolling through the selection of influencers listed. The TikTok influencers that you see have created their own profiles, so they're actively managing communication through the platform. This removes the need for having to email influencers since you can communicate with them via the instant chat on Collabstr.
In order to place an order with an influencer, you can simply click on their profile and select one of their pre-defined packages.
If the packages listed on the influencer's profile do not seem like a good fit for your campaign, you can always send them a custom offer as well.
Once you place an order with someone on Collabstr, you will have the ability to instant chat with them, so all communication can be handled on the platform.
TikTok Influencer Marketing Examples
More brands are learning the power of TikTok influencer marketing, but a few stick out in particular. Let's take a look at some examples of influencer marketing on TikTok.
Gymshark
Gymshark is a company that has built a billion-dollar empire on the back of influencer marketing, so it comes as no surprise that they are focusing a lot of efforts on TikTok influencer marketing these days.
Gymshark leverages influencers to build awareness of challenges. For example, when Gymshark launched their "66 Days: Change Your Life Challenge" on TikTok, they partnered with 6 TikTok influencers who used the hashtag #gymshark66.
The influencers were able to successfully build awareness for the challenge, and by the end of the campaign, the hashtag #gymshark66 had accumulated over 45 million views on TikTok.
Walmart
It might be surprising to some, but Walmart is one of the largest spenders on influencer marketing.
They're one of the early adopters of TikTok, and the retail giant regularly tests out new features with TikTok, such as live shopping.
Walmart ran their #DealDropDance campaign where they recruited 6 TikTok influencers to encourage TikTok users to post videos of themselves reacting to Black Friday deals. The campaign was a hit, ending off with millions of impressions generated.
Insomnia Cookies
Product unboxing and reveals have become a popular way for brands to get their product in front of influencers' audiences.
American cookie company Insomnia Cookies partnered with creator Nicole Axelrod to launch their new line of "state fair" cookies.
Nicole Axelrod is a food influencer, and she's garnered a reputation for her enthusiastic, down-to-earth food reviews. Nicole's positive attitude makes her the perfect choice for the face of this product launch.
Insomnia Cookies cross-posted the branded video across their official TikTok page and Nicole's usual account. Combined, this partnership racked up 412,000 views.
This is a brilliant example of repurposing user-generated content (UGC) and influencer collaboration. Nice job!
The Ridge
If you haven't heard of this direct-to-consumer wallet brand, have you been living under a rock for the past few years?
While established brands can use TikTok to expand awareness, The Ridge is a masterclass on how to use popular influencers to create brand awareness out of nothing.
The success of their flagship product, the Ridge Wallet, can be attributed to the sea of UGC videos and branded partnerships posted featuring the product.
The Ridge worked with thousands of creators across many platforms, including TikTok, to spawn brand awareness with their target audiences - young men in North America.
They've been able to build their image as the 'future' of wallets through influencers with a focus on clear brand messaging. The Ridge's strategy is simple: volume and clarity. Get as many creators talking about their product as possible, and get them to showcase their simple product clearly.
Hello Fresh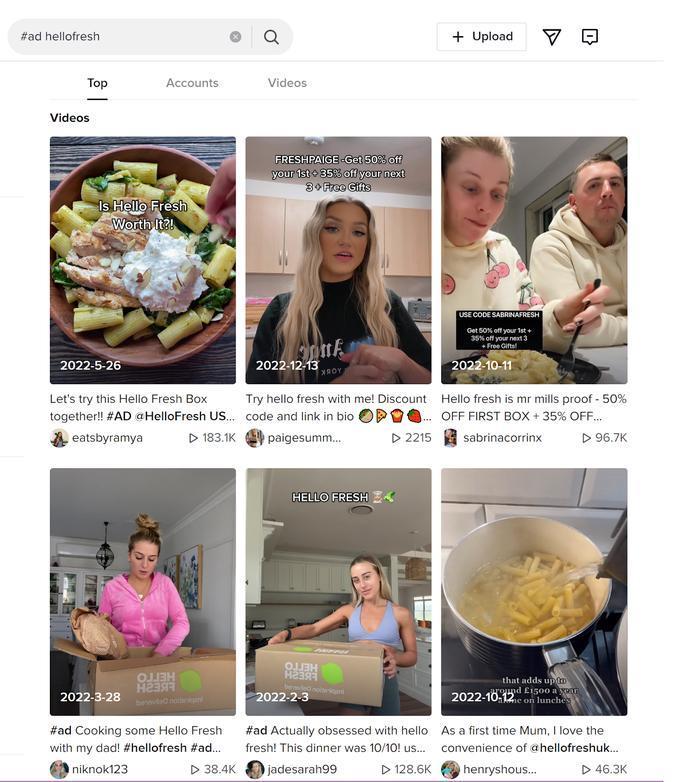 Hello Fresh is another direct-to-consumer brand that has built its core business model on gaining brand recognition using influencers.
This brand regularly partners with health-related creators to position their meal prep as an affordable option for people to eat healthily.
We've picked this brand out as a great example as they've demonstrated some great tactics for establishing a brand internationally. Hello Fresh first opened its doors in Germany but quickly established operations in Australia, Canada, New Zealand, the UK and across Europe - and is now the number one meal kit provider in the US.
They were able to achieve this by partnering with influencers across multiple regions - and tailoring their campaigns to suit the trends & tastes of that country.
Working with popular influencers in different countries is a brilliant way to introduce your brand to a new market - especially for direct-to-consumer companies like Hello Fresh (as social media is likely the primary way new customers will hear about your product or service!)
Wrapping Up
Influencer marketing on TikTok is a great way to get in front of your audience. The viral nature of the platform means that you have a higher chance of success on TikTok versus traditional platforms like Facebook.
Influencer marketing on TikTok also comes in many forms, and it doesn't always entail a traditional promotional campaign. Remember to leverage TikTok influencers in more ways than one, such as for ads or user-generated content.
Get Digital Marketing Tips Directly to Your Inbox
Collabstr sends newsletters every 2 weeks with the newest trends, tips, and tricks in digital marketing.