The Best Influencer Search Tool For TikTok, Instagram, and YouTube in 2023
Published May 16, 2022 | Last Updated December 29, 2022
Just a year ago, influencer marketing grew to be an estimated $15.2 billion industry. 2023 has only just begun, and this estimate has lunged to a whopping $17.4 billion. In short: if this strategy still doesn't have a spot in your marketing budget, you're leaving opportunities on the table.
You already know it, but it's worth remembering: influencer marketing is now more accessible than ever, and it can bring brands the recognition and reputation they deserve. With the rise of influencer search tools, marketers can now skip the guesswork and get straight to business.
Still, as with any type of research, finding the ideal influencer search tool can be time-consuming, and plenty of questions emerge, such as:
"Is this tool reliable?"
"How do I know if this is legitimate or if it's just a scam?"
"What makes tool A better than tool B?"
"Why shouldn't I just reach influencers the old-fashioned way?"
And so on.
All of these questions have elaborate answers, and we're about to clarify them all using Collabstr, a leading influencer search tool, as a prime example. This will give you research material in case you'd like to compare it to other influencer search tools available in the market today.
Why Collabstr is the Best Influencer Search Tool For 2023 (For YouTube, TikTok, Instagram, and User-Generated Content)
Collabstr started back in 2020 with one purpose: to make influencer research fast, simple, and reliable. As influencer marketing becomes a staple, we want more and more businesses to achieve success while helping influencers establish their online careers. We strived for a win-win, and we got it.
When you visit our page, you'll be struck by a large variety of influencers with a range of prices to fit any budget--from startups to enterprises. We have over 1,000 active, experienced influencers ready to lend their clout and make your brand's visibility soar.
Collabstr is all about gathering the most amazing stories and backgrounds, pairing them with extensive social media knowledge and professionalism, and delivering them to you in an easy-to-use marketplace anyone can get used to in no time flat.
But, there's more.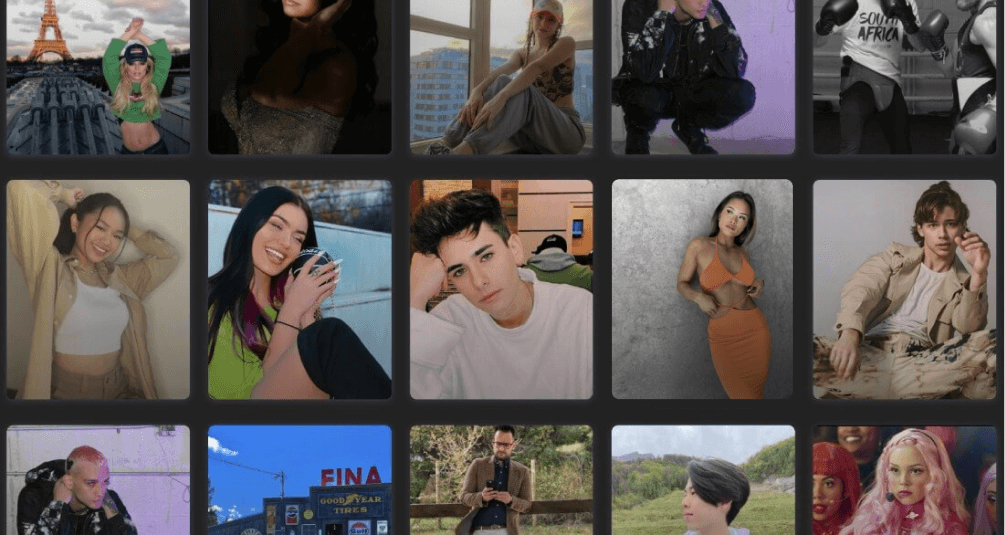 There are No Binding Contracts Involved
Collabstr's goal isn't to interfere with your work in any way, regardless if you're an influencer or a business looking to hire one.
That's why, first and foremost, we always like to clarify that we aren't an agency--we're a marketplace where both influencers and brands are free to manage their own brand deals. We're the facilitator that streamlines the work and makes sure everybody gets what they agreed upon.
The perk? No binding contracts. No bureaucratic processes. Just sign in, and you're ready to start browsing.
We Embrace Genuine, Opted-In Influencers Only
Does this sound like the norm? Well, it's not. Influencer fraud is a serious reality many companies are stricken by, until it's too late.
Buying followers and gathering counterfeit engagement is easier than you think. A promising online personality with hundreds of thousands of followers could be nothing but a decoy. The job of influencer marketplaces like Collabstr is to vet a person's identity before employing them.
Trouble is, not all of them do, and users might end up falling prey to scams. That's irresponsible, to say the least.
It was the case of 22 different brands who paid a so-called mid-tier influencer (with 200,000+ followers) $1000 per publication. It turns out the person in question had bought her way into the online personality world, and wasted the brands' valuable time and money. All while making thousands of dollars at their expense.
At Collabstr, we're not talent scouts. We don't go around DMing influencers asking anybody and everybody to come join us, we also don't just scrape profiles off of Instagram and TikTok and add them to our marketplace. We value quality over quantity.
Every profile you see on Collabstr is a real person who signed up and submitted their credentials. Once they do that, we verify the identity of each influencer that's listed, and do a full audit of their social media to look for signs of fake followers and engagement. If we find any, they're instantly dismissed.
We also take into consideration their previous brand deals. Not everyone who signs up will end up working with us, so if they're on Collabstr, bet your bottom dollar that they live up to our quality standards.
Our influencer profiles display everything you need to know:
A photo book so you can decide if they're the "face" you're after.
Their social media handles, in case you'd like to see even more content from them.
A detailed bio, where influencers will describe themselves and their work.
Their packages and pricing per type of content (Instagram video, Instagram post, TikTok video, Instagram story with "swipe up" link…)
A completion deadline, which will vary depending on the professional.
In case you'd like to see what it looks like, here's one of our influencer profiles.
On that note, influencers may accept or decline orders. But don't worry--orders are only declined when the influencer in question doesn't feel their work will align with your brand. Which is great, because not only will your hiring be spot-on, but you'll take just a few minutes to select another professional out of thousands.
Ultra-Fast Discovery
No need to scour different social media platforms for days on end. We have four convenient search bars at the top of our website where you can filter all options to find the perfect personalities for your campaign in record time. You can filter by:
Platform. Need quality content for Instagram? Youtube? TikTok? All three? You've got it. Plus, Collabstr works with user-generated content (UGC), which is an effective credibility booster. We're already working on adding more platforms soon.
Category. We have over 20 influencer categories for you to choose from, and they go beyond fashion and lifestyle. Find just the person for your campaigns by reviewing athletes, gamers, comedians, entrepreneurs, celebrities and public figures, and much more.
Followers. As you know, influencers are divided into tiers according to their following. We've got micro-influencers (1k-100k) , mid-tier influencers (100k-500k), macro-influencers (500k-1M), and celebrities (1M+). Our range is vast: we start at 1k followers and go up to 10M, so you can be ultra-specific in your choices.
Budget. Lastly, Collabstr is a fit for companies of all sizes, and even businesses of one. Our wide selection allows customers to filter through budgets ranging from lower than $250 up to over $1000.
Yes, that means you could find the next influencer for your upcoming campaign right about now.
Secured Payments
The following situation is a common one, especially among beginner influencers:
Someone reaches them for a partnership, and they close a deal. Only, no retainer payment is collected, because the customer complied with the deal in the first place. The influencer trusted them, and did the work.
The work is completed, reviewed, and sent over to the customer. They see the final product, use the final product, whereas the influencer doesn't see any money.
Just like there are fake influencers, there are ill-intentioned customers out there who are willing to pull a fast one to get free publicity.
With Collabstr, however, we protect both sides during every transaction. After they've chosen their preferred influencer, customers will send us the payment, and we'll secure that money until the work is completed and sent.
This process lets both influencers and customers rest assured that, respectively:
1) They will get paid, and their money is in good hands. All they have to do is send in the work!
2) They will get what they paid for, and won't have to worry about getting ripped off.
No more nail-biting wondering if an influencer will stop replying, block you, or disappear from the face of the earth--and vice-versa.
Here are a few additional key points:
We use Stripe as our main payment processor, and all payments are made directly through our website.
As soon as the influencer accepts an order, we'll receive the money from the buyer and place it on hold until the order is complete. At this point, buyers will have up to 48 hours to ask for a revision, or confirm the order as complete.
Instantly Chat With Thousands of Influencers
In a perfect world, customers would stay updated about an influencer's progress in real-time. They would be able to communicate through every step of the order, making sure everything is moving smoothly from start to finish.
Collabstr brought this world to life with its handy built-in instant chat, where both customers and influencers have direct access to each other. They can ask for updates or clarification, reply to each other's questions, and even request last-minute changes. That's only possible because instant messaging is the quickest way to get anything done.
Forget hopping from Instagram chat to TikTok chat to email. Speaking of which...
Manage All of Your Influencer Collaborations in One Place
Poor, scattered communication is one of the most complicated problems a lot of businesses face. It's unproductive, messy, and frustrating.
Influencers often work with dozens of clients at once, just like companies might work with dozens of influencers at once. App-switching isn't productive, because it might lead to gaps in communication and even bury important information among so many pings.
The solution? One marketplace, one chat. It's all you need to keep track of the entire process without adding more hours to your work week.
Most Importantly: It's Not Our Influencers' First Rodeo
How do you tell a dabbler from someone who's serious about their job?
It's simple: have a look at their connections.
As a refresher, we thoroughly inspect our influencer's previous connections to see if they're suitable for our platform. We're diligent when it comes to contacts--it matters who our influencers have worked with and whether they're trustworthy companies.
That doesn't mean they're required to have worked with renowned brands before applying to Collabstr, but they must be serious about their work, and their reputation must be unstained. Don't worry, you can leave this part to us.
It's not out of the ordinary to find influencers on Collabstr that have worked with top brands such as FashionNova, Fenty Beauty, Walmart and more.
Start Browsing Thousands of Influencers Now. It's Free.
Now that you have all the information you need, time to see Collabstr for yourself. Your next campaign could be there.
Get Digital Marketing Tips Directly to Your Inbox
Collabstr sends newsletters every 2 weeks with the newest trends, tips, and tricks in digital marketing.