How to Find Amazon Influencers and Their Storefronts
Published December 12, 2022 | Last Updated February 1, 2023
As Amazon continues to hold the majority share (37%) of the global e-commerce market, it makes sense for online retailers to look to the online giant to sell their products. But as the number of active sellers continues to grow, how do retailers cut through the noise and get in front of customers?
The answer is this: influencer marketing. Amazon has launched a platform-specific influencer program that aims to connect potential customers and e-commerce storefronts through the power of influencer brand collaborations. By pairing with the right Amazon influencer, your brand can start to attract the right customer base and claim a larger share of Amazon's net sales (which reached a staggering $121.2 billion USD in Q2 of 2022).
Finding the right Amazon influencers to work with, however, can be tricky. That's why utilizing an influencer marketplace like Collabstr is a critical first step in successfully implementing this type of social media marketing.
In this article, we'll take a look at what Amazon influencers actually are, why they're effective, and how your brand can find the best Amazon influencer collaboration fit.
What is an Amazon influencer?
Members of Amazon's Influencer Program, Amazon influencers are content creators that receive commissions for any sales that they drive through their Amazon storefront. These content creators normally have large followings on one or more social media platforms, including:
YouTube

Instagram

Facebook

TikTok
They've also been approved by the e-commerce giant to set up their own Amazon storefronts. To become an approved Amazon influencer, content creators must meet certain criteria for specific metrics, including:
Post count

Post consistency

Follower engagement

Follower count
Content creators encourage their following to visit their Amazon storefront and browse their selected display of endorsed products. If someone purchases a product through the Amazon influencer's storefront, the influencer will receive a commission.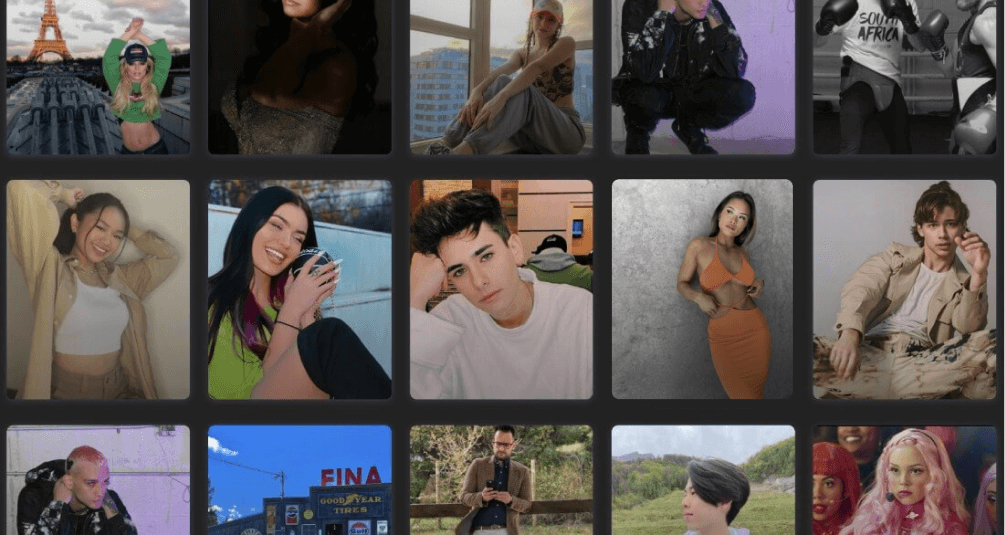 How do I find Amazon influencers?
With so many content creators out there, it can be all too easy for brands to choose the wrong type of influencer to collaborate with.
Choosing an Amazon influencer that doesn't make sense for your brand or campaign objective usually leads to very low or negative ROIs. On the opposite end of the scale, choosing the right influencer can net you more brand awareness, audience reach, and even higher conversions.
1. Ask the right questions
To gauge a better understanding of what kind of Amazon influencer your brand should be looking for, your marketers should ask and answer the following campaign questions first:
What is your influencer marketing campaign's main objective?

Brand visibility and awareness

Consideration (lead generation)

Conversion (sales)

What products do you want to highlight in this campaign?

How long do you want to work with an influencer?

How big is your budget? Will you pay a feature fee on top of the commission?

What are your influencer marketing KPIs?

What platform does your target audience populate the most?
Now, it's time to clarify what niche of influencer you're looking for. Some questions your marketers should ask when they've found a potential influencer include:
What kind of content does this influencer do best? Does it suit your vision?

Does the influencer's overall aesthetic compliment your brand's vision?

What demographic of audience engages with their content the most? Is this your target demographic?

What products have they promoted in the past and do your products fit in? And, does this influencer already promote for a direct competitor?
2. Search for Amazon influencers using these methods
Now that you have a better idea of your boundaries, it's time to start pulling together a list of potential influencers. There's a few ways you can do this.
Browse #FoundItOnAmazon
#FoundItOnAmazon is Amazon's closest thing to a list of its current influencers. This page displays a collage feed of product images that have come directly from Amazon influencer's feeds and pages. You can filter your feed by selecting specific product categories.
You can then click on specific images and see which content creator it belongs to.


From here, you can click on the influencer's Amazon storefront and look at how they've chosen to display and organize their endorsed products. You can also search for them on social media platforms to grasp a better understanding of their content and audience.
Use Hashtags
Hashtags help anchor content to specific trending areas of interest and help users find that specific content. On your target social media platform, search for hashtags related to your brand, products, and industry niche, alongside Amazon-specific hashtags, including:
#amazonfinds

#amazoninfluencer

#amazonambassador
These searches will show you an extensive display of related content and help you find popular influencers that are active in your niche.
Look at who your followers follow
Knowing who your target audience is already engaging with is a great way to find appropriate Amazon influencers.
Look at your brand's social media analytics and figure out which platform has the highest audience reach. Then, figure out what segment of that audience engages the most with your content. Who else does that segment follow? Do they have a few influencers in common?
Use the results to narrow down your search and find Amazon influencers that generate the type of content that your brand wants and that your audience engages with.
Use an influencer marketplace
Using an influencer marketplace platform like Collabstr is a great way to streamline your Amazon Influencer search. An all-in-one influencer marketing tool, a marketplace like this helps you find, connect, and partner with content creators, cutting out a lot of the administrative legwork.
Search for influencers on specific platforms and within certain topic niches by using the filter menus. All influencers on Collabstr are vetted and come with a bio, price breakdown, sample content, and links to their social media platforms.
How do I partner with Amazon influencers?
Once you've shortlisted your dream influencers, it's time to start contacting them and negotiating the terms of a potential partnership. How you approach an influencer about a potential partnership with your brand is important. This is why forming a contact template is an effective way to standardize how you approach these new business relationships.
Key terms both your brand and the content creator will need to agree on include:
The length of the collaboration
How long will your product/s stay featured on their Amazon storefront?
Is the content creator only taking sales commission or is there a feature fee?
What is the commission percentage?
What kind of content do you both want to create?
How often is the influencer going to post about your products during the specified partnership timeframe?
There are a few ways you can contact an influencer. Some influencers may require you to go through their management. Others may accept direct, personal emails (which you can usually find linked to their profiles).
An influencer marketplace like Collabstr, streamlines this communication process by providing an instant chat feature. 'Instant chat' allows brands to instantly contact and live chat with potential influencers through its platform, effectively cutting out the tedious waiting and back and forth-ing that can occur via email.
This not only saves you time and money by cutting down your administrative hours, but it also helps simplify your whole influencer management process.
How can Amazon influencers help my brand boost sales?
They filter customers directly to your products on Amazon
With 76% of Amazon sellers achieving profitability in 2022 despite the fierce competition, selling on Amazon is a worthwhile investment. A great way to capitalize on this profitability potential is by incorporating Amazon influencer marketing into your strategy. How?
Amazon influencers not only help place your brand in front of your target audience, they also encourage on-the-spot conversion. These content creators have already built up a certain level of authority within their audience — AKA, your target customer. By endorsing your products through their social channels, they make your customers aware and curious about your brand.
With the use of the Amazon storefront custom URL, Amazon influencers make finding and purchasing your products incredibly easy for your customers. By keeping the sourcing and purchasing process to 1-2 clicks, the risk of losing customer interest is minimized, effectively boosting your sales!
Generates long-term conversion opportunities
Not every customer who's interested in your products will purchase your products straight away. Some need more time to make their decision — this is called the consideration stage.
Moving people from the consideration stage to the purchasing stage is all about staying memorable and making the purchasing process easy. Why? Because in today's saturated market, it's easy for customers to forget about your product brand if they're not immediately incentivized to buy it.
However, by affiliating your products with one of your customers' favorite influencers, your brand instantly becomes more memorable. Couple this with instant, easy access to the influencer's Amazon storefront via their published URL, and these customers are more likely to return to the influencer's profile to buy your product. This means your brand will see more long-term conversions.
Long-term conversions can occur in two ways:
Interested but hesitant customers are given a longer time to move from the consideration to the purchase stage.

Customers who have already purchased your products from the Amazon influencer's store can become returning customers.
Builds brand authority
According to Digital Marketing Institute, almost 50% of consumers on social media platforms rely on influencer recommendations for their purchasing decisions. What does this mean?

It means influencers have power. And, by collaborating with the right influencer, your brand can build authority with your target audience. This nurturing of trust encourages long-term customers and steadier sales growth over a longer period of time.
Examples of Amazon influencers
To give you a better idea of what successful Amazon influencers look like, we've put together some examples for your perusal.
Leticia Gardner
Amazon: Leticia Gardner
Content Niche: Fitness, Home Décor, Health and Beauty, Fashion
With over 1.9 million followers on TikTok and 460k on Instagram, Leticia is a great example of a health/beauty influencer. She promotes a range of products within her content niche that she sells through her Amazon storefront.
Some brands Leticia has partnered with include:
Colgate

Olaplex

Samsonite

Michael Kors
Ashley Marquez
Amazon: Teach Create Motivate
Niche: Education, Home, Lifestyle, Fashion & Beauty
Website: teachcreatemotivate.com
With over 303k followers on Instagram and 65k on Facebook, Ashley is the founder of the early education and lifestyle blog Teach Create Motivate. Her Amazon storefront focuses on education and learning tools and resources, and beauty products.
Some brands Ashley has partnered with include:
Kah&Kee

HP

Yamazaki

STAPLES
TbonesTech
Amazon: Shade Review / Tbonestech
Niche: Technology, Film and Photographic Equipment, Sunglasses
Website: Youtube.com/TbonesTech
With almost 70k subscribers on YouTube TbonesTech focuses on endorsing tech and photography products on his Amazon storefront. He compliments these endorsements by reviewing them on his YouTube.
Some brands Ashley has partnered with include:
Leica

Canon

Oakley

Spyderco
Ready to partner with your perfect Amazon Influencer?
Cut through the noise of Amazon's extensive seller pool and filter customers directly to your products through Amazon influencers. Aim for Amazon influencers that engage with your target audience on your target social media platforms, and watch your brand visibility grow while boosting your product sales through the e-commerce giant.
An influencer marketplace like Collabstr is a great way to find your perfect Amazon influencer. On a platform like this, you can find, compare, contact, and pay your influencers all in one place, ensuring simplicity and quality. Ready to find your perfect match? Find your Amazon Influencer now!
Are you looking to streamline your influencer marketing approach even further? With Collabstr Pro, your brand can post about your influencer marketing campaigns, allowing interested content creators to approach you about potential partnerships. This feature saves your marketers from doing the legwork of sourcing and contracting appropriate influencers — instead, they come to you! Ready to optimize your influencer search even more? Try Collabstr Pro now!
Get Digital Marketing Tips Directly to Your Inbox
Collabstr sends newsletters every 2 weeks with the newest trends, tips, and tricks in digital marketing.