A Practical Guide to Content Collaboration
Published December 12, 2022 | Last Updated October 11, 2023
Effective content collaboration is becoming increasingly valuable for both businesses and influencers alike. Even if you're a brand with plenty of know-how for creating content yourself, never underestimate the power of partnering up with an online content creator. An influencer's own set of skills can push your creativity even further into more exciting and prosperous directions than you ever could have imagined. As the saying goes, two minds are better than one.
Research shows that 3 in 4 consumers are willing to spend over $600 on products promoted in content collaboration projects like influencer brand deals. So next time you're thinking of investing in an influencer's own marketing wheelhouse, remember how worthwhile strong partnerships can be. The better you work together as a team, the stronger your end results will be.
But what does it take to pull off a strong content collaboration project? And what does content collaboration even consist of? Keep reading to find out the answers from us here at Collabstr. Let's begin.
What is Content Collaboration?
Content collaboration is when a brand and a content creator come together to create content that benefits both parties. The type of content being made can be all sorts of things (videos, blogs), and these might be just a single post, a series of content, or a whole project that lasts years.
No matter what's being produced, content collaboration works best when it profits both the brand and the content creator. It must benefit both sides. In other words, the brand can benefit from expanding its audience through the creator's following whilst the content creator themselves will usually receive a healthy payment and potentially more exposure. It's a two-way street of using each other's resources and already-established followings.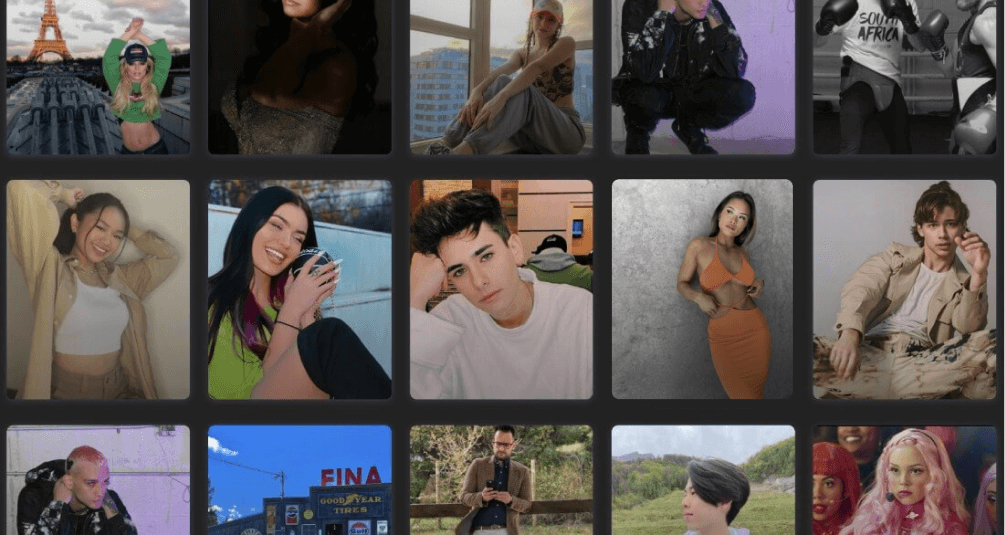 Different Ways to Collaborate With Content Creators
Sponsored social media posts
This is the most common type of content creator or influencer collaboration. Content creators create a post that are dedicated to promoting your brand. It'll look something like this one.
Nowadays, there are laws in place that mean if they're being paid, content creators must make it clear to followers that a specific post is an advertisement. They can add the hashtag #ad or outright state they're in a paid partnership.
Social media takeovers
Think of this as a step up from the standard sponsored posts you might see splashed all over Instagram. Instead of them posting on their own social profiles, the content creator will take over a brand's page and post all sorts of content on their behalf. Social media takeovers are good for shaking up your existing content and capturing peoples' attention with exciting stuff like live video chats and competitions.
Gifting and reviews
Gifting involves sending a content creator your product/s as a sampler. After trying it out, they can then create posts, or video testimonials that promote your brand and provide full reviews of what they think. The key to gifting is building a connection with the content creator first. Don't just send a content creator your stuff and hope for the best – that's when you might get some negative reviews.
Brand ambassadors
Another common type of content collaboration is making a content creator one of your brand ambassadors. This role involves representing your band at events and ​​uploading regular posts about their everyday experiences using your products. An ambassador is essentially a full-time, long-term face of your brand, and the collab works best when they match your company's values and aesthetics.
GymShark has pulled off an exceptionally successful band ambassador scheme in which they partner with a host of fitness influencers, i.e. people who are innately passionate about health and fitness. It works so well because they opted for authentic influencers who genuinely love the brand rather than bigger names who simply have more followers.
Podcast/video guest features
Podcasts have boomed in recent years. In fact, 73% of Americans have listened to a podcast in the last month. What's more, 20% of podcast listeners have bought something after hearing about it on a podcast. That's why collaborating with a popular podcaster or having them join your own as a featured special guest can be so powerful for expanding an audience.
How to Create a Successful Content Collaboration
A successful content collaboration between a brand and content creator needs nurturing – and good communication between you both is just the start of it. Here are four must-know steps for making it work for both parties.
Find the right fit
22% of businesses struggle to find suitable content creators when searching for potential collaborators, so take your time and think outside the box because who you're looking for might not necessarily be someone who offers the biggest audience. Usually, the best fit is the content creator that matches your company values and already creates content that's either relevant to your industry or will resonate well with your target audience. It's crucial to find the right creators for your brand's image.
For example, online audiobook service Audible regularly collaborates with bloggers, writers, and celebrities who boast previous best-selling books, like Stephen Fry. Then there's Gucci and North Face, who created a stellar campaign for their new 2022 outdoor travel collection. They wanted to reach a younger, savvy audience – so what better person than TikTok star Francis Bourgeois who's a well-known trainspotting enthusiast?
Are you struggling to find a fitting content creator? We here at Collabtsr are masters in finding you your next content collaborator. Explore our network of vetted creators by filtering in exactly what you need. You can search by social platform and all sorts of other categories like niches, price, location, and more.
Map out the project together
Collaboration should commence right from the get-go. Once you've got a campaign brief for approaching the content creator, fleshing out the finer details of the project together will ensure you're both clear on the expectations and objectives of the project. It's important to discuss content ideas here, as you'll want to find an entertaining and engaging way to promote your business or product, while ensuring that the content aligns with the influencer's brand.
Establish clear objectives
Before any content is created, the project's scope should be clear. Campaign objectives, deadlines, and what's expected from both of you should all be discussed. Honesty and transparency will always be important in content collaboration.
Build good relationships beyond the project
Building and maintaining strong working relationships will open up opportunities for future collaborations. Even if things didn't quite go to plan, who knows when you might need each other next? So treat one another with respect, build trust, and have fun along the way – we're big believers that creativity sparks brightest when you're enjoying yourself.
Content Collaboration Platforms To Use
Unlike ours, these content collaboration platforms aren't for finding collaborators. They're more like collaboration tools and workspaces to manage your shared projects and facilitate better teamwork. Here's a quick look at the three best content collaboration platforms we vouch for.
This is one of the content collaboration platforms built especially for marketing. CoSchedule has a handy set of tools that make collaboration much easier, including a real-time marketing calendar where you can see all projects in one space and social publishing tools that automatically publish ready-to-go content.
As a cloud-based platform, Box is a safe and easy-to-use digital platform that's accessible by anyone involved in the collaboration. It allows you to upload, view, organize, edit, and share all your files from absolutely anywhere in the world.
A big standout for Trello is its 'Butler' feature – a tool that lets you automate actions, schedule tasks, and build and share processes at just the click of a few buttons. Everything's customizable too, making it extra user-friendly.
Conclusion
So there you have it. Plenty of content collaboration tools and platforms to assist with your next content collaboration project, including Collabstr's very own platform that makes finding and connecting with content creators super simple. We've got a whole network of vetted creators for you to pick from.
Join Collabstr as a brand today to find content creators from our huge library of content creators. It takes just seconds to sign up and start getting unique content sent straight to you.
Get Digital Marketing Tips Directly to Your Inbox
Collabstr sends newsletters every 2 weeks with the newest trends, tips, and tricks in digital marketing.