12 Examples of Influencer Marketing on TikTok (2023)
Published May 16, 2022 | Last Updated February 3, 2023
With a record number of people forced to stay home during the coronavirus pandemic in 2020, TikTok skyrocketed to the top of the app store download charts. The short-form video-sharing app which was started in 2016 is taking the world by storm, and many are left wondering how they can leverage influencers on TikTok for their brand.
A majority of this hype has been generated by Gen-Z, those who are born between the mid-1990s and late 2010s. As per TikTok statistics, Gen-Z's making up 69% of the app's user base, TikTok is an amazing way to get your product in front of the young audience that makes up 40% of all consumers in 2022.
As a result of this rapid growth, millions of brands have flocked to TikTok. One preferred method of capturing consumer attention on TikTok has been through the use of influencers. Influencer marketing on TikTok can take many forms, from running spark ads, to hashtag challenges and more.
If you're looking to incorporate TikTok influencers in your strategy, take a look at the following examples of influencer marketing on TikTok.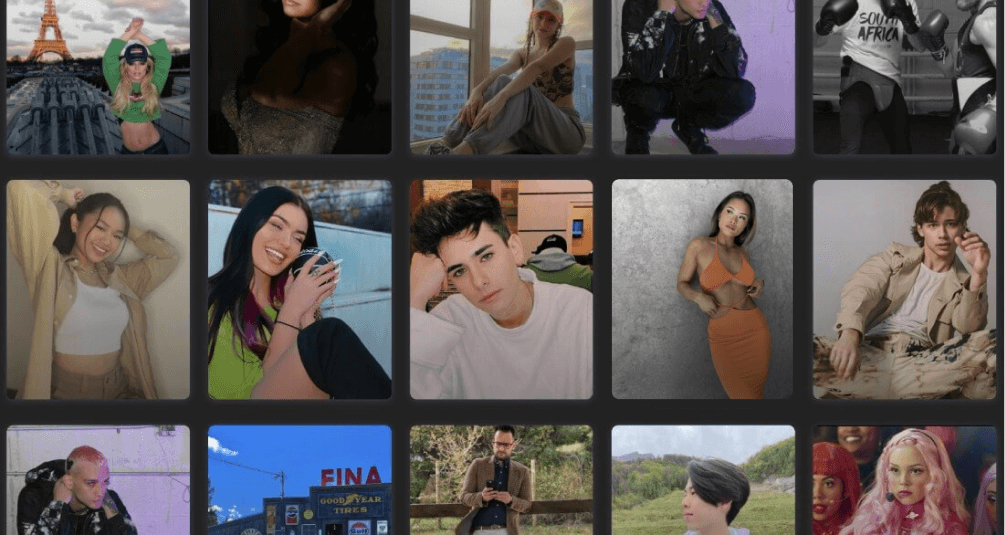 What is Influencer Marketing on TikTok & Why Is It Important?
Influencer Marketing is a form of social media marketing that is used frequently by brands to market their products to the audience of that influencer. It usually consists of an influencer making a sponsored post that promotes the sponsoring brand. It can also be an advertisement for your brand within an otherwise different post altogether.
This kind of sponsorship has been popular on social media platforms such as TikTok, Instagram, and YouTube for a long time. It's a large part of the ecosystem on those platforms and for TikTok in particular, it's the primary revenue stream for creators.
Here's why influencer marketing is important:
Brand Awareness: Influencers have grown massively over the years due to the pandemic social media boom. This means a larger audience and a larger number of potential customers for advertisers.

Trusted Endorsement: Influencer marketing acts as a form of social proof. An influencer promoting a product is an endorsement of that brand. An audience that trusts an influencer's opinions will see your product in a positive light. Influencers are Trendsetters: Generally, influencers are in tune with what's hot right now. This means that if they're promoting your product (especially on a platform like TikTok which is synonymous with 'Zoomer' culture), that product will inevitably become somewhat trendy in their audience's eyes.
If you're looking for influencers to promote your brand, look no further than Collabstr. Collabstr is the best tool for influencer marketing and will help you easily find quality influencers to collaborate with.
Our influencer marketplace makes it simple to find your next brand ambassador or influencer partnership. We have a wide range of top influencers that have been vetted from all over the world. From local influencers to internationally known creators, Collabstr is the best place to find the influencers that you're looking for.
12 TikTok Influencer Marketing Examples
1. Gymshark
Gymshark is a fitness apparel and accessories brand headquartered in the United Kingdom. The company is no stranger to the world of influencer marketing, in fact, they are constantly raising the bar when it comes to using influencers. We recently included them in our examples of influencer marketing during COVID-19 due to their ability to adapt their marketing strategy to the circumstances.
Adaptability is a key attribute of brands that have used influencers on TikTok, mainly because the platform is so fresh that there are no real guidelines in place when it comes to the best influencer strategy on TikTok.
At the beginning of 2019, Gymshark created their 66 Days: Change Your Life challenge. They asked users to set a personal goal that they wanted to achieve by March 8, which was roughly two months after the start of the campaign. They promised the winner of the competition a year's supply of Gymshark goods.
Gymshark partnered with 6 TikTok influencers who used the campaign hashtag #gymshark66, by the end of the campaign, the hashtag had accumulated 45.5 million views.
2. Calvin Klein
This is a great example of an older company that has been able to find an influencer strategy that works for their brand, something you don't typically see with companies that are over half a century old. Calvin Klein is also one of the highest spenders on Instagram influencers, so it's no surprise they've expanded their strategy to TikTok.
The company took a more traditional approach by posting all of the influencer content under their official page. They recruited 22 high-profile celebrities, such as Shawn Mendes, ASAP Rocky, and Kendall Jenner. The celebrities were interviewed by the brand while wearing Calvin Klein clothing.
3. Walmart
Walmart is the world's largest brick-and-mortar retailer, and they expect to keep this title by staying relevant, something they are doing great at.
The brand has run a few hashtag campaigns on TikTok so far, starting with their #SavingsShuffle campaign which included users dancing and tagging Walmart on their videos. More recently, the company ran the #DealDropDance campaign where they recruited six influencers to encourage their followers to post videos of themselves expressing how Black Friday deals at Walmart make them feel.
Just like Calvin Klein, Walmart is amongst the top ten brands that spend money on Instagram influencers.
4. EA Games
While most game development companies focus a lot of their marketing on other platforms such as Twitch and YouTube, EA was one of the first large game development companies to discover the power of TikTok.
The gaming niche on TikTok is quite large, for example, the hashtag #warzone which refers to the highly popular game, Call of Duty Warzone, has a combined 12 billion-plus views.
EA was able to leverage the growing gaming culture on TikTok by having high-profile influencers such as Brent Rivera, Gil Croes, and Indie Cowie promote their games such as Apex Legends, Plants Vs. Zombies, and Fifa 20.
These campaigns resulted in millions of combined likes and impressions for the brand, a massive amount of reach for a relatively new platform.
5. Kroger
For a brand that's been around since 1883, Kroger sure likes to try new things. In mid-2019 TikTok introduced something called Hashtag Challenge Plus. This new feature allows brands to run a hashtag challenge, where users can post content under their campaign's hashtag, and people could actually purchase products apart of this campaign directly through TikTok.
Kroger was the first brand to run a Hashtag Challenge Plus campaign, they partnered with a total of four TikTok influencers for this campaign. The #TransformUrDorm campaign encouraged users to post videos showing their dorm transformations. Although you can no longer make purchases under this tag, you can still see all of the posts made as part of this campaign. The #TransformUrDorm hashtag has racked up a combined 875 million views.
6. Sony Music
The music companies are no stranger to the world of TikTok, especially considering that the app was very centered around music in its early days. TikTok is responsible for amplifying hundreds of songs into the limelight, take Old Town Road by Lil Nas X as an example, the song was first made popular through TikTok before it became a worldwide sensation.
Sony Music ran a campaign to promote he Nicky Jam x Sch song Atrévete, the campaign was focused on Spain, Italy, and Argentina. The brand contracted 12 influencers on TikTok to create a video containing the song. Overall, the 12 influencers were able to reach a whopping 8 million users, they brought in a combined 1.2 million likes, an average engagement of 6%, and also generated another 10,300 more videos from other TikTok users.
7. Kool-Aid
Kool-Aid ran their first TikTok challenge back in 2019, this one was a bit different than the ones we speak about above in the sense that Kool-Aid offered a $10,000 cash prize as an incentive for users.
The overall goal of the campaign was brand awareness. Kool-Aid kicked off the campaign with posts from rapper Lil Jon and their official mascot Kool-Aid man, on the brands official account, @koolaidmanofficial. Users were encouraged to post videos of themselves enjoying the holiday season, using the #OhYEAHChristmas.
The campaign was an overall success for the brand, resulting in 10,000 pieces of content being posted under their campaign hashtag, accumulating a combined 1.9 Billion views.
8. The Ridge
The Ridge is a direct-to-consumer luxury brand that focuses on minimalist fashion accessories. The Ridge is the creator of the famous Ridge Wallet. They are an example of a small brand that originally became popular solely due to its influencer marketing on platforms such as YouTube, before laying its eyes on TikTok during its rise in popularity.
The Ridge does an excellent job of generating natural-feeling UGC ads that don't come off as spammy or overly promotional, which is something that works well on platforms like TikTok where capturing the attention of consumers can be especially hard if you're trying to promote something.
Their brand is no different on TikTok. They sponsor many influencers on the platform and have partnered with thousands of TikTok creators. They've been able to build their image as the 'future' of wallets through influencers with a focus on clear brand messaging.
Instead of running specific campaigns, their marketing is simple. They have an influencer describe the wallet and offer a discount code for the product, letting it speak for itself. This kind of brand confidence is crucial when marketing on TikTok, or TikTok users will quickly swipe past your ad.
9. HelloFresh
HelloFresh is a direct-to-consumer meal kit company that has generated a lot of buzz on social media platforms like TikTok recently. Their brand is focused on sending meal kits that are both healthy and easy to cook for working individuals.
With a focus on food and cooking, HelloFresh's influencer marketing campaign is the epitome of showing off the best side of its product. They team up with influencers who receive a meal box and simply make the food in the box, which is a great way to show how quick and easy the meals are to make. After all, showing the quality of your product is the best way to get people on board with it.
HelloFresh has quickly risen to become the most popular of the 'meal kit' companies, due to the effectiveness of its influencer marketing campaigns.
Much like The Ridge, HelloFresh's confidence in its product is one of the main reasons it has become a mainstay for influencers on TikTok. They know that the product looks great and can be used by influencers to make quality content, so they don't need to run any specific campaigns to get their brand onto feeds.
10. GamerSupps
From special flavors, cups created by very large influencers to discount codes and sponsorships for smaller creators, GamerSupps has a great influencer marketing strategy that is core to the company's success. When the brand isn't making eyebrow-raising flavors of energy drinks and almost-explicit drink cups, they're always teaming up with influencers to increase the product's brand awareness.
On TikTok, GamerSupps' strategy is simple: team up and host giveaways with influencers to spread awareness of their brand. A lot of the influencers they partner with are geared toward the niche of gamers and match the brand's target audience.
Once again, GamerSupps knows that they have a good product and are great at selling it as an authentic gem amongst the host of alternatives that exist. This confidence matches their whole brand, which releases products of very shameless off-color aesthetics that only work because of the quality of their brand and the nature of their target audience.
11. Florasis Beauty
From China, Florasis Beauty is a small makeup brand that has made a name for itself on social media by teaming up with influencers. In a field like direct-to-consumer beauty marketing, it can be hard for brands to become popular outside of the large companies that dominate the industry.
Using TikTok and other social media apps, Florasis has challenged this by using influencer marketing to grow its brand and become a staple in the beauty industry. With millions of eyes on their product, their social media page now boasts 1 million followers.
By reaching out to beauty influencers and letting them try out and showcase the product on their posts, Florasis are able to piggyback off of an influencer's audience, getting eyes on their product.
Due to the unique aesthetic of Florasis' products, they stand out amongst other makeup brands and so their focus is reaching out to the best influencers to get as many eyes on their products as possible.
12. Primark
Primark is a fast fashion affordable clothing brand from the United Kingdom, which has been using TikTok to a great extent to market its in-store products. By hiring local influencers within the UK to do product reviews and haul posts, Primark has been using TikTok as a great advertising platform for its best products.
Primark has used TikTok to advertise its store and pull people to come in and buy its products, with influencers using phrases such as 'Don't walk, run to Primark' to try to incentivize customers to visit.
While being a well-known brand in the United Kingdom, the connotations with their brand haven't necessarily been positive. This is why using influencer marketing on TikTok to try to create a more positive brand image has been crucial to Primark's success in recent times.
By using TikTok for influencer marketing, Primark has been able to get millions of eyes on its brand in a new light. This has helped them once again pick up success and stay popular amongst shops on the UK High Street.
Best Tips for Influencer Marketing on TikTok
Create Partnerships With Influencers Who Match Your Brand's Niche
Much like with any advertising campaign, your advertising needs to reach the right audience to become effective. Finding influencers that match your brand's niche and target audience is important in doing this.
For example, a cosmetics brand would want to reach out to a beauty influencer more than an educational channel. The latter's audience wouldn't be interested in the advertisement, and wouldn't see the testimonial of an educational TikTok influencer about makeup as good enough advertising to go and find a product.
In fact, trying to advertize across too many channels can make your product seem poor-quality or disingenuous. For example, headphones manufacturer Raycons has become almost comedic due to its constant advertisement through random popular influencers. Its advertisements try to sell its products as 'high-quality audio' when the opposite is generally the case as picked up by popular audio-focused influencers and channels.
With Collabstr, you can search for specific niches with ease. Simply just search for the category you want to find influencers in, and you'll be able to find a host of high-quality influencers who can promote your product however you desire.
Research Influencers Before You Approach Them
It's important to ensure that the influencers you approach are high-quality and going to help enhance your brand instead of damaging it. Influencers who don't have an active following or have lots of past controversies will at best waste your money, and at worst cause irreparable damage to your brand.
This is why it's crucial to make sure that you know who you're going to be partnering with before partnering with them. Saving yourself a nasty surprise only takes a few minutes, and the influencer will probably do the same when you reach out to them.
With Collabstr, you can easily look into influencers' profiles to find the influencer that matches your needs. Simply click on their profile to find out more about them and their social media presence. On there, you can find social media links and more about who they are and why they'd be a great fit for your brand.
Communicate Clearly and Effectively With Them
Once you've found your influencer, making sure that you communicate with them both clearly and effectively is key to ensuring that a successful partnership will be the result.
This means that all of your communication has to be professional and well-written, otherwise you risk not coming across as genuine and possibly damaging relations with potential influencers.
One of the easiest ways of doing this is creating a proposal template to standardize your communications with all potential clients. This means all of your communication will be clear and effective, and can be customized quickly for every influencer you reach out to.
It also removes all bias within communication, which is better for your brand moving forward. By ensuring everyone has the same proposal with set terms depending on their size, you standardize your influencer marketing strategy to ensure that everything is done correctly and in a professional manner.
Use the Best Tools Available to Help You
There are many tools that can help you take your influencer marketing to the next level. Collabstr is the best tool for influencer marketing as it helps you do all of the tips above, and so much more.
Collabstr is an influencer marketplace where you can search for and find influencers to boost your TikTok influencer marketing campaigns. Instead of having to search for influencers all over the internet, Collabstr is filled with great vetted influencers who are all about helping businesses meet their marketing objectives.
Our search features help connect you with the right person, allowing you to search specifically for influencers who fit your brand's key niches and even allowing you to filter by platform. Reaching out to influencers is also made simple, as you can communicate with them through Collabstr with ease.
We also provide an escrow service, making using Collabstr the safest way to work with influencers for marketing. We hold the money until both parties are satisfied, meaning that you won't get scammed or messed around. For influencer marketing, get started with Collabstr today!
Final Thoughts
Hopefully the above examples can serve as inspiration for you, if you're considering using influencers to amplify your brand, if there's ever been a better time to incorporate influencers in to your strategy now is the time.
If you're struggling to find influencers for your brand, consider browsing Collabstr's influencer marketplace, which contains thousands of influencers on TikTok and Instagram looking to collaborate with brands.
Get Digital Marketing Tips Directly to Your Inbox
Collabstr sends newsletters every 2 weeks with the newest trends, tips, and tricks in digital marketing.