With a record number of people forced to stay home during the coronavirus pandemic in 2020, TikTok skyrocketed to the top of the app store download charts. The short-form video sharing app which was started in 2016 is taking the world by storm, and many are left wondering how they can leverage influencers on TikTok for their brand.
A majority of this hype has been generated by Gen-Z's, those who are born between the mid 1990's and late 2010's. As per TikTok stats, Gen-Z's making up 69% of the app's user base, TikTok is an amazing way to get your product in front of the young audience that makes up 40% of all consumers in 2022.
As a result of this rapid growth, millions of brands have flocked to TikTok. One preferred method of capturing consumer attention on TikTok has been through the use of influencers. Influencer marketing on TikTok can take many forms, from running spark ads, to hashtag challenges, and more.
If you're looking to incorporate TikTok influencers in your strategy, take a look at the following examples of influencer marketing on TikTok.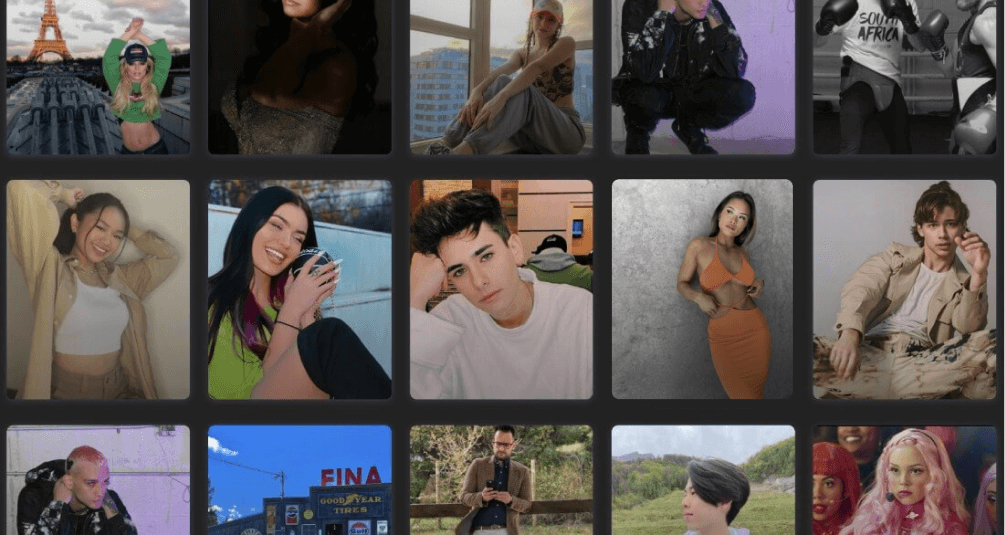 1. Gymshark
Gymshark is a fitness apparel and accessories brand headquartered in the United Kingdom. The company is no stranger to the world of influencer marketing, in fact, they are constantly raising the bar when it comes to using influencers. We recently included them in our examples of influencer marketing during COVID-19 due to their ability to adapt their marketing strategy to the circumstances.
Adaptability is a key attribute of brands that have used influencers on TikTok, mainly because the platform is so fresh that there are no real guidelines in place when it comes to the best influencer strategy on TikTok.
At the beginning of 2019, Gymshark created their 66 Days: Change Your Life challenge. They asked users to set a personal goal that they wanted to achieve by March 8, which was roughly two months after the start of the campaign. They promised the winner of the competition a year's supply of Gymshark goods.
Gymshark partnered with 6 TikTok influencers who used the campaign hashtag #gymshark66, by the end of the campaign, the hashtag had accumulated 45.5 million views.
2. Calvin Klein
This is a great example of an older company that has been able to find an influencer strategy that works for their brand, something you don't typically see with companies that are over half a century old. Calvin Klein is also one of the highest spenders on Instagram influencers, so it's no surprise they've expanded their strategy to TikTok.
The company took a more traditional approach by posting all of the influencer content under their official page. They recruited 22 high-profile celebrities, such as Shawn Mendes, ASAP Rocky, and Kendall Jenner. The celebrities were interviewed by the brand while wearing Calvin Klein clothing.
3. Walmart
Walmart is the world's largest brick and mortar retailer, and they expect to keep this title by staying relevant, something they are doing great at.
The brand has run a few hashtag campaigns on TikTok so far, starting with their #SavingsShuffle campaign which included users dancing and tagging Walmart on their videos. More recently, the company ran the #DealDropDance campaign where they recruited six influencers to encourage their followers to post videos of themselves expressing how Black Friday deals at Walmart make them feel.
Just like Calvin Klein, Walmart is amongst the top ten brands that spend money on Instagram influencers.
4. EA Games
While most game development companies focus a lot of their marketing on other platforms such as Twitch and YouTube, EA was one of the first large game development companies to discover the power of TikTok.
The gaming niche on TikTok is quite large, for example, the hashtag #warzone which refers to the highly popular game, Call of Duty Warzone, has a combined 12 billion plus views.
EA was able to leverage the growing gaming culture on TikTok by having high-profile influencers such as Brent Rivera, Gil Croes, and Indie Cowie promote their games such as Apex Legends, Plants Vs. Zombies, and Fifa 20.
These campaigns resulted in millions of combined likes and impressions for the brand, a massive amount of reach for a relatively new platform.
5. Kroger
For a brand that's been around since 1883, Kroger sure likes to try new things. In mid-2019 TikTok introduced something called Hashtag Challenge Plus. This new feature allows brands to run a hashtag challenge, where users can post content under their campaign's hashtag, and people could actually purchase products apart of this campaign directly through TikTok.
Kroger was the first brand to run a Hashtag Challenge Plus campaign, they partnered with a total of four TikTok influencers for this campaign. The #TransformUrDorm campaign encouraged users to post videos showing their dorm transformations. Although you can no longer make purchases under this tag, you can still see all of the posts made as part of this campaign. The #TransformUrDorm hashtag has racked up a combined 875 million views.
6. Sony Music
The music companies are no stranger to the world of TikTok, especially considering that the app was very centered around music in its early days. TikTok is responsible for amplifying hundreds of songs into the limelight, take Old Town Road by Lil Nas X as an example, the song was first made popular through TikTok before it became a worldwide sensation.
Sony Music ran a campaign to promote he Nicky Jam x Sch song Atrévete, the campaign was focused on Spain, Italy, and Argentina. The brand contracted 12 influencers on TikTok to create a video containing the song. Overall, the 12 influencers were able to reach a whopping 8 million users, they brought in a combined 1.2 million likes, an average engagement of 6%, and also generated another 10,300 more videos from other TikTok users.
7. Kool-Aid
Kool-Aid ran their first TikTok challenge back in 2019, this one was a bit different than the ones we speak about above in the sense that Kool-Aid offered a $10,000 cash prize as an incentive for users.
The overall goal of the campaign was brand awareness. Kool-Aid kicked off the campaign with posts from rapper Lil Jon and their official mascot Kool-Aid man, on the brands official account, @koolaidmanofficial. Users were encouraged to post videos of themselves enjoying the holiday season, using the #OhYEAHChristmas.
The campaign was an overall success for the brand, resulting in 10,000 pieces of content being posted under their campaign hashtag, accumulating a combined 1.9 Billion views.
Final Thoughts
Hopefully the above examples can serve as inspiration for you, if you're considering using influencers to amplify your brand, if there's ever been a better time to incorporate influencers in to your strategy now is the time.
If you're struggling to find influencers for your brand, consider browsing Collabstr's influencer marketplace, which contains thousands of influencers on TikTok and Instagram looking to collaborate with brands.
Get Digital Marketing Tips Directly to Your Inbox
Collabstr sends newsletters every 2 weeks with the newest trends, tips, and tricks in digital marketing.