The beauty of being a content creator in this day and age is the fact that you can get paid to work with your favorite brands. This is no longer limited to sponsored content on social media, but we're also seeing a lot of brands paying influencers for original content creation. This means influencers are getting paid to create testimonials, ads, unboxings, and more for their favorite brands and products.
The hardest part about getting into a position where you are paid to collaborate with your favorite brand is finding a brand that is the right fit for you and your audience. Keeping this in mind, we have comprised a list of 10 companies that pay influencers.
While it would not be possible for us to list out each and every brand out there that pays influencers, this list should serve as a guideline for those seeking paid partnerships. Most of the companies on this list are in industries where dozens or even hundreds of similar brands exist. If you're unable to land a deal with one of the brands on this list, consider pitching similar brands in the same niche.
There is no definitive list of the most profitable niches for influencers but it's generally agreed that health and fitness, beauty and fashion sit at the top with pets and family in the mix and gaming making an entrance. It's also agreed that to get a foot in the door you need to find your niche within a niche.
Collabstr's article on influencer marketing for startups identifies the most common types of collaborations between brands and influencers. In recent years, we've seen a trend of more brands preferring to work with nano and micro-influencers over macro ones. There are 5 recognized categories of influencers, each with its own expected payment band, based on the number of followers they have, engagement metrics, and more.
The list of companies that pay influencers was comprised using data from our influencer marketplace, as well as third-party data collected by others in the industry.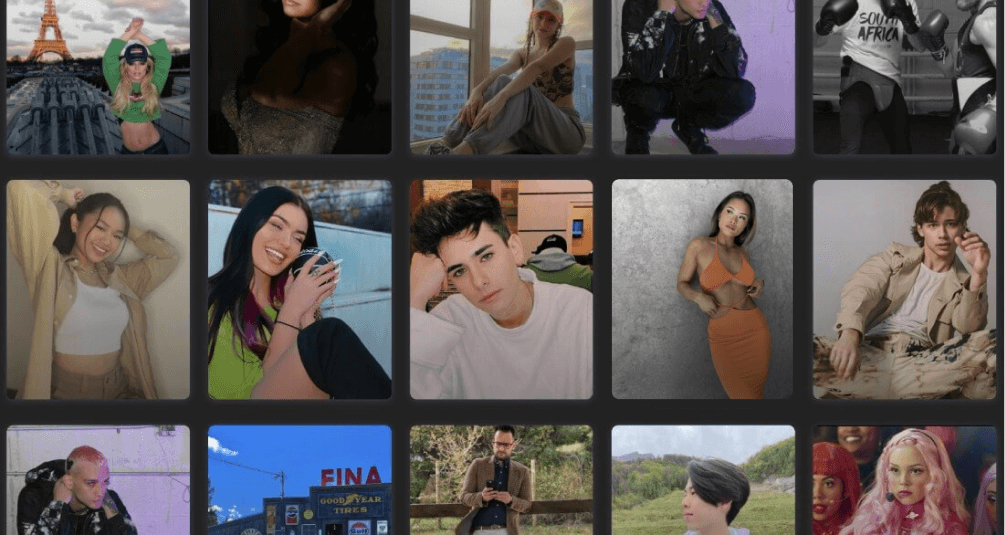 Brands That Pay Influencers
1. Fabletics
Fabletics is an active-lifestyle brand that sells both women's and men's activewear. The company does $500 million in revenue every year, and they were founded by American actress Kate Hudson. The company is very reliant on influencers for their marketing, and in 2021 they did a whopping 2,796 sponsored posts on Instagram alone.
This number was higher than that of influencer marketing giants like Fashion Nova, which is surprising, to say the least.
2. Fashion Nova
Fashion Nova is one of the pioneers of influencer marketing, and they still spend a good chunk of their budget on influencer marketing to this day. In fact, in 2019 they had spent $40 million on influencers alone, making them the largest spender on influencers at the time.
The fast-fashion company which was established in 2006 originally made a name for themselves when they flooded Instagram with influencer posts back in the early days of the platform. This was a completely foreign concept back then, and a strategy that mostly relied on gifting influencers free products. The company has since adjusted to also paying influencers to post about their products as the industry has matured since those early days.
3. Flat Tummy Co
Flat Tummy Co has been leveraging the power of influencers since its inception in 2013. The company now sells products beyond just flat tummy tea, this includes gummies, protein shakes, and accessories.
This company is a great match for influencers looking to work with companies in the lifestyle, health, and fitness niche. Luckily, there are plenty of companies similar to Flat Tummy Co that apply the same playbook when it comes to working with influencers. If you're not interested in working with Flat Tummy Co, consider seeking out an alternative.
4. Goli Gummy
Goli Gummy was only founded in 2019, and the 2-year-old company did 1,117 sponsored posts on Instagram in 2021 alone. This shows their commitment to influencer marketing as a growth channel for their gummies.
Their strategy is similar to the one we've seen in the past with other gummy companies like Sugar Bear Hair, which spent $5 million on influencer marketing back in 2019. It obvious that a lot of companies are applying the same playbook when it comes to marketing similar products through influencers.
5. Lululemon
Lululemon is one of the larger athletic apparel companies that depend on influencers to promote their products. In 2021, the company did 1,034 sponsored posts on Instagram.
The company is very big on authentic relationships with influencers, and they're unique in the sense that not only do ambassadors promote products, but they also get to test drive new products and provide feedback.
If you were interested in working with them you could apply to be an ambassador on their dedicated landing page.
6. Amazon Fashion
Amazon has been dedicating a lot of resources to its fashion branch, this explains its 1,069 sponsored posts on Instagram in 2021. The company is actively trying to gain market share in the fashion space, and they definitely have the budget to pay content creators to help them achieve their goal.
Amazon also recently opened up Amazon Style, their first physical store for men's and women's fashion. This is a clear indicator that they plan on expanding in the fashion space, and if you're a content creator in this niche, this might be a great time to get in touch with the partnerships team at Amazon.
The company has also been investing a lot of energy into its Amazon influencer program, where creators and influencers can register and advertise Amazon products on their storefronts, where they receive a commission for every sale.
7. Walmart
Walmart is no stranger to influencer marketing, the company has been consistently spending on influencer marketing for years now. In 2019, we reported that Walmart spent $9.3 million on influencers that year, and we wouldn't be surprised if this number has increased drastically.
In 2021, the company did 1,973 sponsored posts on Instagram. They're also extremely active on TikTok, where they are continuously piloting new features for the platform. Whether you're an avid Instagram or TikTok content creator, Walmart can use your help.
8. PrettyLittleThing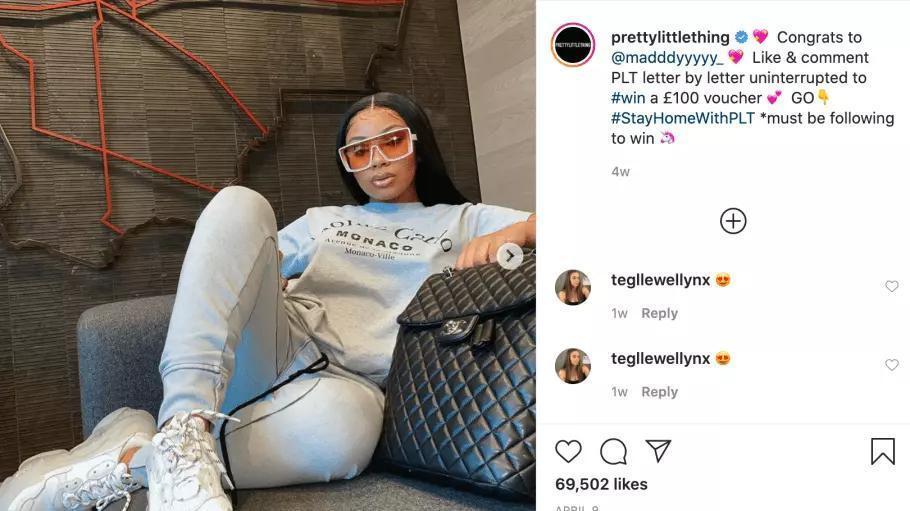 PrettyLittleThing is another fast-fashion brand that employs the same influencer strategy popularized by brands like Fashion Nova.
Companies like PrettyLittleThing, Fashion Nova, Gymshark, all rely on similar strategies when it comes to working with influencers. The nature of their products (clothing) makes it perfect for advertising on platforms like Instagram and TikTok, where fashion plays a large role in the content.
9. Quest Nutrition
Quest Nutrition is a company that creates healthy snacks for people that lead an active lifestyle. In 2021, they completed 1,816 sponsored posts on Instagram. This is quite a large sum when you compare their output of sponsored content to other giants on this list, like Walmart and Amazon. Products in the fitness niche are typically a natural fit for influencer marketing, just like the fashion niche.
10. Manscaped
Manscaped is a brand that sells shavers for men's pubes. Not only do they have great branding, but they also rely heavily on influencers to power their business. The company actively pays out millions in influencer partnerships every single year.
The unique part about Manscaped is that although they create products for men, they use a lot of females in their influencer marketing strategy. This is a great way to get in front of their target male audience, as many attractive females on Instagram have predominantly male followings.
11. Audible
An Amazon spin-off, Audible delivers a whole world of audiobooks direct to your earbuds. With such a wide range of subjects covered by their products, it's no surprise that they use a wide range of social media influencers to reach all corners of their potential market.
Audible is designed to fit seamlessly into your active lifestyle so if listening to audiobooks is a part of your daily routine, you can find visually impactful ways to create content for Audible's social media platforms. Maybe you listen while walking the dog, exercising or just chilling - all activities you probably already create content around. Aside from direct payment, Audible also has an affiliate programme aimed at bloggers and influencers to earn commission.
12. Tesla
As the electric vehicle (EV) market consolidates itself, even makers of main brands like Tesla look for interesting and engaging ways to market their products.
Influencers center their Tesla cars around elements of their lifestyle, whether they're taking their dog to a park, going to the gym, or heading to the latest restaurant. By making content around everyday use, it highlights that Tesla creates cars for everyone, regardless of what you use them for.
New models like the Tesla Truck only expands the opportunities to be selected by Tesla to showcase their vehicles to an ever widening audience.
13. Minecraft
One of the largest gaming platforms in the world, Minecraft is literally a content engine. Whatever you build is designed to be shared on social media and you can build just about anything you like. As content is playable and recordable, Minecraft works best on video platforms, like YouTube, TikTok and Twitch.
Successful Minecraft influencers create gameplay video content that's fun and accessible to all ages as well as tips and tricks, gaming skills and ways the Minecraft world does (and doesn't) relate to the real world.
14. Banish
Banish is a leading skincare brand that focusses on the fight against acne and spots. Their target demographics are Gens X, Y and Z who want to see real people like them getting real results from the products they're thinking about trying.
Banish actively reach out to influencers, looking for stories and ideas to pitch. Their focus platforms are YouTube and Instagram as well as anyone with an audience that can relate to dealing with acne in the real world.
15. HelloFresh
HelloFresh has expanded globally using sustainable food solutions with minimal environmental impact to underpin its products and their marketing. They like to partner with influencers whose content and audience speak to those same values.
These days the value chain of our food gets from source to table is so long that it offers multiple access points for influencers to highlight. From organic farming and produce to sustainable packaging and final meal preparation with friends and family, influencers that speak to a healthier lifestyle for a healthier planet can show HelloFresh how they share their values.
16. Crayola
Unleash your inner artist and create content for Crayola through their affiliate program called CJ Publisher. Signing up for affiliate programs is just one way to get your content under the noses of those that make decisions at companies like Crayola.
Creating your original content with Crayola products couldn't be easier as they're readily available and don't cost the earth. Combine Crayola's products, which are all about color, with the other content niches you normally post in; match their colors to your favorite cosmetics, draw your favorite outdoor locations, or do artwork with your kids.
17. Warby Parker
Warby Parker is an example of an online brand that uses a preferred hashtag, #wevegotyoureyeson, to find and highlight influencers that are using their products.
Influencers who voluntarily tag products and brands in their UGC are more likely to get noticed. It's well worth staying on top of the preferred hashtags of brands you use in your content because marketing departments change them with each new campaign.
18. Hilton
With multiple brands and hotels in every corner of the world, the Hilton family of hotels uses a wide range of influencers to show off the diversity of who and where they are.
Hilton regularly runs influencer marketing campaigns over short periods. These might focus on a particular theme, brand, or group of locations so it's worth keeping on top of what they're looking for and creating some relevant content. You may not even have to travel as one influencer's holiday destination is another's backyard.
Final Thoughts
Vogue Business believes that high-paid, Mega influencers are falling out of favor, even with the biggest brands. By demanding $10k+ per post and delivering generic content, the top-end influencers are fast becoming the dinosaurs of the industry. It's not a giant meteor that will make them extinct but original, creative, and inspiring content from lower-tier competitors who leverage niches within niches. Influencers like you.
The social media market is highly dynamic and the most successful influencers use that to maximize incomes. Collabstr allows you to offer different package deals depending on whether you're delivering an Instagram story, reel, static grid, or dynamic grid, and the same goes for other platforms. Remember that platforms change their preferred formats to try and stay ahead of their competition and you should too.
While there are thousands of brands that are actively looking to find influencers that can work with them, if you're an influencer, it doesn't hurt to go out of your way to approach brands that are already paying influencers for collaborations.
By approaching companies that are already paying influencers, you put yourself on their radar and open yourself up to more potential paid partnerships in the future. The list above should give you a foundation to begin exploring the various niches where influencer marketing is being used.
Get Digital Marketing Tips Directly to Your Inbox
Collabstr sends newsletters every 2 weeks with the newest trends, tips, and tricks in digital marketing.