Getting noticed can feel like an uphill battle as a startup. Not only are you competing with big, well-established brands, but with fellow startups in your niche too. So, how do you build brand awareness in such a competitive market?
By harnessing the power of influencers, you can not only build more brand awareness but also drive sales. Choosing the right influencers and content collaboration strategies is key here. That's why using an influencer marketplace platform like Collabstr is a great supporting resource when launching your influencer marketing campaigns.
Let's dive into the types of influencer marketing you can employ as a startup, why it works and how to plan your campaign with the right influencer!
What is influencer marketing for startups?
Put simply, influencer marketing is collaborating with social media content creators with a big following to help promote your brand's products and/or services.
According to We Are Social's Digital 2022 Global Statshot Report, the average 16-64-year-old spends almost 2.5 hours per day on social media. That's a lot of time for your brand to maximize visibility to your target audience. But, with so much content out there, you need to be specific about where and how you place your brand amongst the noise.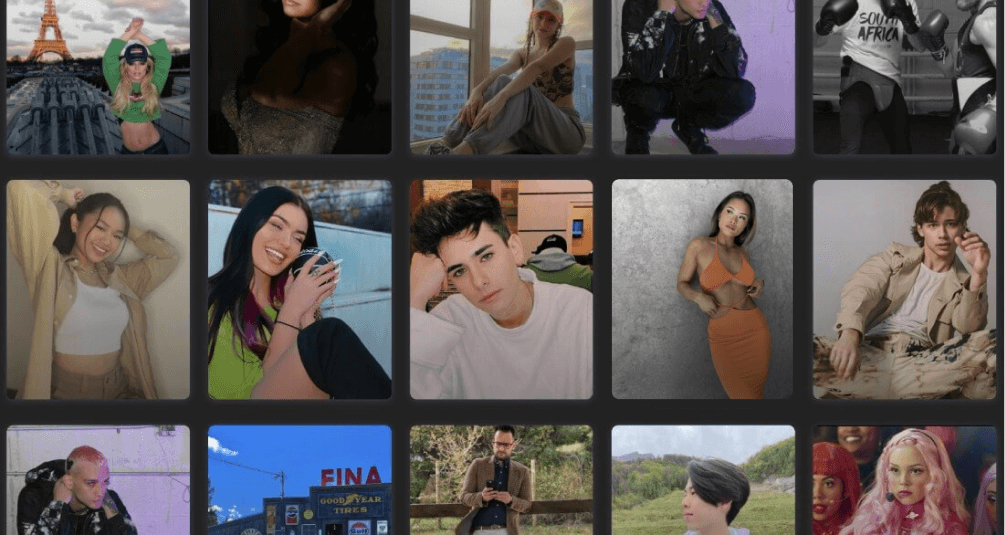 Using nano and micro-influencers
The scale of who is considered an "influencer" is widely varied. As a startup, you want to be specific about what type of influencer you're looking for to ensure you get the most out of your investment.
Assuming your marketing budget is going to be significantly smaller than that of a large, established brand, you want to be looking for nano and micro-influencers within your niche.
Nano - 1,00 - 10,000 followers on any given platform

Micro - 1,000 - 100,000 followers on any given platform
Don't be discouraged by these smaller audience figures! Why? Because smaller often means more engaged. According to the 2022 Influencer Marketing Hub report, 65% of consumers will visit a brand's website or app when promoted through a micro-influencer. Some more reasons why you should focus on smaller-sized influencers include:
They're more likely to post in exchange for free product or sales commission

They're cheaper for sponsored content

They're usually easier to contact and negotiate with. However, some influencers may work with an influencer management agency to handle brand deal opportunities
Types of Influencer Marketing
The type of influencer marketing you choose to implement will depend on:
Your campaign's budget and influencer marketing KPIs

Your audience and what content they like to engage with

What the influencer is willing to do
These factors will help your startup decide how you incorporate influencer marketing into your online strategy. And remember, you can try all or some of these methods and choose to further invest in the one/s that works best for your brand.
Contests and giveaways
It's no secret that everyone loves free stuff, so it makes sense that running social media competition giveaways with some of your products will generate a lot of buzz around your brand.
Teaming up with an influencer to run these giveaway competitions will ensure your brand is put in front of even more people, resulting in higher engagement and brand visibility.
It's important to keep social media competitions simple. Make the entry rules easy to follow and keep the competition length relatively short. For payment, most nano and micro-influencers agree to post in exchange for:
Free products/services

Ensuring that following their account is a competition entry rule
In the example below, the air purifying brand TruSens ANZ has collaborated with pet influencer profile @cavoodle.sisters to run a product giveaway competition. The image champions the product prize while staying authentic to @cavoodle.sister's aesthetic. The caption clearly states the terms of entry, which will boost engagement for both TruSens' and @cavoodle.sister's social profiles.
Reviews for free products
61% of consumers trust influencer recommendations while only 38% trust brand recommendations, according to Business Wire. By asking influencers to review your products publicly, you're fostering a higher level of genuine interest and trust within your target market.
Usually, for this type of marketing, you offer the influencer your products/services for free in exchange for a post highlighting their experience.
This means no money out of your business account while still yielding great results!
In the example below, Victorinox has collaborated with @thewondersofplay to create content around their Swiss Army Knife (SAK) products in the lead-up to Christmas. The content champions Victorinox SAKs as good gift ideas for not only adults but children as well. In the caption, we can also see the hashtag #kindlygiftedforreview. This confirms that in exchange for the Swiss Army Knives, @wondersofplay has agreed to review the products and share their thoughts on their social media.
Sponsored content
Sponsored content involves paying an influencer a fee for creating content revolving around your products and/or services. The content is usually higher quality, and the influencers that engage with this kind of partnership usually have larger audiences.
Although a more expensive option, this type of influencer marketing can have great benefits for a startup. Within your collaboration terms, your brand can ensure content repurposing rights. This means, the influencer will not only post the content on their feed, but you will receive high-quality copies so you can use it on your brand's feed too.
As you're paying the influencer for their creative services, your brand will also have more input as to what kind of content is created and how they choose to highlight your products/services.
Below, we have an example of sponsored content that tech brand Logitech has commissioned from influencer @kinyaclairborne. The high-quality image shows off the color aesthetic of Logitech's POP keyboard and mouse, highlighting the product's capability of brightening up a person's workspace. Logitech has paid Kinya to create and repurpose this content for both her's and Logitech's social profiles.
Affiliate marketing
Affiliate marketing involves influencers promoting your brand alongside a unique discount code via posts on their social channels, with the goal to direct their audience toward your online shop.
A more long-term partnership style of influencer marketing, affiliate marketing can be a huge win-win for both the influencer and your brand. This is because every purchase made with the unique discount code generates a sales commission for the influencer.
This style of influencer marketing ensures the influencer's engagement with your brand as the more customers they incentivize to buy from you, the more commission they receive!
In the example below, lifestyle and fashion influencer @ootd.diana is an affiliated influencer with the clothing brand Princess Polly Boutique. The post's caption aims to incentivize her followers to use her affiliated discount code of 'XOXODIANA', to save 20% on Christmas wishlist items. In exchange for this content, Princess Polly will pay Diana a commission on any sales that are linked to her discount code.
How to Plan an Influencer Marketing Campaign for Your Startup
1. Research your target audience
Understanding who your target demographic is is critical when planning an influencer marketing campaign as a startup. As you're already working from a smaller budget, you want the products, time, and money you do invest to give you the best possible return. Some questions to answer about your audience before you start finding influencers include:
What's your target age range?

What social media platform do they use the most?

What do they like to see on this platform? Images or videos? Voiceovers or piece-to-cameras?

When are they most active on the platform?
2. Define your campaign goals and budget
Knowing how much money you're willing to invest into your influencer marketing campaign is a great way to narrow down your influencer and content options. Define your budget and stick to it!
You also want to define your main campaign goal. Is it to:
Raise brand awareness?

Get more engagement on your current content?

Drive people to your profile or online shop?
This goal will help your startup decide what kind of content you want to be created and which influencer marketing strategy to champion.
3. Decide your marketplace details
Marketplace details are all about the design, format, and general aesthetic of the content you want to be created. Creating a "mood board" with examples of the type of content you want, will really help you communicate your vision to your influencer/s.
You also want to decide on your preferred content type/s. For example, do you want:
Stories

In-feed static images

In-feed reels

How-to instructional videos
4. Choose the right influencers
Now it's time to choose your creator. You want to find people who engage with your target audience on the right platforms. You also want to find people who already create content within your niche, or who could begin to do so quite naturally.
A general rule of thumb is that the larger the follower count, the more expensive the content creator will be. So, depending on your budget, you want to focus on content creators with smaller audiences but with high engagement rates.
5. Create compelling content
No matter what type of influencer marketing your startup has chosen to implement, you always want compelling, creative content. Encourage your influencer to think outside of the box. You can help them to do so by providing them with a creative brief.
However, keep in mind that audiences engage with your influencer for a reason! Encourage creativity, but ensure they're staying authentic to their brand and aesthetic.
6. Share and engage with your audience
To maximize eyeballs and engagement, you want to ensure your influencer content is being shared as much as possible. You can do this by:
Encouraging influencer story re-posts

Asking for re-sharing permission on your brand's page

Commenting on the influencer's content and replying to audience comments

Negotiating with the influencer to cross-platform promote their content when appropriate
How to Find Influencers for Your Startup
Browse related competitor content
A great way to find influencers is by looking at who your competitors have previously collaborated with and browsing their related 'suggested' accounts.
Instagram's 'suggested' feature provides you with profiles of creators that fall under the same or similar content niches as the original creator. You can access these suggested profiles by searching for creators on a laptop or desktop and clicking the person '+' symbol to the right of the creator's handle.

Use Hashtags
Hashtags help anchor content to specific trending areas of interest and help users find that specific content. On your target social media platform, search for hashtags related to your brand, products, and industry niche.
Click on content that grabs your interest or seems related to your campaign's aesthetic goals, and answer the questions:
Who posted it?

Do they have a following?

Is their feed consistent and appropriate for your startup's niche?
Look at who your followers follow
You can draw inspiration or even find appropriate influencers by looking at who your target audience is already engaging with.
Look at your brand's social media analytics and figure out which platform has the highest audience reach. Then, figure out what segment of that audience engages the most with your content. Who else does that segment follow? Do they have a few influencers in common?
Keep in mind that as a startup, you'll most likely be looking to work with nano and micro-influencers, to begin with. So, be sure to focus your search on content creators with realistic followings.
Use an influencer marketplace
An influencer marketplace platform like Collabstr is a great way to find the best influencer match for your startup. An all-in-one influencer marketing tool, a platform like this helps you find, connect, and partner with content creators, cutting out a lot of the administrative legwork.
Search for influencers on specific platforms and within certain topic niches by using the filter menus. All influencers on Collabstr are vetted and come with a bio, price breakdown, sample content, and links to their social media platforms.
Get Started with Influencer Marketing for Your Startup
As more startups move to social media to market their brand, it's becoming increasingly difficult for businesses to cut through the noise and get noticed. By working with influencers and leveraging their authority and reach on these platforms, startups can begin to grow their public platform at a much more effective pace.
Nano and micro influencer marketing strategies are a great way for startups to raise brand visibility and generate sales leads. However, it's critical that you choose the right influencers for your audience, campaign objectives, and target audience.
An efficient and easy way for startups to begin their influencer search is by employing an influencer marketplace resource like Collabstr. On a platform like this, you can easily find influencers within your budget and niche that are waiting to help take your brand's social media presence to the next level! Find influencers perfect for your startup now!
Get Digital Marketing Tips Directly to Your Inbox
Collabstr sends newsletters every 2 weeks with the newest trends, tips, and tricks in digital marketing.