What Are Influencer Dark Posts?
Influencer dark posts are essentially unpublished – or hidden – sponsored posts. This type of post doesn't appear on a brand's or influencer's page, but only in their newsfeed for a select group of people to see and interact with. This hidden selection is what makes dark posting such an effective advertising strategy.
You'll often hear marketers talking about dark posting on Facebook and Instagram, but they can also be implemented in other channels such as Tiktok and LinkedIn.
All influencer dark posts feature the same "Sponsored" tag at the top, just like any paid ad. Like this one:
However, the main difference between the two types of advertising is: if you visit the page where a dark post came from, you won't find it there. This is valuable for a number of reasons, from avoiding distracting content to targeting specific audiences.
In this article, you'll understand more about why dark posts are effective, where to use them, and how to leverage influencer marketing to make the most out of this type of advertising.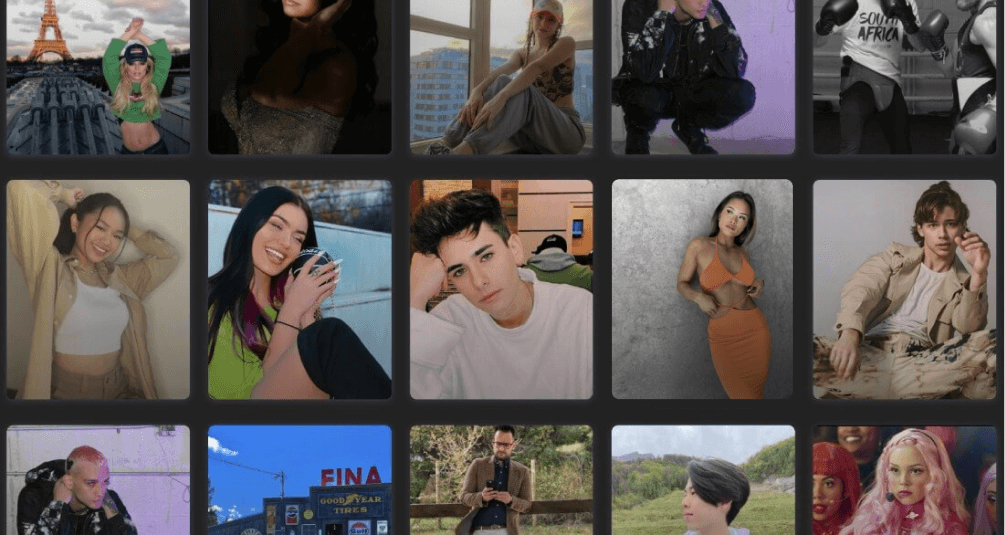 Benefits of Influencer Dark Posts
Although they hold the same characteristics as every other paid post, dark posts can be leveraged to make the most out of a brand's content strategy.
There are several reasons why you may consider using dark posting as your primary advertising strategy. These include:
Build Social Proof
Dark posting gives you an alternative method of advertising where you're able to leverage the power of user-generated content to build social proof for your brand.
For many consumers, branded ads no longer cut it. By dark posting, you're able to leverage someone else's influence and likeness to get your brand in front of an audience. This ultimately builds social proof, because your target audience sees a real person using and interacting with your product.
Handpick the Audience You'd Like to Target
You may be thinking that you can do the exact same thing with regular paid ads. And you can. On Instagram and Facebook, for instance, you get to pick your audience for a particular post based on factors such as age, location, lookalike audiences, interests, and behavior.
The only difference between regular paid ads and dark posts is the fact that dark posts won't appear on an organic feed. This is interesting for brands that sell products for multiple audiences, as it prevents them from posting content that may benefit one segment and chase away another.
Brands and influencers have full control over who to target in their posts, and will only deliver the type of content a specific audience is interested in.
Choose Different Ad Formats
This is another characteristic of original paid ads that marketers can continue to explore with dark posts. In order to adjust to different campaigns and audiences, you can test multiple ad formats including images, videos, stories, carousel ads, and collection ads.
Again, advertisers have full control over their posts, ranging from the creative and target audience to the post format.
Keep Feeds Clean and Focused
Influencers' and brands' feeds are like their online storefront. There is, hopefully, a content strategy planned upfront, which shouldn't be broken off every time they need to test a new campaign.
Users don't want to see a profile that's littered with ads. People are starting to like ads less and less as a consequence of seeing so many of them so often. Rather, they want to see meaningful content that resonates with them and that they're compelled to interact with. And, if that content aims to present a new product to users, that must be done in a subtle, dependable fashion.
As an example, look at this influencer's paid partnership post:
Now, take a look at her organic feed:
The organic and paid content looks exactly the same. Notice how the paid partnership blends in with the rest of her organic posts.
If you were scrolling through Instagram and saw this post, you wouldn't notice that it's a paid partnership unless you saw the tag below her username. Even if you did, this wouldn't catch you off guard, considering you follow this particular creator (or similar creators) and embrace her recommendations.
If done smartly, dark posts won't look like sponsored content at all but will blend in with the organic feed of the chosen audience segment. Thus, there won't be a disconnect between original content and sponsored content, making it harder for people to dismiss ads.
Better Understand Your Audience
No one knows anything until they test it. Performing A/B tests is powerful because you get to modify your campaigns and expose them to different audiences. You can test and tweak your campaigns until you know what those people need to see in order to say "yes" to you.
Doing so with dark posting is even more effective. When brands still can't pinpoint their audience's preferences, they'll be able to create and publish multiple ads without spamming the segments that wouldn't benefit from them.
What Are Dark Posts on Facebook?
Facebook Dark Posts, also known as unpublished posts, allow you to post content to a page without making the content public to your audience.
The purpose of this is to go into your Facebook ads manager and run the content as an advertisement, or sponsored post, without exposing your Facebook page audience to the content.
The only time someone will see the post on their feed is if they are served the post as sponsored content, or if one of their friends has reacted to the post and now they see it on their feed.
You can create a dark post on Facebook via your ads manager.
What Are Dark Posts on Instagram?
Dark Posts on Instagram are similar to dark posts on Facebook. The content for the dark post is not shared with the audience that follows your Instagram page. If you're using an influencer for your dark post, their audience will not see the post on their feed either.
The benefit of dark posting on Instagram is that you can serve the content to an audience that is targeted specifically on their interests, location, demographics, and more.
Dark posting on Instagram works with feed posts and stories, so you can leverage both content types.
What Are Dark Posts on TikTok?
Dark Posts on TikTok can be achieved by using the TikTok Spark Ads feature. Just like dark posts on other platforms, the video used for TikTok dark posting will be hidden from your feed.
To dark post on TikTok, you will have to post the video to your TikTok page, or if you're using a TikTok influencer then you need them to post to their own page. Upon posting the video, you can change it to private so that it is not shown to your audience.
Once the private video has been uploaded, you can start running it as a dark post advertisement. This can be done by using the TikTok ads manager.
If your dark post is posted to an influencers page, rather than your own, there is one extra step involved which is to get the authorization code for the video. The influencer will need to first turn on ad settings for their videos, they can do this by going to their profile > click the settings side menu > select privacy > then enable ad settings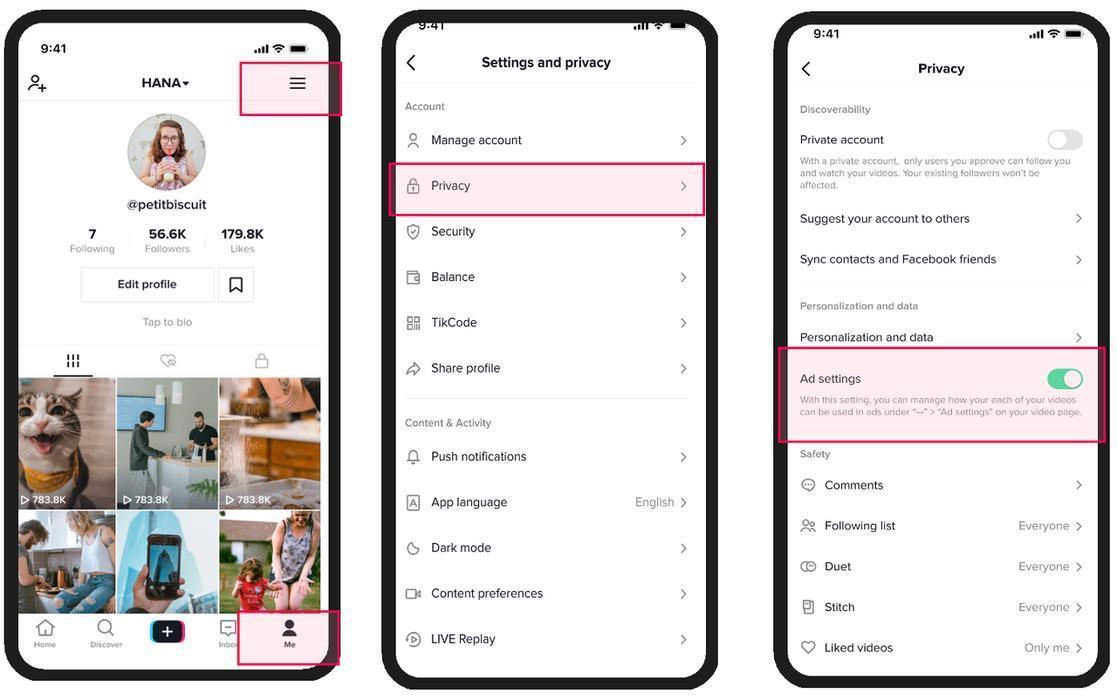 Finally, the influencer should click on the video which will be used for dark posting, then go to the video's ad settings and generate an authorization code. They should also select the option to 'Only show as ad' so that the video is hidden from their feed.
The authorization code will be valid for a specified number of days. Once you receive this authorization code from the influencer, you can run the corresponding video as an ad through your TikTok ads manager.
What Are Dark Posts on Twitter?
On Twitter, dark posts are referred to as 'promoted only' tweets. These are tweets that are only shown to a targeted audience, but not on the profile of the person who tweeted them.
Besides the fact that the tweets are only shown to a targeted audience, rather than everyone on your feed, they behave the same as normal tweets. Promoted tweets can be liked, shared, retweeted, and receive responses just like a normal tweet.
The only thing that is different between a dark posted tweet and a regular tweet is the fact that Twitter will tell you that the tweet has been sponsored by a brand, so you know that you're seeing sponsored content rather than an organic tweet on your feed.
To create a promoted tweet, you can use the Twitter ads manager. This is where you will choose the tweet to promote, as well as the audience targeting and budget.
What Are Dark Posts on LinkedIn?
LinkedIn refers to dark posting as "Direct Sponsored Content", but it has the same functionality as dark posting on other platforms, which means your following on LinkedIn will not be able to see your direct sponsored content on their feed unless they are directly targeted by the ad.
Only company page admins can create direct sponsored content on LinkedIn, so you'll have to be listed as an admin before you can start dark posting on LinkedIn.
To dark post on LinkedIn, first, visit the LinkedIn Campaign Manager and log in. Once you're logged in, you can create a new ad campaign (or use an existing one), and select the "create new sponsored content" option within your campaign to create the dark post.


How to Harness Influencer Marketing For Better Dark Posts
Users are naturally put off by sponsored content, particularly when they don't know or trust the advertised product. That's where influencer marketing steps in.
In an Adweek survey, nearly 50% of respondents said they've purchased products recommended by influencers, and nearly 45% of respondents said that they trust those recommendations. The takeaway is: although an audience may not know a product, they may know the influencer who's advertising said product. When done correctly, influencer marketing is key to generating trustworthy content backed by authority and social proof. This is key to letting users' guards down and allowing them to see the value in the product being offered.
The great thing about influencer content is that it has the ability to look just like organic content. Especially content created by micro influencers, whose engagement rates are higher – and therefore, trust is higher.
For better results, however, it's important that marketers find influencers that are already a part of their niche. This way, it's easier for the right people to feel a positive connection with the post and the creator, potentially considering the product.
Ideally, that would mean publishing dark posts from an influencer's account rather than a normal brand account. After all, attaching a brand name to that sponsored post may defeat the purpose of blending an ad into an organic feed.
So, how would you do that as a brand?
If possible, request access to an influencer's ad manager in order to advertise using their page. It's understandable that this can seem risky, as there's a lot of trust involved in sharing access to an account. That's why you need to find vetted influencers you can fully trust with your work.
Where to Find Trustworthy Influencers For Dark Posting?
If you're a brand looking to create effective dark posts with the help of influencers, influencer marketing platforms are the most reliable places to do that.
Influencer marketplace's like Collabstr will make sure all influencers are fully vetted upon joining the marketplace, so you can safely browse professional creators who resonate with your brand based on their:
Niche
Channels
Previous jobs
Headshots
Description
Social content
And more.
The right influencer platform will spare you from the nagging doubt of whether the person you've hired is trustworthy, as well as from the hours you'd spend trying to do a background check yourself. After joining, all you'll have to think about is requesting the necessary content through streamlined, in-app communication.
Wrapping Up
If you're looking for a way to boost your conversions and create meaningful content, dark posts will help you get there. By borrowing an influencer's niche authority and existing engagement, you'll only make them more effective.
With Collabstr, you can find the right influencers in seconds. Try it now, for free.
Get Digital Marketing Tips Directly to Your Inbox
Collabstr sends newsletters every 2 weeks with the newest trends, tips, and tricks in digital marketing.