E-commerce Influencer Marketing Tools to Drive Sales
Published December 20, 2022 | Last Updated December 20, 2022
E-commerce influencer marketing has become one of the most effective promotion methods for the e-commerce industry as more and more people turn to social media for product recommendations. The 2023 influencer marketing report shows that the industry is expected to be valued at $22.5 Billion by 2025.
E-commerce companies, in particular, should be utilizing this successful marketing technique since their revenue comes from online sales made through a website rather than a storefront. E-commerce influencer marketing is one of the best ways a company can improve its online presence through the use of an influencer's reach and popularity. You can find e-commerce influencers to collaborate with on marketing platforms like Collabstr.
What is E-commerce Influencer Marketing?
E-commerce influencer marketing is influencer marketing for e-commerce companies. Influencer marketing is a strategy that involves internet personalities collaborating with brands to promote a product or service. Social media influencers usually promote a product to their followers by posting content, such as sponsored ads or unboxings, on their own channels.
An e-commerce company refers to any business that sells products or services online, such as Amazon or Hello Fresh. Since the rise of the internet, most companies these days have their own website, where customers can purchase products online. Even if they do have a physical storefront.
Gymshark is an excellent example of an e-commerce company that has grown into a billion-dollar empire by leveraging the power of influencers.
Online shopping has become the norm with the rise of technology since it's more convenient than shopping in person. Popular e-commerce products that can benefit from an influencer marketing strategy include books, technology, music, and software.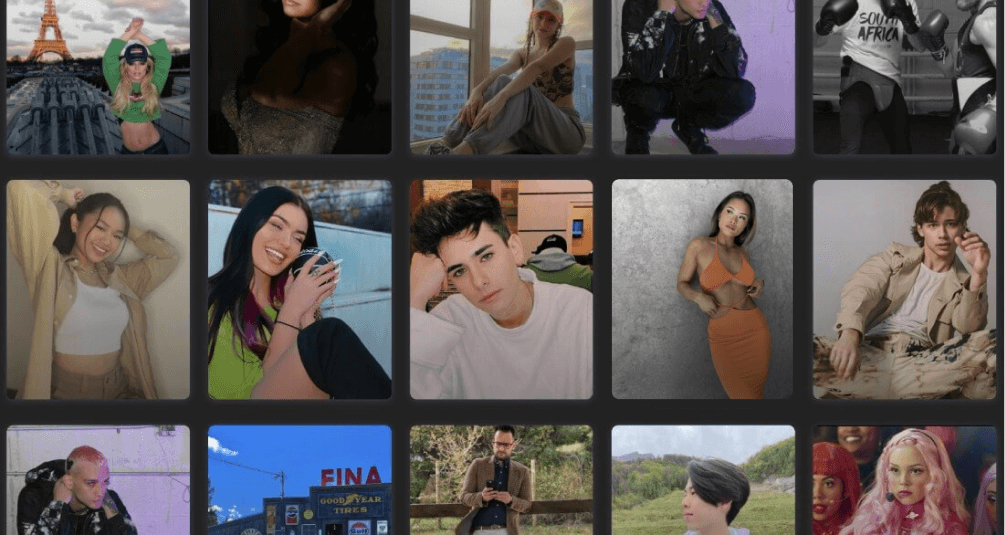 Why is E-commerce Influencer Marketing Important?
Brand Image
E-commerce influencer marketing can improve your brand image by building a sense of trust between you and your customers. People are more likely to trust a brand or product if someone they know recommends it. Influencers come with fans, who have faith in their opinions and recommendations. 61% of customers are more likely to purchase a product after an influencer recommends it.
Reach New Audiences
E-commerce brands can use influencer marketing to reach new audiences. Influencers usually come with an audience of their own, so you can expand your customer base by promoting to those people.
Brand Loyalty
You can build brand loyalty by forming long-term relationships with different influencers. Their followers will become loyal to your brand as they start associating you with those influencers.
Make sure influencer fans can actually benefit from your products as it's easier to gain brand loyalty from real customers. Companies that sell diverse CPG products like food and drinks don't have to worry so much about this since they have a very large demographic..
Higher Engagement
You can use e-commerce influencer marketing to generate success for your business by increasing your online engagement and sales. Influencers have a certain level of fame on social media platforms, which you can use to attract more website traffic, social likes, shares, and ad conversions.
Examples of E-commerce Influencer Marketing
Product Gifting
Brands sometimes send influencers products that suit their niche or content for free. This entices them to make a video reviewing the products because influencers usually appreciate free gifts. This form of e-commerce influencer marketing is often unpaid, which means you can't guarantee a positive review.
Product Collaboration
A more collaborative form of e-commerce influencer marketing involves working with creators to make an original product. The products usually take inspiration from the influencer's content or image in order to appeal to their followers. They're often sold on the brand's website to increase sales and brand awareness.
For example, RTGame worked with Youtooz to create figures based on characters associated with his channel.
Discount Codes
The most popular form of e-commerce influencer marketing is discount codes. These codes often include a unique tag that consists of an influencer's channel name to make it easy for viewers to remember them. Discount codes are usually displayed in sponsored ads, which make up a small portion of a video.
For example, Evan and Katelyn partnered with Raycon to get their own exclusive code that offers a 15% discount. Discount codes are especially useful since brands can track how many conversions came from each influencer.
Typically, if an influencer is using a discount code they are also being compensated either partially or entirely based on their performance and how many conversions they drive.
Best Tools for Working With E-commerce Influencers
Collabstr
Collabstr is an influencer marketing platform full of creators from all sorts of niches, including technology, family, and beauty. You can find e-commerce influencers from Instagram, TikTok, and YouTube and connect with them using the platform's chat feature.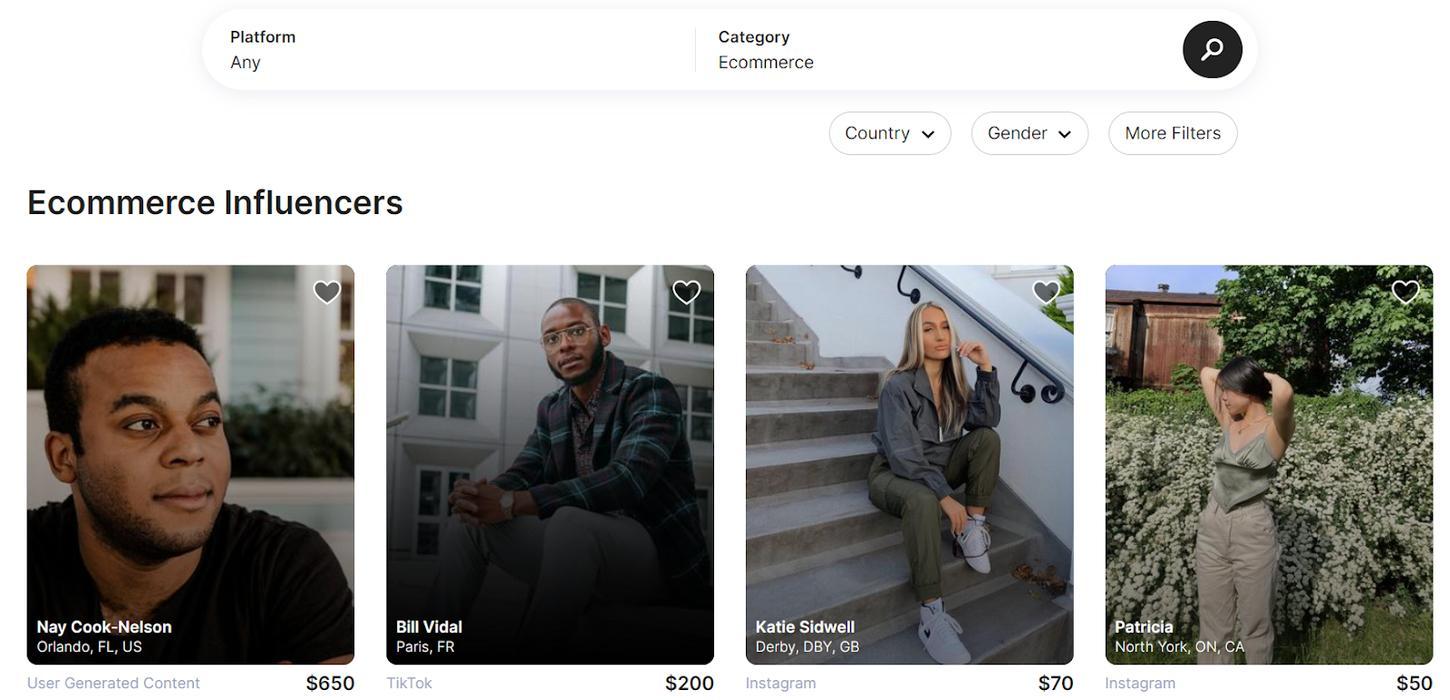 You can filter your search by:
Platform

Content type

Location

Gender

Niche

Price

Follower count
All influencers are assessed to make sure they produce high-quality content. Collabstr also has its own payment system, which only pays influencers once you're happy with the content you've received.
Social Blade
Social Blade is an analytics tool that shows you data from across different social media platforms, including YouTube, Instagram, and Twitter. You can view rankings, follower counts, and even compare accounts to help you find the best e-commerce influencers.
Awario
Awario is a tool for brand monitoring, which searches the internet for brand mentions and other keywords. This allows you to see if any influencers are already interested or aware of your product, which can help you find suitable e-commerce influencers to partner with.
Dealspotr
Dealspotr is a platform that allows brands to essentially market themselves to influencers. Brands can create a free page showcasing your campaign offers (like a job posting) in exchange for posting an exclusive discount code on Dealspotr. Influencers can use this platform to find your brand and apply to your campaigns.
You can offer two types of marketing campaigns: a free campaign or a promotional fee campaign. You can send influencers free samples of your product, or you can pay influencers a fee to promote your product.
Brandwatch
Brandwatch is a management tool that allows you to track brand mentions, monitor campaigns from competitors, and view online trends across different social media platforms. This can help you create effective marketing campaigns when working with e-commerce influencers.
SEMrush
SEMrush is a marketing tool that allows you to research competitors, discover trends and keywords, and track performance analytics. You can get valuable data to help you plan e-commerce influencer marketing campaigns. You can measure how well your campaigns do and come up with ways to improve them. This makes working with e-commerce influencers much more efficient.
Ubu
Ubu is a CRM tool that focuses on streamlining communication and tracking analytics. You can integrate all your social media channels into Ubu and manage your conversations in one place. You can build better relationships with e-commerce influencers and keep track of content creations.
How to Work With E-commerce Influencers
1. Identify Your Budget & Marketing Goals
First of all, you must decide on your marketing budget. This is important, as it provides insights into the scope of your influencer marketing campaign. Once you've set a budget, start thinking about your marketing goals and what you want to achieve from your campaigns.
Goals can include:
Increase Website Traffic

Increase Conversion Rate

Gain New Followers

Increase Sales

Higher Online Engagement
2. Search For E-commerce Influencers in Your Niche
Now it's time to start looking for e-commerce influencers to collaborate with. You can search for these influencers on Collabstr. Just simply type 'e-commerce' into the category section and click on the suggestion that appears.
Click the search icon to view a list of e-commerce influencers.
You can now narrow down your search using the search filters, which include country, gender, and much more. You can also choose a social media platform to focus on, such as Instagram or TikTok, or add more niches by typing in the category section.
3. Contact E-commerce Influencers
Once you've shortlisted some e-commerce influencers, use Collabstr's chat function to start contacting them. Start with a short introduction before discussing the reasons why you're contacting them. Mention your campaign idea and compensation (if applicable).
Here's an example of a pitch:
Hi [influencer name], I'm [name] from [brand name]. We'd like to send you a free sample of our [product name] because we saw your video about [relevant subject], so we thought you might be interested. If you want to discuss further details, you can email me at [email address].
4. Discuss Details & Form a Contract
Finally, if the e-commerce influencers respond to your pitch with interest, send them a campaign brief. It should include all the necessary details about your marketing plans. If they're still interested in working with you, discuss payment if necessary. Once you've decided on the terms, form a contract. We have a selection of influencer campaign brief templates if you haven't gotten around to making your own yet!
Conclusion
E-commerce influencer marketing is an effective method of raising brand awareness and increasing sales for e-commerce companies. Influencers have a high reach and popularity online, which brands can use to promote their products to a broader audience. There are different types of influencer marketing, which include giveaways, exclusive discount codes, and more.
Finding e-commerce influencers to work with is its own special challenge. They must suit your brand and marketing goals. Here at Collabstr, we aim to make this search process efficient and easy by allowing brands to filter e-commerce influencers by their specific niches, prices, and much more.
Join Collabstr today to start finding the right influencers for your brand. Check out our prices to get a full rundown of all our benefits, which includes posting your own campaigns to let the influencers come to you.
Get Digital Marketing Tips Directly to Your Inbox
Collabstr sends newsletters every 2 weeks with the newest trends, tips, and tricks in digital marketing.