10 Best Influencer Marketing Tools for Brands
Published November 7, 2022 | Last Updated October 11, 2023
If you're like us, this has happened to you a thousand times. You've just tried a new product and you're in the middle of telling your friend how amazing it is. The product is so good you want to shout about it from the rooftops. Even thinking about it brings tears to your eyes.
Your friend looks at you with indifference and merely shrugs…then you say: "but Bretman Rock uses it," and now you've never seen your friend more interested. That's the power of influencer marketing.
Even as we speak, 68 percent of brands plan to increase their influencer marketing budget by the end of 2022. It's safe to say influencers have changed promotional content forever. And with influencer marketing tools like Collabstr, finding influencers has never been easier.
What are influencer marketing tools?
Tools for influencer marketing refer to the digital apps and websites that help marketers collaborate with influencers. Influencer tools let businesses find the right influencers for their brand, manage influencers, track influencers, and more.
If you want to build an effective social media strategy, you need to use the best people for the job - cue influencers putting on shades in super slow motion to Top Gun. That's why it's so important to define your target audience from the get-go. Once that's in place, you can start building your campaign.
As our digital landscape evolves, the debate between influencer marketing vs. traditional marketing is over. With its broader customer reach and valuable insight into analytics and trends, it's time for traditional marketing to hang up its gloves (and take off those Top Gun shades!).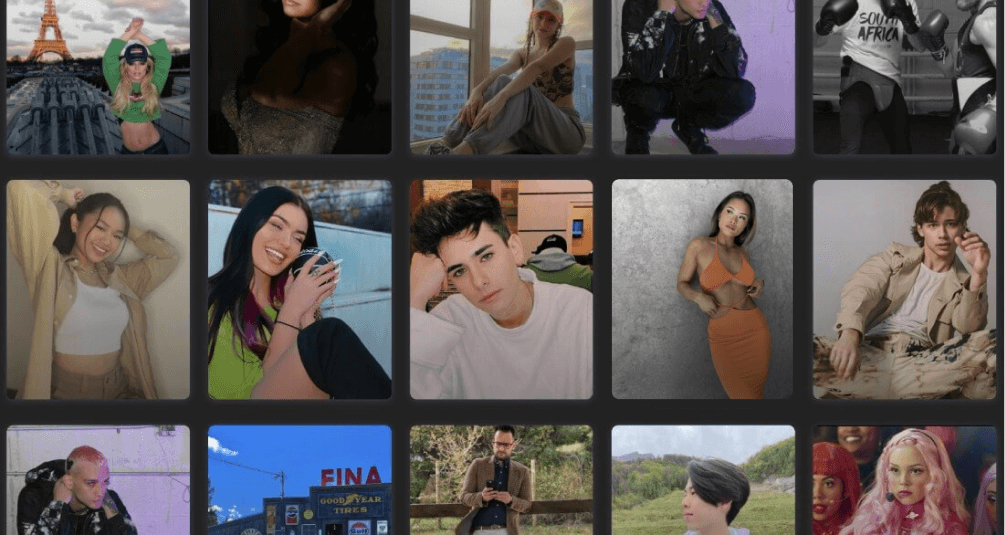 Why is it necessary to use influencer marketing tools?
With a whopping 61 percent of consumers using influencer recommendations for their shopping needs, more and more brands are utilizing influencer collaborations. But with millions of influencers occupying our digital skies, it can be hard finding a well-suited fit for your brand and managing all the tasks that come along with working with an influencer.
That's where influencer marketing tools come to the rescue. By delving into online trends, influencer success, and audience engagement, influencer tools ensure your campaigns run as efficiently as possible.
Your goal is to turn the influencer's audience into your audience. So sharing the same voice is critical. If an influencer's audience doesn't align with your brand, they're less likely to make an impact. Sharing the same voice across multiple platforms is one of the main reasons influencer marketing works so well.
With influencer tools, in-depth analytics let you make data-driven decisions rather than rely on guesswork. With online tools such as TikTok Ads Library, you can keep an eye on how your competitors perform and take inspiration from the best-performing ads and influencer collaborations.
The Influencer marketplace for finding the right influencers and celebrities
1. Collabstr
Want to find the right influencer to market your product?
Collabstr is an influencer marketplace that lets you find and hire influencers on Instagram, TikTok, YouTube, and other social media platforms. Both brands and influencers can join with no up-front fee. Collabstr cross-checks every influencer on their site, reassuring brands that the content produced is of the highest quality.
Collabstr encourages relationships between brands and influencers. Its simple interface means purchasing their services is quick and easy. All influencer profiles include necessary info such as bios, portfolios, pictures, and content packages. As communication is transparent, Collabstr is a straightforward way for influencers to work with brands.
Speaking of communication: there's even an instant chat feature that lets users stay in touch throughout the process. All communication, as well as payment processes, takes place within the platform, making security top-notch.
The influencers and content creators that list their services on the Collabstr marketplace are open to a creating a variety of content on-demand, such as:
With a built-in search engine, brands can filter through various niches and locations for their perfect partner. Not only that, but Collabstr can manage your campaign for you if you don't have the time or resources to do so yourself.
Influencer marketing tools for social listening
Social listening tracks conversations, trends, mentions, and keywords surrounding your brand. With valuable insight, brands can put what they learn into action. Not only that, but social listening informs you of your competitors' actions, so you can stay one step ahead.
2. Brandwatch
Brandwatch is a real-time social listening tool that helps marketers identify their audience, track conversions, and measure campaign success. With a vast database of over 100 million sources, it's easy to pinpoint the perfect influencers for your brand.
Trends come and go in the digital world, but with Brandwatch's User Alerts, you'll never miss a thing. And by monitoring product mentions, hashtags, and keywords, your brand stays on trend and relevant.
The Report Builder measures campaigns throughout their journey, from start to finish, so you're able to gauge your online impact. From user impressions to brand visibility, Brandwatch provides valuable insight into the heart of your marketing.
3. Awario
Awario is the perfect tool for monitoring various trends. It boasts an incredible 226 million online sources, so you're always in the know. The social media monitoring software scans endless online platforms, from YouTube and Reddit to forums and blogs. It's safe to say Awario has its ears to the ground.
Using your brand name as a keyword, Awario lets you into online conversations in real-time. By searching through 13 billion web pages daily, the tool keeps track of your most active brand advocates, ensuring effective collaboration at all times.
Additionally, Awario boasts a ranking system where you can view influencers based on analytics, number of followers, and profile visits. Even though Awario is young, its location-based monitoring means its impact is huge.
4. Digimind
Digimind is a global AI-driven social listening tool that's used by some of the world's largest companies. It boasts state-of-the-art analysis that measures the ROI of influencer campaigns as well as the social authority of influencers.
If you're looking to venture into digital transformation, Digimind can help. All of your data and insight are presented neatly in one place, so there's no need to scramble through multiple web pages.
Digimind also has the capability to benchmark past campaign performance against your competitors, so it's easy to spot areas of optimization as your business grows. And with interactive maps displaying your collaborators' reach in real-time, you have all the information you need.
Influencer marketing tools for outreach
Once you've found the right influencer for your brand, you need to grab their attention. But with a sea of brands chasing the same thing: how do you stand out from the crowd?
Luckily, when it comes to influencer outreach, there are many online tools that can help.
5. Pitchbox
Pitchbox intuitive keyword search helps brands find the best influencers for their campaigns. Its timely reports and analytics turn insight into data-driven decisions. But more importantly, Pitchbox offers customizable outreach and follow-up, so your messaging has never looked so smooth.
Pitchbox makes it easy to find influencer contact details and once these details are found, the marketing tool can get to work. Using smart email templates, automatic follow-up emails, and automated scheduling, Pitchbox provides an effective outreach campaign without you having to lift a finger.
If you haven't received a response from an influencer, Pitchbox sends automated follow-ups to keep in touch. Not only that, but it also tracks the performance of your outreach campaign and refines your strategy accordingly.
6. BuzzStream
BuzzStream is perfect for finding influencers and running a scalable effective outreach program. By prioritizing social metrics such as follower numbers, PageRank, and overall ranking, securing the right influencer is easy.
But what makes BuzzStream so exciting is its outreach features. With link-building results, BuzzStream prides itself on sending personalized, relationship-based outreach that ensures exceptional communication.
The marketing tool also takes care of your campaign journey. By setting reminders and sharing tasks between your team, BuzzStream removes any barriers you may find along the way.
7. NinjaOutreach
NinjaOutreach is an effective outreach tool that lets you keep track of your conversations and influencer relationships. With the ability to add notes and action plans to your future collaborators, you and your team are on the same page.
NinjaOutreach specializes in automation. When tackling a new marketing campaign, the tool lets you send mass-automated emails with customizable templates to your leads. All of these emails are personalized, so your prospective influencers won't feel like an afterthought.
With built-in CRM, managing large campaigns and projects is easy. The ability to add multiple team members, track conversation histories, and organize your leads via lists and filters, ensures easy management for your campaigns.
Influencer marketing tools for tracking ROI
Once you're working with influencers, your marketing journey doesn't have to end there. Influencer tracking tools measure the success of your campaign and its digital impact. It's an easy and effective way to measure ROI.
Generating unique affiliate links for your influencers is one way to track engagement, along with dedicated landing pages and rich KPIs. Let's look at some other influencer marketing tools that can help track your campaign's digital impact.
8. MightyScout
MightyScout is considered the fastest influencer marketing tracking tool for Instagram and TikTok. Its powerful ROI insight allows users to collect sales, reach, and clicks to make data-driven decisions for your campaigns and partnerships.
With MightyScout's transparent metrics, you can track campaign data within 30 minutes. Not only is data crystal clear, but customizable reports include post-by-post breakdowns and engagement analytics via PDF/CSV. So no stone is left unturned regarding ROI.
Using MightyScout, agencies can expect an increase of $1500/month in under two days. Its 24/7 influencer story and post-tracking feature notify you when your influencers create content. It also easily identifies who's on time, giving you better control over your campaigns.
MightyScout offers live sales data integrations (via Shopify) with unique visuals into your successful post metrics. No matter the size of your campaigns, you get the full picture with automatic up-to-date stats.
9. HypeAuditor
HypeAuditor is a revolutionary follower-checking tool that analyzes influencer profiles to ensure authenticity. With the largest online influencer library, it identifies fake marketers and bots that may be negatively impacting your campaign.
From analyzing suspicious activity to bot-generated comments, HypeAuditor ensures your marketing is in safe hands. AI sifts through endless data to rank authentic engagement, turning your predicted ROI into a certainty.
HypeAuditor's algorithms generate a daily top influencers list, making it easy to find the influencer for you. With over 50.5 million accounts in its database and over five million report requests, HyperAuditor is a workflow and analytics dream.
From audience location to age-gender split, its in-depth metrics mean you can tailor your content to viewer needs, as well as secure the best-performing content possible. HyperAuditor lets you manage and automate your campaign at every stage: from finding the perfect influencer to your final campaign report.
You can also monitor influencer marketing campaigns in real-time, so employing necessary adjustments is as easy as 1, 2, 3. Its data-driven influencer campaign solution streamlines your progress via key campaign KPIs and total expenditures.
10. BuzzSumo
BuzzSumo combines social media analytics and influencer marketing software to make it a one-stop shop for your marketing needs. The platform makes it easy to find local and global influencers with large Facebook, Twitter, and Instagram followers.
Not only does BuzzSumo search by niche and popularity, but it also lets you see what content has been shared the most, ensuring you find influencers with the biggest impact. Its integrated search tools help pinpoint influencers who will boost your marketing needs.
With daily and real-time alerts, you're always up to date with the latest digital trends (Negroni Sbagliato, anyone?). Along with campaign data, BuzzSumo monitors your competitors so you can stay afloat under the sea of digital media.
BuzzSumo also lets you turn mentions into links and keeps an eye on users who interact with your content. The influencer marketing tool makes it easy to discover when influencers and journalists have created content around your brand, allowing you to amplify your message whenever possible.
Wrapping up
It's easy to sum up Influencer marketing in one single sentence: "Teamwork makes the dream work." While this does sound like an inspirational quote from Ted Lasso, it perfectly explains influencer marketing.
Without effective collaboration, your influencer marketing campaign will suffer. If you neglect research, you risk alienating your audience with the wrong influencer. It's best for both brands and influencers to share the same goal. That's why influencer marketing tools are absolutely necessary, even The Rock uses them!
Get Digital Marketing Tips Directly to Your Inbox
Collabstr sends newsletters every 2 weeks with the newest trends, tips, and tricks in digital marketing.