Micro influencer agencies are a highly useful resource in marketing today. Their teams are built to handle social media brand posts, from which 78% of people make buying decisions. When leveraged properly, micro influencers prove you don't need celebrities to run successful social media campaigns.
Collabstr is leading the way in influencer marketplaces to connect brands with the right creators. Influencer agencies are an extension of their marketplace counterparts.
In this article, we'll explore the benefits and criteria around working with a successful micro influencer agency, how to choose the right micro influencer agency and a list of micro influencer agencies and platforms.
What is a micro influencer agency?
A micro influencer agency manages the relationship between brands and micro influencers. Micro influencers are defined by audience sizes of between 5,000 and 50,000 followers and they are one of five different types of influencers. They have a smaller but nonetheless dedicated fanbase that brands can advertise to for a fee.
The agency handles the logistics and complications of hiring an influencer for promotional campaigns. Their responsibilities cover a range of related tasks including research, strategy, communication, asset creation and management, payment and reporting results.
Campaigns can span across any of the major social media platforms: Tik Tok, Instagram, YouTube, Facebook, Twitch, Snapchat and Pinterest.
Agencies generally provide full-suite and bespoke services, using either separate marketplaces or their own database to find influencers.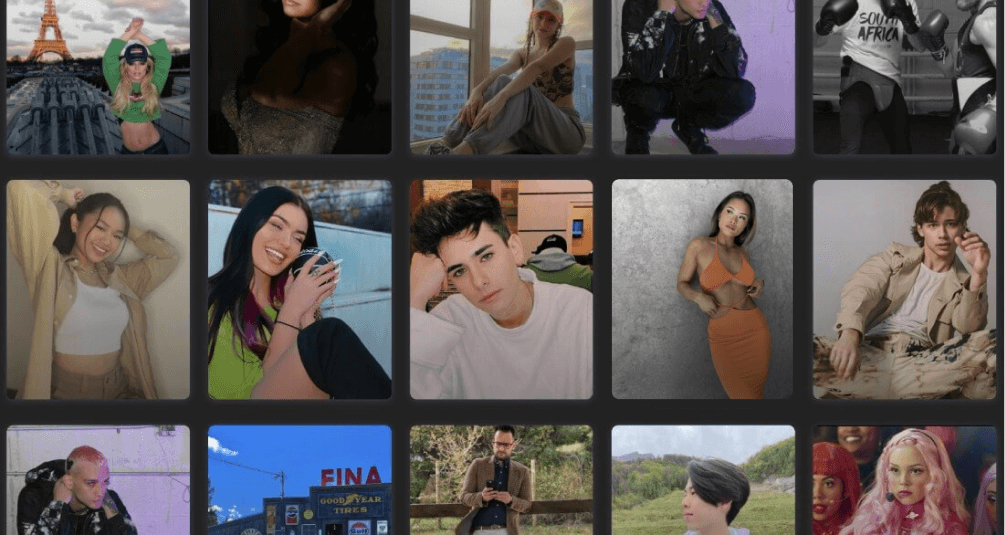 Why are micro influencer agencies important?
A micro influencer talent agency handles all the legwork so you can focus on other aspects of your business. They can help you establish marketing goals and how to allocate your budget to achieve it. They're particularly skilled at embedding influencers into your campaign.They'll also keep you clear of the common pitfalls when selecting and communicating with influencers to ensure your campaign is executed to spec.
Social media campaigns require expertise and a well-informed strategy. Brands that work with micro influencers through an agency are granted access to the team's specialized knowledge and experience. Years of industry engagement has refined their judgment which can save a brand plenty of money and time. If you decide to wing it, you'll find budgets can quickly spiral out of control with underwhelming results.
Another key advantage that micro influencer agencies have over marketplaces is full-service. Influencer marketplaces and influencer search tools are largely automated and lack the attention your campaign might need to reach its potential.
Now we'll cover some of the key criteria when considering which micro influencer agency is right for your campaign.
What to look for when hiring a micro influencer agency
When hiring micro influencer agencies, you'll want to feel assured that they can accomplish your objectives. You can determine their capability by analyzing their experience, speciality, price, and receptiveness.
Such a service doesn't come cheap. Get the most value from your budget by establishing firm expectations and key performance indicators (KPIs). Communication, transparency and availability should also be considered.
Make sure the service is priced correctly, and that the agency is proactive in understanding and prioritizing your needs. Agencies are known for stretching themselves thin before turning down money. You don't want your campaign delayed and your brief buried because your first choice is "having a busy month."
Don't be afraid to shop around. Get a feel for all the options until you're confident you're getting good value.
Experience
An agency's experience and portfolio is often the focal point of their landing page. Review their case studies to get an idea of how they might handle your assignment. You can inspect what kind of results they've achieved in the past and find testimonials from clients on their experience working with them.
Their credibility, clientele, and highlights are all indicative of the quality you can expect to receive. Make sure their experience and style is compatible with your brand. It could all factor into the way your message is ultimately conveyed.
Niche Focus
Some agencies specialize in a particular platform or niche. If their focus aligns with your campaign, they could prove a better fit than generalist competitors. Siding with a niche agency has several potential advantages.
For example, they may have a stronger network of influencers in one area. Their approach could be more refined and nuanced than agency's who rely on cookie-cutter strategies for versatility.
Price
Prices for micro influencer agencies will vary greatly from project to project. They might have productised their services by offering package deals with preset outcomes. Or, you could be presented with a bespoke quote after consulting with their sales team. The cost will factor in labor and production costs like influencer fees and asset creation. This is where transparency comes in. Find out precisely what deliverables you can expect for the agency's fee. A clearer picture of what's involved in the transaction will help you compare quotes.
Communication
According to this value equation, part of your decision to close the deal with an
agency will depend on how likely you feel that they'll deliver on their promises. And not just to do the task, but in the time and manner suggested. Double-check with whoever you're dealing with that they're able to accomplish what you want quickly.
Past Client cases show their capabilities, but your personal experience with their team can help you gauge whether your project will be adequately catered for.
Are they responsive and accommodating? Do they answer your questions fully or glean over details? Are they contributing original thought and ideas? Can you be assured they'll stick to their timeline?
What are the best micro influencer agencies?
Collabstr
Collabstr is the social media marketplace for brands and agencies to buy sponsored posts, testimonial videos, product photos, ads, and more. A vetted selection of influencers can be searched by niche, location and platform, making your search for the right match swift and simple.
Brands praise the ease of use and how quickly they can go from idea to execution with minimal input and hassle. Direct communication and a nifty escrow system also keeps you in the driver's seat until all deliverables are approved.
The Shelf
The Shelf uses their own proprietary SaaS platform for creative but data-driven marketing. They're a full suite agency who plan, execute, manage, and optimize creative, strategic influencer campaigns.
They use 9 years of experience and data from a billion posts to deliver strong ROI on custom-built campaigns. The Shelf uses unicorn influencer marketing strategies to accurately segment and target audiences across all platforms. There's plenty in the way of quality control, metric tracking and everything to assure you that your campaign is in capable hands.
NeoReach
NeoReach is a premium agency that boasts full integration with your team, meaning real-time communication start-to-finish. They tap into a connected network of top micro influencers to take care of creative strategy and direction, contracting and activation, and post-campaign analytics.
Additional services involve shipping your products to influencers, amplifying through paid social ads, and experiential activations that connect people, places, and shared experiences. You're also able to search their influencer database with over 40 filters including age, gender, location, language, income, brand affinity, and more.
Ubiquitous
Ubiquitous is the one-stop shop for TikTok ad spend. They use influencer marketing to achieve lower CPM, and increase leads and brand awareness. Their expert strategists have racked up over 7.7B new followers for their clients.
On the creator management side, Ubiquitous has you covered for things like creator outreach, negotiations and correspondence. When the campaign's launched, you can then track your metrics - including view count, engagement rate, and CPM - as they happen.
ApexDrop
ApexDrop is an Instagram micro influencer agency. They're popular with micro-influencers and amateur photographers who love the opportunity to work with brands. Their average creator follower count is around 10,000 but can range up to 50,000+.
Some of their service cornerstones involve a diverse network, UGC at scale, engagement over followers and product feedback from creators. Their approach leans on a discovery model which is designed to generate a buzz around communities through large amounts of authentic content. This means they're not heavy on tracking metrics, relying on hashtags alone.
Find your fit with Collabstr
Save your business precious time and automate your micro influencer campaigns with Collabstr. Brands are launching successful social media campaigns through our marketplace with ease.
The process couldn't be simpler: find an influencer, securely purchase their service, and watch them promote your brand to their followers. All you need to do is to send a campaign brief with your requirements and assets.
Our free engagement calculator can help you size up any partnership's potential. Collabstr can even plan and manage campaigns upon request. Start leveraging the power of influencer marketing today and explore our range of creators in every niche imaginable!
Get Digital Marketing Tips Directly to Your Inbox
Collabstr sends newsletters every 2 weeks with the newest trends, tips, and tricks in digital marketing.