With social media playing a major role in how brands approach marketing, more and more people aspire to be social media content creators. And who can blame them? You'll have the opportunity to create appealing, engaging, and entertaining content that helps brands become visible to their desired customers. As a brand, having a social media content creator on your team is a must because they understand how social media and audiences work better than anyone.
In this Collabstr guide, we're going to help you understand how social media content creators can benefit your business and the effective methods you can use to find your perfect fit.
Let's dive in!
What is a Social Media Content Creator?
A social media content creator is an individual who creates and shares original content for a brand in any particular niche that's intended to inspire, educate or entertain their audience on social media platforms.
It may seem limiting to just focus on social media considering the internet offers several avenues for content creation such as blogs, web copy, newsletters, and so on. However, because social media trends change often, social media content creators' consistent focus on these platforms gives them suitable expertise on how to succeed best when promoting content. This makes them an extremely valuable asset to businesses looking to enhance their social media content.
Social media content creators shouldn't be confused with influencers who focus on building an engaged audience for their own personal brand and posting sponsored content to boost another brand's credibility. While content creators can also have their own social media pages, they specialize in helping other businesses elevate their content and overall reach. Many of them also work on creating user-generated content (UGC) where they are paid by various businesses for the rights to their content.
The benefits of having a skilled social media content creator on your team are:
You'll discover which social media platforms yield the best results for your business

You'll know what content formats resonate the best with your audience

You'll understand what you need out of influencer partnerships

You'll have a dedicated creator who focuses on creating quality content instead of growing their own following

You'll have more creative insights on how to create the best content for your niche

You'll have a full library of top-quality content that your brand can repurpose for your website and other marketing strategies outside of social media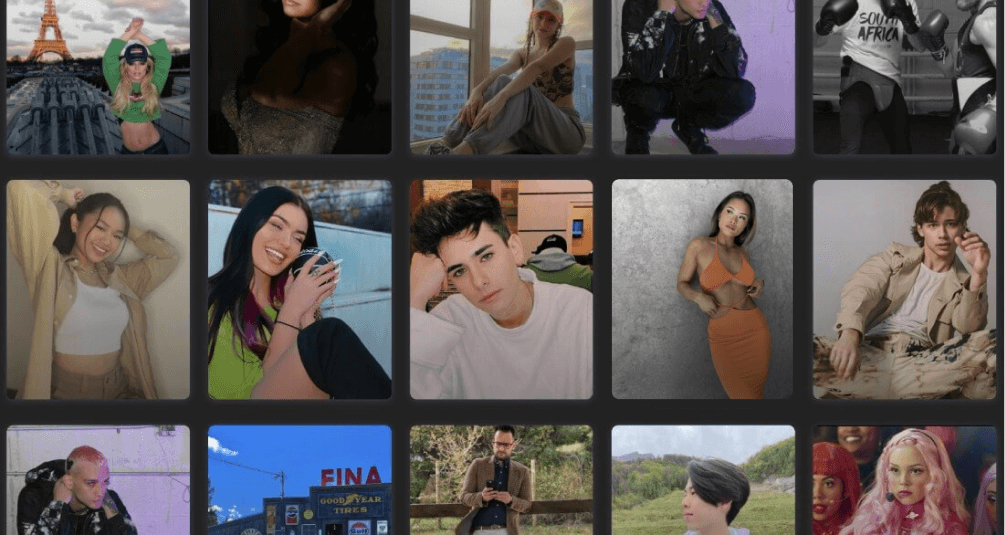 Social Media Content Creator vs. Social Media Manager
The titles of a content creator and a social media manager often get confused. This is understandable because many of their responsibilities can overlap, but the roles are different.
A social media manager may take on the responsibilities of content creation, but they also take care of:
Managing the different brand communities across social media channels

Managing a brand's online reputation

Strategic content planning

Social media analytics and reporting

Team management
Basically, a social media manager takes care of the business aspects of all social media channels to ensure brands meet their marketing goals. A social media content creator focuses on creating the content based on the brand requirements, which allows social media managers to focus more on strategic initiatives. For instance, ASOS, an online fashion retailer, has a team of content creators to execute their social media strategy:
Why is Social Media Content Creation Important?
A social media content creator is going to differ from your usual marketing creative who handles your website copy such as blogs.
Social media is not only about the messaging, it's also about the visuals. After all, social posts that include images achieve 2.3 times more engagement than posts without visuals, and about 96% of consumers shopping online look for product videos before making a purchase. Now we can understand why platforms like Instagram, and especially TikTok have amassed high popularity when it comes to looking for new products. Consumers love the visual experience!
If you're still not sure how valuable a social media content creator can be for your business marketing strategy, here are some examples of how they can help:
Your website: You may have had a graphic designer organize your website to your liking. However, it is likely that they won't create brand-specific images for you that attract your desired audience. A social media content creator will have a full archive of branded media that you can use to personalize your website and make it more memorable.

Product pages: Having attractive pictures of your products is good enough, but to help customers understand your products better you need lifestyle pictures on your product pages that show genuine use of them. A social media content creator will know how to use these best so that you can get maximum appeal for your ideal customers.
Instagram & TikTok Shop: Platforms like Instagram and TikTok have also integrated marketplaces so that you can sell your products directly from the content you post. Of course, to be able to appeal to your desired customers you need to have attention-grabbing content. Social media content creators can make this possible for you and help you set up your shops with engaging video ads so you get the sales you deserve.

Organic social media: In regards to a platform like TikTok, your organic content matters. Gen Z shoppers who prefer going on TikTok to discover new products don't appreciate salesy videos. A social media content creator who is well-versed in how to succeed on the platform will help you create fun, engaging, and authentic content that attracts genuine customers.
Where Can You Find Your Ideal Social Media Content Creator?
There are a variety of content creators that you can choose to hire for freelance work, a contract, or a permanent position. Here are the places you can discover them:
Social media platforms
Looking for content creators through social media can be pretty helpful because you'll get an immediate visual of the type of content they create and if they fit the style of your own business.
The first social media platforms you should be looking for content creators are the ones where your brand and your target audience are the most active. The top platforms at the moment seem to be Instagram and TikTok as 71% of young consumers say that's where they often discover new products and services to try out (with TikTok ads having incredible rates of engagement).
An effective method you can try is browsing social media bios for relevant terms. Professional content creators or UGC creators often include these in their bios so that they are identified more easily. Fоr instance. You'll often see terms like 'beauty' and 'fashion' if the user is involved or interested in those niches (like our example below).
Fortunately, social media bios are searchable so you can use relevant keywords to help you identify the preferred content creators for your business.
Job platforms
Fortunately, many job platforms have the option to search for social media content creator roles, so as a business looking to fill this role it's a great idea to put your listing up. The major benefit of using a job search platform is that you're sure to get candidates serious about content creation in your niche to apply.
Popular job platforms where businesses post job listings for a social media content creator are:
If you want a content creator to work with your business for a short-term project, you can also use freelance job platforms such as Upwork and Fiverr. Here, freelance social media content creators create their profiles and portfolios for you so that you can get a good idea of what skills, qualifications, and experience they can offer your business.
Referrals
Referrals can be a really useful method to find qualified social media content creators. By asking for referrals, you're effectively tapping into your connections and asking for recommendations from people you trust. This also helps you find the right match quicker because these social media content creators would have been vetted by those who have worked with them successfully.
The fastest way to collect your referrals is to reach out to friends, colleagues, and other professionals in your industry who've worked with social media content creators and ask them for their testimonials.
Community/Customer Base
Don't underestimate the value your customer base and brand community can offer you in finding the perfect social media content creator for your business.
Simply take a look within your own social media community to see if any content creators have spoken about your business in a positive way. This community will include your followers, existing customers, and brand partners. If there are creators who have already encountered your brand, it makes it so much easier to approach them about a potential collaboration.
If you find yourself struggling to find content creators on your own, you can use a platform like Collabstr, which is a marketplace to hire content creators and influencers. Each creator has a profile page indicating their specialties and services, so you'll have a good idea of whether you want to reach out to them. It doesn't matter if you want to hire someone long-term or short-term. You'll be able to purchase content directly from the content creators of your choice. And who knows? If you cultivate a strong relationship with them and you see good results from their posts, you may have found your next social media manager!
Social Media Content Creator Job Duties & Requirements
The responsibilities and requirements you will state in your job listing for your ideal social media content creator will ultimately depend on your specific business needs. However, to give you a broad idea of how you can leverage the skills of these professionals, we're going to take a look at many of the requirements and responsibilities they have to undertake on a daily basis.
Job Duties & Responsibilities
The job duties and responsibilities refer to the tasks your social media content creator will be expected to take on for the job, so let's take a look at a few!
Produce high-quality photo, video, and audio content

Create compelling visual content with engaging captions that reflect the brand persona for social channels such as Instagram, Facebook, TikTok, Youtube, and LinkedIn

Research industry-related topics

Write, edit, and proofread written captions before publishing

Develop new and creative ways to generate positive buzz from content

Continuously monitor various social media trends and benchmark relevant industries, influencers, and brands that are creating successful content

Stay up-to-date on trends, sounds, and viral concepts that can be applied to the brand's own content success

Coordinate with the marketing team to ensure social media content is consistent with all other marketing channels, such as the brand website and email marketing

Create, review, and analyze engagement reports monthly to share insights on how content goals and tactics can be improved

Help grow the brand's social media presence by including engaging storytelling in content and implementing consistent posting schedules
Job Requirements
The job requirements refer to the education, skills, and qualifications you'd want your ideal social media content creator to already have. Some requirements can be mandatory (e.g. the ability to use social media!), but some can be optional. For instance, not every talented social media content creator will have a university degree.
Bachelor's degree in Marketing or relevant field (optional)

Experience with photography and video editing

Knowledge of social media marketing and algorithms

Knowledge of social media trends, hashtags, and effective engagement strategies

Ability to turn a concept into compelling content

Ability to incorporate brand voice and persona into engaging content

Experience creating and curating content for various social media platforms (e.g., Instagram, TikTok, Facebook, Pinterest, LinkedIn)

Exceptional writing and editing skills for short social media copy

Good knowledge of online ad publishing and generating leads

Analytical skills to study target audiences

Detail-oriented

Knowledge or experience using tools such as Canva or Adobe Photoshop

Strong listening and communication skills

Reliable time management skills

A portfolio of published social media content
How to Hire Your Ideal Social Media Content Creator
#1: Define your ideal social media content creator
For you to know who your perfect social media content creator will be, you need to know exactly what you want out of your social media marketing. Without any solid goals, you won't be able to tell if you're actually getting a return on your content creation investment.
Of course, every brand is different. But here are some common goals that you can start looking at:
More likes, comments, and reshares on your social media posts

More consistent and relevant posts

Higher-quality images and entertaining videos for your product marketing

A higher follower count

Increased brand awareness

Increased sales
Once you have your business goals, you'll be able to determine the type of social media content creator you require. It's best to narrow your expectations down to the type of content you want and the platforms you aim to dominate.
#2: Write and post a descriptive job posting
Unless you want to, you don't have to write your job description from scratch. You can personalize a free template to your business's needs so you can save time and still attract the right candidates. Customize your template by:
Giving a brief description of what your company is about as well as your values and goals.

Mention the specific type of content the person will need to create (photos, videos, short or long text captions) and the social media platforms they will be posting on (Instagram, TikTok, Twitter, YouTube, Facebook, LinkedIn, Pinterest).

Listing the measurable goals for the position. This includes 'create content that visibly increases the engagement (likes, comments, reshares) on our Instagram feed posts' or 'ensure we gain a minimum of 100 new followers on TikTok every month and increase TikTok views'.

Specifying any tools or software the candidate will need to carry out their responsibilities.

Mentioning the compensation and benefits your company is offering for the role.
The following job listing created by a beauty salon in Australia is a great example of giving enough detail and specifics to attract the best-suited candidates who love creating beauty content.
Here are the best practices to consider when posting your social media content creator job description:
Establish your hiring goals: Are you looking for a skill-specific or industry-specific social media content creator? Do you want to hire someone for a specific campaign, or do you want them permanently in-house? Do you want them to work across multiple social media channels or just one?

Get straight to the point: There's no need for a long-winded job listing. Just make sure to include a short overview of your brand, the type of social media content creator you're looking for (skills and requirements), what you'd expect them to contribute, and their compensation and benefits.

Have realistic expectations for your role: The salary you're offering should match up to the expectations. Even if a creator can perform many marketing tasks, they shouldn't have to, so keep your job responsibilities relevant to the specific goals you have for social media.
#3: Effectively screen your applicants
As soon as responses to your job listings start coming in, you need to screen them immediately to make sure they actually know how to succeed on social media. If a candidate doesn't provide any links to their social media content or portfolio, then there's no use going further with their application.
When checking their social media, here are some things to take note of:
Do they specialize in content for your industry? If not, but you like the style of their content, you can ask them to pitch how they will be an asset to creating content for your niche.

Do they have a consistent voice when it comes to their content?

What is their engagement like? (E.g., do they respond to comments and questions from their audience)

How often are they posting (they should show a sense of scheduling and consistency in their posts)

If they shared work they did for past clients, how successful do those profiles seem because of their contributions? You can even take it further and reach out to those businesses to ask for a review of their experience working with the candidate.
#4: Implement a pre-employment skills assessment
Once you've got your final list of candidates that you want to know more about, it's time to respond back and offer them to complete a pre-employment skills assessment. This is an appropriate step, especially if you're looking to hire someone long-term, because it determines if they will actually be a good fit for your business specifically.
The major benefits of implementing a skills assessment for hiring a social media content creator are:
Candidates get an equal opportunity to prove their current skills

Your business can evaluate candidate's skills without bias

You'll get a good idea of your candidates' specific strengths and weaknesses

You'll have scientific data to support your hiring decision (if you choose to use an assessment tool)
When implementing a skills assessment, you can decide to create one from scratch that's specific to the campaign you want to hire them for, or you can use a Social Media Management test tool such as:
#5: Conduct interviews
Now that you have a good idea of what skills the candidates can offer your business in terms of social media content creation, you need to get to know them as a person to see if they will fit in with your marketing team. Interviews help you identify their working methods, communication skills, and any other valuable assets they may contribute to the business that you never thought of.
Some questions you can consider asking are:
What is your process when it comes to developing content plans?

What brands have you worked with in the past, and what tasks were you specifically in charge of taking on?

What are your thoughts on our company's current social media presence on Instagram and TikTok?

How would you improve our social media presence?

Do you work better in a team or alone?

What social media channels do you suggest our company is best-suited for?

What social media marketing strategies have you used in your previous work that encouraged engagement and increased sales for a client?
Ready to hire a social media content creator for your business?
Making sure you invest in the right social media content creator for your business is important to ensure you elevate your brand's image and engagement with your customers. While you can choose to hire creators for short-term campaigns, you'll do best with brand consistency if you opt to work with someone long-term. Hopefully, you'll be able to make the right decision with the steps we've given you.
Ready to start your search? Feel free to take a look through Collabstr so you can find amazing creators in your specific industry today. You can even chat with them directly through our platform before making any commitments to have a good idea of what they can offer you.
Get Digital Marketing Tips Directly to Your Inbox
Collabstr sends newsletters every 2 weeks with the newest trends, tips, and tricks in digital marketing.