With over 3 billion downloads, TikTok is social media's new darling. Everybody from your quiet neighbor to your elderly grandmother is a TikToker. So whether you're scrolling the "It's Corn!" trend or watching a skateboarder drink juice to Fleetwood Mac, TikTok's reach is undeniable.
It's why influencers are such a surefire hit with audiences. Their recognizability and followers make them the perfect fit for ad campaigns. And with TikTok's Ads Library tools and influencer marketplaces such as Collabstr, the search for content creators is even easier.
What is the TikTok Ads Library?
If you're dreaming up your next TikTok ad campaign, you should check out TikTok Ads Library. It is an online tool that lets users explore the best-performing ads on TikTok.
Marketers can use TikTok's robust Creative Center and search ads both vertically and regionally. In other words, they can uncover the best TikTok ads for their advertising strategy. Think of it as if you're receiving the keys to the kingdom in terms of marketing inspiration, research, and performance benchmarks.

TikTok Ads Library, also known as Top Ads, takes your creative game to the next level. It's easy to filter search listings by Industry, Duration, Time, and Analytics, meaning advertisers uncover the trends and posts that mirror their goals.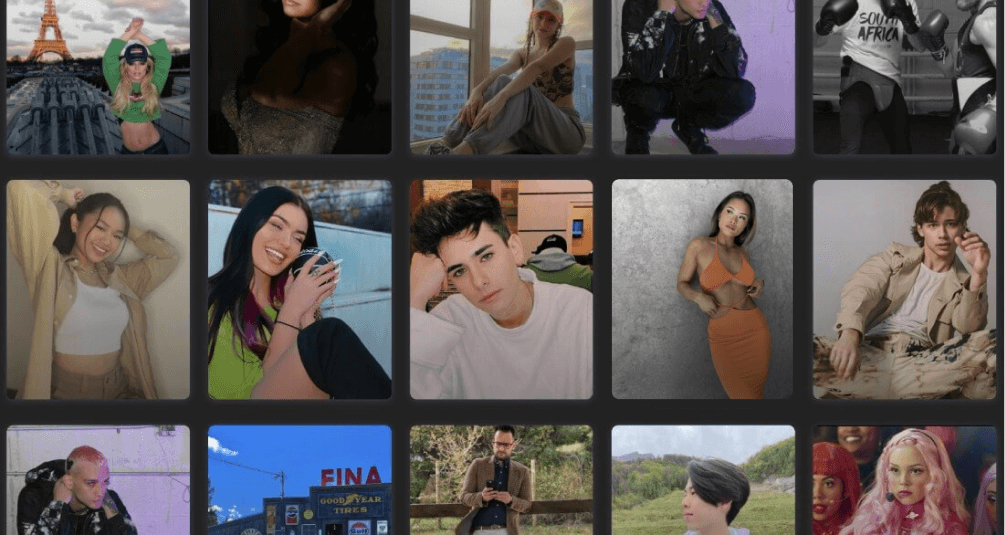 Why should you use the TikTok Ads Library?
From uncovering trends to better understanding the market, TikTok Ads Library is free and accessible to anyone (even to those who don't have a TikTok account!). And just like Facebook Ad Library, users can search via keywords and brands to find the best ads for their marketing needs.
Let's look at four examples of why TikTok Ads Library should play an essential role in your advertising.
Inspect the best ads
Crafting a social media advertising campaign can be stressful. With so much online content it's easy to fall into a digital abyss. Thankfully, TikTok Ads Library and its search filters are here to help.
TikTok Ads Library allows you to target your audience with needle-like precision. By showing the highest-ranking ads, your business can zero in on prospective customers and take inspiration.
With filters including Country, Industry, Objective, Duration, and Time Frame, your campaign can have a detailed overview of what users respond to. Essentially you have the perfect market research at your fingertips.
Analyze and view metrics
Analyzing successful campaigns allows you to implement winning ideas into your ads. As a startup, you generally won't have the budget of established companies, so knowing what works means resources go into a certainty rather than a guess. This is what makes TikTik Ads Library such a powerful marketing tool for startups.
Not only can you take inspiration, but you can have an in-depth look at your competitors' rankings. Think of it as having the best seat at your competitor's brunch table. Just hover over a video and click the View Top Ad link to view its metrics.
Target the right audiences
With TikTok Ads Library, you can easily target specific audiences. In-depth filterings such as demographics, interests, and region allow you to reach the right people at the right time.
There's no point in building a marketing campaign that doesn't rank well within your region, especially when there are costs involved! By tailoring ads, you set your sights on an audience more likely to listen.
Use influencers to reach your target audience
Brand awareness and influencer marketing go hand in hand. Influencers have an established fanbase that trusts and listens to their opinions. This can be a powerful pull for brands that want to target a relevant following.
Because of these benefits, influencer partnerships are in high demand. Not only do they increase sales, but they strengthen a brand's reputation within a specific niche. When used correctly, the influencer's audience becomes your audience. And with 61 percent of consumers putting their trust in influencer recommendations, it's easy to see why.
Top Ads consist of the most recognizable people on Earth. But whereas celebrities use social media now and then, influencers are made famous because of their social media. Due to this, the relationship they share with audiences is much more personal.
If you're wondering how to find and hire TikTok influencers for your ads, look no further than Collabstr. The online influencer marketplace makes it easy to hire influencers who enjoy high engagement rates with your target audience and at your budget. Companies can hire the best influencer for their campaign at the click of a mouse.
How to use Top Ads
Top Ads user-friendly tools mean your advertising campaigns are no longer a struggle. With its easy-to-understand metrics, making an impact in the digital world is as easy as one, two, three!
Let's look at how to implement a successful marketing campaign:
Understand the Different TikTok Ad Formats
TikTok's wide variety of ad formats encourages collaboration among users. By mastering these ad formats, you'll be able to improve the marketing of your small business in no time.
In-Feed ads are embedded videos that auto-play in your For You feed. The idea is to blend in with a user's scrolling pattern. These ads include sound and share the same user interface as organic posts (likes, comments, and shares).
In-Feed ads include a clickable Call To Action (CTA) button that drives users to your external landing pages. But be careful, as these ads appear in the For You feed, they can be easily dismissed and run the risk of becoming annoying to the wrong audience.
Branded Hashtag Challenge
The goal of these challenges is to engage your audience through participation. I know we all panic at the phrase audience participation (it's nearly as bad as hearing the words public speaking), but don't worry, TikTok's version is a lot more fun.
As Branded Hashtags are user-led, the results are much more engaging! Excitement builds around your brand as audiences participate in the trend rather than just scrolling through it.
Not only that, but your campaign receives a bundle of user-generated content, so your engagement levels go through the roof!
TikTok Branded Effects Ads
As we all know, TikTokers love a filter (and to be honest, who doesn't?). Shareable branded effects encourage users to play around with branded stickers and filters. So not only are they sharing your logo, but they're part of your advertising campaign.
We've all dreamt of being in a successful ad, Branded Effects turn that dream into a reality. And best of all, it's cost-efficient. You're getting your brand out there at the fraction of the cost.
Collaborating with influencers
With a whopping 88 percent of Gen Z and millennials learning about products from social media, influencers have become the Infinity Stones of marketing tools.
Currently, there are an estimated 50,000 influencers on TikTok. With such a large number, TikTok Ads Library is an essential piece of kit. By narrowing down your search, you can find the best influencer for your brand.
Not only is an influencer's fan base filled with trust, but they're natural marketers: you don't build a large following without a bit of pizzazz!
So if you want to find the right influencers for your brand's image, Collabstr can help. When booking influencers, it's worth remembering that each region has different influencers, so it's best to utilize Top Ads before booking.
Implement Analytics
Last but not the least, make sure to use the right metrics to track and build upon your results. From Click-Through Rate (CTR) and Contingent Value Right (CTR) to Conversion and Remain, TikTok Ads Library displays valuable insight into user interactions. Here is an example featuring Beyonce and Tiffany & Co.:
Build your advertising campaign
Now that you've taken inspo from the best ads online, it's time to start building your campaign. Follow the guide below and you'll be ready to go within minutes!
Create a Login
The first step couldn't be any easier, head to TikTok Ads Manager and sign up using your email address and password.
Depending on what you choose, a verification code will be sent to either your email or phone number.
Create a TikTok Ads Account
Once you've provided your Region, Time Zone, Business Name, and Currency, you're ready for the Register button.
Enter Business Information
In your accounts dashboard, you'll need to access the Account Info tab found under your Accounts Settings. Once you've filled in a more detailed account of your business, you'll submit your account for review. Once it's been approved, you can begin your campaign
Create a new campaign
Select the Campaign tab within your dashboard, and then click on the Create button.
Here, you'll be presented with three objectives: traffic, conversions, and application installations. This is where you need to decide on the goal of your ad and put it into practice. You'll also need to include the budget of your entire campaign and your campaign's name.
Set up the Ad Group
This is where you'll put everything you have learned from TikTok Ads Library into practice. Here you can define your audiences, campaign budgets, and placements for your ads.
By inputting this information, TikTok will calculate where to place your ad and where it will get the best results.
Create a new ad
Now you can show off your creativity by uploading your ads. Your ad is ready to be seen.
From here you'll have the option to choose different Calls To Action (CTA), so you can ask viewers to Sign Up, Download, Book Now, etc.
Now you're ready to begin advertising.
Wrapping up
If you want to implement the best advertising campaigns possible, TikTok Ads Library is the way to go. With its effective ranking system, search engine, and ad metrics, inspiration is at your fingertips. It's essentially an A to Z guide in perfecting your marketing campaign.
With brands rethinking how they operate in the digital sphere, there is no denying social media and influencer marketing works. And now, with marketplaces such as Collabstr, using influencers in your ads is no longer a pipe dream.

Get Digital Marketing Tips Directly to Your Inbox
Collabstr sends newsletters every 2 weeks with the newest trends, tips, and tricks in digital marketing.