The stats are in and they confirm that video content is the way to go for marketing. Not only does video marketing generate more engagement on your social media pages, but it also increases conversions and drives sales.
87% of marketers say that videos give them a good ROI and are better at converting prospects into customers. Videos directly assist companies in increasing their sales and produce way more conversions than other forms of marketing content.
Before we dive into unique video marketing ideas, let's analyze some of the advantages and benefits of professional video ads and social media video marketing:
Benefits of Social Media Video Marketing
Increased engagement
Videos hold people's attention more than other types of content. People are more likely to watch a video than read a blog post or article. The algorithms of social media platforms such as TikTok lay an emphasis on viewer engagement, so videos get a far higher engagement as compared to still images. This is also why many companies will use TikTok influencers to get the word out about their product or service.
Greater reach
The more engaging a video is, the higher its organic reach. Additionally, people prefer sharing videos more as compared to other types of content. As a result, videos have a higher ROI than other types of content. TikTok statistics show that 44% of people learn about products through videos.
More Memorable
People are more likely to remember a video than other types of content. A video engages multiple senses, which makes it more appealing. It is true that video engages both hearing and sight, however, well-crafted visuals and sound effects have the ability to alert our senses of touch, taste, and even smell.
For example, these days many companies will opt to create explainer videos for marketing rather than using more traditional content styles such as images to explain their products. Part of the reason for this is because video stores much more context and as a result, the content is more memorable for the end user.
Greater trust
Videos help build trust. People are more likely to trust a brand if they see a video of its products or services in action. A video is more credible than text or images, and videos with influential figures in them perform even better. When you see brands using Instagram influencers or celebrities in their video marketing, they're doing this to improve the trustworthiness of the video.
12 Social Media Video Marketing Ideas
1. Leverage Influencers
Influencers on social media understand video content more than anyone, and they're masters of hooking viewers and driving engagement. By leveraging influencers, you can get high-quality and engaging content on demand.
User-generated content, such as videos from influencers, is an excellent way to build social proof and trust amongst your audience and customers.
Influencers can be used for a variety of social media video marketing use-cases, such as:
Product videos

Tutorials

Shoutouts
One thing to remember is that videos from influencers can be re-used and redistributed. So if you receive a TikTok shoutout from an influencer, you could also repurpose that into a video advertisement by whitelisting the content. To go even further, you could purchase the rights to the content and use the video on your website, or your own social media channels.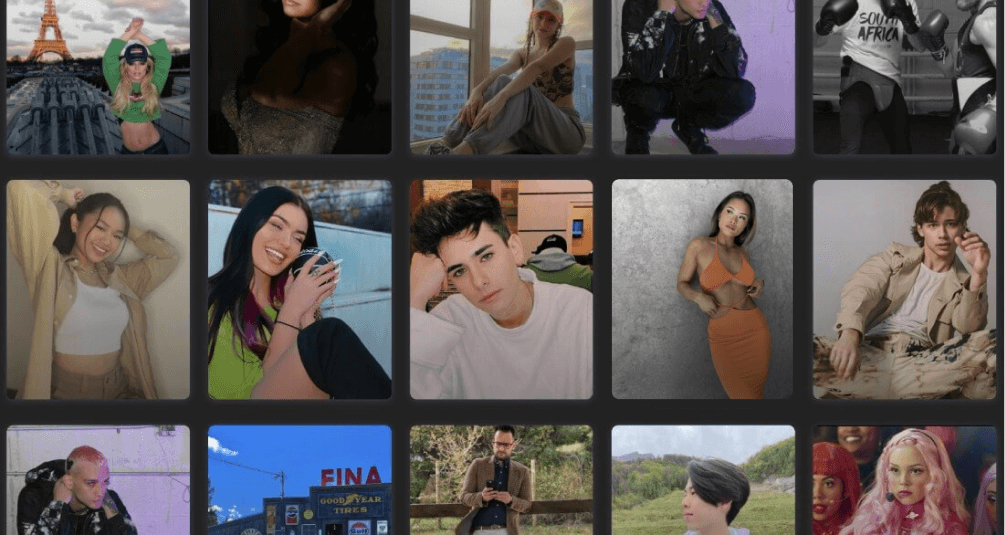 2. Video tours of your office
A video tour of your office can be a great way to show off your company culture and give potential customers or clients a behind-the-scenes look at what you do. You can also use it as an opportunity to show off any new facilities or equipment you have.
Points to keep in mind:
Keep it short and sweet – very long videos tend to be boring

Highlight any unique features of your office

Include staff members in the video so viewers can get to know them and it also helps in humanizing your brand.
3. Sending holiday greetings videos
One way to spread some holiday cheer is to send out holiday greeting videos to your customers, clients, or followers. It is a great way to show your appreciation for their business or support, and it's also a nice way to stay top of mind during the holiday season.
Points to keep in mind:
Be personal – record a message from you and your team instead of just sending a generic "Happy Holidays" message.

Get creative – have some fun with it and get into the holiday spirit.
4. Top 5 product features video
If you have a new product or feature that you want to promote, a top 5 list style video is a great way to do it. This type of video is easy to produce and can be very engaging if done well.
Points to keep in mind:
Keep it concise – people don't want to watch a long video about your product updates or features.

Highlight the most important or interesting points about each update/feature

Construct your content in such a way that conversations can be built around it

Use graphics and animation to make the video more engaging.
5. Expert Q&A videos
A great way to engage with your audience and promote your products or services is to share an expert Q&A video - an informative and helpful way to show your expertise in that field of business.
Points to keep in mind:
Choose an expert who is knowledgeable on the subject matter. For example, if you're selling cooking products, consider collaborating with a food influencer on your video. This will help get your video out to a new audience as well.

Optimize for search - people usually ask specific questions and there is no better way to answer them than through a video.
6. Interviewing a client/customer
A very effective way to show potential customers that your products or services are valuable and worth their investment is by interviewing a satisfied customer or client.
Points to keep in mind:
Keep it real – don't script the interview, let the conversation flow naturally

Choose a customer/client who is articulate and has positive things to say
7. Showcase your company culture
A great way to attract potential employees or customers is to show off your company culture in a video. This helps give people a glimpse into what it's like to work for or do business with your company.
Points to keep in mind:
Keep it positive – focus on the good things about your company culture

Highlight any unique or interesting aspects of your company that stands out from your competitors.
8. Trendy content making use of memes and imitations
If you want to make your social media videos truly memorable, consider incorporating some trendy content into your videos. This could include using memes or imitating popular trends.
However, it's important to be careful with this approach as you don't want to come across as desperate or out-of-touch. Use such videos sparingly and don't overdo it with the memes or trends.
9. How-to videos
How-to videos are a great way to engage with your audience and promote your products or services. These types of videos can be very helpful and informative, and they also allow you to show off your expertise.
Points to keep in mind:
Keep it short – people don't want to watch a long, drawn-out video.

Make sure to be consistent in all videos. For instance, the first part of a video can elaborate on the pain point, then explain how the feature helps solve the problem followed by a quick demo. Keeping the same format will make it convenient for the users.
If you're not comfortable with creating the content yourself, consider buying how-to videos from influencers.
10. Animated content
If you're looking for a way to make your social media videos stand out, animation is definitely the way to go. With animation, you can bring your brand's personality to life.
Points to keep in mind:
Create interactive content but make sure the video is relevant to your products or services.

Make sure the quality of the animation is high – bad quality might reflect poorly on your brand.

Skillful transitions and motions can have a significant impact on the viewers.
11. BTS videos
A great way to engage with your audience is by giving them a behind-the-scenes look at your company is to create a BTS video. This type of video can be very informative and interesting, and it also allows you to show off your company in a positive light. Make sure that you understand your target audience.
12. Discussing an important blog article
If you have a blog, recording an insightful summary of one of your articles is a great way to create social media content. Your ultimate goal from either your video or your blog is to give information to people which would help them convert into customers, so create videos that are more likely to be shared by your audience.
These were a few of the unique social media video marketing ideas that you can use to stand out from other companies in your niche. Keep in mind that it's important to be strategic when using videos as part of your social media marketing.
Don't forget to track your metrics so that you can see what's working and what's not. Have fun and be creative!
Get Digital Marketing Tips Directly to Your Inbox
Collabstr sends newsletters every 2 weeks with the newest trends, tips, and tricks in digital marketing.