TikTok UGC Guide For Brands In 2023: What is UGC on TikTok?
Published October 4, 2023 | Last Updated October 11, 2023
TikTok serves as the breeding ground for trends, viral challenges, and boundless creativity. With over 1 billion active monthly users, it has become a global powerhouse in the social media landscape.
If you're looking to leverage user-generated content (UGC), then TikTok is the perfect place. The platform has the capacity to create an impact similar to word-of-mouth marketing and open up a world of opportunities for brands and marketers alike.
In this article, we'll explore TikTok user-generated content, its benefits for your brand, and how you can use it to increase engagement and revenue.
What is UGC on TikTok?
UGC on TikTok refers to video clips featuring a brand that has been created by real people or customers and not by the brand.
You can see UGC in action when customers show off products they purchased from a brand through videos, photos, and testimonials on their social media pages. As TikTok's creative format is entirely video-based, participating in TikTok hashtag trends, sharing reviews, or even demonstrating how to utilize your products are some examples of UGC on TikTok.
Even better, popular TikTok features like duets and stitches, allow TikTok users to interact and reply creatively to each other's films, establishing a dynamic and engaging UGC environment.
Unboxing videos have become one of the most popular types of UGC on TikTok. For example, fashion and lifestyle influencer, @Lovekatiecole, is seen showcasing the process of unboxing a package from 'fabfitfun'. It's an engaging watch for her audience because the brand offers subscription boxes that include products ranging from fashion, beauty and lifestyle–Katie's niche! She shares her genuine reactions and impressions about the products in real-time so that viewers get a live look at what they can expect from the products they may be thinking of purchasing.
Here, brands have an opportunity to engage with new audiences and highlight their products' features in greater depth. Unboxing content leverages audience anticipation and excitement as people often get excited about watching someone open a box and explore what's inside. For brands, this is a fantastic way to get the word out about their products and gain valuable feedback from customer reactions.
Fortunately, platforms like Collabstr are here to help you discover and collaborate with influencers and content creators to create engaging TikTok UGC. Collabstr makes it easy to connect with creators who align with your brand, ensuring you receive the best content that resonates with your intended audience.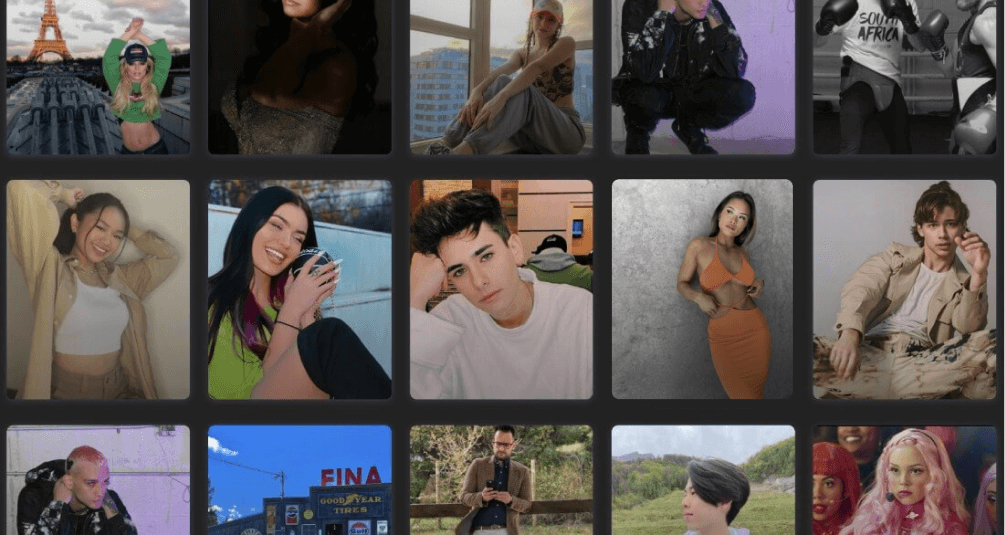 Benefits of TikTok UGC for Businesses
Expansion of Brand Awareness
Branded hashtag campaigns, contests, challenges, duets with trending viral content, and other successful TikTok activities show to be worthwhile investments. This is because TikTok allows you to reach a much larger audience that's not interested in traditional ads.
Notably, TikTok UGC user-generated content garners more trust from users than branded material, according to studies undertaken by digital marketing specialists. Testimonials and demos from other TikTok users and content creators are seen as more objective and unbiased than the precisely curated nature of branded content material, which is frequently created by marketing teams.
This indicates a promising possibility of establishing a positive brand perception and awareness through TikTok UGC. It encourages people to eagerly share good ideas about your brand with friends and followers.
Emotional Appeal
Unlike brand-created content, UGC on TikTok has the potential to establish emotional connections with your audience. Statistically, the encoding score of TikTok UGC videos outperforms traditional commercials by 10 times and Facebook ads by 4.7 times.
This may be attributed to TikTok UGC having the capacity to add a human element and a community-driven component to your overall marketing plan. It's like a friend wearing your store's newest clothing and recommending it to their friends because of its style and comfort. When compared to a poster or television campaign, this method is more persuasive—similar to close friends recommending a product.
Boost Sales
TikTok UGC has a potential viral effect, quickly spreading as consumers post compelling material that garners a substantial number of views and highlights your business with their connections. Any UGC content can go viral because it doesn't rely on a creator's follower count. Its algorithm promotes engaging and creative content, pushing it to a wider audience based on likes, shares, and comments rather than the creator's fame
This feature of TikTok creates a similar impact to word-of-mouth marketing, making it a lot easier to generate excitement, attract new customers, and drive sales.
Types of TikTok UGC
Giveaways
TikTok creators and marketers alike enjoy hosting giveaways for their followers because it boosts engagement. This gesture is intended to express gratitude for the support creators receive from their audiences.
Participation usually goes like this:
Click the like button

Tag your friends

Use the branded hashtag

Win fantastic rewards.
Essence Cosmetics made waves with its exciting giveaway and 11.11 sale. Lucky participants have the opportunity to win different makeup essentials and skincare products. With simple mechanics and several giveaways, thousands of people participated..
Challenges
The Creative Challenge is TikTok's most recent monetization attempt - an exclusive UGC initiative that compensates creators for creating commercials on the platform. It allows artists to create video advertising and compete in brand challenges, with incentives based on the performance of their videos.
Here's how it works:
Browse from a variety of brand challenges

Choose one

Read the brief (which outlines the rules, prerequisites, and, most importantly, the rewards pool)

Submit your video commercial for the challenge.
Creators can track the development of their submission, check its performance, and calculate their monthly revenue from the ad once it has been submitted and authorized.
The #LevelUp challenge on TikTok is a completely grassroots movement that began with people showing off their dance skills to Ciara's song "Level Up." However, as clever pet owners are inclined to do, they turned this challenge into something extraordinary.
When you look through the popular videos under this hashtag, you'll see users performing dance routines to music. You'll also come across people who have lined their hallways with rolls of toilet paper, daring their pets to leap over them. The array of toilet paper rolls ascends to greater levels with each beat.
Brands can leverage TikTok UGC and tailor challenges to suit their identity. This allows them to engage with a diverse user base and reach audiences of all kinds.
Pro tip: Choose a broad challenge title. This allows for multiple interpretations and fosters a sense of creative freedom.
Reviews
Established–and non-established–content creators provide real product reviews in this type of UGC. Review content on TikTok is effective in building trust among your target audience and guiding their purchasing decisions. It serves as social proof and reassures potential customers that they are making a wise choice.
Consider this TikTok influencer review, which features the Bissell Little Green in action. It demonstrates how the product was able to successfully clean an extremely dirty sofa, highlighting the product's effectiveness.
Hashtags
According to a Statista survey, TikTok has the most hashtag views for entertainment material, with roughly 535 million views. Hashtags are essential for categorizing content relevant to a given topic and making it easily discoverable for users to search. By clicking the TikTok search icon, users can immediately see hashtags trending for that day, demonstrating how valuable hashtags are for TikTok UGC.
The most effective hashtags are short, simple, and memorable, making them irresistibly appealing to TikTok users. These characteristics can also be used to increase interest in a new product or service that your company is promoting.
During the debut of the Galaxy A Smartphone, Samsung leveraged the power of TikTok hashtags. The business raised awareness of its new launch by teaming up with popular K-Pop group BLACKPINK and using the hashtag #danceAwesome.
The end result was spectacular, with 4 million user-generated content videos garnering a stunning 15 billion views. While your company may not be as well-known as Samsung or team up with global icons like BLACKPINK, TikTok's algorithm can provide sensational results regardless of your brand's prominence.
How to Use UGC on TikTok: Best Practices
Recognize your TikTok consumer
Use your existing market and audience study to gain a comprehensive grasp of your product or service's customers. This usually includes age groups, geographical areas, and languages. You might target people working in specific industries or belonging to specific demographics, such as parents or young professionals.
TikTok, however, recommends taking it a step further by shifting your attention from "who" your audience is to "what" piques their interest.
Hold a contest or introduce new challenges
Contests and challenges are an exciting way to cultivate UGC on TikTok while also engaging your community and reaching new audiences.They're also a low-cost way to boost your TikTok presence, increase brand recognition, and stimulate community growth.
When organizing a contest or launching a TikTok challenge, start by setting specific goals. Who is your intended audience? What is the ultimate goal? Is it greater revenue, increased brand visibility, or more followers? These elements contribute to the foundation of the challenge or contest regulations.
It's critical to keep a close eye on content quality and tone. Participants who share inappropriate content may jeopardize the integrity of your campaign. Furthermore, establish clear guidelines and specify the content type and submission mechanism. Surprisingly, Boksi statistics show that just 16% of brands provide detailed content standards, despite the fact that 53% of consumers want specific guidance. Ultimately, your instructions will provide a strategic advantage.
Doritos capitalized on this technique, in partnership with designer @vibin.wit.tay, by presenting the "Doritos Triangle Tryouts," a Super Bowl 2023 challenge. Participants were encouraged to practice their dance moves in preparation for a TikTok dance-off.
A stunning 14.6 billion views were recorded under the hashtag #DoritosTriangleTyrouts, showering Doritos with numerous UGC contributions from brand aficionados.
Make a branded hashtag
A branded hashtag is a hashtag that is unique to your brand or business. These hashtags cover a wide range of topics, from corporate names to goods, campaigns, and slogans.
Creating a branded TikTok hashtag is simple: Simply place the '#' sign before the desired word or phrase (without any punctuation), and you've got yourself a branded hashtag.
These hashtags act as vehicles for influencers and small businesses to develop brand identity, initiate dialogues, execute campaigns, and even facilitate product sales.
When the hashtag #CoastalGrandmother gained popularity, clothing brand Talbots took advantage of it. Despite having a small TikTok following, the business received over 2.1 million views thanks to a collaboration with lexnicoleta. The influencer demonstrated the brand's products fit for the #CoastalGrandmother fashion trend.
By quickly embracing the hashtag trend, the influencer ensured that Talbots' items appeared at the top of TikTok searches for #CoastalGrandmother. The impact on their business was dramatic when Nielsen discovered that a 1% rise in awareness linked to a 1% increase in sales.
Collabstr can help you achieve the same results. When you collaborate with influencers through Collabstr, they can seamlessly elevate your brand's presence on TikTok by creating engaging content and promoting your hashtags.
Make use of popular sounds and songs
On TikTok, trending sounds and tunes utilized in videos dramatically increase brand retention, outperforming other components such as visual style, color, slogans, and logos. This emphasizes the critical importance of choosing proper commercial sounds in developing brand awareness and cultivating an audience.
TikTok's trendy sounds can be easily discovered right within the app:
Use TikTok's Search Function

Examine the For You Page

Investigate TikTok's Sound Library

Make use of TikTok's Creative Center
Use UGC videos in your TikTok ads
Your user-generated material has far more potential than just your TikTok page. Recall the discussion about how UGC as TikTok ads had surpassed the influence of traditional advertising. In this light, try leveraging UGC videos and incorporating them into your marketing strategy.
To begin, make sure you secure consent from the original TikTok UGC creators. Then, combine several UGC videos that align with your brand to make an interesting TikTok ad. You can also repurpose other UGC videos into promotional and informative content that educates your audience and at the same time, convinces them to purchase your product.
You can also repurpose additional UGC videos into promotional and educational materials that both inform your audience and convince them to buy your product.
Encourage user testimonials
User testimonials emerge as a powerful tool for building trust and credibility among your target audience. Brands can effectively utilize user testimonials in their TikTok UGC by engaging with customers, launching review campaigns, collaborating with influencers, highlighting positive comments, organizing contests, and sharing user stories.
Rachel Savaunnah provides a perfect example of a quality user testimonial in her TikTok video. She frankly shares her positive dining experience and valuable insights about their menu. This helps establish credibility and authenticity for the restaurant, as the feedback comes directly from an influencer who has tried their services. As a result, potential customers may be encouraged to give it a shot too.
How To Find the Right TikTok UGC Creators
Use influencer search tools
Influencer search tools act as search engines with a variety of useful filters that help to streamline the process of finding potential influencers. You'll be able to identify fitting content creators based on specific criteria such as follower numbers, geographical region, niche, and relevant keywords.
Platforms like Collabstr make it easier to discover and hire influencers. Collabstr provides an easy-to-use platform for connecting with influencers and content creators who share your brand's values and audience. Collabstr has a featured selection of vetted influencers from diverse platforms and niches. You can have instant conversations with your selected influencers and maintain communication throughout the entire content creation process, ensuring a smooth collaboration experience.
Launch user-generated content campaigns
Traditionally, user-generated material comes from customers, but hashtag challenges or online contests have the potential to attract a large number of UGC creators.
Begin by defining your goals and objectives for your UGC campaign, such as increasing brand visibility, developing community, or increasing sales. Follow this by establishing unambiguous standards that properly define the type of content you want from your audience, including the specific way in which it should be posted. According to Businesswire statistics, only 16% of brands provide explicit content instructions, giving those who do a distinct advantage.
Chipotle's #LipFlipChallenge in 2018 was aimed to promote their Cinco de Mayo free delivery promotion for online orders. To create their videos, participants only needed a phone and a Chipotle burrito bowl.
In just six days, the Lid Flip Challenge campaign received 111,000 video entries, as well as incredible digital sales and app downloads. The hashtag #ChipotleLidFlip has 345.9 million TikTok views as of today.
Customers or brand enthusiasts who have previously participated in a UGC campaign such as the one described above are more willing to participate in future collaborations. As a result, recognizing and contacting top entries, such as those from the #LipFlipChallenge, might result in the creation of tailored UGC for your upcoming promotions.
Create a brand ambassador program
A brand ambassador program is a strategic campaign that entrusts your company's message to ambassadors who are aligned with established goals such as increasing sales, cultivating reputation, and increasing brand visibility.
These initiatives may include temporary collaborations, that last for a set length of time, or long-term partnerships that last permanently. A brand ambassador association, regardless of the term, should include a contractual agreement defining compensation for the ambassador's services and efforts.
Are you ready to boost your brand's TikTok presence to the next level? Collabstr can assist you in finding and hiring influencers and content creators to create engaging user-generated content. Our marketplace simplifies the process of connecting with creators, making it simple for you to efficiently implement your UGC initiatives. Visit Collabstr to discover the power of collaboration and authenticity.
Get Started With Your TikTok UGC Journey Today!
Harnessing the potential of TikTok UGC can be a game changer for your brand in the ever-changing world of social media marketing. You may design compelling UGC campaigns that resonate with your target audience by understanding TikTok's unique characteristics and following best practices.

Don't miss out on the opportunity to bring your TikTok marketing campaigns to a whole new level. Check out Collabstr today and start collaborating!
Get Digital Marketing Tips Directly to Your Inbox
Collabstr sends newsletters every 2 weeks with the newest trends, tips, and tricks in digital marketing.