Guide to UGC Creators: How to Work With UGC Creators
Published December 13, 2022 | Last Updated December 13, 2022
79% of people say that UGC highly impacts their purchasing decisions. So it's no wonder UGC marketing has become a staple for many brands, such as Walmart and Nike. Working with UGC creators allows customers to see real people discuss products in everyday settings. It feels more authentic than your usual ads do, so people are likely to pay attention and trust what UGC creators say about your product.
It's important to find multiple UGC creators to work with to show some diversity. Finding them can be more difficult than finding influencers, as not all UGC creators are internet personalities. Fortunately, there are marketplaces for UGC creators online, such as Collabstr. It's home to many creator profiles, which include details about their niche and expertise.
What is a UGC creator?
A User-Generated Content (UGC) creator is someone who creates content for brands. This can come in the form of product reviews, daily routines, blog posts, social media posts, videos, and more.
UGC creators are usually paid for the rights to their content, and they are not required to post the content to their social following. That's one of the biggest differences between influencers and UGC creators.
Some UGC creators have an existing following, but most of them aren't famous in any capacity. UGC creators aren't required to have a following because their main purpose is to provide relatable and down-to-earth content about a brand or its products.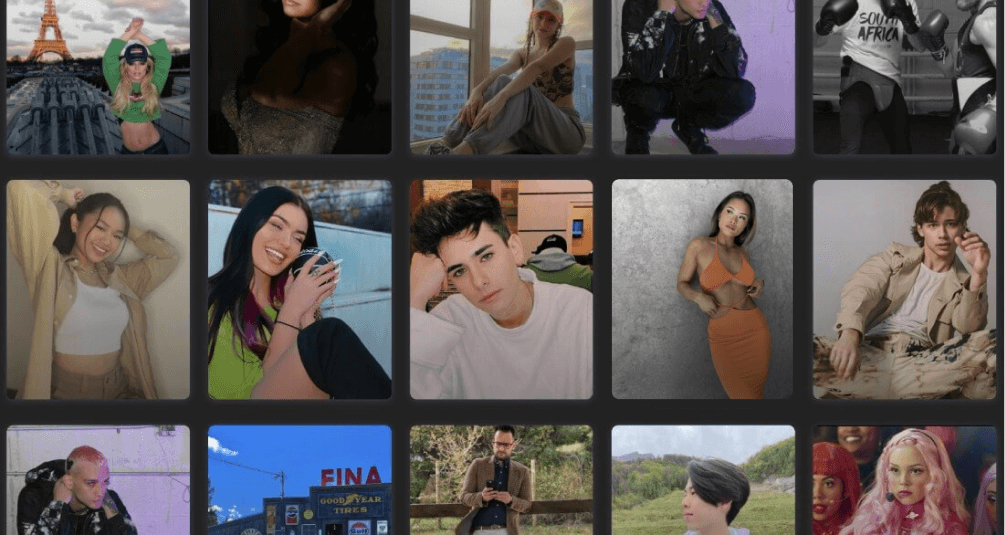 Should I Work With UGC Creators?
Most brands now work with UGC creators to diversify their channel content, especially on visual platforms like TikTok and Instagram. The 2023 influencer marketing report by Collabstr reported that the number of creators offering UGC services has doubled year over year. So let's take a look at some of the reasons why working with UGC content creators might be a good idea for your brand.
Honesty and Trust
UGC creators can talk about your product from first-hand experience, which feels more authentic and trustworthy. Seeing them use the products in their day-to-day lives is more authentic than seeing a glamorous branded ad involving a model or actor. UGC is personal and realistic. It's easier to relate to for viewers, especially if the creator is just your average person.
Friendliness
UGC creators can make content that's more friendly and informal. UGC ads can give you a sense of comfort as if you're watching a friend or acquaintance instead of a brand. There's no professional barrier separating them from viewers. Their content should be similar to your average social media post, so it feels like a form of entertainment rather than an ad and it fits naturally within a user's feed.
Reach & Accessibility
Using UGC video ads for your brand allows you to reach many people since everyone is online these days. Using popular platforms like TikTok and YouTube gives you access to an existing user base. TikTok has become one of the most popular platforms across social media, with over 14 million daily users on both iOS and Android. Reaching this large of an audience makes your content easily accessible to the mass.
Efficiency
Working with UGC creators lets you increase your output since you won't be the ones making the content. More content means higher engagement with your followers, so it's good to be efficient when posting content.
How to Find UGC Creators
1. Identify the Type of UGC Creator You Want
Identify what kind of UGC creator you want based on your target audience, brand, and product. Before you can start searching for UGC creators, you need to know what you're looking for.
For example, if you're selling picture books aimed at children, you should look for UGC creators with children.
Or, if you're selling sportswear, try finding UGC creators who are athletes or enjoy sports.
2. Find a Marketing Platform For UGC Creators
Once you've decided what kind of UGC creators you want, it's time to find a UGC marketing platform for content creators. These platforms allow UGC creators to make profiles detailing their experience and expertise. You can look for UGC creators in your niche using these platforms.
Search for UGC marketing platforms and choose one that looks easy to navigate. It's also beneficial to find a platform that supports communication and payment, such as Collabstr. It's easier to work with UGC creators if you mainly stick to one platform for everything.
3. Search For UGC Creators in Your Niche
Once you've found a marketing platform for UGC creators, start searching for the creators you want. Make sure to keep in mind your niche requirements and budget.
Go on Collabstr and search for creators using keywords and filters. Click on 'platform' and select 'user generated content'.
Then, click on 'category' and choose a niche. If your niche isn't among the suggestions, type it in the search bar. You should get new recommendations based on your search. When you're done, click the search icon to get your results.
You should be shown a collection of UGC creator profiles. Browse through them and single out a few creators that fit your requirements and budget. You can favorite profiles by clicking the heart icon on the top right.
How to Hire UGC Creators
Now that we've gone over how to find UGC creators, it's time to actually hire them. The hiring process can be quite tricky as it involves a lot of pitching and negotiation. It's essential to get your facts straight before deciding to hire a creator. You always want to come across as confident and trustworthy.
1. Identify Your Marketing Budget & Goals
First of all, you must identify your campaign budget, marketing goals, and KPI's. You need this information to make your pitch. For example, your goals could be to create weekly product reviews or increase brand awareness. As for your budget, it's best to have a specific number or range. It's best to be clear about any limitations upfront, as it makes negotiations much easier.
Step 2: Initiate Conversation With a UGC Creator
Once you've decided on your budget and goals, reach out to a UGC creator through DMs or email. If possible, it's better to DM them on social media or the marketing platform you found them on. Some platforms like Collabstr support direct messaging. Messaging is more personal and friendly.
When initiating a conversation, you should start with your pitch. Make it sound friendly and include details about the type of content you want from them. Be direct about what their workload would be and what price you're willing to offer. Make sure to also leave room for negotiations. This is a conversation, not a demand.
It helps to come prepared with a detailed campaign brief that tells the creator the overall vision for the campaign upfront so that there are no surprises down the road.
Step 3: Decide on Terms & Form a Contract
Finally, it's time to decide on specific terms and write up a contract.
These terms include:
The amount of content they must produce

The type of content they must produce

Deadlines they must meet

The amount of pay they'll receive

Their payment schedule
Once you're both happy with the terms, form a contract. If you're looking to create a contract quickly, take a look through our free influencer contract templates.
How to Pay UGC Creators
You can pay UGC creators by using PayPal, Cashapp, and other popular payment methods. Typical, UGC creators will have a preferred payment method that they will ask you to use. If you're using an influencer marketing tool like Collabstr, you can pay them directly through the platform.
Overall, the payment process can differ slightly depending on who you work with and what platform you're communicating on. Some platforms have their own payment methods, while others don't. UGC creators also have their own preferences regarding getting paid, so it's always best to confer with them to discuss payment options.
1. Decide on a Payment Amount
The payment amount for UGC creators depends on multiple factors, such as the amount of content they are producing, the usage rights for the content, and the quality of the content. Typically, there is some negotiation involved before you reach a number that both you and the creator are happy with.
To alleviate some of the work, you can leverage a UGC price calculator to get a baseline price of what others are paying UGC creators. You can also leverage UGC platforms to attract creators that fall within your budget so you don't waste too much time with back-and-forth conversations.
2. Decide on the Payment Method
Decide on a payment method that's convenient for you both. Consider tax, payment fees, conversion rates, speed, and security. Popular methods include PayPal and direct bank transfers. You can also pay through UGC marketing platforms like Collabstr.
3. Decide on the Payment Schedule
Decide when you should pay the UGC creator and how they'll be notified about payment. For example, you could set specific dates for payment or pay once you receive a piece of content. If you're using a UGC and influencer marketing platform, payment can also be held until you're completely happy with the content delivered. This ensures you only receive high-quality content, which is much more likely to bring in new customers.
UGC Brief
When working with UGC creators, you should always provide a content campaign brief detailing their responsibilities and content ideas.
Set Marketing Goals
Outline your primary marketing goals and how you'll measure performance. For example, you want to increase your average view count by 20%, and you'll use analytics to measure this. You can have several marketing goals outlined to give the UGC creator a clear outlook on what kind of impact you want to achieve with your content.
Brainstorm Content Ideas & Choose the Best Ones
Come up with some content ideas you want the UGC creator to produce. Leverage public tools like the TikTok Creative Center to gather content inspiration and insights into current trends. Judge them based on a set of criteria to decide which ones are best for your brand. Keep in mind the social media platforms you want to post on. Different platforms support different kinds of content.
Outline Content Ideas
Take the best content ideas and expand on them.
Discuss these aspects:
Their length

Word count

Format

Tone

Editing requirements

Voiceover

Product USPs

Main takeaways

Social media platform
You can even give examples of existing content to illustrate what kind of UGC you want.
Create a Work Schedule
Finally, create a work schedule for the UGC creator.
This should include the following:
Work hours

Deadlines

Upload times (if required)

When to check in for feedback

How to respond to feedback
Types of Content You Can Get From UGC Creators
There are different types of content you can receive from UGC creators.
Videos
The most popular type of UGC comes in the form of videos. These can include product reviews and daily routines. The length and type of video content will differ depending on the platform you're on. For instance, if you want to boost views on TikTok, you'll want to post shorter videos (usually less than a minute). YouTube, on the other hand, tends to prefer longer form content, with its algorithm tending to favor videos longer than 15 minutes.
Social Media Posts
Brands will sometimes repost UGC they find through hashtags or mentions. It's a more organic way of showing UGC on your channel and allows you to interact with customers. For example, Nivea reposted a tweet of someone talking about their product.
Blog Content
UGC creators can write blog posts reviewing your product or guides on using it. For example, Starbucks has its own blog dedicated to customer stories and honoring employees.
Testimonials
Brands sometimes look for positive reviews or video testimonials to put on their website. These reviews are usually 5-star and mention USPs. Since 84% of consumers trust peer reviews over all other forms of advertising, these are crucial for increasing customer conversions.
UGC Creator Prices
UGC Creator prices can vary depending on the type of content you're looking for. They usually set their own prices so it's hard to give an average price. Most UGC creators charge around $200 to $500 per project. You have to take into account their level of experience, usage rights, and type of content.
Brands will value UGC creators based on their content quality and past campaign successes. If UGC creators have their own following, they will charge higher prices because of their level of reach and fame. Past campaign success also shows a high level of competency.
Overall, prices differ depending on the type of content. For example, short TikTok videos will be cheaper than longer YouTube videos. You can use Collabstr's UGC price calculator to get an idea of how creators set their own prices.
You can look at prices for certain niches, platforms, and follower counts.
Conclusion
Working with UGC creators allows you to form a sense of trust and honesty with your followers. UGC is a more personal and friendly way of marketing your product. You can produce various types of content, such as product reviews, testimonials, and blog posts.
It's best to work with multiple UGC creators, as viewers are more likely to trust an opinion if it comes from more than one source. You can find UGC creators in your niche on online marketing platforms, such as Collabstr.
Join Collabstr today to start searching for the right UGC creators. You can quickly view creators in your niche by choosing a category to search through. We aim to make the hiring process as seamless as possible by providing our very own chat and payment system. Manage everything in one place and keep your money secure.
Get Digital Marketing Tips Directly to Your Inbox
Collabstr sends newsletters every 2 weeks with the newest trends, tips, and tricks in digital marketing.