While TikTok is popular with Gen-Z, Instagram is still a go-to resource for millions of brands worldwide to promote products and services. Recent stats show that the marketing budget of Instagram is $390M and is projected to skyrocket. There is no doubt that Instagram is one of the fastest-growing platforms with B2B users worldwide (via Statista).
Do Instagram ads work? The stats speak for themselves, and that's why Instagram is a great platform for placing ads and connecting with influencers. It offers your business multiple content formats to leverage its powerful Ads Manager to get your ad in front of the right people.
Still, wondering if it's worth it to advertise on Instagram? You have come to the right place. Collabstr will provide you with everything you need to make the most of Instagram ads and gain a positive ROI. Let's get started!
What Are Instagram Ads?
Instagram ads are paid posts or stories that promote your brand in users' feeds. The advertisements have a "Sponsored" label to show that it's promoted content, and they appear like organic Instagram posts.
Because Instagram is a visual platform, ads can be images, collections (product galleries), carousels (several images), or videos. They also contain features, such as a CTA, links, product tags, and buttons.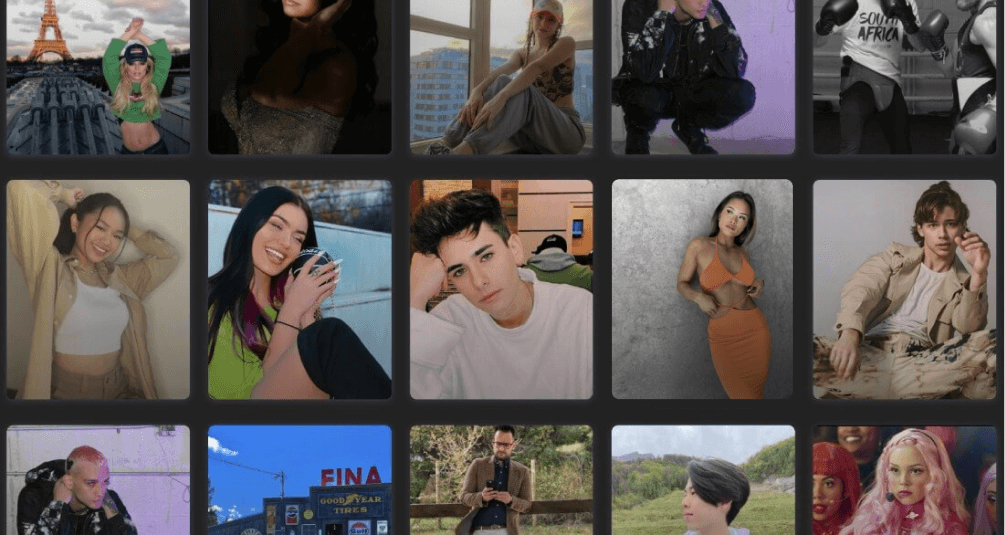 Different Types of Instagram Ads
You have a wide range of Instagram ads you can use for lead generation, improving brand awareness, and driving traffic to your website. With so many options, the key is to select an ad type that works for you. Instagram is also listed as one of the best platforms for influencer marketing, so if you don't feel capable of making an attractive or engaging ad, you can always hire an Instagram influencer to take over the creative aspect for you.
Photo/Image Ads

Photo or image ads are Instagram's veterans when it comes to advertisements. They're an improvement over the initial basic photo-sharing features and come in a single photo.
Besides being cost-effective, they can deliver your messages visually and concisely. The ad emphasizes the photo itself, so you need a high-quality image to grab your audience's attention. Several tools are available to empower you to design an appealing, professional photo, like Wepik's free Instagram templates.
Use the tool to create mobile and desktop-friendly photos.
Instagram Video Ads

In the age of short video apps like TikTok, video marketing is one of the most effective ways to promote products and services online. Instagram video ads allow you to buy paid exposure for your videos.
Video ads are a powerful way to engage your audience and grab their attention since Instagram has an autoplay feature that automatically starts playing the video as soon as it enters the view of the user. As a result, you can hook them in and convey complex messages via video, something that would be much tougher to achieve with traditional image ads.
Stories ads

These are one of the most popular and effective Instagram ads because of their pop-ups in the side-slide feature and normal display. You have the potential to reach over 500 million people who view Instagram stories daily, which means businesses shouldn't be ignoring them!
Stories ads can show videos or images between users' Instagram stories. You can use text, GIFs, audio, or a blend of these content formats to have the maximum effect.
Collection Ads

If you run an online store, collection ads can work for you. They can use a video header or cover image with several product images lined up below, simplifying the act of browsing and buying for your potential customers. Plus, if users like what they see, they can purchase directly through the ad. This is particularly useful, as you can track the impact of the ad easily, by measuring the number of users who purchased from Instagram.
Instagram Carousel Ads

Carousel ads allow you to use up to ten video cards or ten images to boost your sales or conversions. You can include links and showcase the aspects of a single product or service sequentially. It's also possible to use one ad to show a few products, which is great if you're showcasing a new fashion collection, or even a series of books.
Instagram Ads in Explore

Ads in Explore appear on the Explore page of the Instagram mobile apps as sponsored ads. Users can find these ads based on their interests. This can be an excellent avenue for businesses to advertise their brands, as they'll be able to connect with users who don't already follow them, increasing their audience reach.
Examples of Instagram Ads
To help you ace your advertising, we've compiled Instagram ad examples from several brands. Let's dive in.
MUD/WTR
MUD/WTR.com is a supplier of caffeine-free beverages and uses Instagram ads to promote its product. The one above is a Story ad that includes text captioning at the bottom and appears as organic content on the user's feed.
In addition, the ad contains a series of Stories in a narrative format to catch users' attention. MUD/WTR also uses regular video and photo ads to reach a wider audience by increasing their frequency.
ARKK Copenhagen
ARKK Copenhagen took advantage of carousel ads that included video to demonstrate their footwear in action. It also added slides showing a wide range of shoe styles to create an impactful Instagram ad. The beauty of this ad is that it displays the experience side of the product and combines a video and multiple images to create a great impression in the customers' minds.
Netflix
Netflix used an Instagram-sponsored ad to promote its show Bridgerton to its subscribers. The ad contains a sneak peek of stunning scenes from the show to build curiosity and suspense in an effort to encourage viewers to watch the series.
Why Instagram Ads Are Important - Are Instagram Ads Worth It?
Do Instagram ads work? That's a great question. Current statistics indicate the platform is growing by leaps and bounds, with over 200 million active business accounts.
As a result, Instagram ads have great potential to accelerate your business growth. Here are more compelling reasons you should harness the power of the platform.
Brand Awareness
Want to showcase your brand and raise awareness on its unique features? Instagram can take your business to dizzying heights. Many brands have attracted followers on Instagram. So it's possible to carve out your own niche via advertising on the platform.
Audience-specific
Ensuring your ads reach the intended audience is no mean achievement. Thanks to Instagram ads, you can hit the nail on the head by targeting a specific audience to ensure you get a good ROI on your advertising.
Instagram is a great social media site if you want to promote your products since you can zero in on particular demographics. It means the platform makes reaching out to potential customers with your solution a breeze.
For instance, let's say you want to concentrate your Instagram ads on small-mid-sized businesses that need fast loans. You can select the " Business Loans" interest and then leave the rest to Instagram to display your ad only to users with that interest selected on their profiles.
You can also use other criteria, like purchase behavior, age, location, gender, etc., to improve your targeting.
Cost-effective
Compared to traditional advertising methods, Instagram is a fairly cost-effective alternative to promoting your products. In addition, you can do the advertising yourself if you're efficient and have basic tech skills, like creating and editing videos, photos, carousels, etc.
According to a study, you can expect to spend $8.83 CPM (cost per one thousand impressions), and $1.28 CPC (cost per click).
How to Create Instagram Ads
This is where the rubber hits the road, ensuring you leverage Instagram advertising to gain a competitive edge. So let's kick off with a straightforward strategy to drive your business growth 10x. After this, we shall dive into 6 super easy steps to make the most of Instagram ads Manager.
On your marks. Go!
Use Instagram Boost
You must be familiar with Facebook's Boost Post feature, where you can rev up your existing content to improve engagement and reach. Similarly, you can take advantage of Instagram's "Boost Post" feature to promote your current posts. It's simple and one of the most effective ways to jump-start your content in terms of engagement.
You can promote your ad within the app to display it to new audiences that aren't even following your account yet.
But you need a business or creator account on Instagram to activate this feature, and a Facebook Business Page linked to your Instagram account. Use these instructions in Facebook Business Manager to connect your two accounts. Once you're done, you can go ahead and click "Boost Post" on the post you want to convert into an Instagram ad.
Using Ads Manager
Almost 80% of marketers used Instagram in 2023 for their digital marketing campaigns, showing it's a great choice for brands. To advertise on Instagram, you must have a Facebook page, even if you have an Instagram account. Follow the steps below to get started with Instagram advertising.
Step 1: Select an editor and create your campaign
You have three ways of creating Instagram ads:
Decide which tool is appropriate for your marketing campaign. The Power Editor is perfect if you want to manage many campaigns and gain control of your advertising. On the other hand, the Facebook Ads API is ideal if you need to collect in-depth reports on your ad performance.
Most marketers use Ads Manager to promote their products or services. It's super easy to use this feature.
So log in to your Ads Manager and click "Create an Ad."
Step 2: Know Your Objective
This is the most crucial part of your Instagram ad campaign because if you don't clearly define your objectives, you can misfire. Knowing what you want to achieve with your advertising ensures you get a good ROI. Here are some Instagram advertising goals you may consider:
Generating traffic

Increasing sales

Doubling followers and engagement rates

Enhancing brand awareness
Because your objectives are specific, measurable, attainable, realistic, and time-framed (SMART), you can track the right data. You can know what's working, and what isn't and then change your strategy accordingly.
Step 3: Configure Your Target Audience
Next, define your audience so that you can target the right people who have the pain points or needs you want to resolve with your solution. This is where Instagram ads outshine and surpass other platforms in ensuring your advertisement appears in front of your ideal audience.
Your target group can be broad or specific. For example, you can classify your audience in terms of age, location, gender, interests, behavior, connections, etc.
Step 4: Write your ad copy
After specifying your target group, it's time for the killer message to persuade your potential customers to like your brand or make a purchase from you. Instagram lets you use a maximum of 2,200 characters to drive your point home.
However, it's advisable not to use all the characters since a concise message is best. Typically, most marketers on Instagram don't exhaust all the characters. Remember KISS (keep it short and sweet) as you craft your copy
Step 5: Select your placement
The Instagram Ads Manager offers you multiple ways to place your ad, depending on the type of ad you want to manage and its design. You can place your ad in the following locations:
Facebook feeds (desktop and mobile)

Facebook right-hand column

Instagram (stories and feed)

Audience network

Instant Articles

In-stream video
Step 6: Set your budget and schedule
Now you're ready to launch your campaign. Set your budget and schedule. Your budget shows how much you're willing to spend on ads over a specific period. It enables you to control your total spending for a particular campaign or ad set.
Several budgets are available to let you plan your campaign on Instagram:
Campaign budgets: Facebook automatically distributes your ad spend across your advertising campaign. But you lack the control to decide where those resources are allocated.

Ad set budgets: You can determine how much each ad set should receive in terms of costs. As a result, you have total control over your spending.
Step 7: Choose your ad format
Select between video, carousel, photo, and slideshow format if you opt to advertise on Instagram's newsfeed. But if you want to advertise on Instagram Stories, you can either use a video or a single image.
Instagram Advertising Best Practices
To make sure your advertising on Instagram bears positive results, you must follow advertising best practices. Here are a few examples:
Choose a post that represents your business
Boosted posts target people who aren't familiar with your brand or products. These individuals will be learning about your company for the first time. So selecting posts that truly represent your brand is vital and can send a clear message to your potential customers.
You don't want people to get the wrong impression about your business and have a bad experience with it.
Use text wisely
Earlier, you learned that Instagram's ad guide allows you to use a maximum of 2,200 characters to write your ad copy, including captions. Your ad also displays only two rows of text, and Instagram cuts off anything above that. As a result, stick to the requirements to ensure your audience reads the entire message.
Get creative
You have probably heard of this statement: "Insanity is doing the same thing over and over and expecting different results." You should harness your creative prowess to craft unconventional Instagram ads to stand out from the crowd.
Disruptive advertising is the name of the game. So think of the earlier examples to fire up your imagination.
Test and measure your results
The beauty of social media ads is that you can fine-tune your campaign by tweaking your ads promptly and effortlessly. Instagram can also provide you with essential analytics data to monitor your efforts.
Test a wide range of ad features to get the best possible results. For example, for photo ads, you may test various photos, captions, and targeting options. If you use Instagram video ads, you might try out different sounds, music, video backdrops, captions, or on-screen copy.
The idea is to alter one aspect at a time to help you know the specific ad features that give you the best outcomes. Instead of A/B testing, opt for multivariate tests, which involve testing a hypothesis with multiple variations.
Are Instagram Ads Worth It?
Yes, it's a worthwhile investment to promote your brand through several Instagram ads, like photo/image ads, carousel ads, sponsored ads, and more. Instagram is one of the fastest-growing platforms for marketers to expand their growth via the Ads Manager. Compared with other social media sites, Instagram is a cost-effective way to build a following, improve brand awareness, and triple sales.
And if you want to scale up your business faster, you can collaborate with influencers on Instagram. A platform like Collabstr can come in handy. You can effortlessly find and hire vetted influencers or content creators in minutes. With sponsored posts, you can triple your audience's reach. Getting started with Collabstr is a piece of cake. Sign up for free today!
Get Digital Marketing Tips Directly to Your Inbox
Collabstr sends newsletters every 2 weeks with the newest trends, tips, and tricks in digital marketing.