14 Best UGC Platforms in 2023
Published November 28, 2022 | Last Updated February 3, 2023
Did you know that 87% of brands use User-Generated Content (UGC) platforms like Collabstr as sources for content?
This statistic isn't at all surprising. Influencers and content creators on UGC platforms provide authentic content for other people. Because their content is considered more "organic" than businesses' marketing campaigns or ads, consumers naturally trust them more (60% of customers, specifically.)
At Collabstr, we believe that UGC videos and images from trusted creators and influencers are the best way to build brand credibility and engage your customer community.
So, if you want your brand to stand out from others on the market and you're looking to improve your brand and product recognition, consider integrating the following UGC platforms into your marketing strategy.
What Are UGC Platforms?
UGC is short for User-Generated Content. It's a blanket term for every kind of marketing content not created by your company.
UGC content may include:
Review articles

Unboxing videos

Product photos
UGC is also referred to as Consumer-Generated Marketing in many cases.
Since UGC is created independently by shoppers and fans of the products, it will typically feel far less intrusive and salesy than branded content. That's one of the many reasons why 79% of customers say that UGC "highly impacts" their purchasing decisions.
User Generated Content platforms can help you find and sort all of the UGC materials created by users about your product and your brand. This will allow you to rapidly use them to push your brand and product recognition even further.
As you'll later learn, some UGC platforms even allow you to commission tailored UGC materials straight from UGC creators!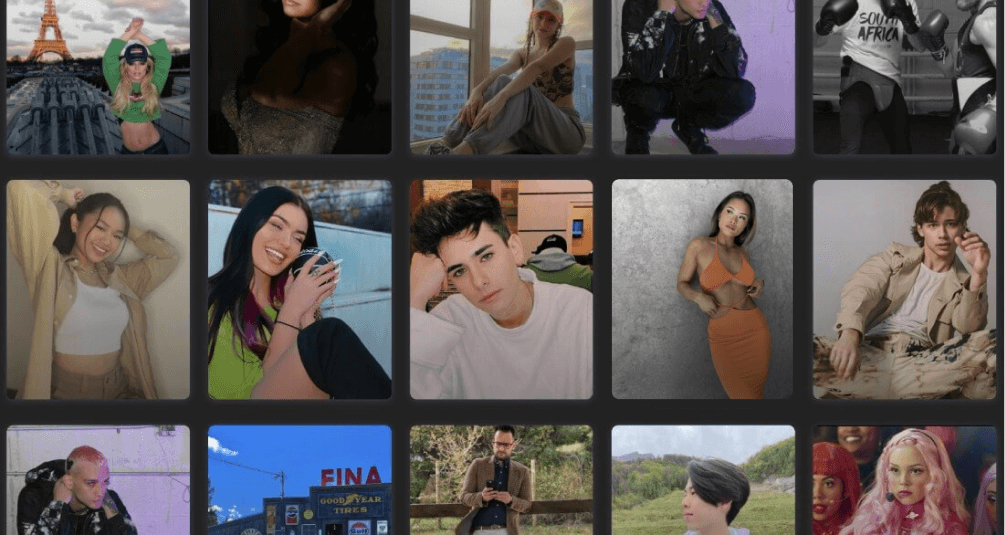 Why UGC Platforms Are Important
The greatest advantage of using UGC platforms is the speed. There may be thousands of different UGC floating out there in the form of blog posts, social media posts, videos, and photos. Manually finding them all is difficult, if not impossible. These platforms — armed with smart algorithms — can help you find the best relevant UGC in only a few minutes.
Many UGC platforms also function as a communication link between you and content creators. They allow you to communicate with the content creators and encourage them. With a good communication strategy, you can also persuade them to create the kind of content that suits the tone and style of your branding or product.
And last but not least, UGC platforms give you access to UGC marketing content which, as we explained earlier, is a lot more effective than your average branded marketing stuff!
The Best UGC Platforms in 2023
1. Collabstr
Key Takeaway
Collabstr is a service that allows you to hire vetted influencers and content creators to create high-quality UGC for your brand. Collabstr allows you to securely commission sponsored posts on social media, testimonial videos, ads, product photos and videos, and more. You're able to chat with UGC creators directly so that you can convey your campaign details clearly.
This service will be especially useful for Direct-to-Consumers (D2C) brands and digital marketing agencies seeking to obtain tailored UGC materials quickly and without any upfront costs or contracts associated with using the platform.
Relevant Features
Hire influencers and content creators from a variety of popular social media platforms (Instagram, TikTok, YouTube, etc.).

Use filters for niche, location, gender, and more to narrow down the best possible content creator for your campaign.

Direct chat with the content creators and influencers during a collaboration.

Secure payments ensure that you don't pay content creators until you receive your content.

No up-front cost to using the platform.
Pricing
Collabstr has a free tier, which comes with the features you need to start working with influencers immediately. Collabstr also offers paid plans where you have the ability to post campaigns and have influencers apply to work with you.
Paid plans range from $299/month for the Pro plan, $399/month for the Premium plan, and $999/month for the Scale plan. In each tier, you'll be afforded more features and benefits.
Pros
Free to use. No contracts or mandatory subscriptions.

Secure payments. Your money is escrowed until you receive your content.

Advanced filters for location, niche, gender, and platform.

Instant chat capabilities with influencers and content creators.
Cons
Amazon is missing from the platform list, so if you're looking specifically for Amazon influencers this will be a bit more difficult.
2. Reevoo
Key Takeaway
If you want to foster a community around your brand or product, Reevoo does a decent job. It brings customers together through Q&A forms, tips, opinions, and recommendation sections, allowing conversations between consumers to play out naturally. These conversations will eventually turn into authentic reviews, which you can use to your advantage as part of your UGC marketing program.
Reevoo also allows you to commission real content creators to make UGC and improve your engagement with consumers.
Relevant Features
Drive engagement by generating authentic reviews and comments about your brand and product.
Encourage conversations between consumers and help with fostering a community.
Allowing you to make UGC on demand from content creators and influencers.
Pricing
The company doesn't have a public pricing model. If you want to enlist their service, you'll either need to fill out a form on their website or call their number. They'll quote you a figure based on the state of your company.
Pros
Unique "conversation boosting" feature

Boosting the rank and authenticity of the brand and product by generating reviews and ratings

Allows for on-demand UGC content creation
Cons
Doesn't have a public demo of their software

No public pricing structure and possibly require contracts/long-term commitment.

The influencer and content creator base size is unknown
3. TINT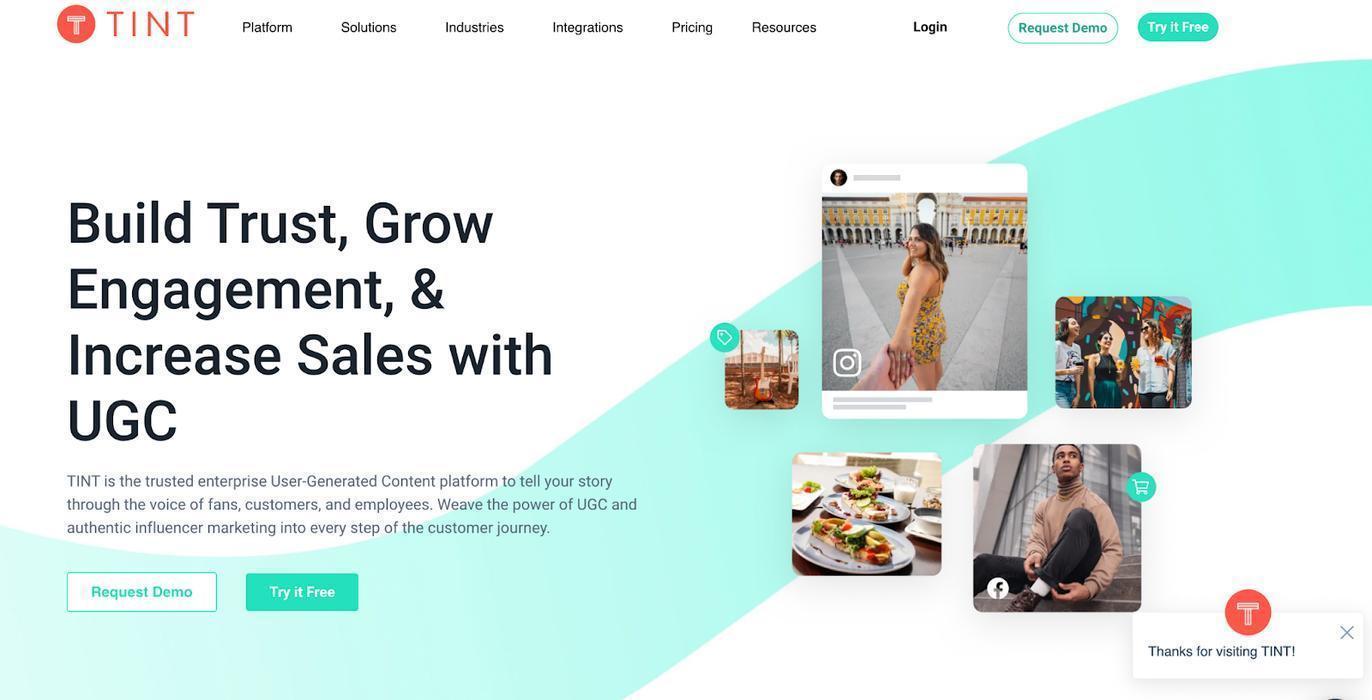 Key Takeaway
TINT considers itself an enterprise-level brand, so if your brand is a large one that requires a service with good scalability, TINT could be a good choice. What it does is fairly simple: aggregating all of the relevant UGC from various social media channels onto your screen.
TINT does not help with actually commissioning UGC content from content creators. Instead, you can think of TINT as a tool to find UGC that already exists for your brand.
Relevant Features
Curate and aggregate all relevant UGC content across many different social networks.
Allows you to edit the UGC content that you have access to.
Data analytic tools make it easier to optimize content before publication.
Have a feature to help you contact and obtain usage permission from image owners and creators.
Pricing
TINT doesn't have a free plan. If you want to use their service, you need to pay a minimum of $99/month to gain access to the software. The amount of features available for this plan is very limited (only 1 user can use the account at a time and you're limited to 2 social connections, 500 posts/month, and 100 rights requests).
As you progressively get to higher tiers, more benefits and features are offered. Notably, TINT offers a "Custom Enterprise" plan, which is directed toward large companies and enterprises.
Pros
Feature-rich

Supported by machine-learning tech

Has editing tools to help you modify all UGC content you have the rights to access and use

Includes a data analytic tool to help with optimizing UGC content
Cons
No free plan. Plans can get expensive quickly.

Not able to commission UGC directly on the platform.
4. YotPo
Key Takeaway
YotPo is a UGC platform that allows brands to consolidate reviews, photos, and videos from platforms across the web to display them on a website. You are able to organize this UGC into different product pages and collections as well.
YotPo is particularly ideal for ecommerce brands, as this seems to be their target audience. They even have a Shopify plugin that makes things easier if you're a Shopify user.
While YotPo does not have a dedicated content creator network for UGC creation, the platform gives you the ability to run loyalty and rewards programs for your customer base. By doing this, you can encourage your customers to make user-generated content for your brand.
Relevant Features
Consolidate reviews about your brand from other websites and display them on your website.

Consolidate UGC from platforms like Instagram and Facebook and display it on your website.

Create a loyalty or rewards program to incentivize customers to make UGC for your brand.
Pricing
YotPo's pricing is a little complicated, as each product is priced differently. For example, if you would like to use YotPo for reviews, you would pay a different price than someone who is using YotPo for visual UGC on Instagram or Facebook.
One good thing about YotPo pricing is that it's relatively transparent until you get to the premium and enterprise plans, where it looks like you would have to request a demo to receive a custom price.
Pros
Lots of features, such as visual UGC support, reviews, and more.

Shopify app makes it easy to integrate with your website.
Cons
Complicated pricing that can increase quickly as you scale

Not as ideal for non-ecommerce brands.
5. Olapic
Key Takeaway
Olapic is a UGC platform that helps turn content into commerce. The platform allows brands to activate visual content for use on their website, emails, social media, and more.
The platform is mainly geared towards enterprise brands, and it covers four main functions when it comes to working with customer UGC. Olapic will collect UGC that has already been created for your brand, the platform will then curate the content by removing poorly-created or spammy content before allowing you to activate the content by posting it on your website, or in your marketing emails. The final functionality offered by Olapic is the ability to analyze the content and see how it is performing.
Relevant Features
Collect UGC content across various channels and platforms.

Content curation will remove spammy or poor content.

Analytics to analyze how content is performing.
Pricing
Olapic's platform seems to be geared more toward larger enterprise companies rather than everyone. Because of this, the pricing for Olapic is not public, and you would have to request a demo to get an idea.
Since the platform is geared towards enterprise clients, it's safe to say that pricing will be considerably more expensive than alternative platforms in this list.
Pros
Full stack solution for collecting and deploying UGC.

Analytics and tracking to see how UGC is performing.
Cons
Expensive

Specifically geared towards enterprise clients
6. Pixlee TurnTo
Key Takeaway
Pixlee TurnTo is the result of two UGC platforms, Pixlee and TurnTo, that merged into a single platform.
Like many other UGC platforms in this list, Pixlee TurnTo helps brands collect and utilize visual assets and reviews that are already posted online by customers. On top of this, the platform also provides the functionality to start an influencer program so that you can curate custom content with the help of influencers and content creators.
Relevant Features
Collect UGC content across various channels and platforms.

Create and manage influencer programs for UGC.
Pricing
Pixlee TurnTo's pricing is not displayed on their website. Instead, the company encourages you to take a demo if you are interested in learning more about their services or pricing.
That being said, if we look at the companies shown on their website, the software seems to be targeted towards medium and large companies, and it's likely that pricing is done on a contract basis.
Pros
Able to collect UGC from all major social media platforms.

Create and manage influencer programs for custom UGC.
Cons
Expensive and non-transparent pricing.

The selection of influencers is much smaller than other platforms.
7. CrewFire
Key Takeaway
With CrewFire, you can create private ambassador communities for your brand and generate user-generated content through your community every single month.
Crewfire allows you to offer incentives such as discounts, access to events, and more for your ambassador community. In return for this, you can ask your ambassadors to post reviews, unboxings, or any other type of UGC online for your brand.
Since you're depending on your own ambassadors to join your community, you need to have a decent customer base when starting off with CrewFire, but the results can snowball as your customer base grows into the thousands.
Relevant Features
Provides all the software needed for creating closed-off ambassador communities for your brand.

SMS broadcasts for your ambassadors.

Tools to help with incentives, such as discounts and coupons.
Pricing
CrewFire's pricing starts at $1000/month. This is the base plan, and with it, you will receive the ability to invite up to 500 ambassadors to your community. There's also a $1000 onboarding fee for first-time subscribers.
The next plan up will cost you $2000/month and it gives you a few more features, such as the ability to add more ambassadors to your program.
Pros
Free UGC once you build a large ambassador community.

Mostly passive channel for UGC
Cons
Expensive pricing

Hard to make it work if you don't already have a large ambassador community.
8. Taggbox
Key Takeaway
Taggbox allows you to create and publish UGC campaigns across multiple touchpoints and they're used by over 10,000 brands worldwide.
The platform also supports newer UGC trends such as making UGC shoppable and giving you the ability to ask for content usage rights right through the platform. These are features that don't seem to be present on every UGC platform.
Relevant Features
Collect UGC from different platforms.

Ask for content usage rights via the platform.

Shoppable UGC support.
Pricing
Taggbox's pricing is public unlike a lot of its competitors. While they do offer a free tier, the features are limited and it's likely you would need to upgrade.
The basic plan starts at $24/month, with the highest plan costing $99/month.
Pros
Free tier

Shoppable UGC feature
Cons
No influencer network to leverage for content creation.
9. Wyng
Key Takeaway
With Wyng, you can drive sales with stories from your customers. One neat feature about Wyng is that it gives you the option to create individualized experiences to your customers. With individualized experiences, you can leverage first-party data collected from the customer and serve them UGC that will be most likely to convert them.
Besides the individualized experiences, Wyng also helps to collect, curate, and analyze UGC like many of the other UGC platforms.
Relevant Features
Collect UGC from different platforms.

Ask for content usage rights via the platform.

Individualized experiences.
Pricing
Wyng has a custom pricing model. To get pricing for their service, you need to book a demo with them via their website.
Pros
Individualized UGC experiences.
Cons
Unclear what their pricing is.
10. Stackla
Key Takeaway
Stackla is a UGC platform that collects, curates, and allows you to analyze UGC content.
Recently, Stackla was purchased by Nosto, which is a platform that helps ecommerce brands deliver personalized shopping experiences to their customers.
If you're someone that runs an ecommerce brand, then this might be a good fit for you as the Nosto platform comes with a lot of features that you would otherwise not see on a UGC platform.
Relevant Features
UGC collection and curation.

Ecommerce store optimizations powered by Nosto.
Pricing
Nosto/Stackla pricing is not displayed publicly. The platform offers well over 15 different features, so it's likely that pricing is heavily dependent on which features you choose to utilize.
Pros
Great for e-commerce companies that require more than just a UGC platform.
Cons
Expensive due to the number of features and also not ideal for non-ecommerce companies.
11. Bazaarvoice
Key Takeaway
While Bazaarvoice identifies as a shopper engagement platform rather than a strictly UGC platform, they still offer a ton of great UGC features that make it a worthwhile mention.
If you go to the 'products' tab on Bazaarvoice's home page, you will be able to see just how many features they offer to help clients with shopper engagement.
With Bazaarvoice brands can also run a sampling program, which is the act of sending out product samples to content creators or customers in exchange for UGC.
Relevant Features
UGC collection and curation

Sampling

Insights and reports
Pricing
Bazaarvoice pricing is hidden and you must book a demo on their home page in order to get pricing information.
Pros
Offers features for sampling, which is not common amongst other UGC platforms on this list.
Cons
There is no on-platform influencer or content discovery.
12. CrowdRiff
Key Takeaway
Unlike Bazaarvoice or any of the other UGC platforms on the list, CrowdRiff is a niche platform that specifically focused on UGC for travel and tourism brands.
Like many of the other UGC platforms, CrowdRiff will monitor platforms like Instagram and collect all UGC that mentions your brand.
Currently, it seems that CrowdRiff is not supporting TikTok or YouTube content, so this software is best for those brands that are mostly reliant on Instagram.
Relevant Features
UGC collection and curation.

Catered towards companies in the travel and tourism space.

Instagram support.
Pricing
CrowdRiff follows a custom pricing model, which means their pricing is not displayed publicly. It's also important to remember that the company caters its services to brands in the tourism and travel space, so if you don't fit within this niche it's not guaranteed the platform will be an ideal fit for you.
Pros
Niche platform that is excellent for brands in the tourism and travel space.

Heavy focus on Instagram and tons of features.
Cons
No support for newer platforms like TikTok.
13. Greenfly
Key Takeaway
While Greenfly helps to collect UGC content that mentions your brand on social media, they also take pride in helping you gather mountains of digital content from live events, which is something that makes their platform unique.
Greenfly supports companies from many different industries, but the platform seems to be most loved by those companies that specialize in live events, like hockey teams, entertainment companies, and more.
Relevant Features
UGC collection and curation.

Ability to collect UGC content from live events.

Support all major platforms.
Pricing
Greenfly's platform access is priced on a per-client basis. Therefore, there are no prices displayed on the website for the public to see.
Pros
Especially great for companies that do a lot of live events.
Cons
Likely very pricey

No ability to hire content creators directly on the platform.
14. Shortstack
Key Takeaway
It can be difficult to collect UGC content without offering a reward or incentive for customers to share their thoughts. A fun and engaging way to collect high-quality UGC content is through contests and giveaways.
That's exactly what Shortstack makes possible. It's a platform for creating and sending forms to collect videos, photos and more from your customers.
Relevant features
Create forms to collect videos, images, written reviews, and more.

Run giveaways and reward campaigns to encourage customers to contribute.

Integrates with social media platforms to accept submissions via hashtags
Pricing
Shortstack is overall quite an expensive tool. Shortstack's base pricing tier offers brands up to 10,000 competition entries and limits competition winner selection to true random only.

For larger brands, this entry limit can be quite limiting - but more expensive tiers can set you back $100s a month, depending on your desired features and use case.
Pros
Powerful form builder

Ability to automate UGC competitions and giveaways
Cons
Expensive, especially for larger brands

You have to distribute forms and find customers yourself
Criteria to Consider When Choosing a UGC Platform
We made sure to take the following factors into consideration when curating our list of UGC platforms.
Ease of Use
The platform must, first and foremost, be easy to use. Take into consideration the layout of the platform and its design. You shouldn't feel confused as you navigate around the platform's interface.
Accuracy
The tool should be able to accurately find all of the UGC that's relevant to your branding and product. It's of no use if it keeps suggesting unusable materials.
Pricing
The more affordable, the better. But also remember to take into account the number of features it offers for the price. You don't want to overspend for a UGC platform that offers fewer features than it's worth, and vice versa.
We also recommend using a trial version first before committing to a full payment plan.
Functionality
A good UGC platform will offer a variety of functions, ranging from collecting UGC data to data analysis and content editing to the ability to connect with content creators.
Check the platform's manual first and ensure that it has all the tools you need.
Frequently Asked Questions When Sourcing UGC Content
Here are some common questions that brands ask when they're looking for the right UGC platform:
What is UGC content? What forms does it come in?
UGC refers to any content that's created by users. In a broader sense, that's any content that's not produced by the brand itself. More recently, UGC content has become a great social proof technique as videos and images from customers and influencers have become an important way to build brand recognition.
UGC content can be anything from:
Videos, such as product showcases, unboxings, and reviews

Images, such as haul reveals or social media posts

Case studies and testimonials from customers or trusted users

Review articles and showcases on blogs and review sites

UGC ads that look and feel natural
Hiring creators to produce authentic, trustworthy UGC content helps build credibility for your brand and its products.
Who makes UGC content?
In its loosest definition, UGC content - such as videos and images - is created by anyone who isn't your brand. However, not every creator will fit your brand and meet the results you need to market your products.
UGC content is usually created by either:
Real customers, often with incentives and giveaways offered in return

Paid UGC content creators, usually with a following or reputation in your brand's sector
UGC platforms can either help you find and hire influencers - like Collabstr - or help you collect content from existing customers. It's quite difficult to collect UGC content from your ordinary customers, so working with UGC specialists and sending your product to influencers is a great middle ground.
How do you find content using UGC platforms?
The most significant challenge of sourcing UGC content is finding the right creators that are willing to produce videos and images of your product.
If you're looking to hire an influencer or UGC creator, we recommend using a UGC platform like Collabstr. These marketplaces make it easy to search through a vetted list of creators to find the right influencers to represent your brand.
Asking pre-existing customers to provide videos is by far the harder route, but a UGC sourcing platform can help you create incentives, look for mentions of your product on social media and handle UGC campaigns for you.
Why is UGC so important for brands?
It can be quite difficult as a brand to establish trust and credibility with your customers. Increasingly, consumers are looking towards other people to inform and influence their purchasing decisions.
In fact, customers are three times more likely to consider content created by other consumers as authentic than videos and images produced by a brand. It's a form of social proof, where opinions and insights from other customers - or even influencers - can be more powerful than marketing materials created by your brand.
Sharing UGC content from customers is also a great way for a brand to engage with its community - giving a platform to loyal customers. Even if you're hiring influencers to guarantee the right results, a sense of community and inclusion can still be built by using UGC videos and images.
What is the best way to find UGC creators?
The easiest way to find UGC creators is by leveraging marketplace platforms like Collabstr, this is because you'll have a direct line of communication with the creators. Alternatively, you can find UGC creators on social media apps, like TikTok or Instagram, but it can be time-consuming to find their contact information each time.
Create New, Exciting Content for Your Brand with Collabstr!
As the market becomes increasingly more crowded, if you use their expertise and reach correctly, content creators and influencers can help you stand out from the rest of the pack. If you're looking for UGC creators to collaborate with, Collabstr can help you connect with the best. They can help you create unique, tailor-made content for your brands.
Just ask!
Get Digital Marketing Tips Directly to Your Inbox
Collabstr sends newsletters every 2 weeks with the newest trends, tips, and tricks in digital marketing.