It's no secret that video content dominates the modern digital landscape. As a result, thousands of businesses and content creators invest time and money into creating content on video-focused platforms, with YouTube and TikTok being two of the main video platforms. This begs the question, is it better to post content on TikTok or YouTube?
In 2021, 86 percent of businesses used video content in their marketing, and it's showing no signs of slowing down. In our 2023 influencer marketing report, we also found that businesses are investing more money in TikTok influencers than Instagram influencers for the first time ever.
With data like this, there's no denying video is platforms are here to stay. The question comes down to what video-sharing platform to use, TikTok or YouTube?
What are the key differences between TikTok vs. YouTube?
In 2021, online videos had an audience reach of 92% among global internet users. While it's easy to view video-sharing platforms like TikTok and YouTube as similar, both share unique differences.
For starters, the reach of both platforms makes TikTok and YouTube powerful influencer marketing tools. But while TikTok has over a billion monthly users, YouTube doubles that with a whopping two billion per month.
Another key difference between the two titans of video resides in content. TikTok video content is famous for being short and sweet, with TikTok recommending between 21 and 34 seconds for optimal effect. While YouTube lets unverified accounts upload 15 minutes of content and verified accounts up to 12 hours.
And due to YouTube favoring longer videos, its content is generally much more immersive. Whereas TikTok leans more towards the fun and trendy, usually in the form of memes, lip-sync challenges, dance routines, and online trends.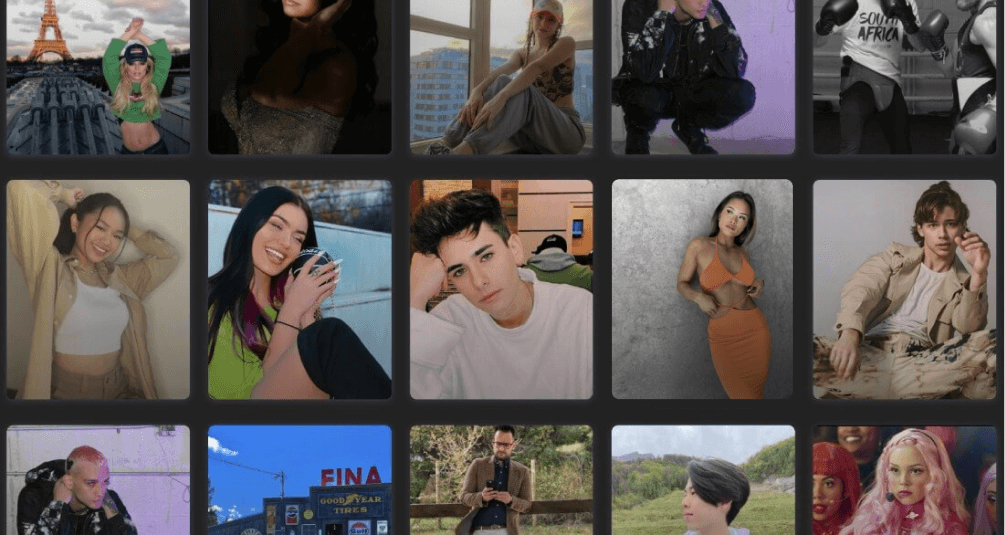 What is TikTok?
TikTok is a worldwide video-sharing app that enables users to watch, share, and create short-form video content. Since its launch in 2017 by Chinese startup ByteDance, TikTok has become a global phenomenon.
TikTok statistics show that TikTok was the most downloaded app in the first quarter of 2022. The ability to stitch and repost videos along with song integrations makes TikTok content stand out amongst other platforms like YouTube and Instagram.
Additionally, as creating video content is instant, it's perfect for starting and following trends. Viral hashtags like bottle cap challenge are the bread and butter of TikTok influencer marketing.
TikTok has made creating content incredibly easy; all you have to do is point and shoot! Because of this, it means TikTokkers coordinate their content to target trends and viral challenges.
It's why the platform is great for brands who want to showcase products and engage with audiences.
TikTok demographics
Every year TikTok has grown in popularity, showing no sign of slowing down. By the end of 2021, TikTok reached a staggering 1.2 billion users, and it's set to reach 1.8 billion by the end of 2022.
Because TikTok is easily accessible and stays on trend, teens and young adults are the main users. Statistics show in the U.S., ages 10-19 account for 25 percent of active TikTok users.
It probably comes as no surprise that TikTok is popular with Gen Z. Being able to keep on top of and actually participate in the latest trends separates the video-sharing app from others.
TikTok lets audiences become creators and influencers. That's not to say it doesn't make waves with an older crowd. As we can see from the statistics above, over 40 percent of users are between 30 and 50 years.
TikTok's best features
Great for content creators
What separates TikTok from other platforms is its accessibility. As video content uses your smartphone, it utilizes a more do-it-yourself approach. So it's super easy to create fresh and engaging content. Take a look at Collabstr's influencers to see the large variety of creators TikTok has enabled to make a living off of the platform.
And because your phone is the camera, TikTok puts you in the driving seat. Not only can you shoot 9:16 aspect ratio videos, but users take control of music, augmented reality, filters, backgrounds, and stickers, all without leaving the TikTok app.
With a worldwide audience of over a billion people, TikTok is one of the best ways to advertise your content. On top of that, the platform's different ad types like TopView ads and In-Feed ads, expand your reach with every post.
And if your content steers towards a certain audience, TikTok has you covered. With its precise targeting, you can divide audiences using age, gender, and interest. So your campaign objectives are always met.
If you've got brilliant content, TikTok will notice you. If you keep up with trends and keep your content casual, you'll have more chance of going viral. User interactions like watch time, comments, likes, shares, and hashtags are all involved in TikTok's advanced ranking algorithm.
The more engagement your content has, the higher you'll move up the rankings. Additionally, brands that are looking for influencers will have more chances of noticing your content.
Pros & cons
Pros:
Shows no sign of slowing down

Built-in filters and effects

Endless viral possibilities

Free to use
Cons:
Limited monetization

Video length

Video aspect ratio
What is YouTube?
YouTube came onto the scene in 2005 and has been the industry leader ever since. With over two billion monthly active users, the video-sharing platform is the second most-visited site in the world!
Three former PayPal employees founded YouTube with the idea of ordinary people sharing home videos. Users receive their own YouTube channel then they're good to go. It's incredibly easy to find all kinds of different content, even in the most specific of niches!
Popular YouTube content includes ASMR, gaming, podcasts, politics, how-to tutorials, cooking classes… the list is endless. And due to its massive user base, there's content for everyone.
Youtube has been busy over the past few years, and with the introduction of YouTube TV, Music, and YouTube Livestream, the platform still remains in pole position. And with YouTube Shorts recently entering the picture, TikTok has some competition regarding short-form content.
YouTube demographics
Whereas TikTok caters to a younger demographic, YouTube caters to a wider audience. Due to its longevity and boundless content, the platform has a steady reach across all ages. Currently, 77 percent of U.S. users aged 15 to 35 use YouTube.
YouTube's impact is felt globally like never before. Statistics reveal that YouTube videos reach more 18-19-year-olds than any television network! Hence why influencer marketing campaigns are taking over.
YouTube's best features
With multiple tools at your fingertips, YouTube brings engagement to your site like no other. New features, including YouTube Livestream and YouTube Shorts, helps to keep YouTube relevant.
Asking viewers to comment and subscribe to your channel drives traffic and improves your chances of being seen. YouTube's flexibility allows you to create videos that reach a wider audience.
The video platform's built-in analytics allow you to see what content is working; with this information, you can improve your channel and reach. Analytics gives a peek into your audience's behavior. It's a valuable tool for any creator who wants to get better.
To challenge TikTok's growing popularity, YouTube has introduced YouTube Shorts. Using YouTube's built-in creation tools, users can edit, shoot, and add music to their 15-60 second videos. It also means bite-sized content can turn into longer videos and vice-versa.
Viewers can share, comment, like, and subscribe to your channel using YouTube Shorts. All the accessible tools from YouTube are here. Even though it's still in its infancy, its potential is great.
Content creators on YouTube generate revenue through adsense and affiliate links. As long as you monetize your channel, YouTube will pay you directly via ad revenue.
When your channel reaches 1,000 subscribers, you can set up a monthly subscription where members receive custom emojis and exclusive content. Think of it like Patreon for YouTube.
Pros & Cons
Pros:
Diverse audience

Longer videos

Better monetization

Free to use
Cons:
Creation tools are limited, content creation can be time-consuming as a result

Due to its size, content can be overlooked
Final thoughts
Now that we've seen what TikTok and YouTube can do, it's time to narrow down what platform is best for you. While there's no doubt both will help you grow, it depends on the type of content you want to produce.
TikTok videos are great for short bursts of inspiration and staying on top of digital trends. Its in-built video tools mean users can create content on the go. TikTok makes you the star. TikTok is an excellent platform for creators that are starting off without an audience, as it can help you build up your initial fan base. Many creators leverage TikTok for quick growth and then funnel their audience into platforms with more longevity, like YouTube.
YouTube, on the other hand, offers more rich and colorful content. Whatever your niche, you'll find a space on YouTube. Plus, if you prefer long-form content, YouTube will be your best bet. YouTube also beats TikTok when it comes to monetizing your content via its adsense program, something that does not exist on TikTok.
Overall, we believe that YouTube and TikTok both serve different purposes for content creators. Ideally, you would like to be creating or repurposing your content for both platforms so that you can use TikTok as a viral distribution channel and funnel loyal followers into YouTube, which is the money maker. If you're looking to boost your brand awareness and make a digital impact, check out Collabstr's library of influencers to get started.
Get Digital Marketing Tips Directly to Your Inbox
Collabstr sends newsletters every 2 weeks with the newest trends, tips, and tricks in digital marketing.