Let's be honest–it doesn't matter which industry you work in, TikTok is an amazing and effective platform to reach your desired audience. TikTok works fast, and it has dedicated users who are always intrigued about what shows up on their 'For You' page. This is why it's one of the best places to promote your affiliate offers and ecommerce products.
However, to gain reliable success, you need the advantage of being able to learn what your competition is up to. A great way to do this is with TikTok ad spy tools because they help you uncover information on what works and what doesn't for various TikTok marketing campaigns.
You're in luck because at Collabstr we have in-depth knowledge on how best you can leverage social media to help your business succeed. In this article, we're going to take you through how TikTok ad spy tools can help you, and we're sharing our top software choices that you can consider using to maximize your TikTok campaigns.
Ready? Let's dive in!
What is a TikTok Ad Spy Tool?
A TikTok ad spy tool is software that spies on ads run by different accounts on TikTok and saves them in its database. As a TikTok ad spy tool user, you'll have access to these stored ads so that you can use them for research and inspiration. Specifically, these tools can help you understand how your competitors are running successful ads.
From one tool, you'll be able to uncover competitor ad strategies, map out your influencer campaigns, and analyze TikTok user behaviors.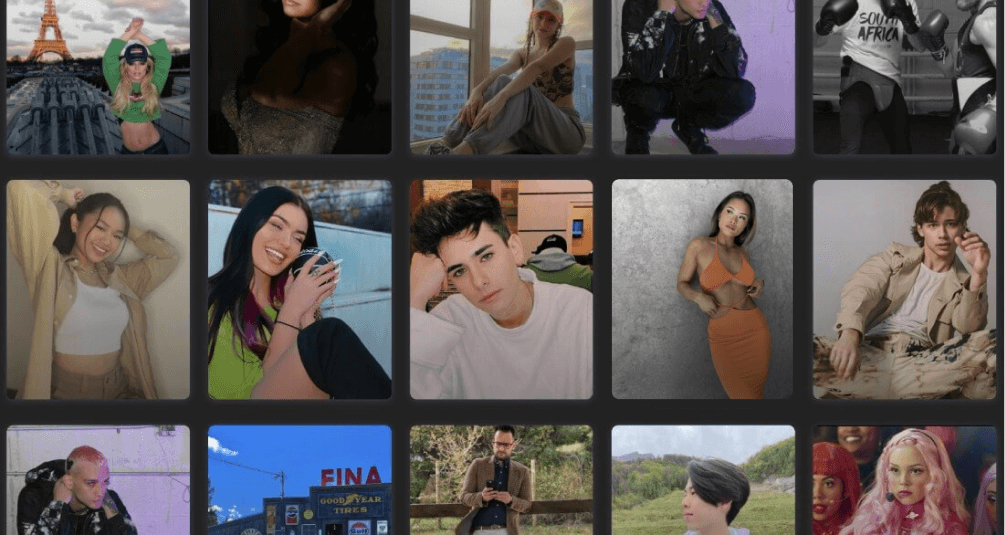 Why are TikTok Ad Spy Tools Beneficial?
Saves you a lot of time
On platforms such as TikTok, the feed is endless. Scrolling through it manually to gain ad insights will take you forever. Unfortunately, when it comes to promoting your business, you don't have the privilege of time in such an active ecommerce market. So, by using a TikTok ad spy tool that automatically does the searching for you, you'll get valuable information early enough to have a better chance of benefitting from it.
Stay ahead of your competition
TikTok ad spy tools give you the advantage of knowing what the current and upcoming trends are based on users' reactions to the content. This way, you can adjust your marketing strategies accordingly in real time. You can have the power to stay ahead of your competitors, which is crucial in an ever-changing digital climate.
Gain access to the market backdrop
Since TikTok trends move quite fast, using an ad spy tool will give you the insights you need to successfully navigate the platform. Here, precise targeting matters to ensure you get your content in front of the people you want to see it. With a spy tool, you can observe your own content's performance, as well as the performance of other businesses so you can see which strategies are the most successful.
Criteria to Consider When Choosing a TikTok Spy Tool
Ease of use: With the influx of social media tools in the market, it's important to prioritize the one that's the easiest to use. If you're trying a TikTok ad spy tool, it shouldn't be too difficult or take too much time for you to implement because tools that consider ease of use often have much more effective features.

Ad volume: This refers to the number of ads collected by the tool, and in this case, the more, the better. Your spy tool should be able to collect a large number of ads because there are thousands of ads posted on TikTok daily. The more ads a spy tool collects, the more varied the database is so you can find the real gems.

Search filters: A useful TikTok ad spy tool will have search parameters and filters that help you optimize your ad search. Without these search filters, using your tool would be the same as manually searching yourself. Effective search filter features are necessary so that you can analyze the ads in your specific niche.

Pricing: Before investing in any tool, it's important that it fits within your budget. Just make sure that the tool you choose has the features you require for a price you can afford.
Top 5 Best TikTok Ad Spy Tools
Key Takeaways:
#1: TikTok Ads Library
Best for getting insights on top-performing TikTok ads
TikTok itself has an ad library that's designed to help you find ad inspiration and spy on the ads of your competitors to see how well they're performing. It's a great starting point if you want to see the best and most successful ads on the platform.
Top Features:
Top Ads Dashboard: This feature allows you to search for the top-performing ads by typing in a brand name or relevant product keywords. You can even search for the top videos for trending TikTok hashtags such as #tiktokmademebuyit, and analyze why those videos were so successful on widely-used hashtags.

Useful filters: TikTok gives you six useful filters, including region/country, industry, likes, duration of the video, and the dates they were uploaded. The most interesting filter is the 'Objective' filter which will show you videos based on their promotional goals, such as app installs, conversions, lead generation, product sales, reach, traffic, and video views.

Ad performance check: You have the opportunity to check an ad's overall performance based on the reach, click-through rate, 2-second view rate, and 6-second view rate.
Pricing
You can access the TikTok Ad Library through the TikTok Creative Center. It's a free resource for content creators and marketers.
Pros
It's a completely free TikTok ad spy tool

You get an unlimited daily search

A simple solution for helping you get inspiration for ads

Gives you ideas on the best hashtags to use for ads

Relevant filters to narrow down your search
Cons
Focus is only on the top ads on the platform, so you can't analyze what doesn't work

Limited information on the performance of the ads

With limited features, it's better for getting ideas instead of spying
#2: BigSpy
Best for getting unlimited data on TikTok ads
BigSpy is considered one of the best TikTok ad spy tools on the market that helps ecommerce business owners keep an eye on different ads in their niche. Besides TikTok, you can also monitor ads from Facebook, Twitter, YouTube, Google, Pinterest, and Yahoo.
Top Features:
Monitor daily performance: BigSpy allows you to monitor the daily performance of the ads you're interested in. Ultimately this will help you see how they progress over a certain period of time so you can discover ad strategies with the most longevity.

Track competitor ads: BigSpy makes it super easy for you to track and analyze your competitors' ad traffic and their conversion rate. This way, you can discover how they compare to your own ad strategies. With this information, you can follow a similar approach or implement changes that improve upon the original formula.

Strong filters: The tool offers detailed filters, such as industry niche, country, language, and device types. Taking advantage of these filters will help you narrow down your search as much as possible so you get the most efficient results.
BigSpy Pricing
BigSpy offers four pricing plans; 6-Month Pro (billed at $476 for 6 months), Annual Pro (billed at $830 for a year), Group (billed at $2100 for a year), and VIP Enterprise (billed at $3600 for a year).
The only plan worthwhile for TikTok ad spying is the VIP Enterprise plan. However, you can request a demo before you purchase.
Pros
You can spy on ads on over 7 platforms, including TikTok

Spies on TikTok ads in 80 countries and in over 25 languages

Helps you analyze all parts of your competitors' TikTok ad strategy

BigSpy has a large ad database

You can discover products that are trending the most

The tool also helps you keep track of your own ads
Cons
There is a large pricing gap in the pricing plans

Pricing can be expensive since you only get the TikTok spy option on
#3: PiPiAds
Best for perfecting your own TikTok ads
PiPiAds is a top TikTok ad spy tool that's used by over 50,000 marketers for TikTok ad competitor analysis.
Top Features:
Run your own successful ads: PiPiAds stands out because it offers a variety of useful tools that can help you succeed in running your own creative ads on TikTok while comparing your progress with your competitors.

Detailed competitor insights: This tool helps you identify the good and the bad of how your competitors are doing with their ads through analytics of their views, likes, percentage performance, and duration on TikTok. You also get to see if they have scheduled any upcoming ads so you can get ahead of the fold.

Shopify tool extension: PiPiAds offers a Shopify extension so that you can monitor any live sales that are made based on your TikTok ads.
PiPiAds Pricing
PiPiAds offers three pricing plans; Starter ($77/month or $54/month if paid annually), VIP ($155/month or $128/month if paid annually), and PRO ($263/month or $181/month if paid annually). The most popular plan is the VIP where you can view 200 ad details per day.
Fortunately, PiPiAds offers a free trial where you can test out the tool before you commit.
Pros
Easy access to high-quality ads and viral products on TikTok

Helps you quickly find trending products on TikTok so you can include their strategies in your own ads

You can get access to ad creatives

You can spy on specific business's TikTok ad data through the tool's advertiser search
Cons
Limited access with the free trial

The user interface may have a few errors
#4: FlowSpy
Best if you want comprehensive details on your competitors' ads
FlowSpy is a TikTok ad spy tool that gives you an inside look into all your competitors' campaigns in just a few clicks.
Top Features:
Up-to-date database: FlowSpy's database refreshes daily, so you always get detailed information on the current TikTok trends and creative marketing strategies that the most successful TikTok advertisers are using.

Valuable ad statistics: You'll get comprehensive ad statistics such as impressions, the popularity of the ad, like rate, number of days active, and share count. The tool will even give you an estimate of the ad cost and the number of orders that were made because of that ad.

Get notified when competitors make changes: FlowSpy will notify you whenever your competitors make changes to their ad strategies so you're always on top of your campaign analysis.
FlowSpy Pricing
FlowSpy offers 3 pricing plans; Starter ($49/month), Pro ($99/month), and VIP ($159/month). All the plans come with a free 7-day trial.
Pros
You get a comprehensive data analysis of different TikTok ads

Stay notified on how your competitors' strategies are changing

The database is always up-to-date

It offers advanced search filters

Easy to use and more affordable than most tools

7-day free trial for premium features
Cons
It's a relatively new software

FlowSpy doesn't offer an annual billing plan
#5: Minea
Best if you want to discover the newest products in your niche
Minea is one of the first ad search tools that appeared on the market, so it has a strong experience in ecommerce. The tool is a great resource for discovering winning TikTok products and analyzing the ads and successful marketing strategies of your competitors.
Top Features:
Large advertising database: Minea acknowledges the global impact of ecommerce, so it offers a large ad database so that you can discover the best products to launch in any type of market or country. Using Minea, you'll be able to view an ad's number of plays, likes, shares, landing pages, and relevant statistics to measure its success. The tool even offers you the option to download videos so that you can keep them as references for your research.

Analyze product placements: An interesting feature this tool has is that it analyzes the product placements, and not just ads, of different ecommerce profiles on TikTok. This way, you can discover which type of product placements reveal the most engagement.

Chrome extension: Minea's most unique feature is that you can get access to a Google Chrome extension that will help make your work much faster and easier.
Minea Pricing
Minea offers three pricing plans; Lite (free), Starter (€49/month), and Premium (€99/month). Their best plan is their Premium plan because it offers the TikTok ad spy feature, advanced filters, influencer placements, and access to the Chrome extension.
Fortunately, Minea offers a free trial to test out the premium features before you make a purchase.
Pros
Helps you analyze competitor ads from other popular social networks, and not just TikTok

You get access to TikTok ads, product placements, and all their details

The tool notifies you of any new products being advertised that are relevant to your selected niche

Timely access to the newest products on the market

The filter system is quite effective

The tool is easy to use on all devices
Cons
The platform can only be accessed by one user

Not the best option if you want to promote digital products

TikTok ad spy is only available on the premium plan
Wrapping Up
TikTok ad spy tools positively transform how marketers discover trends and generate valuable ad insights. They leverage powerful AI algorithms and detailed visual components to give you data-driven solutions that can help you optimize your marketing campaign performance. Clearly, they're a great benefit to implement in your marketing strategy, and from our list, you can be sure to pick the right one for you.
To help your TikTok ads stand out even more, you can consider working with TikTok influencers and content creators from Collabstr's extensive library. Our vetted influencers know what it takes to reach your target audience and boost your TikTok views. So, if you're going to advertise on TikTok, you might as well take advantage of the value of influencer partnerships!
Get Digital Marketing Tips Directly to Your Inbox
Collabstr sends newsletters every 2 weeks with the newest trends, tips, and tricks in digital marketing.